by: -RoG-
While golf has never interested me as a sport, I've always been a fan of going on miniature golf excursions whenever I'm on vacation, especially if there's a unique course. You know the kind I'm talking about... the ones with specific themes, like a pirate miniature golf course, complete with octopus obstacles and giant pirate ship decorations for you to play through. Not only are they great ways to pass the time with friends and family, but they often feature impressive craftsmanship and artwork that anybody can admire whether they're a fan of playing miniature golf or not.
With that in mind, you can imagine how excited I was to learn that there is a chain of horror-themed miniature golf courses that go by the name Monster Mini Golf. Each location features an 18-hole course that's completely covered in Halloween and monster decorations. What's even better, is that they're indoors and they glow in the dark! Yep, the entire courses are lit by long rows of black lights. This not only makes your games far more interesting (and often challeing) to play, but your eyes are constantly being dazzled by the bright flourescent monster decorations waiting for you around every corner.
I went on a Halloween trip back to the East Coast to visit some family in Long Island, New York this past month, and I found out there was a Monster Mini Golf location in Deer Park. We went to check it out and, of course, I brought my trusty camera along, because I knew you'd want to see all of its glow-in-the-dark glory. So join me for my latest in-depth pictorial; a tour of Monster Mini Golf in Deer Park, NY!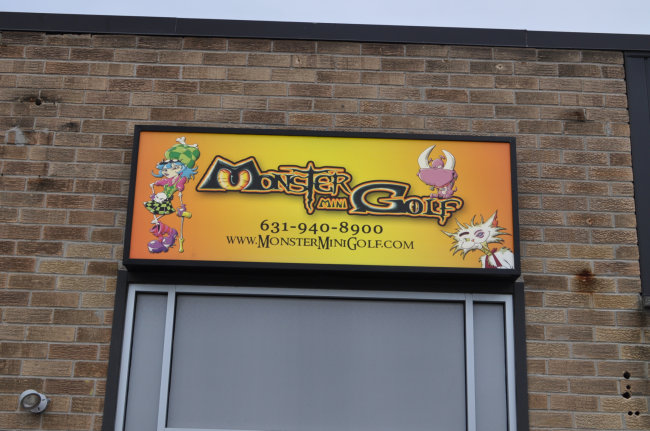 When we first arrived, we honestly thought we were at the wrong place. You have to drive around the back of this brick building, and there's nothing but a grey door and this small Monster Mini Golf sign. No big decorations, no flashy stuff, nothing. It didn't even look open, and I thought I had accidentally mapped out directions to their warehouse.
(note: if anyone from the Monster Mini Golf company is reading this, I'd suggest putting some serious work into improving the outside area designs of your mini golf locations. I bet a lot of people turn away because they assume you're closed.)
Still, we made the drive, so we weren't about to turn away without checking, and it's a good thing we did...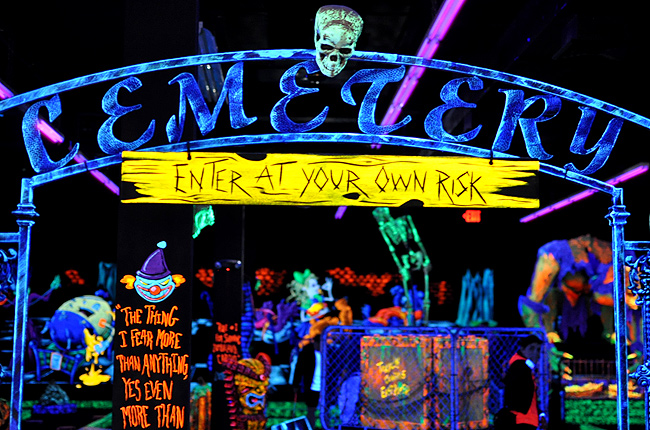 This is what you come face to face with when you enter Monster Mini Golf building.
Passing through the cemetery gates to enter a wonderful world of glow-in-the-dark horror golf! Beautiful isn't it?
Combine that imagery with Van Halen's "Hot For Teacher" and other 80s rock tunes blasting
on the overhead speakers, and it became immediately clear that this was gonna be good.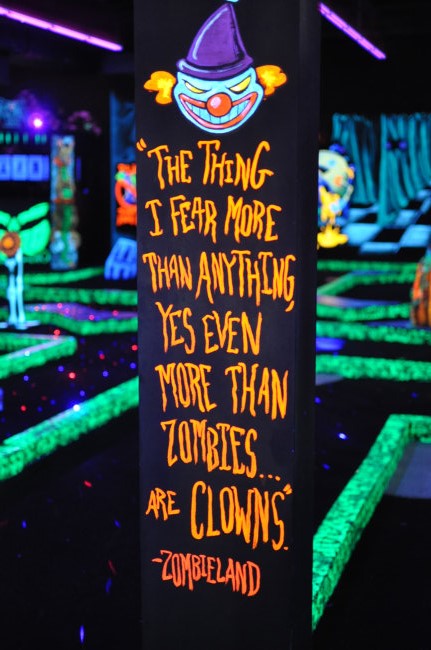 One of my favorite things about the course is that many of the beams have
quotes from various horror flicks, such as the Zombieland one you see here.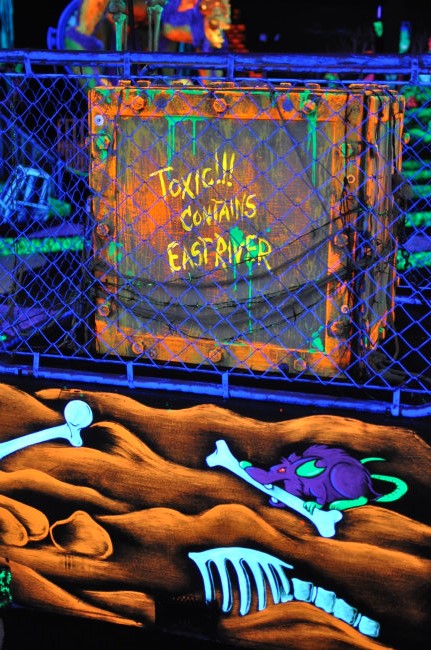 This made me think of The Crate story from Creepshow. Even better, the box would randomly jump up into the air.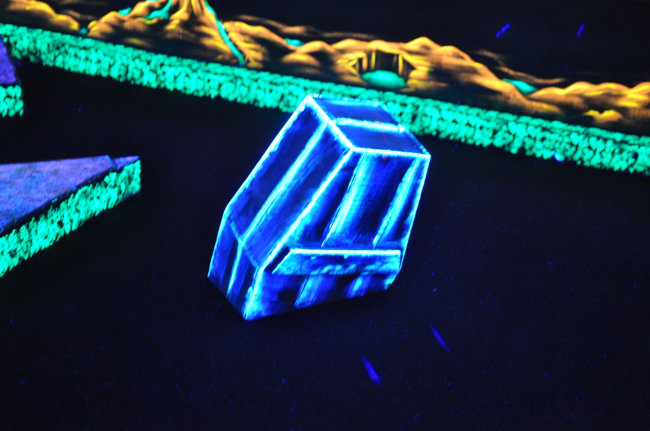 Another nice effect was how they had coffins seemingly sinking into the pathways throughout the course.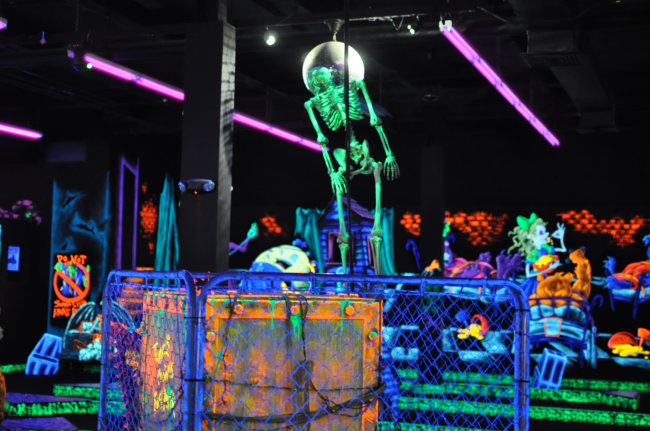 The woods are lovely, dark, and deep...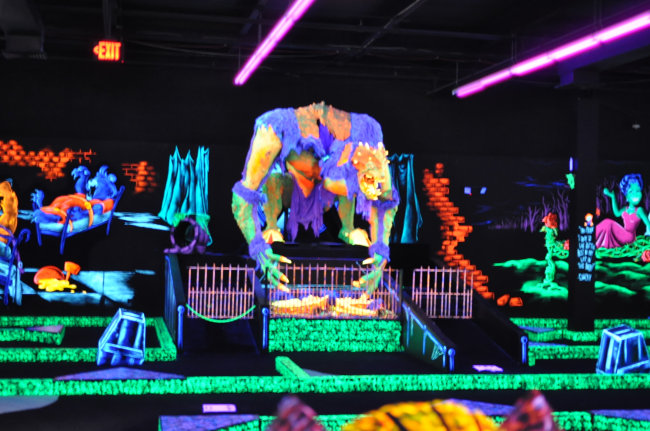 ...but I've got promises to keep, and miles to go before I sleep.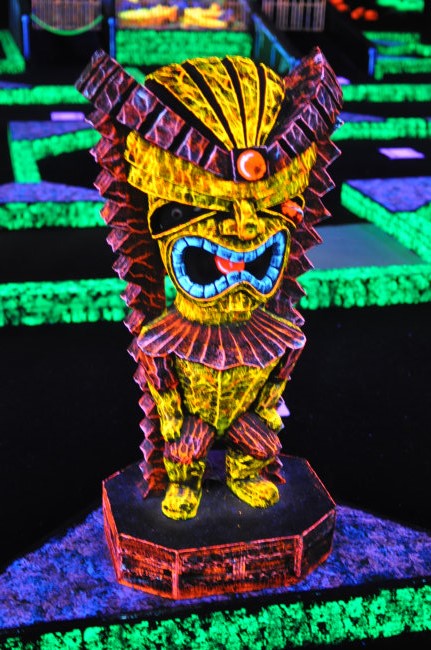 Haunted tiki idols? Sure, why not.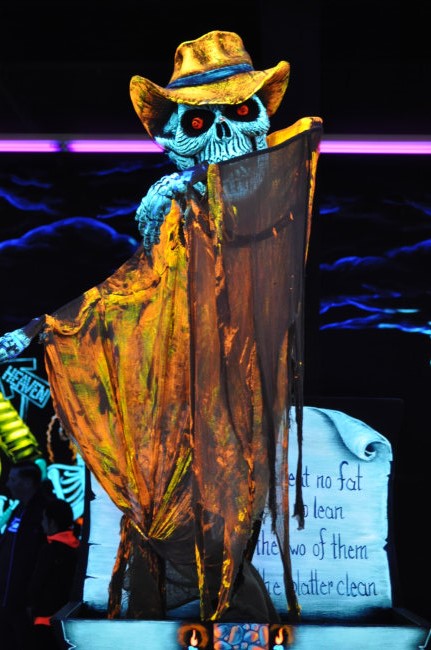 Vampire cowboy skeleton? Whatever it is, I like it.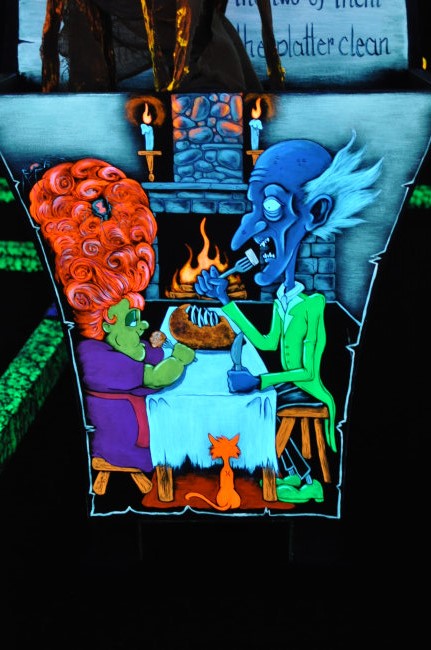 Just a happy couple enjoying a nice romantic dinner in the middle of our golf course.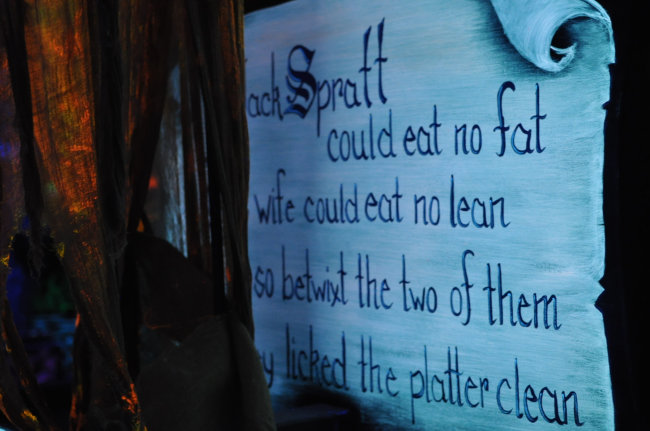 Looks like somebody's a poet and didn't even know it!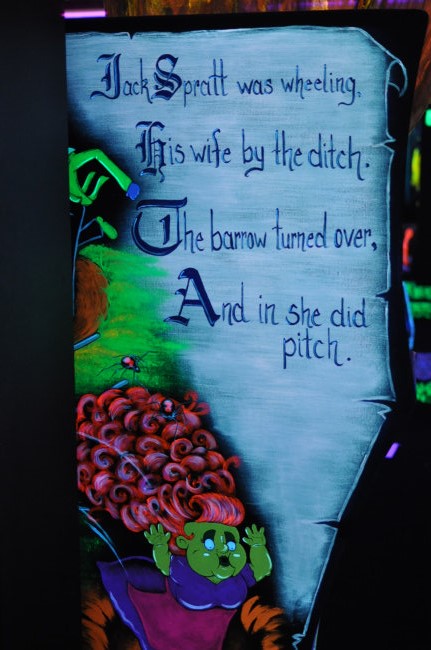 ...so much for that romantic dinner.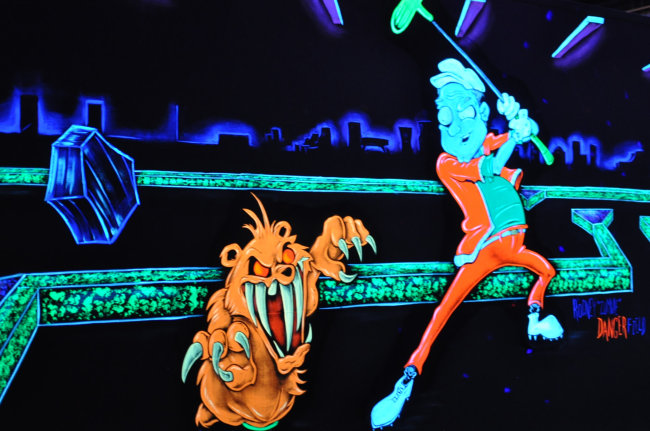 Remember that scene from Cadyshack when "Rodney 'Zombie' Dangerfield" attacked a mutant gopher?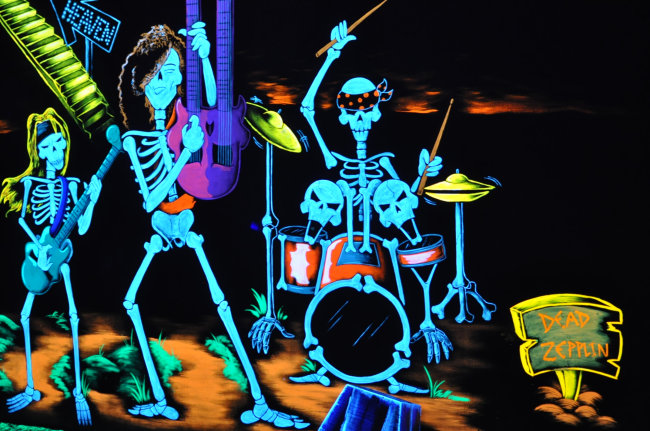 Dead Zepplin apparently didn't take their stairway to heaven, cuz their bones are still rocking out here on Earth.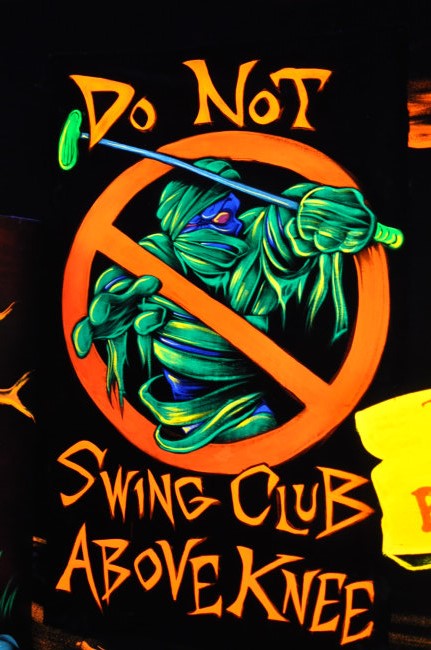 I always get my golfing tips from mummies. Also, I really wish this was a t-shirt.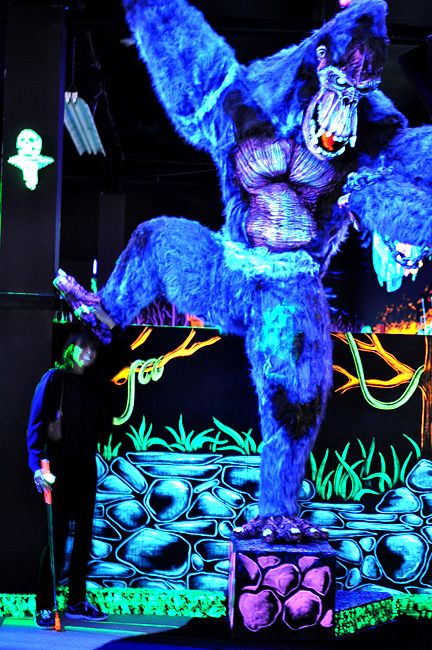 It came out slightly blurry, but mom posed for a picture so you can see the scale of this huge monster gorilla.
Moments later, she was crushed under its mighty foot. Oh the sacrifices a mother makes...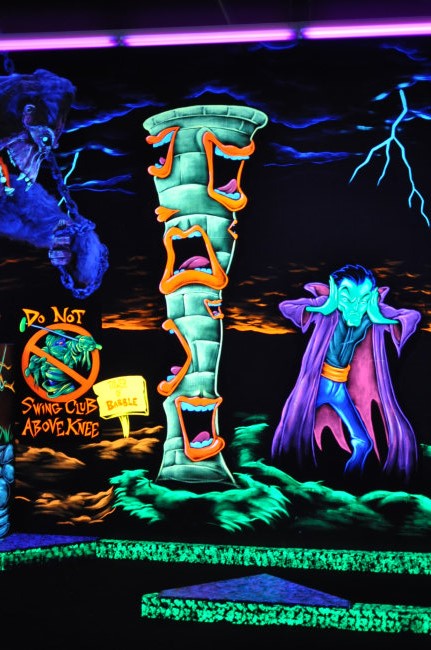 Count Dracula is clearly not a fan of the Tower of Babble.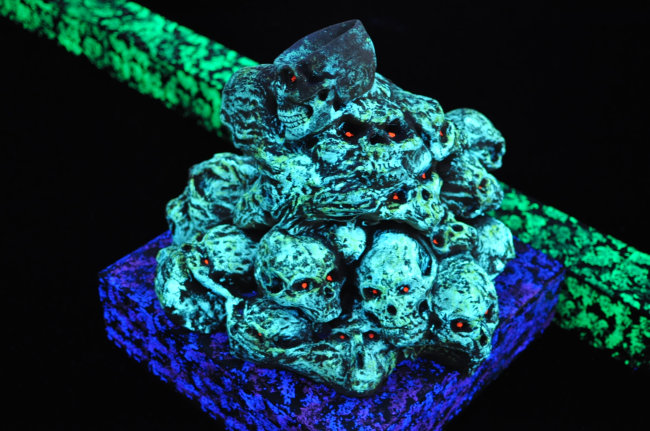 Most likely the remains of those players who didn't survive all eighteen holes.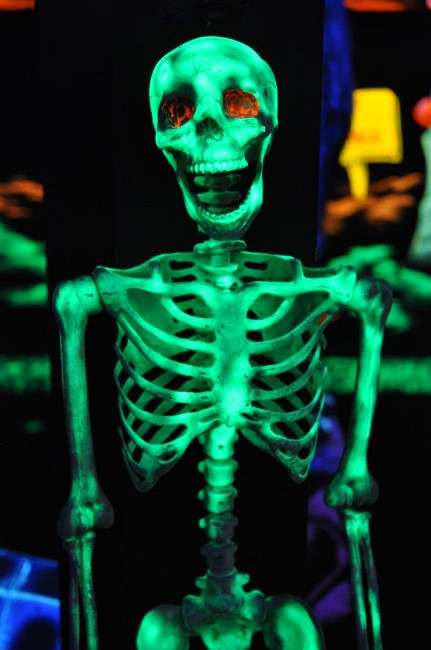 Say, do you happen to know a pirate named One-Eyed Willie by any chance?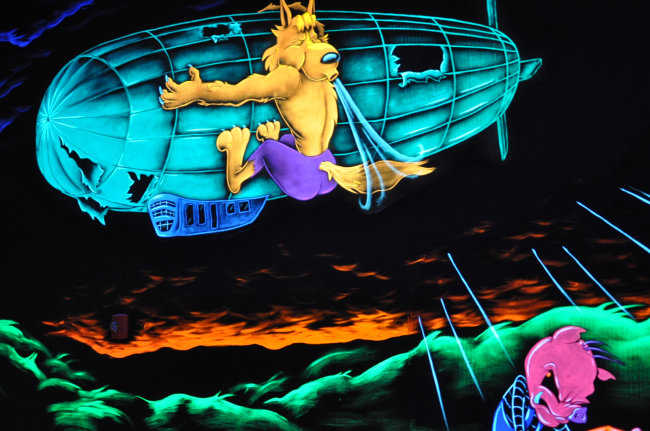 Looks like the big bad wolf found himself a blimp to ride to the three little pig's home.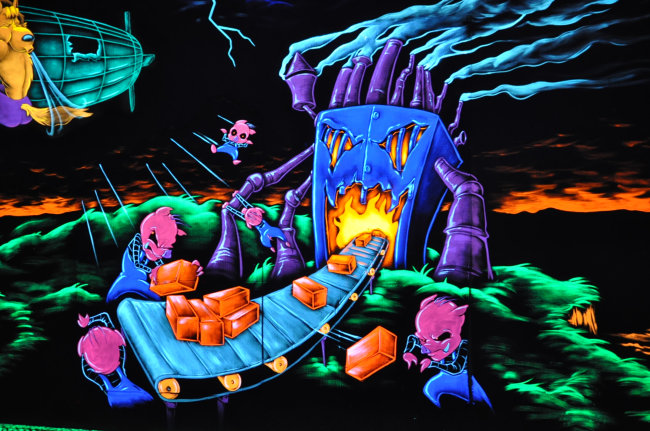 Wait a minute... by my count, there are FIVE little pigs here! I guess two of 'em got blown off the edge of that cliff.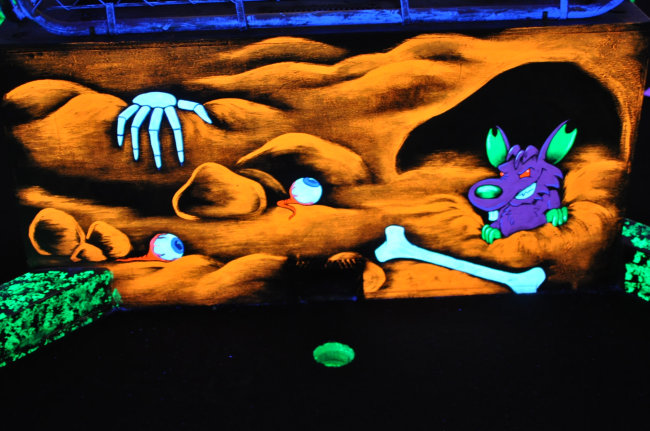 Looks simple enough, right? Yeah, what they don't tell you is that there's a vent hidden right in front of
the hole and they have air blowing out of it so it pushes your ball away. Sneaky bastards...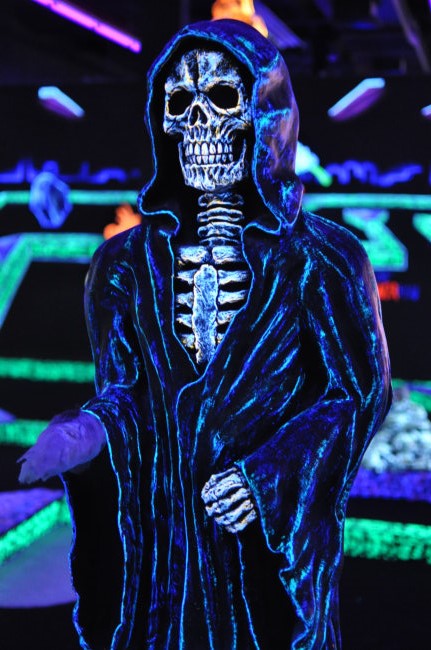 The Grim Reaper is missing his right hand; guess we'll let him play with a handicap.
There are more Monster Mini-Golf photos to see!
Click here to continue onward to page 2!