by: -RoG-
Earlier this month, I attended Son of Monsterpalooza 2014, which is pretty much the same as the regular Monsterpalooza events I've covered in the past, only it takes place much closer to Halloween rather than in April every year. In case you're a newcomer to the site, Monsterpalooza is a convention held in Burbank where a boatload of work by makeup and sfx artists is put up on display for all to marvel over. In addition to that, you'll find vendors selling a variety of horror novelties, masks, vintage monster toys, and other oddities you won't see anywhere else.
As always, for those of you who were unable to attend, I've put together another huge photo gallery (over 130 photos!) so you can see some of the best of what went down at the show. Also, be sure to make it to the end of the very end of the article, because you'll be treated to a photos from an incredible art show dedicated to the Bride of Frankenstein! With that in mind, here's a pictorial of all the monstrosities that were on display (and sometimes looming about) at Son of Monsterpalooza 2014. Enjoy!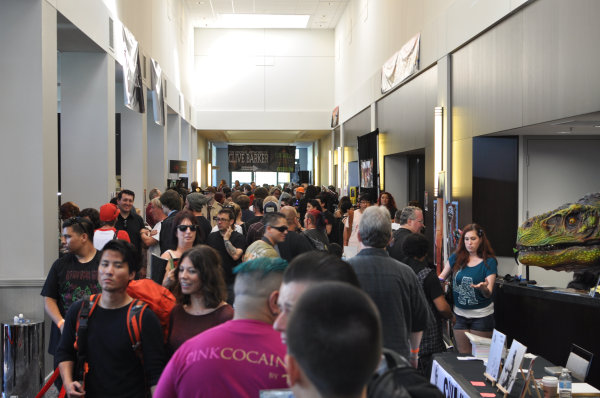 Big crowds pour into the front hallway, ensuring that it's hard for pretty much anybody to breathe.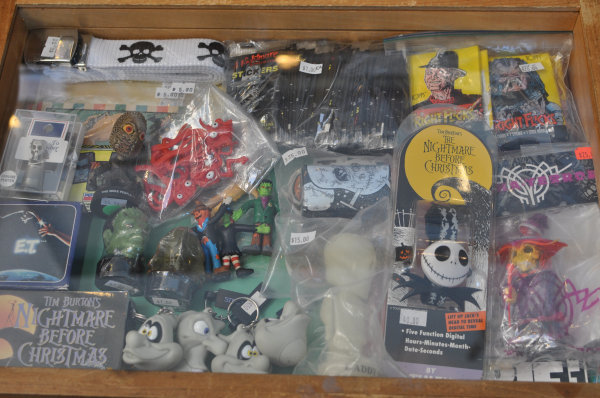 A display case filled with random monster goodies including Fright Flicks trading cards, Elm Street stickers, and more.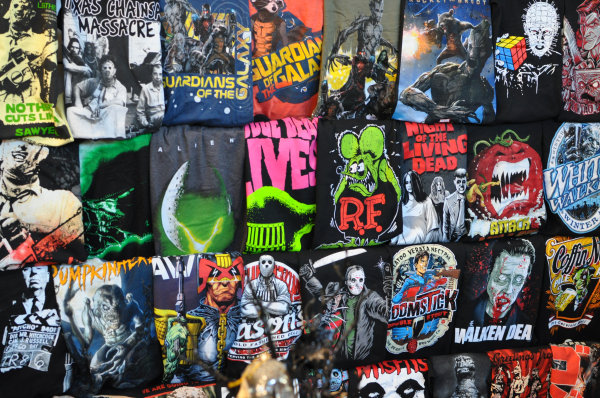 Horror tees galore.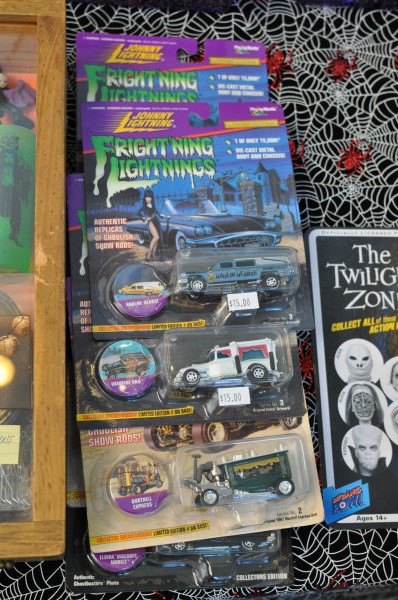 Always liked this line of "Fright'ning Lightnings" toy cars.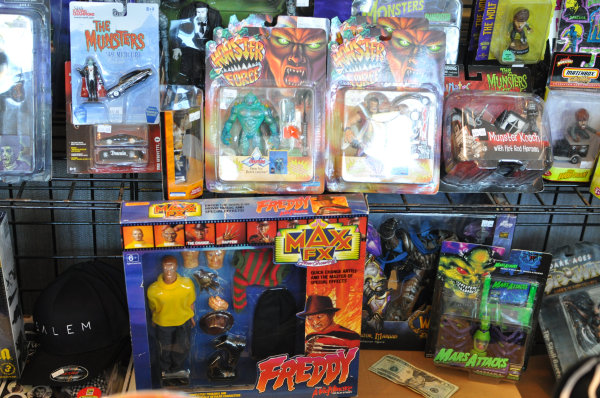 The classic MAXX FX Freddy doll along with Monster Force figures and other toys.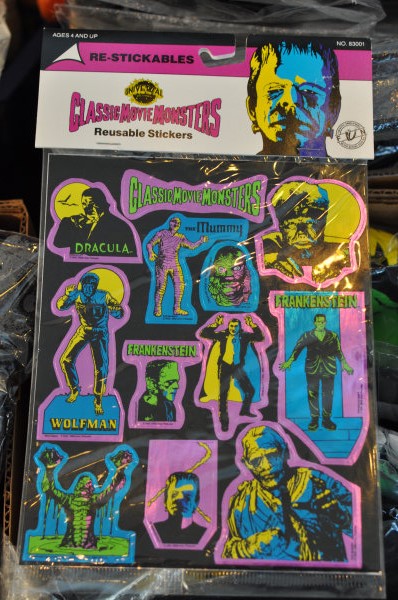 Shiny classic movie monster stickers.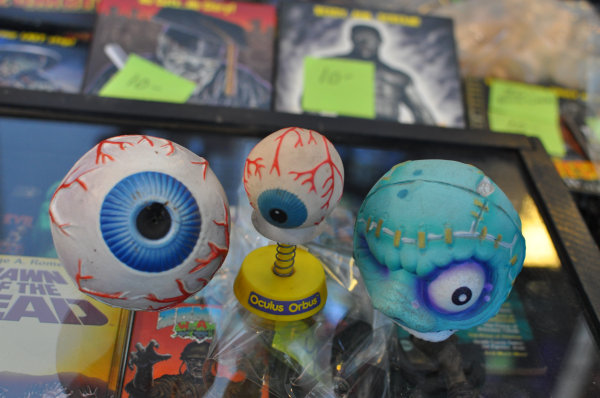 This vendor was selling some old Madballs, including this awesome little
Oculus Orbus (my favorite Maballs character) spring standee for only five dollars.
I've now given Oculus a good home, as he sits on my desk and wobbles on around on his spring with every word I type.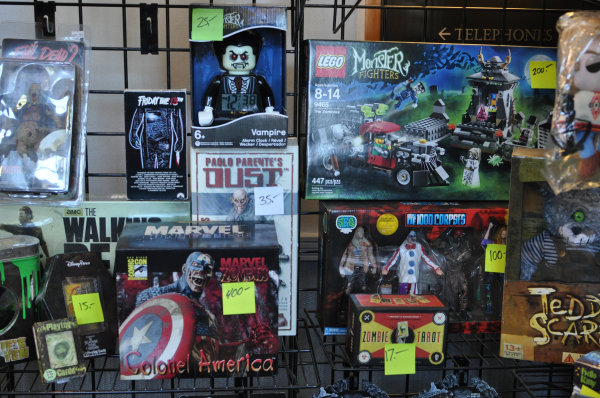 Lego Monster Fighters, Marvel Zombies, Friday the 13th on VHS... gotta love booths full o' randomness.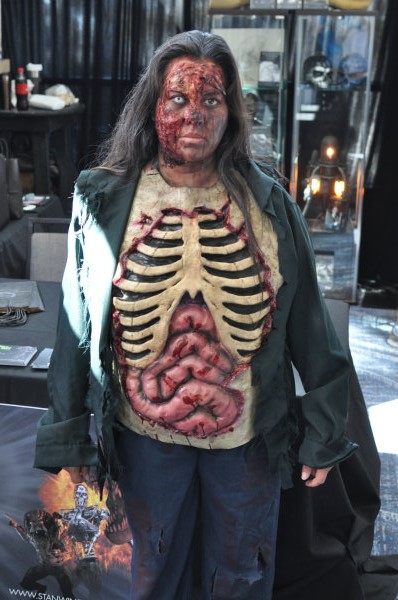 This Monsterpalooza cosplayer really put all of her guts out on display. Well done!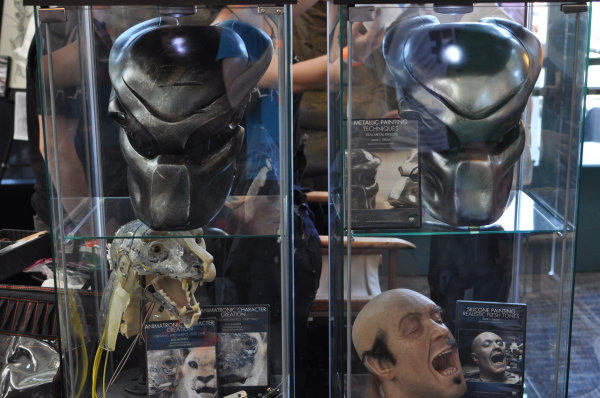 Predator masks along with some animatronics below.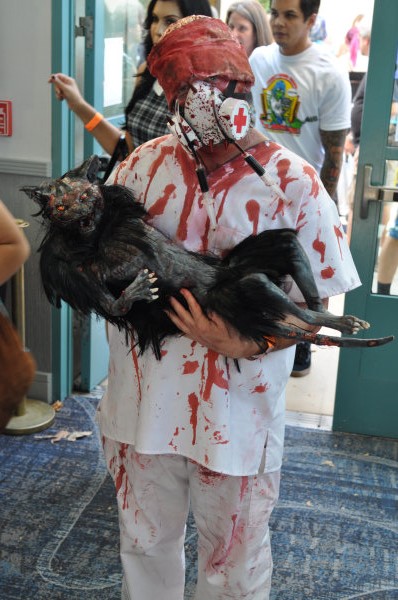 So good of the doctor to nurture that... thing back to health.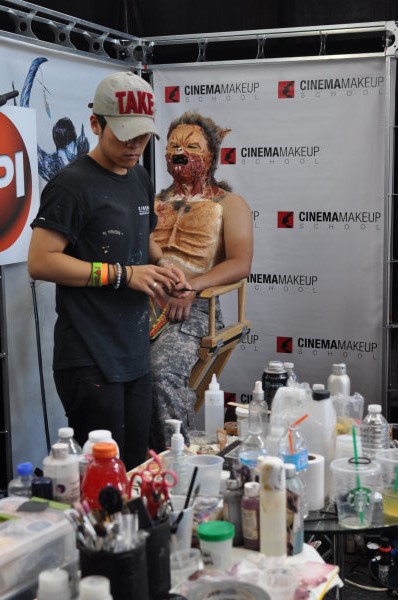 Another staple of Monsterpalooza has always been their live sfx makeup application demonstrations.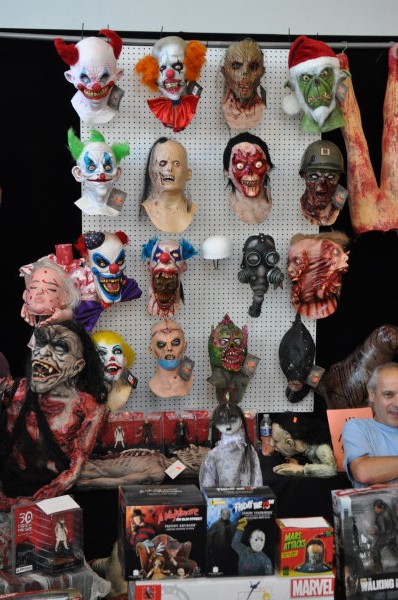 Clownin' around with plenty o' monster masks.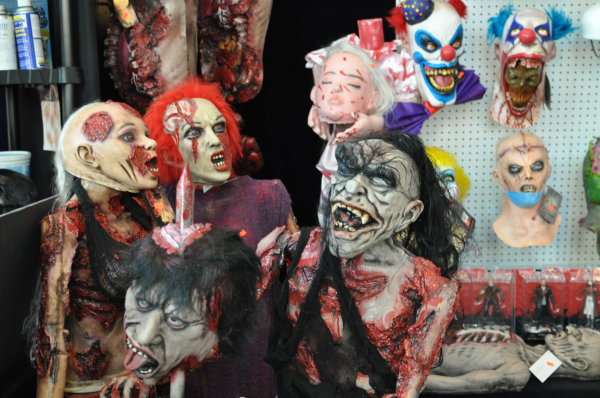 Looks like this headhunter had another successful hunt.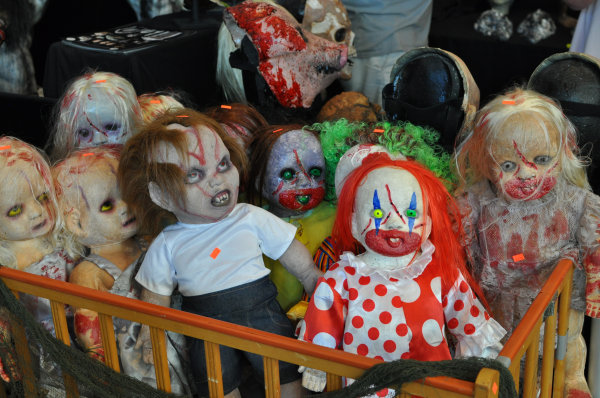 What that old "MTV Cribs" show should've really looked like.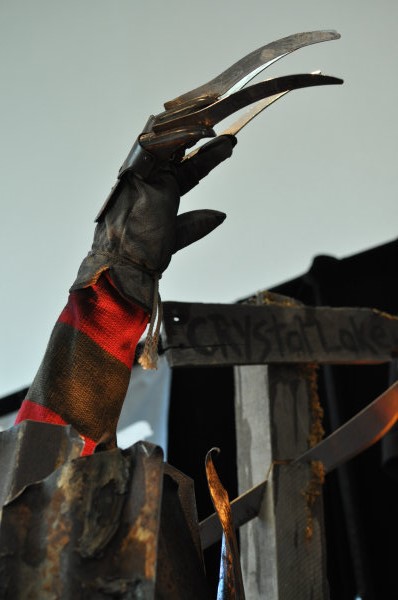 Me thinks Freddy is ready for another visit to Camp Crystal Lake.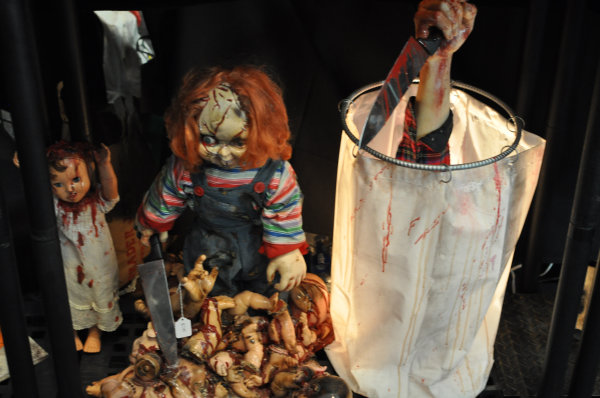 Some nice tributes to Child's Play and Psycho.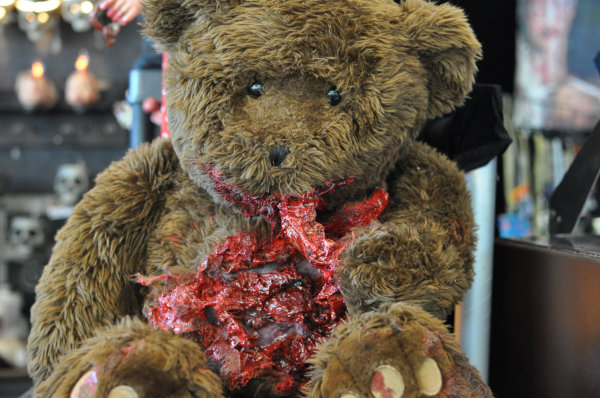 Teddy Ruxpin... the later years.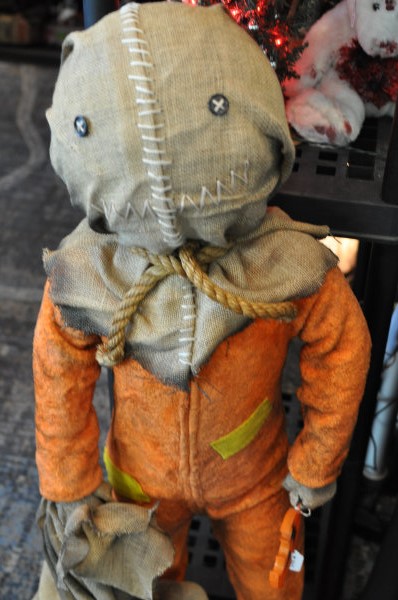 You better have some candies to give Sam.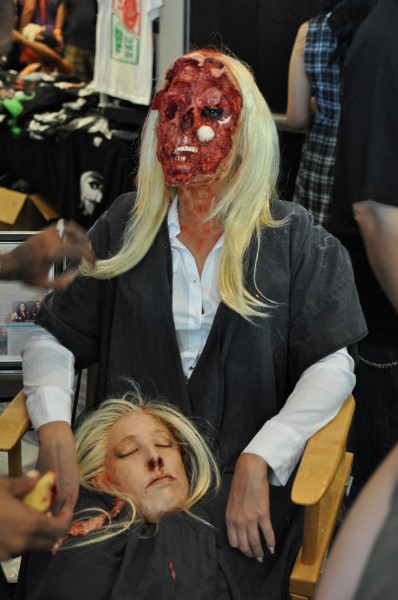 One of the more gruesome sfx makeup demonstrations.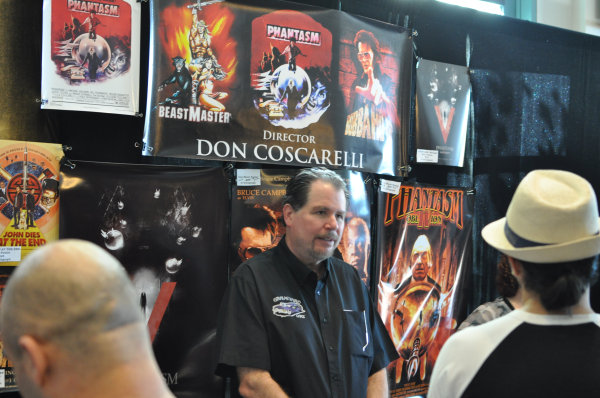 Don Coscarelli, director of some of my favorite classic flicks including Phantasm and Beastmaster.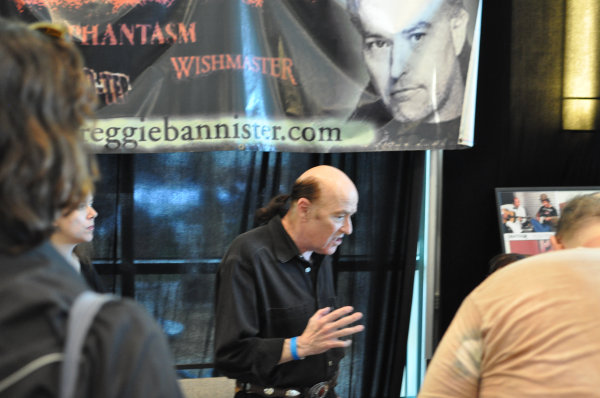 Reggie Bannister was also there, ready to deliver ice cream to friends, and pain to the Tall Man's minions.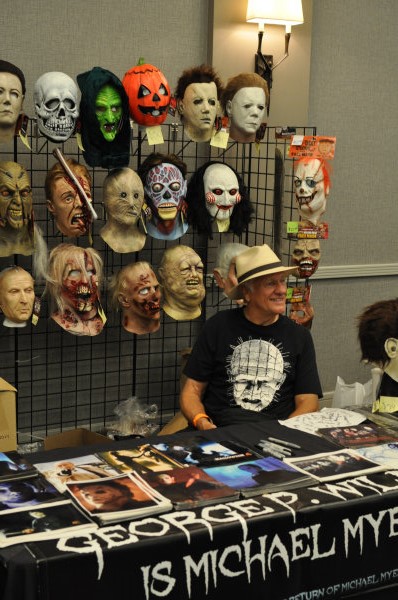 Nice to see George P. Wilbur there, who played Michael Myers in some of our favorite Halloween sequels.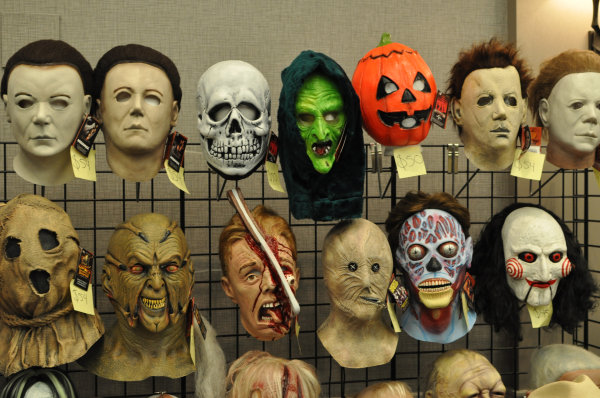 Various Halloween masks, including the Silver Shamrock trio. I'm sure they went through final processing.
There's much more Monsterpalooza madness to see!
Click here to continue onward to page 2!