by: -RoG-
Back in April, I attended Monsterpalooza 2016, which was different from past Monsterpalooza events, in that it was taking place at the Pasadena Convention Center for the first time instead of the Burbank Marriott Hotel. That Marriott always felt like home for this show, but Pasadena definitely had more space to work with. So the real question was: would it be a good move? You'll find out shortly.
In case you're a newcomer to the site, Monsterpalooza is a convention held in Burbank where a boatload of work by makeup and sfx artists is put up on display for all to marvel over. In addition to that, you'll find vendors selling a variety of horror novelties, masks, vintage monster toys, and other oddities you won't see anywhere else.
As always, for those of you who were unable to attend, I've put together another huge photo gallery (over 100 photos!) so you can see some of the best of what went down at the show. With that in mind, here's a pictorial of all the monstrosities that were on display (and sometimes looming about) at Monsterpalooza 2016. Enjoy!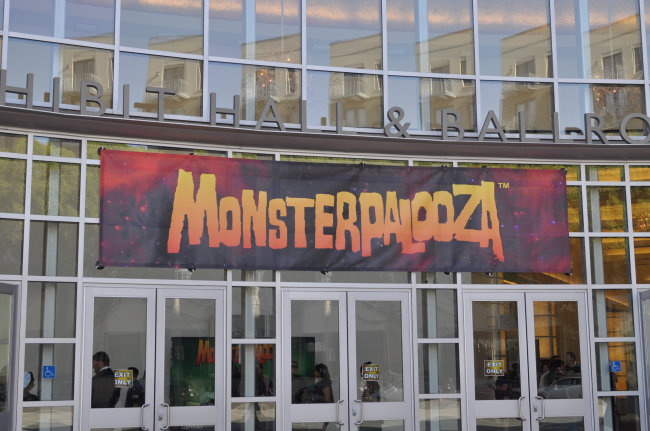 We arrive at the Pasadena Convention Center for Monsterpalooza 2016!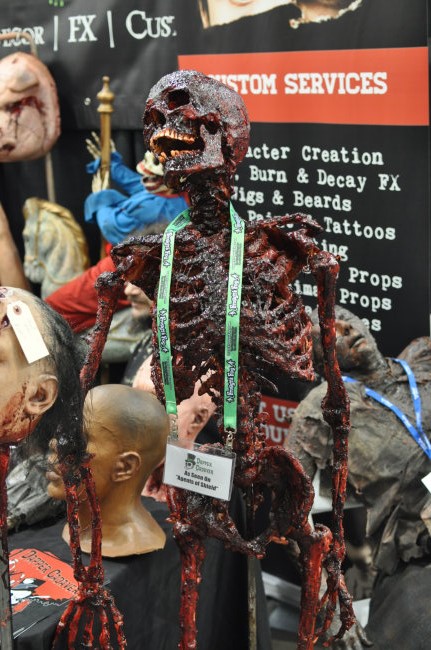 We were all dying to get in and take a look around.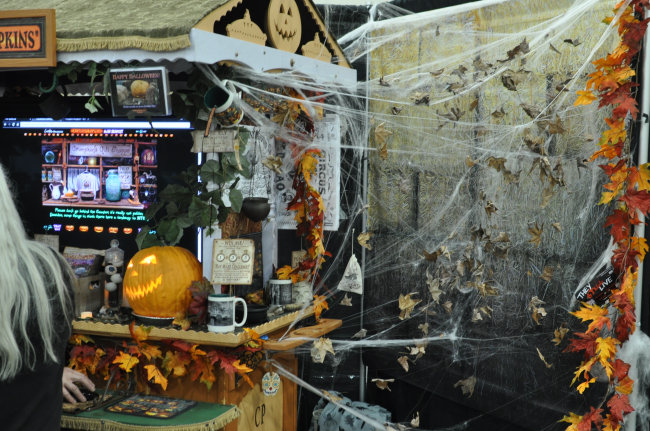 Nice how this booth set the mood with cobwebs and fall leaves.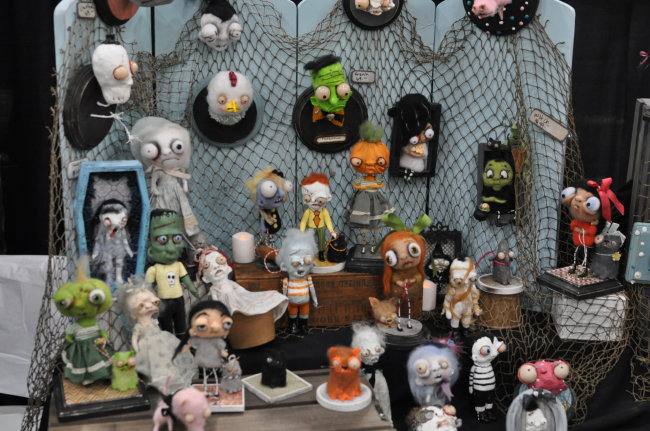 Loved these bug-eyed creations by Kerry Howard-Schmidt.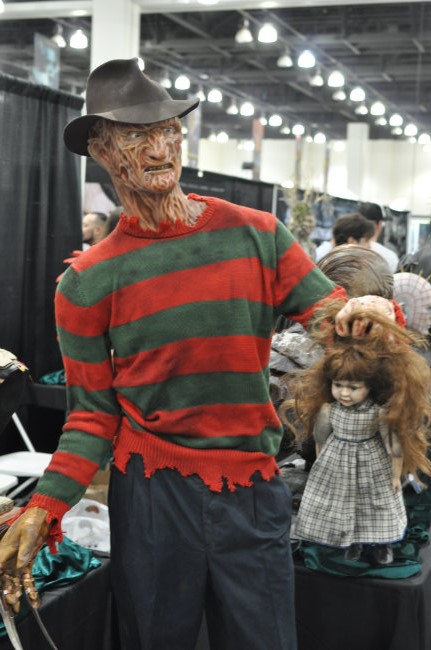 "Did somebody lose their doll?"
How nice of Freddy to try helping return a doll to its owner!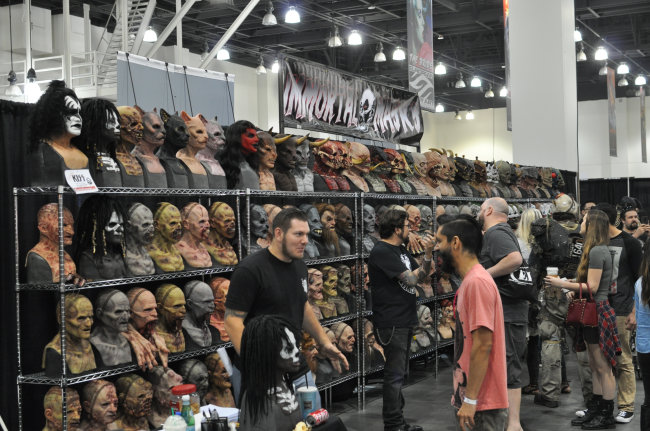 Immortal Masks had quite a large selection o' monster masks.

Wish I knew who created this amazing forest creature costume.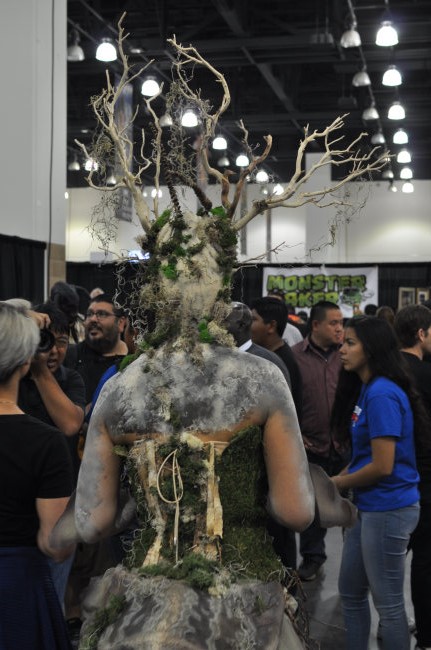 Just look at all the detail that went into it, what with the mossy patches 'n all.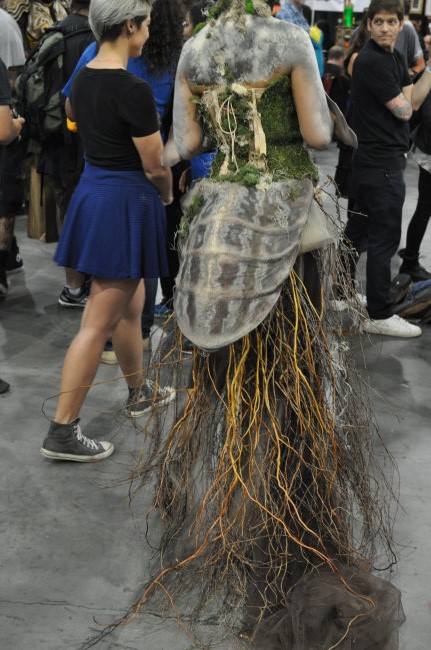 And roots!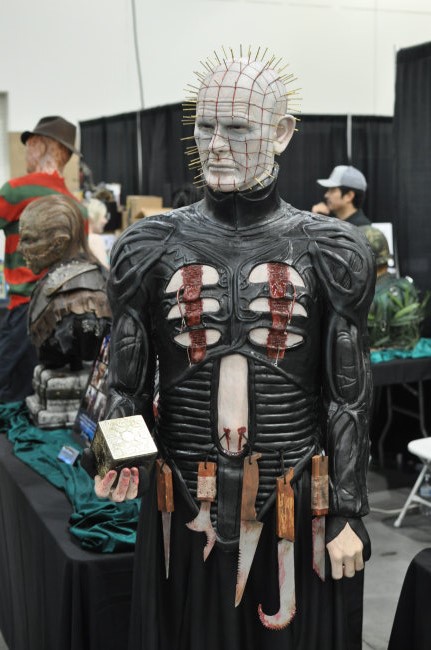 This is the face Pinhead made after I tried explaining to him what Pokemon GO is.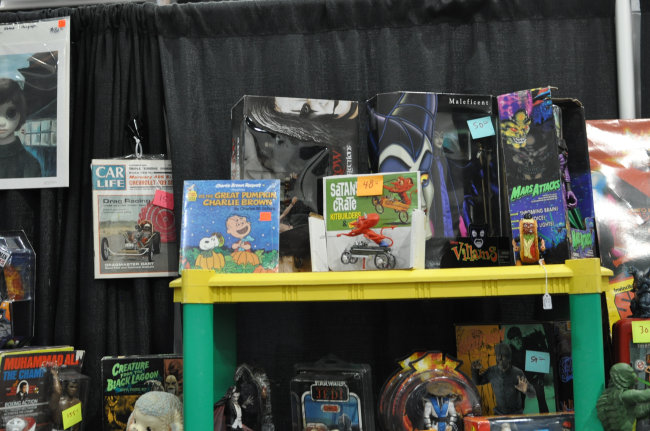 It's The Great Pumpkin, Charlie Brown, Satan's Crate, Mars Attacks, and other vintage goodies!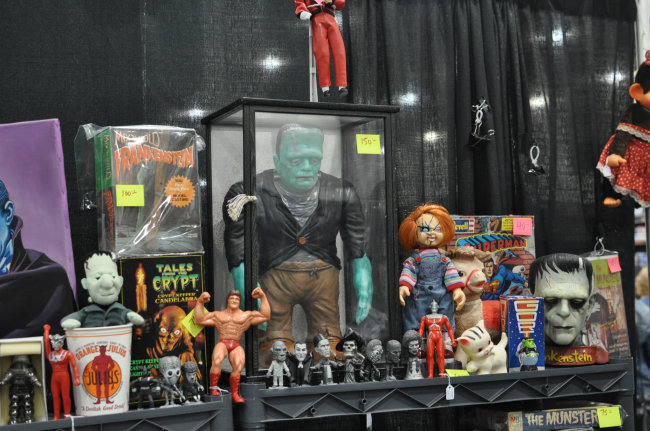 Always love seeing the classic Aurora Gigantic Frankenstein model... and Mr. Wonderful, who was a monster in the ring!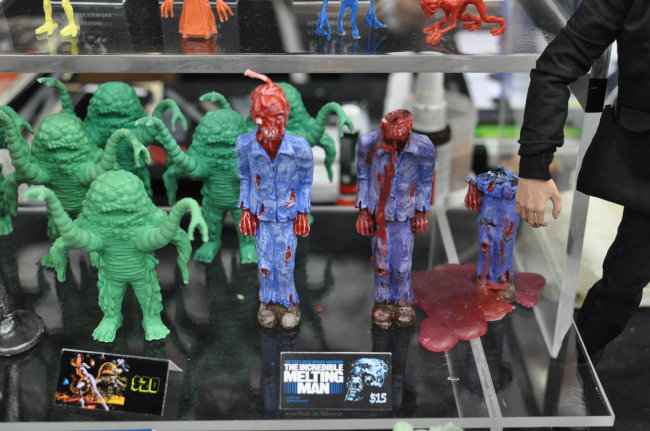 The Incredible Melting Man as a candle is still one of the best ideas EVER.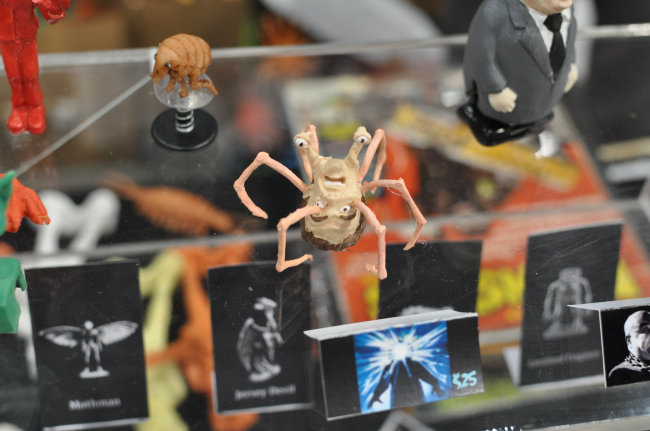 The Thing!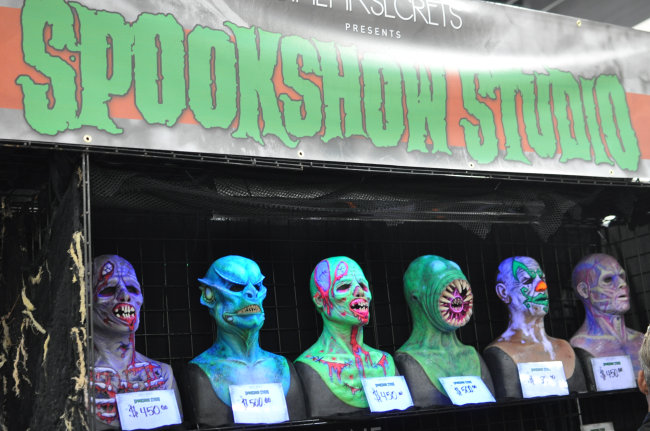 Some killer blacklight masks by Spookshow Studio.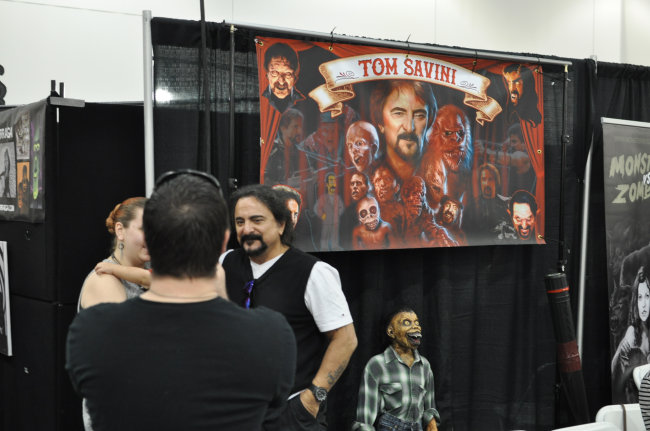 Horror special effects master, Tom Savini, was on hand to interact with fans.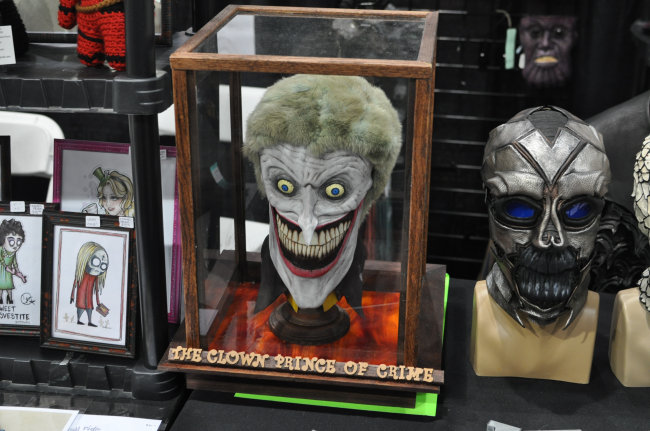 Gotta love how the Joker's hair looks like a shag carpet on this bust.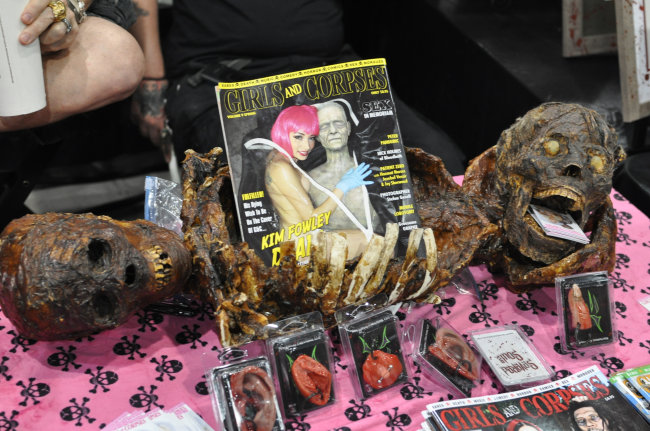 Girls and Corpses always have great decomposed skeletal booth displays.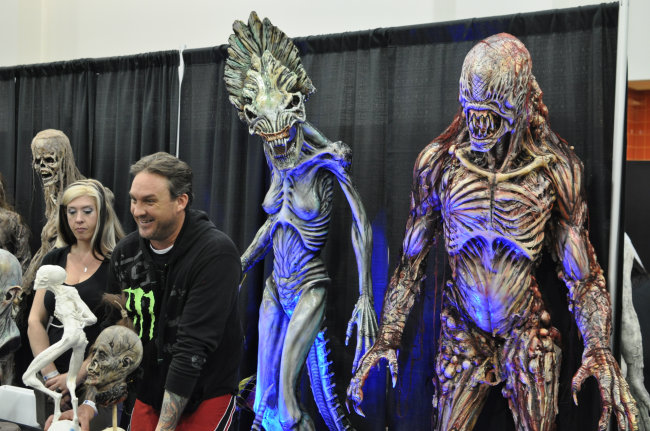 He wouldn't be smiling if he saw what was creeping up behind him.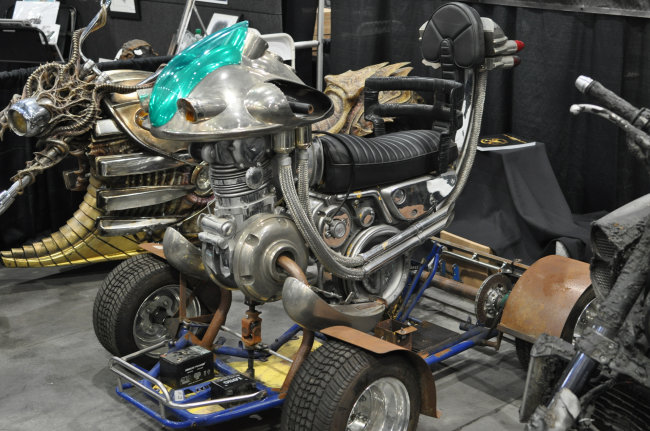 Not sure what it is, but I think it's my new dream car.

Just a little bit o' fire damage on this one.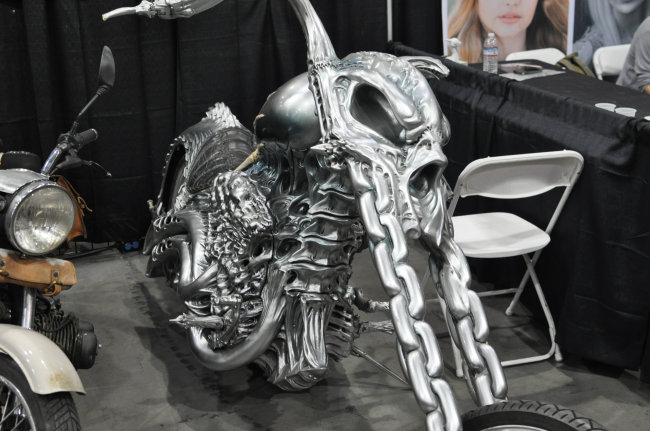 Ghost Rider approves of this ride.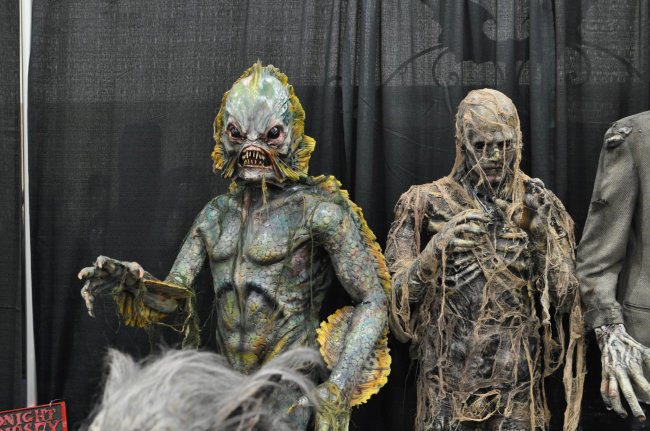 Here's a nice, original interpretation of the Creature from the Black Lagoon and the Mummy.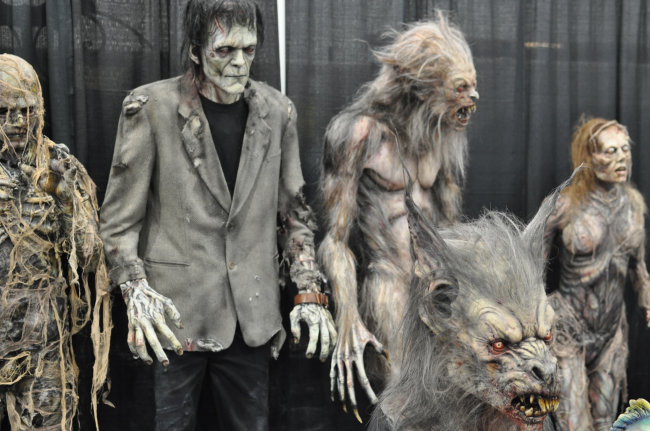 Frankenstein, the Wolf Man and his family.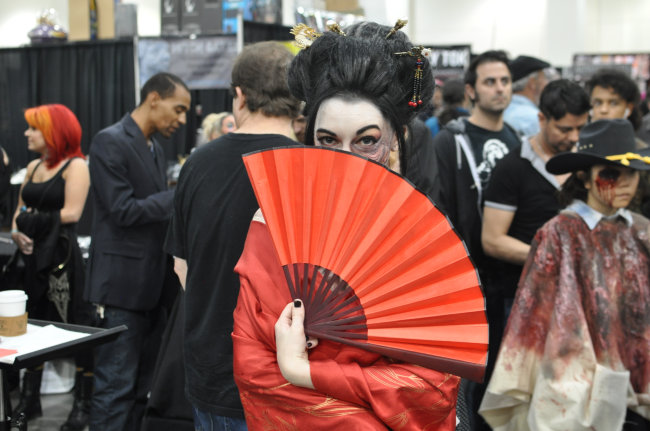 Oooh, look! What a beautiful geisha!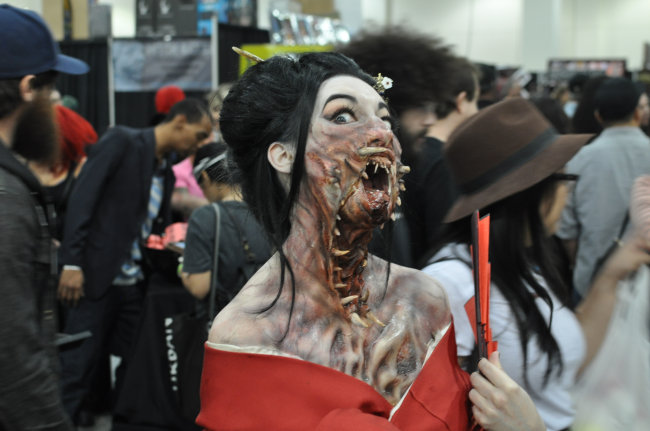 Er... I uh... guess I spoke too soon.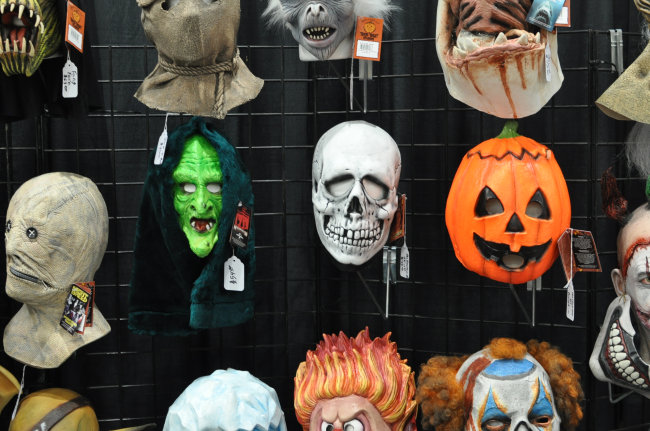 Seeing the classic Silver Shamrock masks from Halloween III: Season of the Witch never gets old!
There's much more Monsterpalooza madness to see!
Click here to continue onward to page 2!