by: -RoG-
Ahhh movie assholes... without them, the heroes wouldn't have as much adversity to overcome. Without them, the stories wouldn't be nearly as interesting. It's with this in mind that I'm starting up a new series of articles here on I-Mockery that pays tribute to some of my favorite assholes in the history of film. Some are the kind you love to hate, others are the kind you hate to love... either way, they added something special to the films they appeared in to make them unforgettable. So let's begin with the first installment in this ongoing series of my favorite movie assholes.
Walter Peck in "Ghostbusters"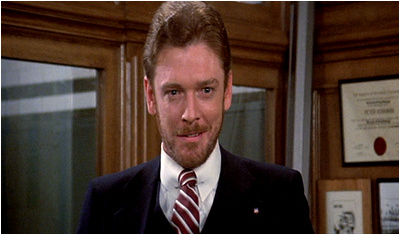 Played by William Atherton, the character of Walter Peck is the official asshole in the original Ghostbusters movie, clearly trying to make a name for himself by trying to put an end to their ghostbusting business. After all, if it wasn't for him, all of the supernatural entities that the Ghostbusters captured wouldn't have been released from the containment facility, paving the way for Gozer to bring chaos and destruction to the city of New York. Few things are as entertaining as watching Venkman admit to the mayor of New York, "Yes it's true. This man has no dick." which drives Pecker apeshit with anger. Of course, the big payoff is when we get to see Peck, or "Pecker" as Venkman calls to him, drenched in molten marshmallow after the Ghostbusters fry the Stay Puft Marshmallow Man. I'm guessing I'm not the only one when I say I wish it was the remains of the Stay Puft Dookie Man that landed on Pecker instead. Some of you might recognize him from other movie roles too, such as Richard Thornburg in Die Hard (another asshole). One can only hope that this guy still has assholish characters in his arsenal just waiting to be unleashed upon moviegoers.
Iceman in "Top Gun"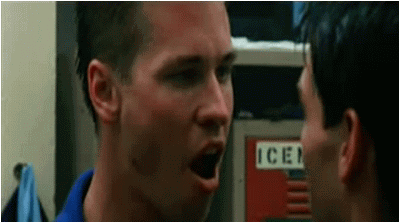 Who gets up in somebody's face and chomps their teeth together as a display of his prowess? Iceman does, that's who. Granted, just about everybody in Top Gun was an asshole in some shape or form... well, except for Goose, and we all know what happened to him. Of course, everybody remembers the end of the movie when Maverick saved the day and Iceman still has the nerve to say, "You can be my wingman anytime." to which Maverick responds, "Bullshit! You can be mine." After this, we see them laugh 'n all, but you know, deep down inside that little jab was just eating Iceman up and I'm willing to bet there's a director's cut out there where you see Iceman ripping out Mav's testicles in an act of jealous rage. Well either that, or he massages Mav's testicles, what with them being totally gay for one another 'n all....
Mick McAllister in "Teen Wolf"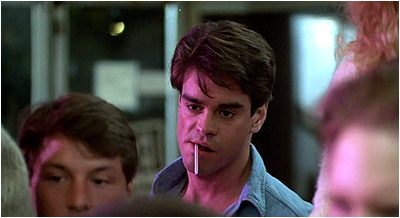 Now this is a great example of one o' my favorite stereotypical asshole characters: the mean asshole who doesn't like somebody because they look different. Mick McAllister is a slow-moving, huge-eyebrowed, caveman-like arrogant asshole who clearly believes himself to be cooler than god. His assholishness can be found throughout the film, such as when he taunts the overweight basketball player and says, "Shoot it, Fatboy!" Then again, the actual name of that character was "Chubby" so perhaps the writer was the real asshole here. Anyway, the main target of Mick's disdain is of course Scott Howard, the teenage boy played by Michael J. Fox who just happens to be a werewolf. Mick doesn't like all the attention that Scott is getting now, because before he "wolfed out", nobody cared about him that much. When his girlfriend starts to pursue Scott as well, Mick decides to knock his ego down a few notches with this little speech: "You don't scare me, freak. Underneath all that hair, you're still a dork, Scott. I've handled your kind before. Your mama used to steal chickens out of the backyard until I blew her head off with a shotgun. Right, Scott?" That right there is 100% pure unfiltered asshole, my friends. Mick manages to be an asshole all the way to the end of the movie, never changing his ways, because he constantly fouls Scott in the championship basketball game and stands under the basket (which would be illegal to do in any real gamel) while staring Scott down as he has to make the last two foul shots. Of course, this being an 80s movie, it ends with a lesson about just being yourself instead of a show-off as Scott (in normal human form) makes the last two shots and wins the championship. Mick is just left standing there with that "not a thought going through this guy's head" look on his face, and even his girlfriend (who is an asshole in her own right) leaves him. Suck on that, Mick.
Viking Lofgren in "Bad Boys"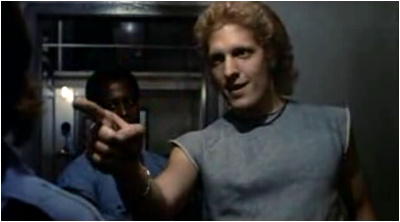 Ok, this is an interesting take on the typical bullying asshole character that we've seen in so many movies. The movie takes place in a juvenile correctional facility where a guy who is bestowed with one of the greatest character names in the history of film, Viking Lofgren*, is the alpha male amongst all the inmates. And it's no wonder, he looks like he's at least 10 years older than all of 'em, but perhaps that's just because he's a big guy with an amazing hair helmet. Throughout the movie, he acts like an asshole, treating everybody around him like dirt and giving the new guy, Mick, "shithouse detail" (cleaning the bathrooms). What makes this character so amusing, is for all of his intimidating stares and warning, Viking has got to be one of the biggest pussies in the history of bullying. First, he gets his face bashed in with a pillowcase filled with soda cans and loses his status as the alpha male. Then, to add insult to injury, the scrawny little kid (Horowitz) dumps an entire load of food on his head and then kicks him in the nuts as the entire cafeteria cheers him on. And last but not least, young Horowitz turns Viking's radio into a bomb which explodes in his face. For a a big, tough asshole, Viking seriously gets his ass kicked throughout the entire movie. I, for one, can never get enough of watching him get beaten to a pulp with cans of soda.
*Real Vikings were absolute badasses. This guy is clearly not a real Viking.
Dutch in "The Karate Kid"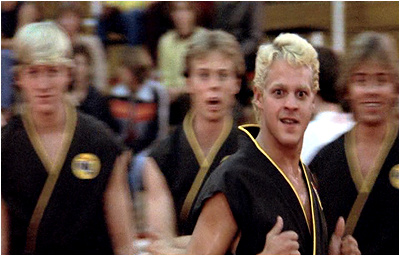 Don't get me wrong, Johnny Lawrence is one hell of a shining example of the perfect movie asshole, and many people consider him to be the greatest of all time. I'm sure I'll get to discussing him eventually in this series of asshole tribute articles, but for now, I ask you to hear me out because there was another asshole in the movie who always caught my attention. No, not John Kreese, though he was amazing as well. I'm talking about Dutch, the cockiest little shit in the entire Cobra Kai karate gang! Not only is his harassment of Daniel, or "Danielle" as he likes to pronounce it, absolutely impeccable what with his whole "Points or no points, you're dead meat." taunting, but just look into his eyes. Those overconfident wide eyes, that cocky grin... have you ever seen a guy so full of himself? He hops around the tournament floor like a goddamned jumping bean and when he kicks Daniel in the eye, he's quite proud of himself. Furthermore, his real name is Chad. It's clear to me that he was born to play the asshole role of Dutch. Considering how pretty much everybody involved with Cobra Kai was a complete asshole, I must give a tip o' my hat to Dutch for standing out from the rest o' the pack. Dead meat!
Buddy Ackerman in "Swimming With Sharks"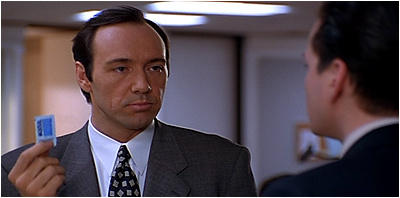 This is one of those movies that I've always felt was extremely underrated, but that's probably because it was promoted as an "uproarious gut busting comedy!!!@!ROFL!@%*#$@ @%$!" when it's actually a brilliant blend of dark humor and drama. Swimming With Sharks is all about the movie making business and Buddy Ackerman (Kevin Spacey) is a bigtime producer who hires Guy to be his personal assistant. Wait, did I say "personal assistant"? I'm sorry, I meant to say "verbal punching bag" instead. When it comes to verbally abusive bosses, Buddy Ackerman takes the cake with his brutal honesty and his ridiculous demands. Here are a few glorious examples of his abuse of Guy:
-"You're happy! I hate that!"

-"You are nothing! If you were in my toilet I wouldn't bother flushing it. My bathmat means more to me than you!"

-"What I am concerned with is detail. I asked you go get me a packet of Sweet-N-Low. You bring me back Equal. That isn't what I asked for. That isn't what I wanted. That isn't what I needed and that shit isn't going to work around here. Do me a fucking favor. Shut up, listen, and learn. Look, I know that this is your first day and you don't really know how things work around here, so I will tell you. You have no brain. No judgment calls are necessary. What you think means nothing. What you feel means nothing. You are here for me. You are here to protect my interests and to serve my needs. So, while it may look like a little thing to you, when I ask for a packet of Sweet-N-Low, that's what I want. And it's your responsibility to see that I get what I want."
Of course, a man can only take so much, even a schmuck like Guy... so he eventually snaps, takes Buddy hostage and proceeds to beat and torture him as payback for all the abuse. Look, these are the risks you take when you decide to make being an asshole your full-time job. Way it goes.
R.J. Fletcher in "UHF"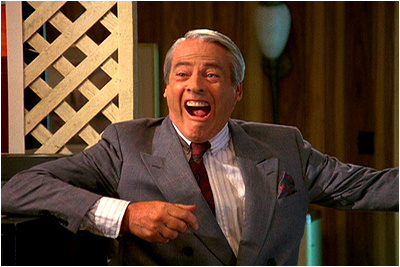 Now what list of movie assholes would be complete without at least one rich company executive who wants to shit on all the fun that "the little people" are having? Enter R.J. Fletcher from "Weird Al" Yankovic's classic cult comedy, UHF. George Newman has just been given a chance to bring a fledgling local TV station back to life, and when he manages to turn it into a success (thanks to Stanley Spadowski and his mighty mop of justice), the owner of the rival network station R.J. Fletcher does everything in his power to stop them. But it's not just his attacks on the UHF station that makes him an asshole, it's how he treats everybody around him. For one thing, he fired Spadowski because he believed that he lost some important papers of his, when in fact that had been in his chair all along. A nice person would've apologized to Spadowski and re-hired him instantly, possibly giving him a raise too, but not R.J. He just laughs the whole thing off and doesn't even seem to care that he just canned an honest, hard-working janitor. He's also extremely politically incorrect. For example, when some of his employees mock Pamela Finklestein (a news reporter for the UHF station), she complains to R.J. and he sarcastically responds, "Why, that's a terrible thing. I don't know how many time I've told those boys, never call chicks broads." Of course, he gets what's coming to him towards the end of the movie, when he's unknowingly broadcast to the entire community as he gives the following speech which reveals just how big of an asshole he truly is:
"This community means about as much to me as a festering ball of dog snot. You think I care about the pea-brained yokels of this town? If you took their combined I.Q., and multiplied it by a hundred, you might have enough intelligence to tie your shoe, if you didn't drool all over yourself first. I can't stand those sniveling maggots. They make me want to puke. But, there is one good thing about broadcasting to a town full of mindless sheep. I always know I have them exactly where I want them. Ha, ha, ha, ha, ha."
Also, for the record, I have to say, he's got one of the most assholish laughs I've ever heard. It just screams of evil and insincerity. Kudos to Kevin McCarthy for bringing out one of the greatest bad guy laughs I've ever heard and for creating one of my all time favorite on-screen asshole characters.
Milton Dammers in "The Frighteners"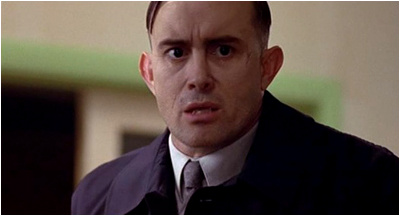 I'm not sure if it's simply because it wasn't promoted well enough, but Peter Jackson's The Frighteners definitely doesn't get the credit it deserves if you ask me. It's a fun horror-comedy starring Michael J. Fox as a paranormal investigator / con-man who can actually communicate with the dead. When he gets wrapped up with a spree of murders taking place in town, the FBI sends in one of their most nutty agents, Milton "You're invading my personal bubble!" Dammers, to try and put an end to all the inexplicable deaths. He's a bizarre, twitchy little guy who pukes when people yell at him, but the authoritative power that has been bestowed upon him by the United States government has enabled him to overcome his shortcomings and act like a high 'n mighty asshole. You'd think anybody named Milton with a greasy hairdo like that would be predisposed to be an asshole, and considering he appears to be somewhat certifiable, it's not too surprising. He even admits to being an asshole right in the movie, "I am an asshole... with an Uzi!" And to add a just a touch of creepiness to his character, Milton is also into self-mutilation as you'll see when he exposes his heavily scarred chest and proclaims, "My body is a roadmap of pain!" Nobody wants to be in the same room as an asshole, but this is one of of those rare ones who you don't want to be in the same town as.
Chong Li in "Bloodsport"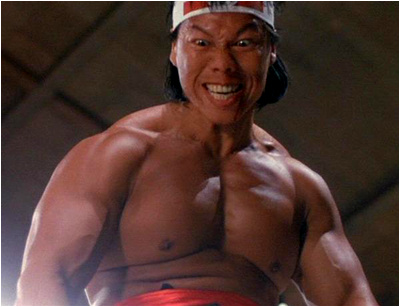 Yes indeed, it's time for Chong Li! If you haven't seen Bloodsport before, I have only one question for you: why are you wasting your time on the Internet when you could be watching a cinematic masterpiece like that? This movie was really the breakout role Jean-Claude Van Damme had been waiting for and it's still my favorite role of his to date. What's better is that it brought Bolo Yeung back into the eyes of the mainstream for the first time since Bruce Lee's Enter The Dragon. Bolo is a huge beast of a man who could crush your face between his iron pecks, and it's a good thing he left competitive bodybuilding for an acting career, because he makes one hell of an intimidating bad guy. If I had to choose between fighting the Incredible Hulk or Bolo Yeung's "Chong Li" character in Bloodsport, I'd choose the Hulk. The Hulk would smash me, sure, but at least he wouldn't be an asshole about it. That's not the case with Chong Li. In Bloodsport, he is the main bad guy in the underground Kumite competition, and not only overpowers his opponents, he kills them once they're already incapacitated. He's not the most verbal asshole, but he sure loves to taunt the hell out of Jean-Claude, especially when he nearly kills his friend by stomping on his face. Did I mention Bolo Yeung was 49 years old when he filmed Bloodsport? He may be old as your grandparents by now, but he could still tear you in half with his bare hands. Chong Li may have been a big asshole in Bloodsport, but there's no way in hell I would say that to his face.
Bluto in "Popeye"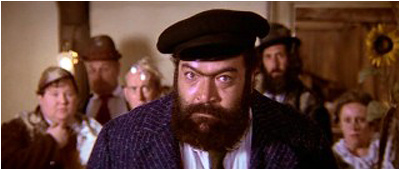 The final character on my list is Bluto from the Popeye movie. Now, I'll be the first to tell ya, I'm not a big fan of musicals... they almost always bore me straight to sleep, but the Popeye movie was a brilliant translation from the cartoon to real life and I honestly can't imagine anybody not being entertained by it. While every character was cast perfectly, perhaps none were more fit for the role than Paul L. Smith as Bluto. We all know that Bluto was an asshole in the Popeye cartoons, but Paul manages to take it up a notch in this film. Sure, he's got the ogre-like grunts and breathing, and people tremble at his feet wherever he goes, but it's when Popeye and Olive Oyl are late to arrive back at a dinner party that Bluto unleashes his rage upon everyone in sight. And you wanna know the best part about him beating up all the house guests? He sings a song called "I'm Mean" while he's doing it! Here's a sampling of the lyrics:
"I'm mean, I'm mean, I'm mean, Ya know what I mean. I'm so mean I had a dream of beatin' myself up. I broke my nose, I broke my hand, I wrestled myself to the ground and then choked myself to death then broke the choke and woke up!"
Bluto, you definitely belong on everybody's list of the top asshole characters in cinematic history. One thing though, next time you beat the pulp out of Popeye, don't stuff his face with spinach. You'll have more chances to be mean to people that way.
And there you have some of my all-time favorite movie assholes. Again, this is just the first article in what will probably be an ongoing series here on I-Mockery, so if I didn't get to cover your favorite movie asshole yet, feel free to post any of your suggestions in the comments area below. Who knows, I just might include your suggestions in the next article. Then again, maybe I'm an asshole too and won't even bother to read your comments.
Have any questions or comments about this piece?
SHARE YOUR THOUGHTS IN THE READER COMMENTS SECTION BELOW!