Warning: The following program is not a re-enactment. It is footage taken from actual events. The identities of those who were involved have not been protected. Viewer discretion is advised. Winners don't use drugs. Be sure to try the veal!
---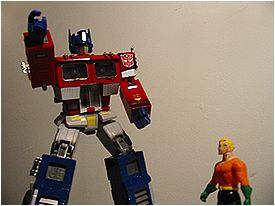 OPTIMUS PRIME: ...so I says to the dame, "Look here missy, I took you out for a night on the town, and now my gears need some greasing!" and she gives me the whole "You're a truck, nobody wants to fuck a truck." spiel.

AQUAMAN: Man, if I had a dollar for every time I've heard THAT excuse!

OPTIMUS PRIME: Tell me about it! So I says to her, "Look baby, there's plenty of others lined up around the block waitin' for an all access pass to my love buffet."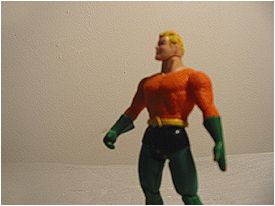 AQUAMAN: Love Buffet!? Where do you get this shit!?

OPTIMUS PRIME: Old pal of mine by the name of Onyx Blackman, he was wise in the ways of wooing women with witty words.

AQUAMAN: Can you teach me these "ways" that you speak of? Do you think I've got what it takes?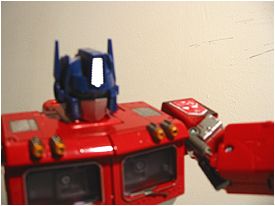 OPTIMUS PRIME: Well, you are Aquaman dude. First, you have to accept that you're pretty much the most useless "super" hero in the history of the world.

AQUAMAN: But I can swim with the fish!

OPTIMUS PRIME: And I can eat the fish, what's your point?

AQUAMAN: *whimper*

OPTIMUS PRIME: See? That's exactly the kind of shit I'm talking about man. You've gotta develop a tough skin. Learn to laugh at yourself. Make jokes about your shortcomings. Women love a guy with a sense of humor... even if he does happen to be wearing one of the most homoerotic outfits ever.

AQUAMAN: Hey!!!

OPTIMUS PRIME: What did I just say about developing a tough skin?

AQUAMAN: Hmm, yeah, I guess the outfit doesn't help me win over the ladies. In fact, men have always been drawn to me for some strange reason.

OPTIMUS PRIME: Hahaha! You see!? Now THAT was a good joke man!

AQUAMAN: But I was being serious!

OPTIMUS PRIME: Oh...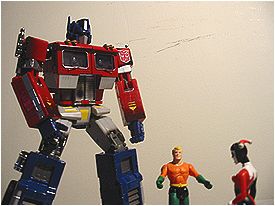 OPTIMUS PRIME: Well nevermind that now man. Check out this babe that's walking up to us! Show me what you've got! Put the Aqualicious mooooves on her!

AQUAMAN: *gulp*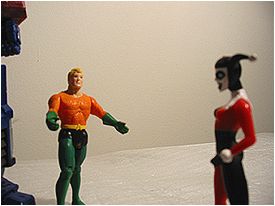 AQUAMAN: Er, hey there babe.. er... I mean ma'am. MA'AM!

HARLEY QUINN: Excuse me!?

AQUAMAN: You know, Olympic swimmers are some of the healthiest, most athletic people in the world.

HARLEY QUINN: So?

AQUAMAN: So I've spent 99% of my life swimming in the ocean. Whaddaya think about them apples?

HARLEY QUINN: I think "them apples" are probably shriveled up like a prune and smell like a combination of sea water and whale sperm.

AQUAMAN: What the!? Screw you honey! You're ugly anyway! Yeah!

OPTIMUS PRIME: Step aside Casanova and let Optimus show you how to lure da' ladies!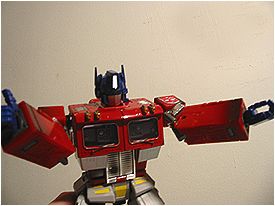 OPTIMUS PRIME: Say there sugar tits, do you have a mirror in your pocket?

HARLEY QUINN: Uh, why?

OPTIMUS PRIME: 'Cause I could see myself in your pants!

HARLEY QUINN: Oh christ...

OPTIMUS PRIME: Wait! Wait! Check this one out!

HARLEY QUINN: Please no...

OPTIMUS PRIME: Do you have any robot in you?

HARLEY QUINN: You have got to be shitting me.

OPTIMUS PRIME: Would you like some? AAHAHAHAHAHAHAHAHA!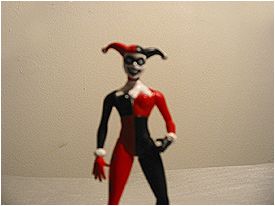 HARLEY QUINN: Have you EVER gotten a date with those shitty lines?

OPTIMUS PRIME: Sure I have!

HARLEY QUINN: Yeah right, you don't deserve a date with a dog, slimeball.

OPTIMUS PRIME: I'm the kinda guy who deserves to have women I don't deserve. Take you for instance...

HARLEY QUINN: You're gonna have to do a lot better than that. Hell, I doubt a tin-man such as yourself could please me anyway.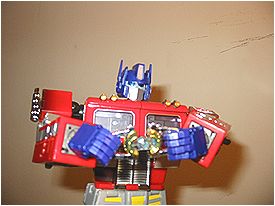 OPTIMUS PRIME: Oh come on now baby! Don't you know that it's not about the size of your Matrix... it's how you use it!

AQUAMAN: Jesus, even I can come up with a better line than that! And put that thing away, you could get sued for sexual harassment!

OPTIMUS PRIME: You stay out of this tuna boy, go check the PH balance in your aquarium or something! Optimus Prime is busy reeling in a bigger fish!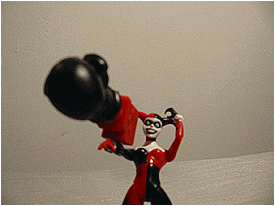 HARLEY QUINN: Oh you're reeling in something alright. You want some action? Fine, I'll give you boys some action. Say hello to my little friend!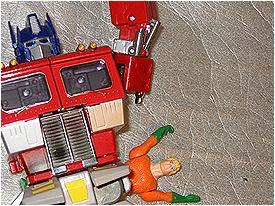 AQUAMAN: What the!? What happened??? Aaaaaaargh! Optimus! Get the hell off of me you big bloated barge!

OPTIMUS PRIME: ...

AQUAMAN: Well? Are you gonna get off me or what!?

HARLEY QUINN: He's taking a little nap right now, Aquadork. You see, I took something precious of his.

AQUAMAN: What? His subscription to Hot Rod magazine?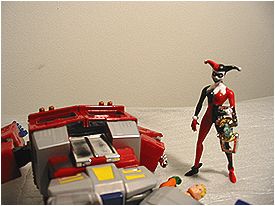 HARLEY QUINN: No, even better, I took his manhood.

AQUAMAN: Eh, same difference. Hey wait! You took the Matrix out of him! Now how the hell am I supposed to get out from underneath this big hunk of metal!?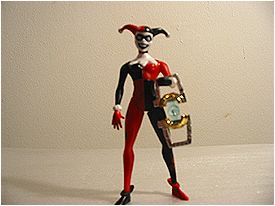 HARLEY QUINN: Oh gee, I dunno... maybe you can win me over with some more of those great pick-up lines of yours! Bwahahahahahahahahaaaaaa!! See ya later, you dateless guppy. Be sure to give my love to the pollywogs! Ahahahahahahahaha!!!!!

AQUAMAN: Damnit! Get back here and help me up! If you don't, I swear the next time you take a shower I'll use my powers to make that water turn mildly cold after 15 minutes of use! And you had better believe I can do it! I'm Aquaman daaaaaaamnit!!!!!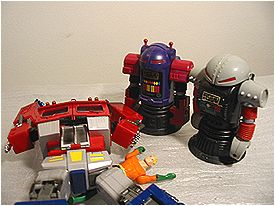 HUN-DRED: Well, well, well... what do we have here?

CRUEL: Looks like that little girl is stuck under Optimus Prime!

AQUAMAN: Hey! I'm not a little girl! I'm Aquaman!

HUN-DRED: Little.

CRUEL: Girl.

HUN-DRED & CRUEL: LITTLE GIRL!

AQUAMAN: Will you two shut the hell up and help me out of here!?

HUN-DRED: Oh alright...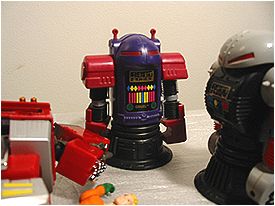 CRUEL: Sir, if I may interject for a moment...

HUN-DRED: Go right ahead.

CRUEL: Why should we free this little girl when we can really take advantage of the situation?

HUN-DRED: What do you mean?

CRUEL: Think about it. We have Optimus Prime, the most badass good robot leader of all time, lying unconscious on the ground. If we were to say, play a practical joke on him, it could very well make our ranks in "the top evil robots of all time" skyrocket!

HUN-DRED: Do you really think so?

CRUEL: At the very least, I see no reason why we can't be ranked higher than say... "Cy-Kill" from the Go-Bots.

HUN-DRED: Christ, we're ranked lower than him?

CRUEL: Sadly, many people feel we put the "suck" in suction cups. And the rest of them haven't even heard of Robo Force robots.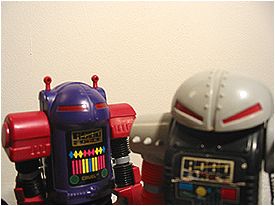 HUN-DRED: Yes... YES! I like where you're going with this. Excellent work Cruel. But what can we do to bump up our rankings in evil robot history?

CRUEL: Well, Optimus is missing his Matrix. I suggest we install some kind of a replacement in his chest. Something... EVIL.

HUN-DRED: You know, you really do live up to your name.

CRUEL: Thanks, I try.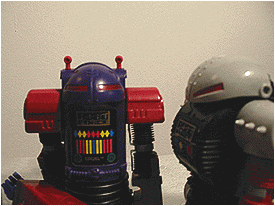 HUN-DRED: So do you have an idea as to what we could put in his chest as a replacement?

CRUEL: Oh but I do!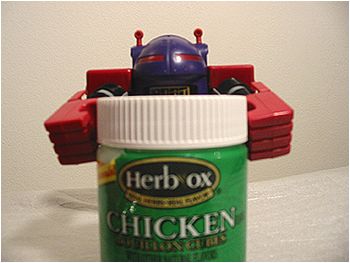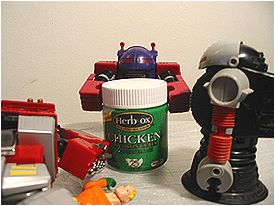 HUN-DRED: That is so awesome, I think I could cry.

CRUEL: How? Robots like us don't have tear ducts.

HUN-DRED: It's an expression, asshole.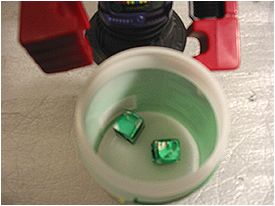 CRUEL: What the!? Who ate all my bouillon cubes?

HUN-DRED: I... er... it must have been Vulgar. You know that guy, he's always got the munchies. Besides, what does it matter? All we need to do is put one inside of Optimus and our evil deed shall be complete!

CRUEL: Fair enough, but someone had better buy me some more cubes! I was building an outhouse with them, damnit.

HUN-DRED: Sure, whatever. Let's just get on with it.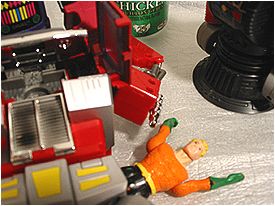 AQUAMAN: Wait! You can't put a bouillon cube inside a robot like Optimus!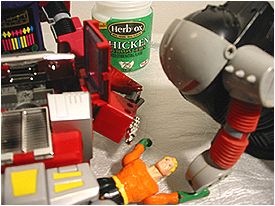 HUN-DRED: Listen up Mermaid, and listen up good. You're in no position to tell us what we can and cannot do.

AQUAMAN: But think about it! Do you have any idea what will happen once you place a bouillon cube inside of Optimus?

CRUEL: No, and that's exactly the point of it! Who knows how Optimus' inner circuitry will react to chicken bouillon.

HUN-DRED: COMMENCE WITH THE BOOOOOOL-YUN INSTALLATION!

AQUAMAN: NOOOOOOOOOOOOO!!!!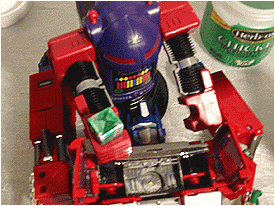 CRUEL: Initiating bouillon cube installation.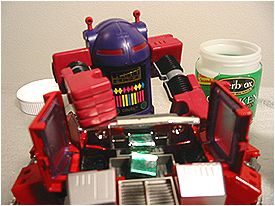 CRUEL: Bouillon cube successfully installed.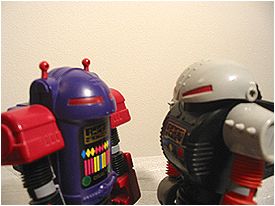 HUN-DRED: MUAHAHAHA! WE ARE NOW AMONGST THE EVIL ROBOT ELITE! TAKE THAT AND SHOVE IT, GO-BOTS! LET THE CHAOS ENSUE!

CRUEL: LET THE SKIES RAIN CHICKEN-FLAVORED FIRE!

HUN-DRED: LET THE PUNY MORTALS COWER BEFORE OUR SUCTION!

CRUEL: LET THE COBBLESTONES WEAP AND THE DAFFODILS SCREAM!

HUN-DRED: LET... SHIT, I CAN'T TOP THAT ONE.

---
Running a big site like I-Mockery takes a lot o' time and costs moola too.
Want to help show your support?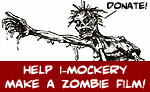 DONATE TO OUR ZOMBIE MOVIE!
Come talk about this piece & more on our Message Forums!
click here for more minimocks!

---


[Minimocks] [Articles] [Games] [Mockeries] [Shorts] [Comics] [Blog] [Info] [Forum] [Advertise] [Home]


Copyright © 1999-2007 I-Mockery.com : All Rights Reserved : ()
No portion of I-Mockery may be reprinted in any form without prior consent
We reserve the right to swallow your soul... and spit out the chewy parts.