by: -RoG-
One of my favorite things to do come October every year, is seek out the latest haunts that have creeped into town. In case you don't know what a haunt is, they're horrific attractions which usually involve walking through mazes filled with ghouls 'n monsters. As you probably already know, I've been going to Universal's Halloween Horror Nights and Knott's Scary Farm for years now, and you'd be hard-pressed to find more spacious, professional haunts than those two. That said, I also love discovering new haunts that aren't run by huge organizations, but are run by small groups of people who simply want to bring some extra Halloween fun to their neighborhood. I recently found out there's a new one out in Pomona, California called Nightmare at Scareview Farms which has five different mazes. Pomona isn't actually close to where I love, but if there's one thing that's true about this season, it's that you must go wherever Halloween fun can be found and not expect it to always come to the ten-mile radius you tend to hang around on any given day... you lazy bastard.
So off to Pomona we went for a thrilling night of farm-oriented horrors galore. Here be the photos of our chilling experience. Please keep in mind that many of these photos were taken in the dark and/or while we were moving, so as with any horror maze we've ever covered in the past, these are the best shots I was able to get without holding up the crowds: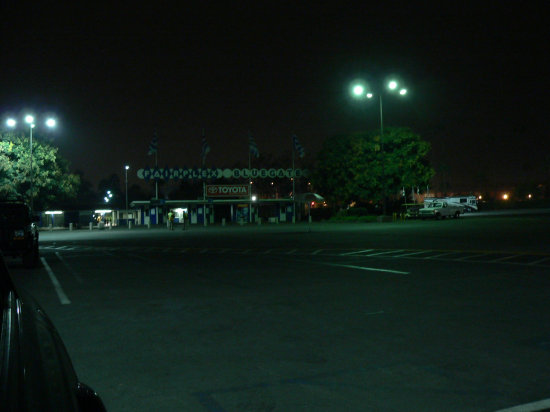 We arrived at the Fairplex where the event was being held and quickly realized there weren't many other people there yet.
Also, the other half of the Fairplex was being used for an RV show, which I'm sure was equally nightmarish.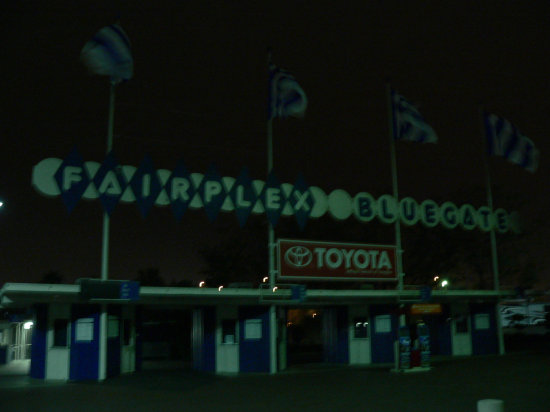 There weren't exactly any big visuals to clue us in on the fact that there was a Halloween haunt taking place here.
Then again, perhaps they were trying to scare us with visions of Toyota's automobile acceleration problems. Subtle.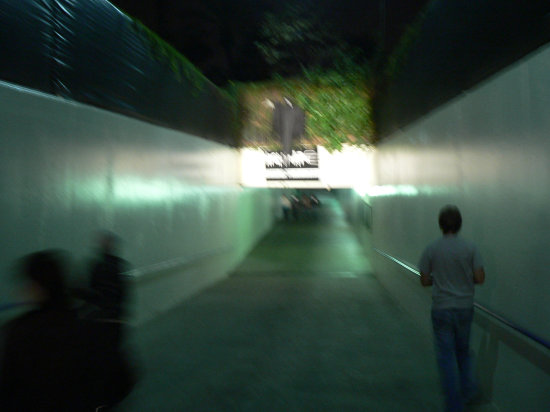 We made our way through the main gates and headed down a wide concrete corridor and then finally saw this...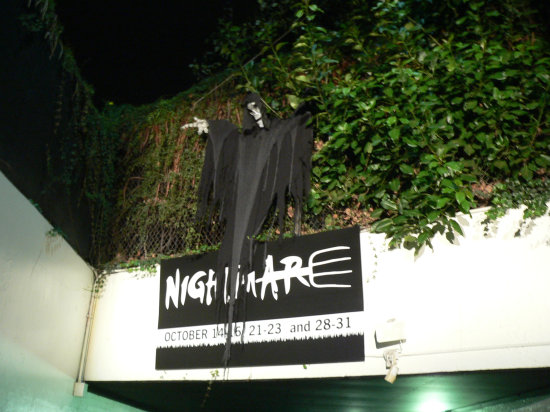 Yep... that little sign and dollar store reaper prop was the one bit of reassurance we had arrived at our destination.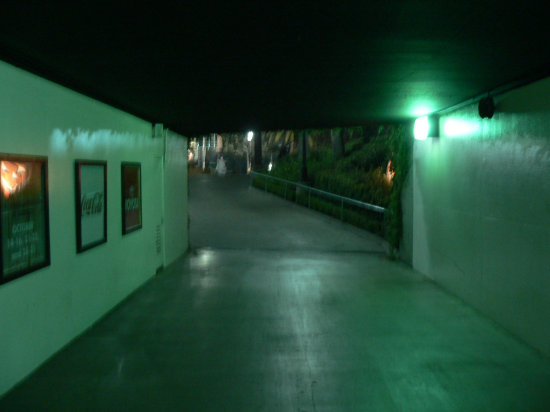 As we continued through the tunnel, we heard some spooky pitch-shifted voices on the overhead speakers
as we gazed at the many horrifying promotional posters for sponsors such as Coca-Cola. HORROR!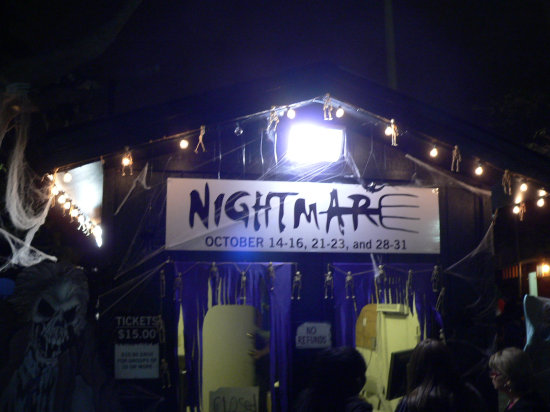 We finally made it to the ticket booth and access to all five mazes was only $15.
I don't care how cheap or cheesy a haunt may seem, $15 for all those mazes is a great deal.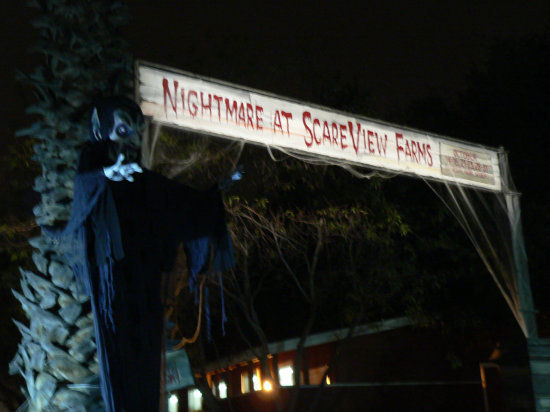 After buying our tickets, there was no turning back, it was time to enter our Nightmare at Scareview Farms.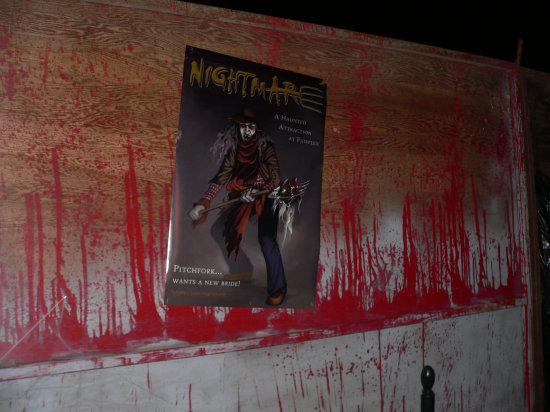 That's Pitchfork, the main evil character behind all of the chaos at this haunt and he's out looking for a new bride.
But nevermind that, what I particularly liked was how the plastic blood wall sheets were hung upside-down.
Oh wait, I get it... part of the "nightmare" at Scareview Farms is the complete lack of gravity!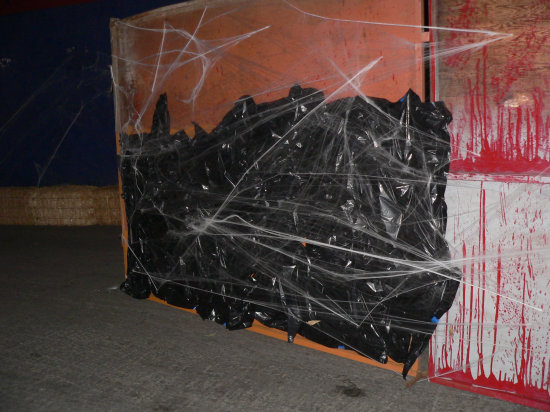 Nothing says "terror" like a cluster of trash bags affixed to a wall with blue tape and cobwebs.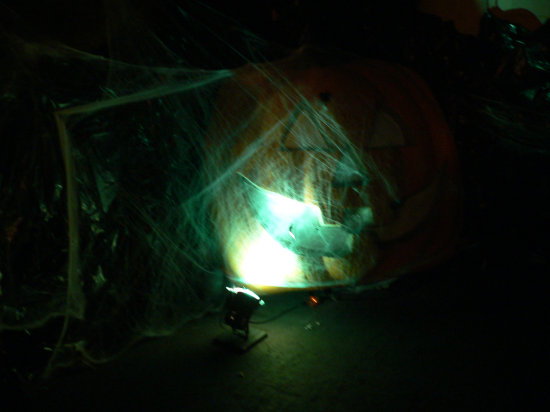 The web-covered jack-o-lantern looked nice in the eerie green light, but the one thing the folks behind
Nightmare at Scareview Farms haven't mastered is the art of concealing the light source.
At least try covering it up with some vegetation!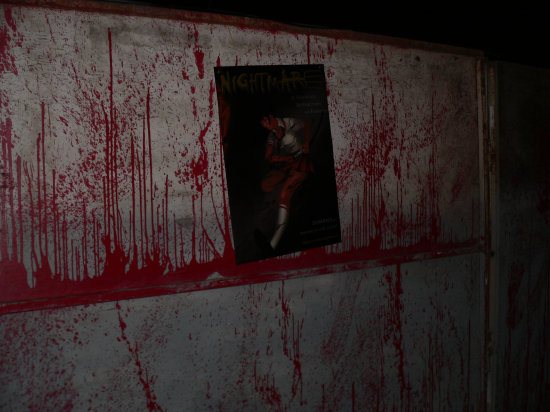 More anti-gravity blood! Brilliant!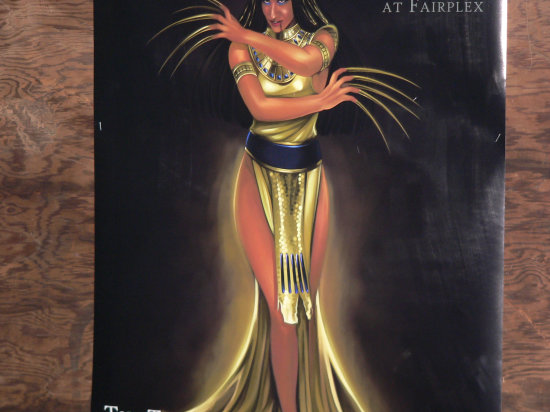 Did you know that Cleopatra was Freddy Krueger's great grandmother? Well you do know.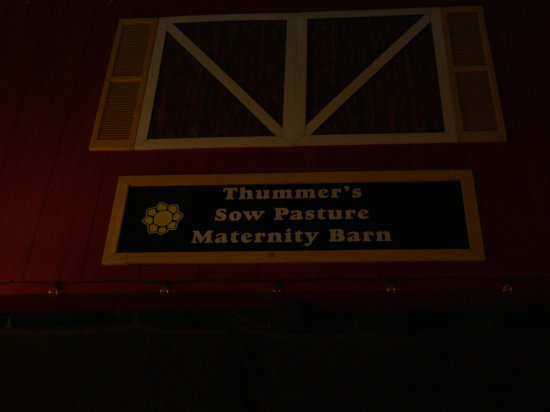 Thummer's Sow Pasture Maternity Barn? Sounds scary to me.

A true sign of an independent haunt operation are large plastic sheets
which have to be lifted up in order to enter or exit a maze.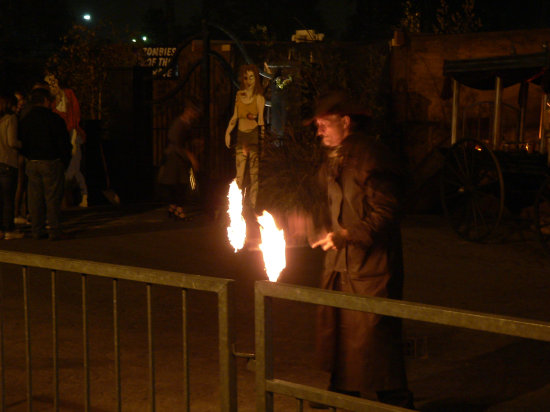 As we waiting in line, a cowboy walked up and entertained us all with his fire-twirling antics.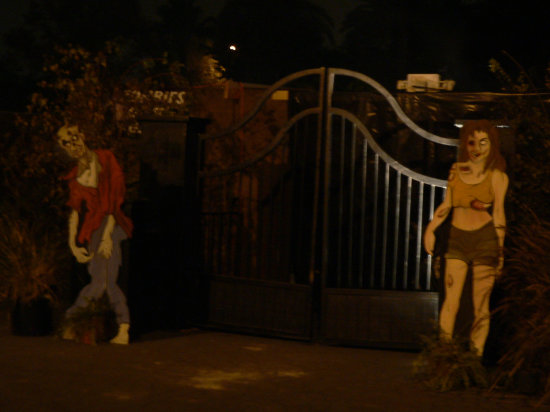 Painted zombie cut-outs stood in front of an iron gate, welcoming us to their graveyard.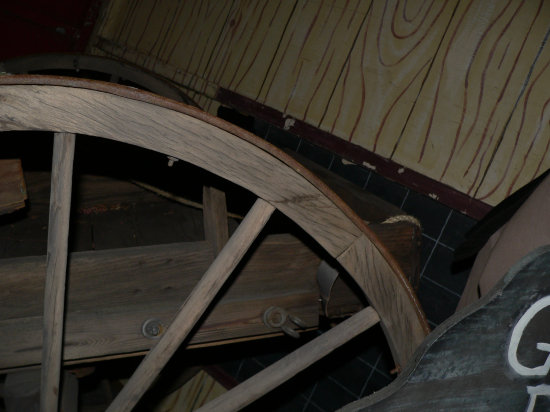 A wagon wheel! I'm sure it was a haunted wagon wheel though.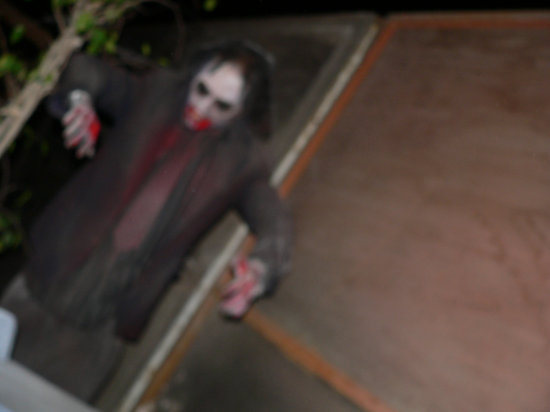 One of the many pop-up zombies. What cracked us up was that they didn't even try to cover up the gears for the animatronic ones. As you walked by, you could literally see all the working gears and electronics at the base of each one.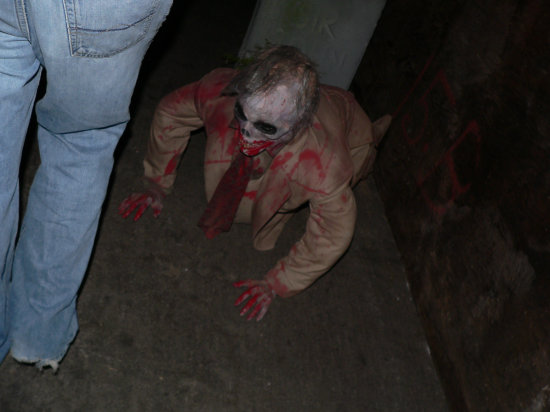 One of the better real zombies, covered in blood and it loved jumping up at people.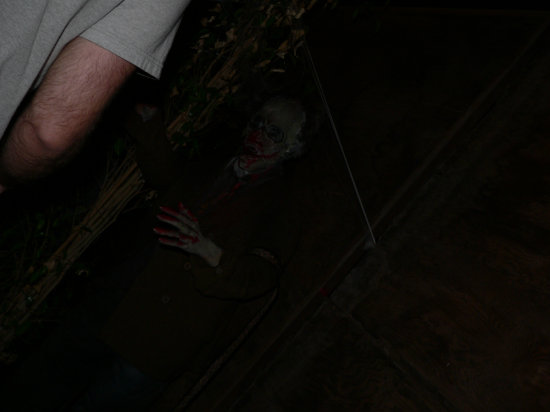 I'm not sure what's more frightening... the zombie statue or the hairy arm approaching it.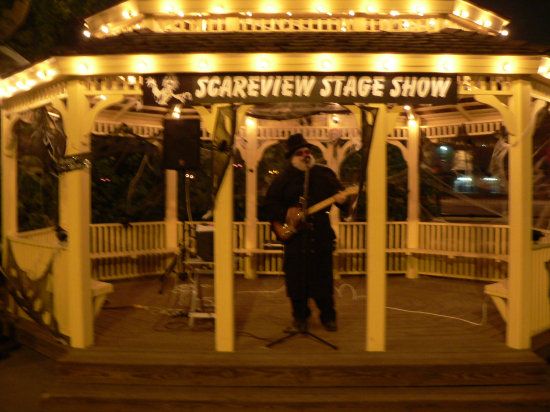 This guy was a fine musician, playing a variety of tunes for the Scareview Stage Show all night.
What they didn't account for was that you could hear him playing while walking through that first maze.
A haunted maze is far less creepy when you hear some dude singing some of Blues Traveler's hits in the background.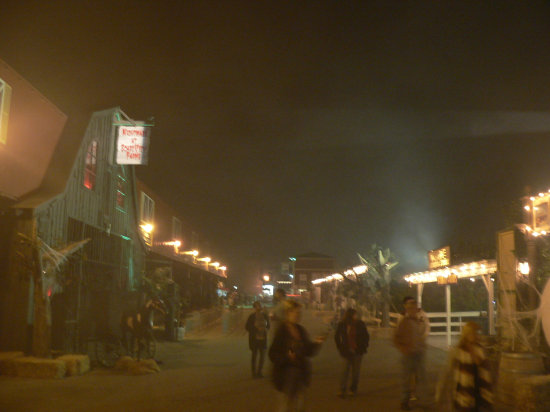 It was nice 'n foggy out, so that definitely helped set the mood.

Zombies of the Grave!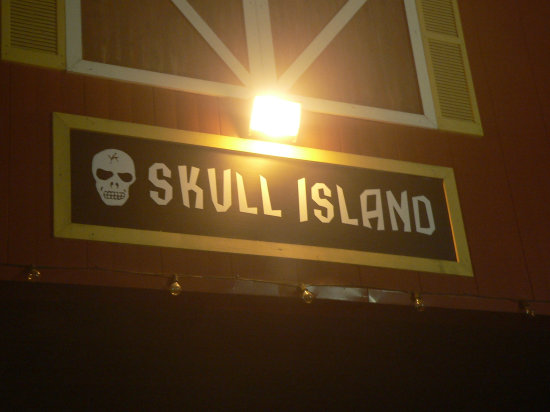 Skull Island!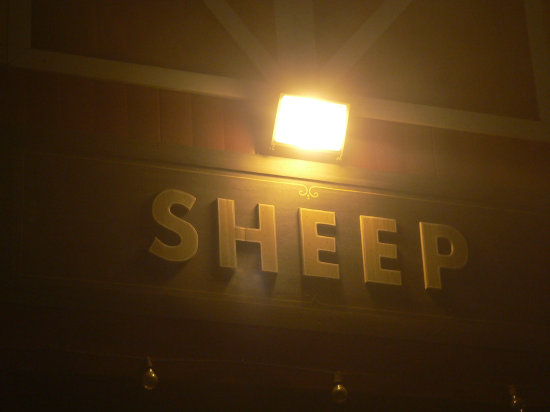 SHEEP!? AIEEEEEEEEEE!!!!!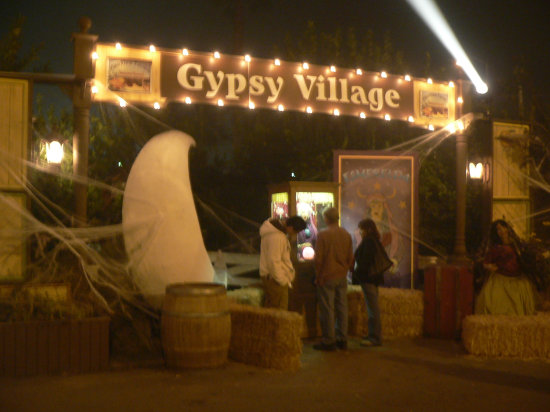 They had a fairly elaborate setup for this Gypsy Village area.
I say elaborate because they did it all for a single fortune telling machine and it wasn't even Zoltar.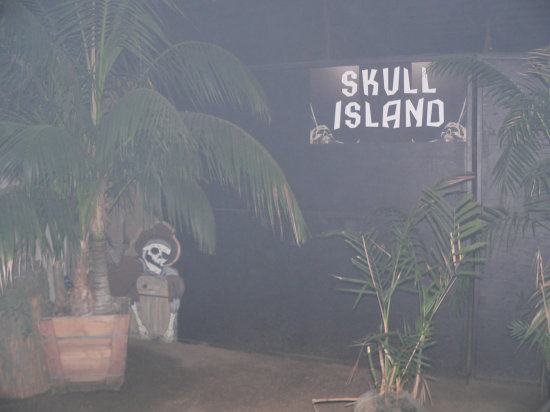 Time to head into the depths of Skull Island!
There's still more Scareview Farms horror to see!
Click here to continue onward to page 2!