Remember when wrestling was actually interesting? You know, way back in the day when it was more of a weekly superhero action drama as opposed to the lowbrow T&A crap that it's become nowadays? Yeah so do I. Back in the day we had so many wrestlers with awesome themes... Rowdy Roddy Piper, Jimmy Superfly Snuka, Iron Shiek, Brutus The Barber Beefcake, Papa Shango, The Bushwackers, Andre The Giant, Ultimate Warrior, Jake The Snake Roberts, Sgt. Slaughter, Honky Tonk Man, George The Animal Steele and the list goes on and on and on.
One wrestler, however, was more well known than any other, and that wrestler is of course Hulk Hogan. Hulkamania was running wild for a longtime, and with it, he became the most famous wrestling superstar ever. Hulk Hogan was everywhere... toys, cereal boxes, music albums, videos, books, fan clubs... this all naturally led to the Hulkster wanting to get into the movie business too. We all loved watching him perform as "Thunderlips" in Rocky III, manhandling Balboa for most of the wrestling exhibition match. After this, it was clear that Hogan deserved a chance to star in a movie of his own.
So, No Holds Barred was created and it gave the Hulkster a chance to display his wide acting range... as a wrestler... again. So let's take a look at this impeccable film which should not only exist on DVD, but should also be issued at birth to every human being on this planet. I present to you, No Holds Barred.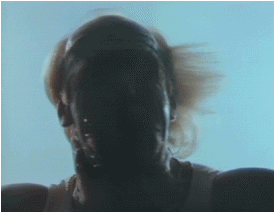 Attention filmmakers: THIS is how you start off a movie! The silhouette of a psychotic man flailing his head back 'n forth while frothing mucus and spittle flies outwards in all directions as thousands of adoring fans cheer for more. You couldn't improve on this concept if you tried. Ok, if you filled up the extra blue space in the background with dancing gorillas in front of a fiery backdrop, that might kick it up a notch... but honesty, we moviegoers couldn't ask for that. We've already reached sensory overload here.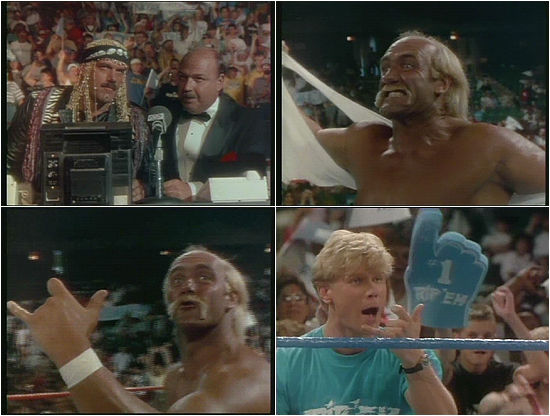 Meet Rip Thomas. Why is he named Rip? Because he likes to rip his shirt off and rip his opponents apart in the ring! Sounds just like Hulk Hogan, right? Well, the Ripster also has one other thing that sets him apart from the Hulkster: his "RIP 'EM!" catchphrase! Not only is the catchphrase "RIP 'EM!" but it is also accompanied by sign language! He raises his hands up and make the "I love you" hand gesture which I guess, to him, means "RIP 'EM!" for some reason. He also makes a Ric Flair-ish "Woo" face whenever he does it, without actually making the patented "Woooooooo!" sound. Even Rip's little brother, Randy, makes the hand gesture to show his support. The fans eat it up too as they hold their "RIP 'EM!" foam hands high in the air, though you'd think that the foams hands would have the same "I love you" hand gesture instead of the "#1" gesture. Then again, I have a feeling that highly customized foam hands would've gone far beyond this movie's budget.

So Jesse "The Body" Ventura and Mean Gene Okerlund are in classic form, commentating on the match that's going down between some guy named "Jake Bullet" and the current champion, Rip. As far as I can tell, the only skills that Jake bullet has are "having really bad hair" and "wearing too much mascara", but I guess that's what it takes to get a title shot and some people just aren't willing to go that extra mile. Jake does get Rip in a sleeper hold, but it takes more than that to stop Rip. In the end, Rip makes short work of mascara-boy by smashing him with a double-axe-hammer and then celebrates his victory with a double "RIP 'EM!" hand gesture high above his head as the audience cheers him on.

Naturally this movie needs some bad guys and the first one is the CEO of the World Television Network, Brell (played by Kurt Fuller). He's tired of his network being in last place because of Rip's wrestling matches on the other station being so popular. So, he wants Rip to sign a contract with them instead. The best thing about this guy is that he's ALWAYS angry... abusing his subordinates, breaking stuff and my favorite thing of all, he constantly refers to Rip as a "JOCK ASS!" You simply can't go wrong with lines such as, "I want that JOCK ASS on my network!" and "Now I find that every time this JOCK ASS decides to strip down to his sweet nothings and wallow around with some sweat hog, we eat it!" and "Are you trying to tell me my money's not good enough for you!? I find that a little hard to swallow you JOCK ASS!" Of course, that last line causes Rip to stuff the blank check that Brell was offering him right down his throat, "I won't be around when this check clears!" Maybe now he can swallow it a little easier. And before he exits the office, Rip leaves them hanging with his patented "RIP 'EM!" hand gesture: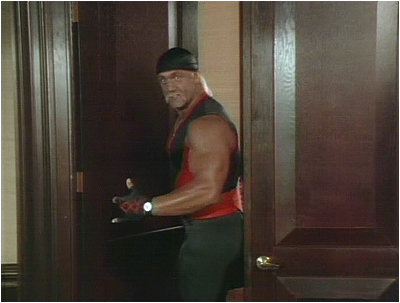 RIP 'EM, BROTHER! WOO!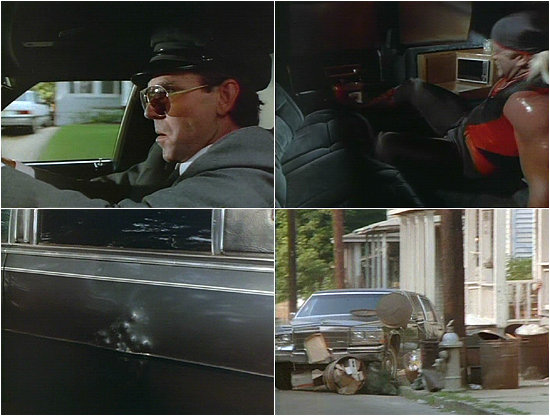 But Brell isn't ready to let Rip get away so easily and has his limo driver take him to a secluded garage. Once Rip notices that the limo driver isn't taking him home, he starts kicking the doors as hard as he can in an attempt to escape. You even see dent marks appearing on the outside of the door. What's hilarious about this scene is how Rip's kicks to the side door appear to effect the limo driver's ability to steer the car. With every massive kick that Rip delivers, the limo swerves all over the street, up on the sidewalk, into garbage cans, other cars and more. The driver can barely control the car due to the FORCE behind each of those big kicks! THAT is how powerful Rip is. If it happens in the movies, it's real. Believe it.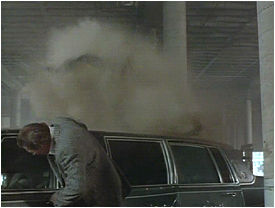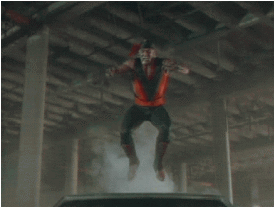 When the limo finally makes it to the garage, barely in one piece thanks to Rip's power, a gang of thugs are waiting there to give him a beatdown. Oh but they clearly don't know who they're messing with. Rip explodes through the steel ceiling of the limo in a dramatic Incredible Hulk-ish TV moment complete with angry growls!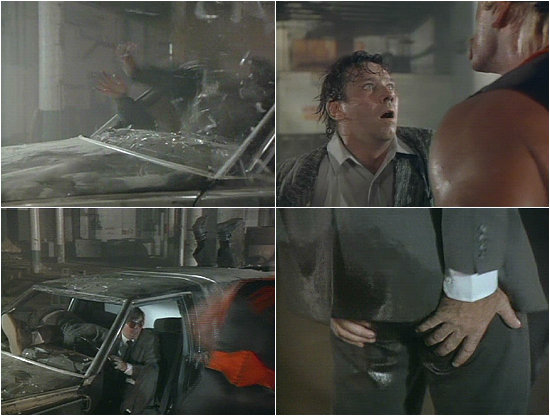 Rip then takes on all of the thugs, one at a time, pummeling the crap out of them and eventually stuffing each of their beaten bodies into the limo whether it's through a window or into the sunroof. He then goes to the only guy who's left, the limo driver, and picks him up by his neck while grunting and snarling in his face. It appears that something is wrong with the driver's pants as he squirms around in Rip's grip. What follows is one of the most fantastic dialogue sequences ever put to film along with living proof via facial expressions that Hulk Hogan would make a fucking awesome pirate.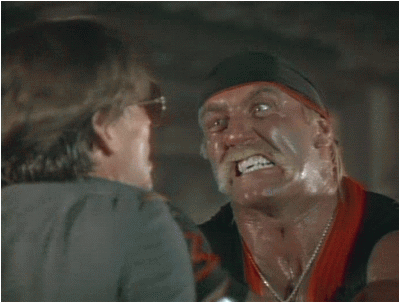 ARR! ARRRAAF! RAAARR!
*SNIFF* *SNIFF*
WHAT'S THAT SMELL!?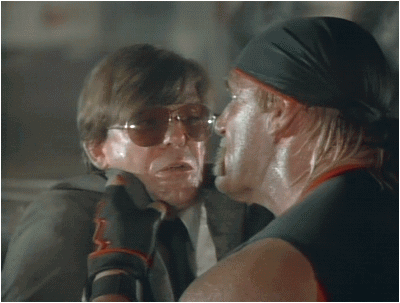 DOOOOOOOKIEEEEEEEEE!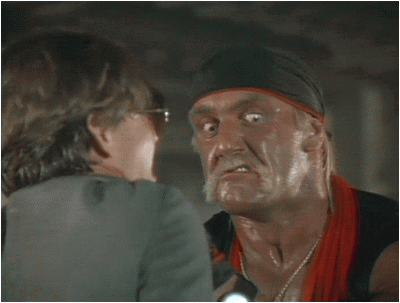 DOOKIE!?
And there you have it. Absolute perfection. A wrestling superstar destroys a limo, some thugs and then makes the driver literally shit his pants. Many would argue that the movie should've ended right here and fans would've been completely satisfied. While this is true, there's so much more to No Holds Barred. Oh so much splendor that you've yet to see, so let us continue on this journey in which we seek more knowledge from he who possesses the 24 inch pythons. (oh and don't worry, you'll have a chance to watch the "dookie" scene in all of its glory at the end of this article!)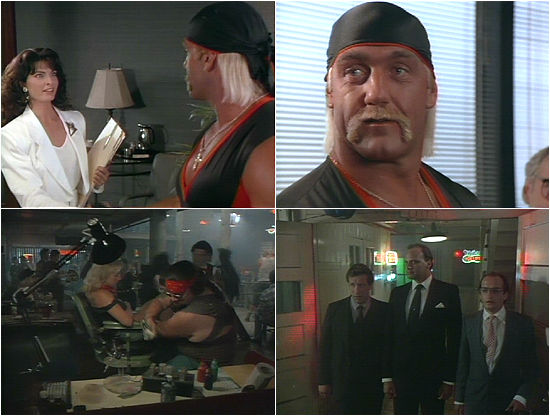 Later on, Rip is now back at the office meeting up with his new account executive, Samantha. Naturally, she's a "hawt babe" with piercing blue-green eyes that make Rip's heart pitter patter with glee like a little school girl. Anyway, she's trying to find new ways to market the 'Rip' character, but Rip says his main outside interests are his charity work. Funny, I don't remember Hulk Hogan ever having a problem with merchandising his name. Or did I just imagine the whole Pastamania thing? No, I don't believe I did.
Anyway, Rip and Sam go out to dinner at a high class restaurant later that night to "talk business", but there's a snooty waiter to thinks Rip is just a typical bonehead tough guy (or "JOCK ASS!" if you will). He makes all kinds of snide remarks and teases Rip about how he'd probably want a hamburger instead of some fancy foods and Sam can't help but chuckle a bit under her breath. Then, the cook comes out to greet Rip because, it turns out, Rip is a regular customer of the restaurant and speaks French. In your face mister snooty waiter! Wee wee, madame!
Elsewhere, Brell realizes that if he can't get Rip to come work for him, he needs to find some other way to bring his network to the top of the ratings. So Brell goes to one of the shittiest scumbag hangouts that he and his two suck-up pals (Unger and Ordway) are able to find... The No Count Bar. Aside from booze, this bar features a wrestling ring in the center so any random joe can come in and pick a fight. It also features their own in-house tattoo guy, and I'm sure all of his equipment has been sterilized. There are also sorts of crazed characters roaming about in the establishment, but this guy takes the cake: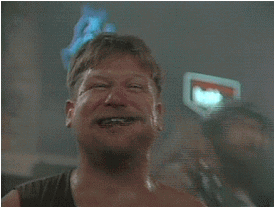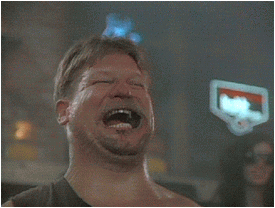 This dude is the physical embodiment of everything that ever was, everything that is, and everything that ever will be a drunken redneck. "Git him, boy! Yeah!" The waitress informs them that this guy is her brother (eloquently named "Bubba") and if they don't have cash to pay for their beers, he'll rip their nipples off. Not only does Brell pay for the beers, but he offers Bubba extra cash to go fight in the ring. Bubba fights, Bubba wins, and Bubba empties an entire keg of beer onto his own face in celebration.
While Brell is loving every minute of the reckless violence, Unger and Ordway decide they need to get away from it all so they go to the bathroom. Bad choice.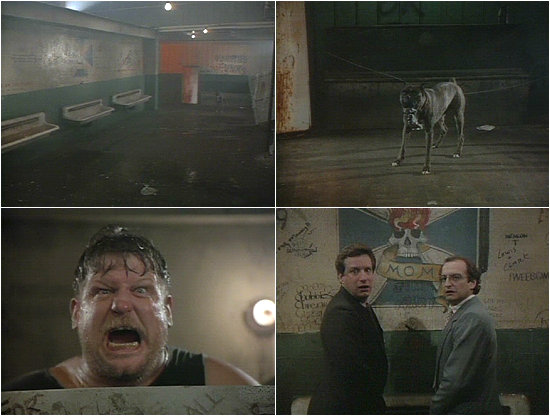 It's pretty much the worst bathroom you could imagine. Filth everywhere, overflowing toilets and even an angry dog chained up to the wall for no apparent reason. Plus the entrance sign reads "V.D. Room" - yeah, it's a classy joint. Oh and the urinals? They're not your typical one-man urinals. They're more like long troughs overflowing with piss and bile. The kind of place that guys like Bubba call home.
Unger and Ordway start talking shit about all of the lowlifes in the bar, not realizing that Bubba is in one of the stalls behind them hearing every word they say. He comes bursting out of there with rage and...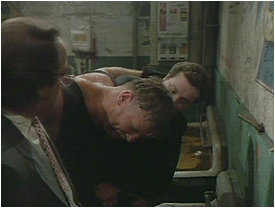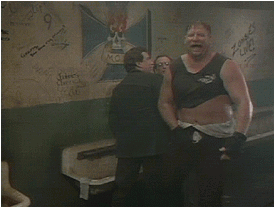 Takes a look at their peckers. Yes, you read that right. He takes a look at their peckers, laughs and then proclaims, "Whadda we got here? A teeny weenie! And here's another! You ain't even worth it! Hahahahahahaha! Aaahhhhhhhahahaa!" He then walks away while laughing and groping his crotch with vigor. Gotta love that Bubba! He's a real red-blooded American, that one!
WILL BUBBA GO ON TO WIN THE HEARTS OF EVERYONE?
WILL RIP SMELL MORE DOOKIE?
CONTINUE TO PAGE 2 TO SEE! CLICK HERE!
---
help support I-Mockery by supporting our sponsors:

---
Running a big site like I-Mockery takes a lot o' time and costs moola too.
Want to help show your support?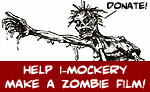 DONATE TO OUR ZOMBIE MOVIE!
Come talk about this piece & more on our Message Forums!