by: -RoG-
From the glory daze of Hanna-Barbera comes one of my favorite cartoons of my youth - Pac-Man: The Animated Series. This cartoon came out during the height of the eighties Pac-Man craze and I remember waking up bright 'n early every Saturday morning just so I could watch the latest episode while stuffing my face with a bowl of Pac-Man cereal for breakfast. Most episodes had a similar theme; Pac-Man and his family would have to deal with some evil plot by Mezmeron (who most agree came off like Darth Vader's unspoken moronic cousin) and his ghost monsters to locate the source of all the power pellets in PacLand. Like most antagonists in cartoons like these, Mezmeron had his own evil lair where he would come up with plans to locate the pellets. If only he had Google Maps at the time. His lair also served as a wardrobe change for whenever the bumbling ghosts were chomped by Pac-Man and company.
With us being smack dab in the middle o' December, I thought I'd take this opportunity to look at the animated Pac-Man Christmas special known as "Christmas Comes to Pac-Land". While it may not feature Mezmeron, who was always a great source of entertainment in the show for me, it's still a fun episode to check out during this most festive of seasons, so let's dive right into this holly jolly Pacmas.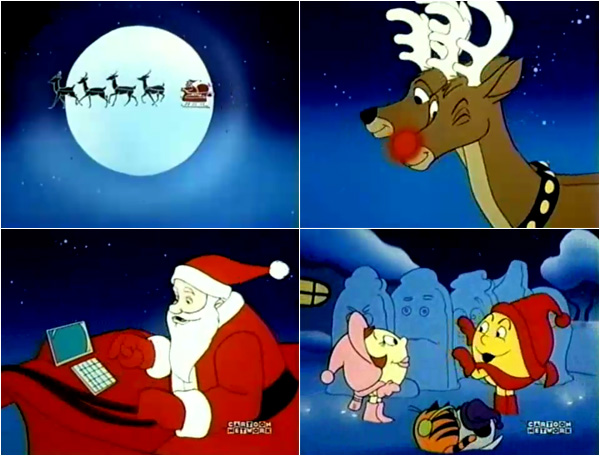 It all starts out with Santa flying high in the sky with his reindeer as he tells them to speed things up, after all, they have a whole planet to deliver presents to. Santa then punches up some names on the computer which is built into the dashboard of his sled. "It's a good thing my Christmas list is computerized, or I'd never get the job done on time! Ho, ho, ho!" Santa proclaims while letting out one of his trademark belly laughs. I guess that was the writer's way of letting us kids know just how handy computers really were, but at the same time, it's clearly a confusing message since Santa Claus had been around for far longer than computers. Was this his way of admitting that, before the advent of computers, he failed to deliver presents to everybody on time? That's a hell of a revelation for the start of a simple cartoon if you ask me.
Back on the ground in PacLand, we see that the entire town is covered in snow and Pac-Man is building snowmen with his family. Well, they're building snow ghosts to be exact. At first I wasn't really sure why they were doing this since a traditional snowman is far more round and reminiscent of the shape of Pac-Man, but then Pac-Man explains the ghosts are for Pac-Baby to practice chomping on. I guess that's the equivalent of "teething" for a human baby. But where is Pac-Baby?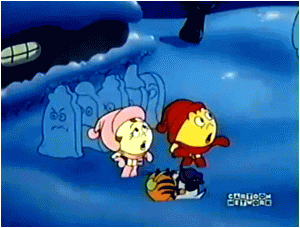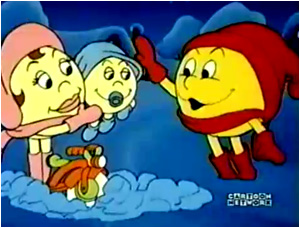 Turns out Pac-Baby was making a snowman of his own in the form of a giant Super Pac-Man shell. Granted, I don't have a degree in physics, but I'm fairly certain it's impossible to build a snow shell around yourself that can not only move like a well-oiled machine, but can chomp its way through five snowmen without even skipping a beat. After Baby-Pac makes a little quip about loving "ghostsicles" and Pac-Man declares him to be a "real chomp off the ol' block," Mrs. Pac-Man (also known as "Pepper" in the show) decides that they should all go for a toboggan ride. Sure, why not.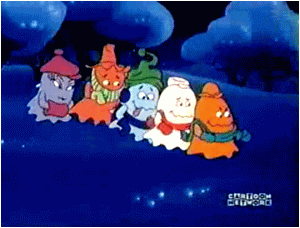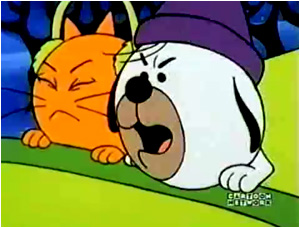 As the Pac-family jets down the hill in their toboggan, the dreaded ghosts happen to be nearby, wandering through the snowy fields while singing their own special version of Jingle Bells. "Jingle bells, jingle bells, jingle all the way. Oh what fun it is to chomp... on Pac-Man every day!" It may not be poetry, but considering the history of these bumbling ghosts, I'm impressed they could form even the most basic of song parodies. Soon enough, they catch wind of Pac-Man and company and begin their pursuit for some chomping. Pac-Man's dog, Chomp-Chomp, does his best to scare off the ghosts, but his bark sounds like a pug whose voice went hoarse on helium. In other words, not very threatening sounding at all. Sour Puss, the family cat, also chimes in with some hissing, but not even their combined efforts are enough to jingle anyone's bells.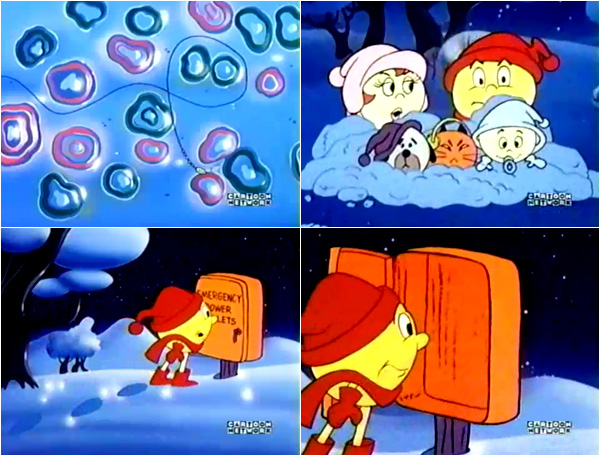 Pac-Man tries putting the toboggan into warp speed, but the ghosts still maintain their pursuit. Eventually, the toboggan crashes when they fall off a cliff. They just happen to land near an "Emergency Power Pellets" box, but when Pac-Man opens it up, it turns out to be empty. The ghosts stole the entire emergency supply of power pellets and are now about to chomp down on Pac-Man and his family. So what does Pac-Man do? The only thing one can do in a situation like this...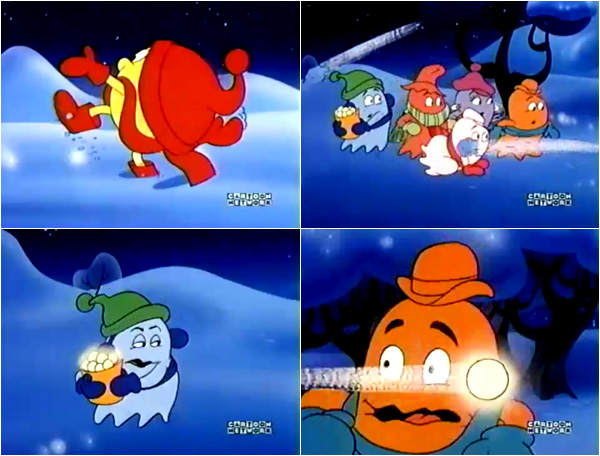 SNOWBALL FIGHT!
Pac-Man and his family start throwing snowballs at all of the ghosts in a desperate attempt to fend them off. What they didn't expect is how stupid the ghosts would be in their retaliation. Instead of throwing snowballs, Inky throws the power pellets at the Pac-family. Clyde, the leader of the ghosts (with a classic gangster accent), instantly realizes what a huge mistake this move was.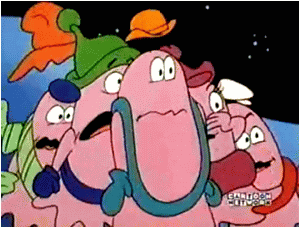 Naturally, Pac-Man and company eat the power pellets rather than trying to dodge them like common snowballs and the ghosts immediately turn purple with fear as they shout their classic line in perfect unison: P-P-P-P-P-Pac Power!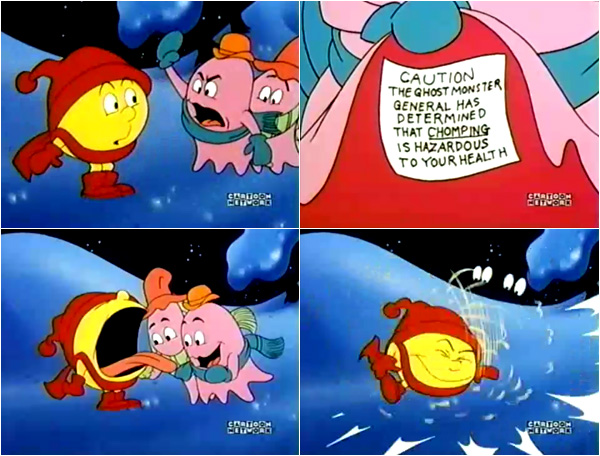 It appears as though Clyde has a backup plan though, for he halts Pac-Man and demands that he reads the warning label on his ghost suit: "Caution: The Ghost Monster General has determined that chomping is hazardous to your health." Well, Pac-Man informs him that he has a warning label of his own printed right on his tongue. Never to learn a lesson from their past mistakes, they lean in for a closer look and are instantly chomped. Pinky, Inky and Sue are also chomped soon enough and then their remaining eyeballs start to make their trek back to Mezmeron's lava-lair for some new ghost suits to wear.
As their eyeballs fly away, they happen to pass by Santa and his reindeer, who are started at the sight of flying eyeballs. Can't blame 'em I guess... I mean, how often do you see five pairs of eyeballs flying through the sky? Then again, how often do you see a fat man in a sleigh flying through the sky with a bunch o' reindeer? After being startled, the sleigh goes out of control and they crash into the snow down below. What's worse, all of the present in his bag fall out of the sleigh before it crashes.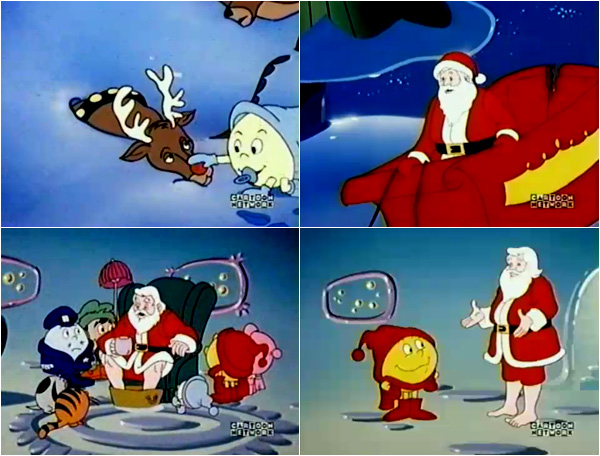 Pac-Man and family find the wreckage and wonder if it's a crashed UFO as they've apparently never seen anybody who isn't round-shaped or a ghost. When Santa comes to, Mrs. Pac-Man invites him back to their home for some power pellet cocoa. Santa explains how he has to be able to deliver presents to all the boys and girls in the world, but his sleigh is broken, his reindeer are injured and his presents are lost somewhere in Pac-Land. Despite the fact that they've never even heard of Christmas, Pac-Man decides to help santa out by going back out into the winter weather in search of his lost bag of toys. While he does that, Mrs. Pac-Man and some of the other townsfolk help restore Santa's sleigh and reindeer to tip top shape.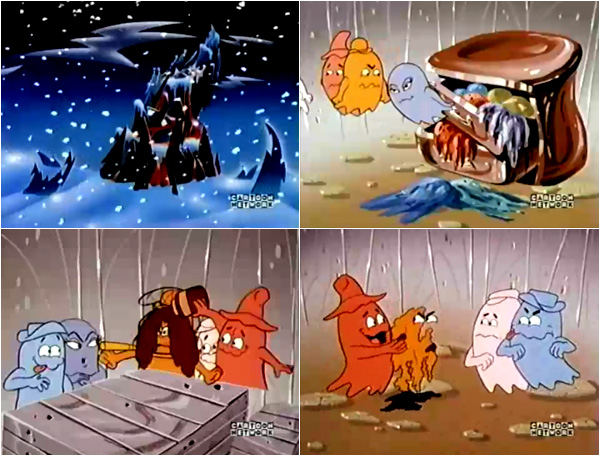 Back at the lava-lair, the ghost monsters get rejuvenated by changing into new suits and quickly start plotting how they can successfully chomp Pac-Man. They discuss capturing him in a net, dumping chocolate sauce on him and then chomping him... all of which they demonstrate on Clyde, much to his chagrin. So, they never really come up with a solid plan and instead end up wandering around aimlessly out in the snow just like earlier, hoping to run into Pac. One track minds...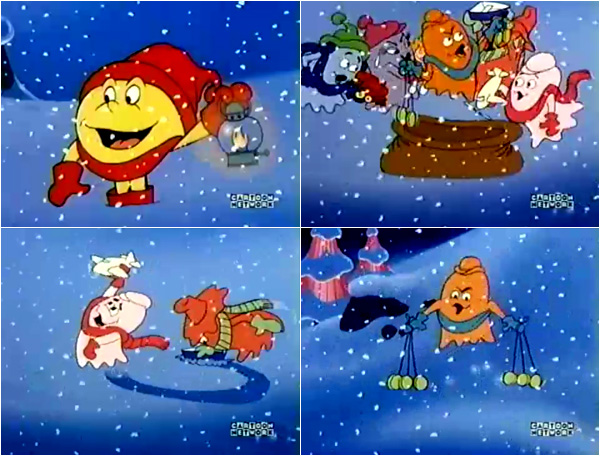 Pac-Man and Chomp-Chomp are out looking for Santa's lost toys, but it turns out that the ghost monsters found them first and are now having a jolly ol' time. Toy planes, trains, boats, dolls, yo-yos... with these distractions, they no longer seem concerned with hunting down Pac-Man and chomping on his bones.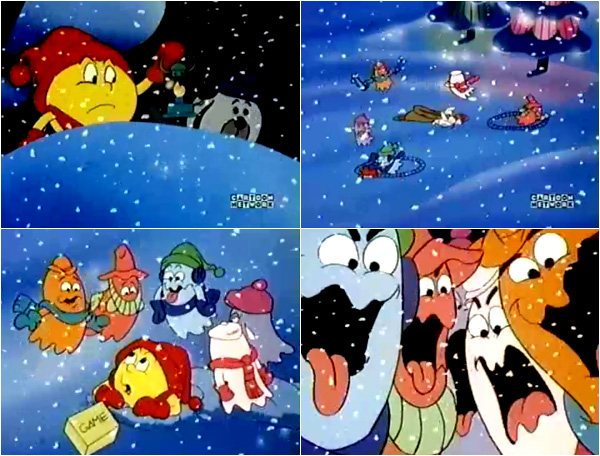 Pac-Man eventually finds the ghosts and sees that they have Santa's toys. Being the bold Pac that he is, he decides to burrow under the snow and steal the toys right from under them. Considering he can't really see where he's going, it's proven to be a pretty stupid idea since he pops up right in the middle of the ghost pack. Delighted that he's just popped up at their feet for a free chomping, the ghosts decide to chow down annnnnnnnd...
COMMERCIAL BREAK!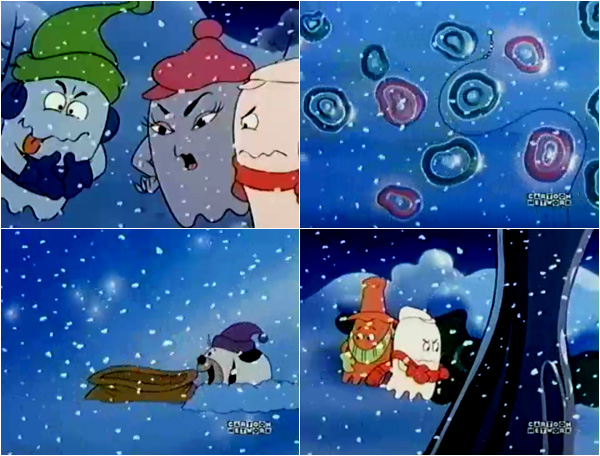 Now here's something that always annoyed me. Right before the commercial break, they showed the ghost monsters with their mouths wide open just about to chomp down on Pac-Man, so it's safe to assume that when we return from the break, we'd see them chowing down, right? Wrong. When we get back from the break, the ghosts are no longer about to chomp on him, and instead they're talking amongst one another about how "we ain't as dumb as we look!" and things of that nature. It's as if the sequence where their mouths were wide open and about to chomp down on Pac-Man never even happened!
Believe me, I know this isn't the first time in television history something like this has happened after returning from a commercial break, but it always seemed like such a cop-out for the writers to pull a stunt like that. We may have been kids when this aired, but we weren't blind.
Well anyway, since they apparently didn't chomp down on him during the commercial break, Pac-Man makes a run for it and the ghosts go chasing after him through the winter Pac-Land. While this is going on, Chomp-Chomp drags Santa's sack behind some bushes to hide them from the ghosts. So Santa's toys are safe, but what about Pac-Man?
There's still more of "Christmas Comes To Pacland" to see!
Click here to continue onward to page 2!