by: -RoG-
Back in 2014, I was lucky enough to check out Rise of the Jack O'Lanterns when the organization finally made their way out to Los Angeles. Their inaugural event at Descanso Gardens was equally beautiful as it was impressive. Seeing thousands of intricately carved pumpkins glowing in the moonlight as we walked along a long, winding dirt path was a truly unique Halloween experience unlike any other that year.
Well, they returned to the same location last year, and we were super excited to go check out all the new amazing pumpkin carvings they had on display for 2015. We went towards the end of October again, so I didn't have a chance to share all of those photos I took while I was there since I was already so busy writing other Halloween articles at the time.
Lucky for you, the 2016 Halloween season has begun, so it's once again the perfect time to share my photographs from their 2015 event. Honestly, there's never a wrong time to look at awesome pumpkins. So, with that in mind, I hope you enjoy all my photos of some truly stellar pumpkin carving art from the 2015 Rise of the Jack O'Lanterns event! Let's begin!

I loved this entrance sign the first time I saw it, and I loved it the second time.

Gotta love this new "Guest Services" area sign. It also made me feel like I should've worn a jack-o-lantern on my head.

This promotional carved pumpkin for Rise of the Jack O'Lanterns really set the stage for the evening.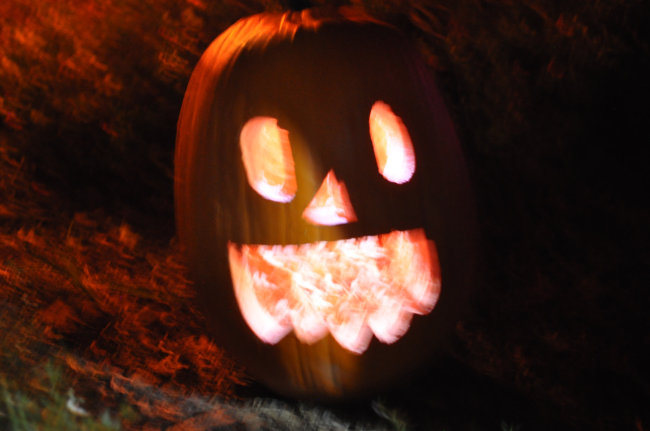 It's hard to snap photos in the dark sometimes, so some of my photos are blurry.
That said, I love this one! Blurry jack-o-lantern photos have a nice vintage vibe to them, don't ya think?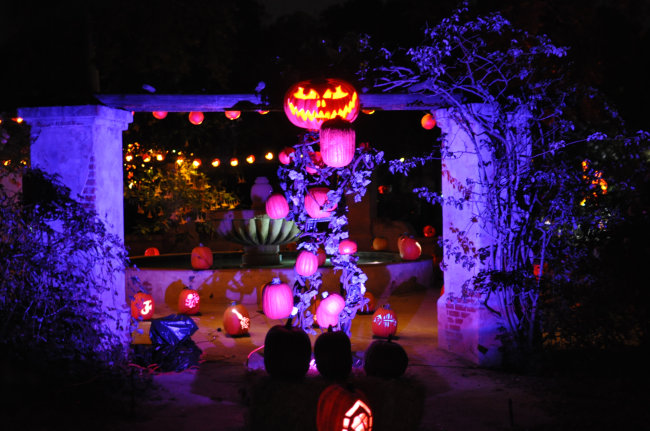 Pretty sure this is what the Great Pumpkin would really look like if it ever showed up.

The giant jack-o-tree, covered in hundreds of glorious glowing pumpkins!

Another photograph that ended up looking like a vintage 70s snapshot. Happy pumpkin!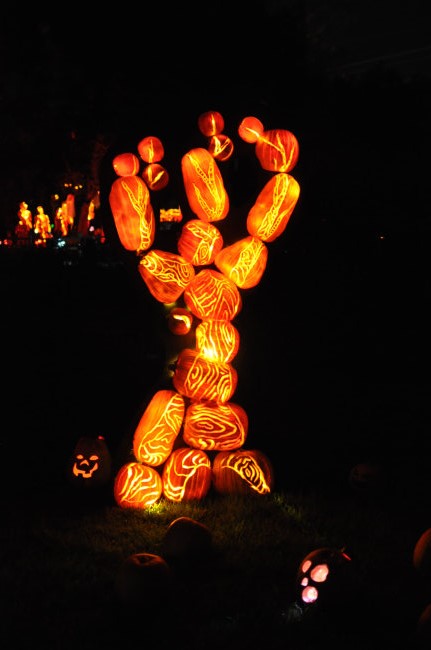 Not only did they line trees with pumpkins, they actually made sets of pumpkins to look like trees too.

Pumpkins, lights, and fountains... oh my!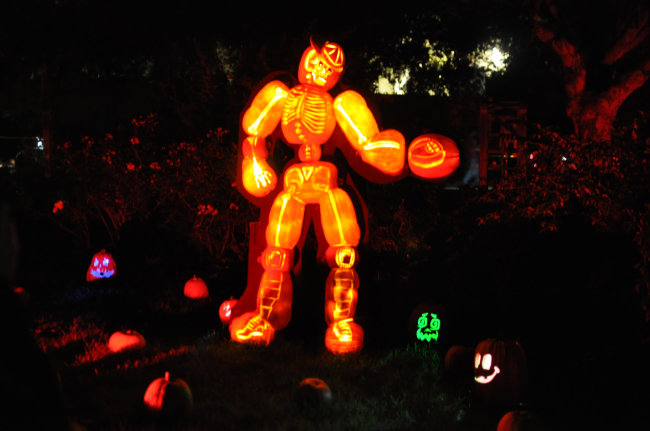 A jack-o-lantern baseball catcher.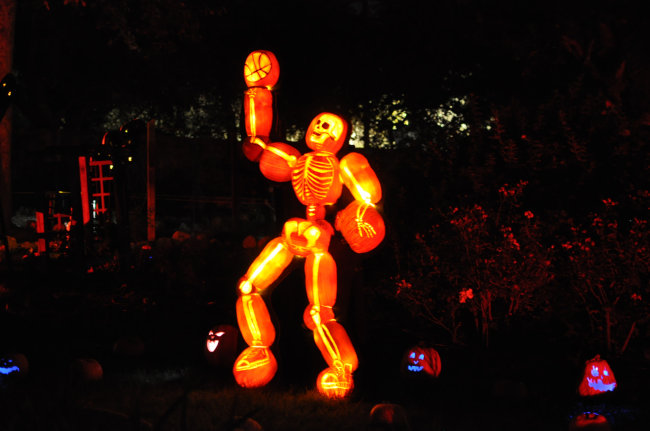 A jack-o-lantern basketball player going for a dunk.

A jack-o-lantern football player about to throw a hail mary pass.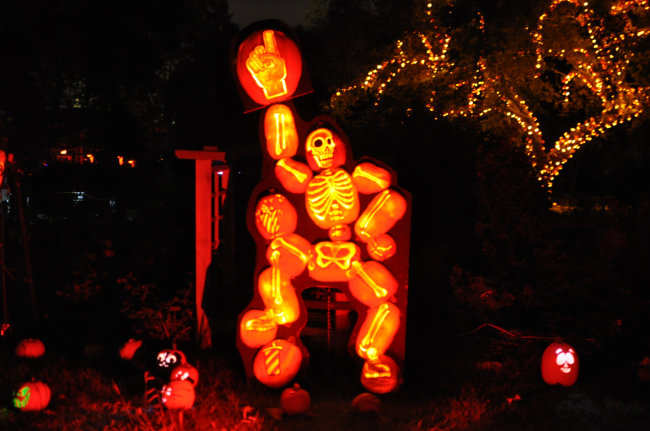 And a jack-o-lantern #1 sports fan!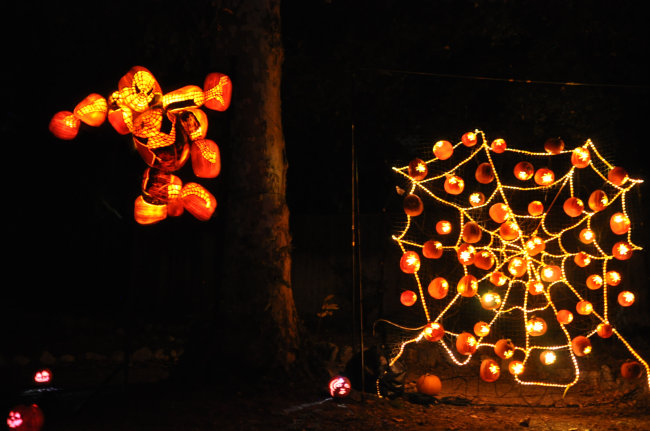 Spider-Man casting a web of pumpkins? Hobgoblin is gonna be so pissed when he hears of this.

Descanso Gardens deserves a nice plug too for hosting this amazing Halloween event.

Pumpkins look right at home in this cemetery.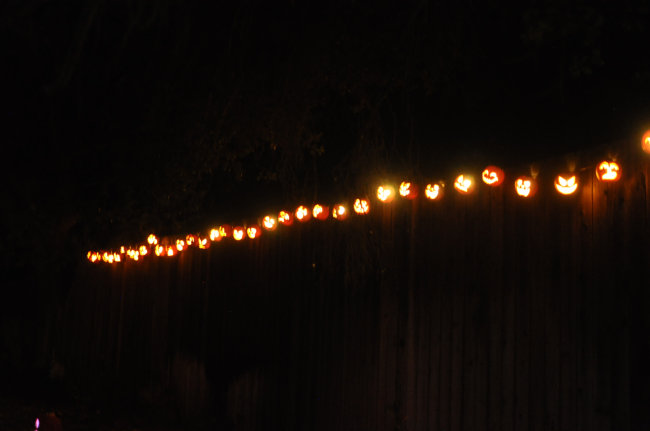 Fact: Long pumpkin-lined fence > white picket fence.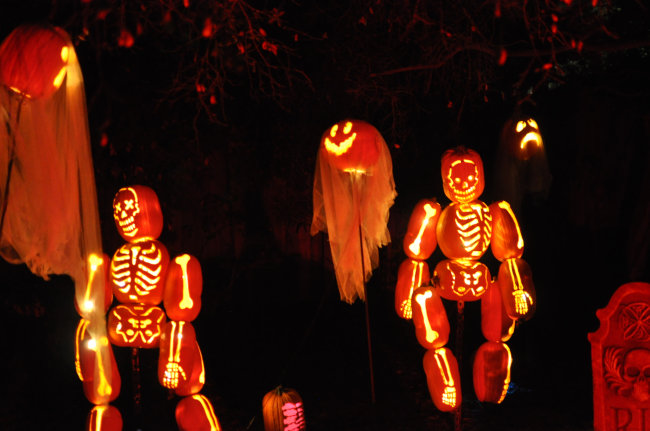 Pumpkin skeletons and ghosts haunting the trail.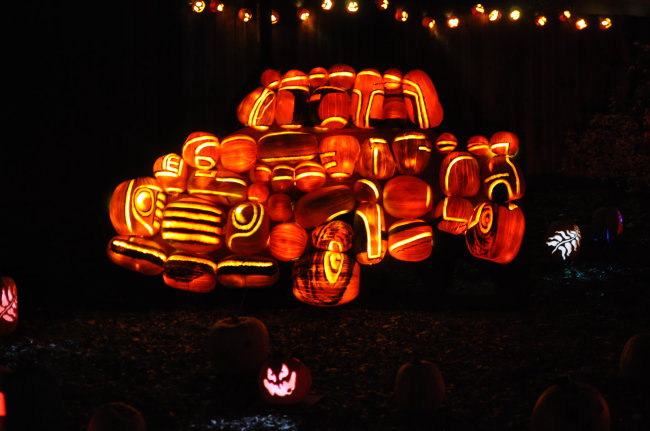 Yep, somebody actually created a classic pickup truck out of carved pumpkins!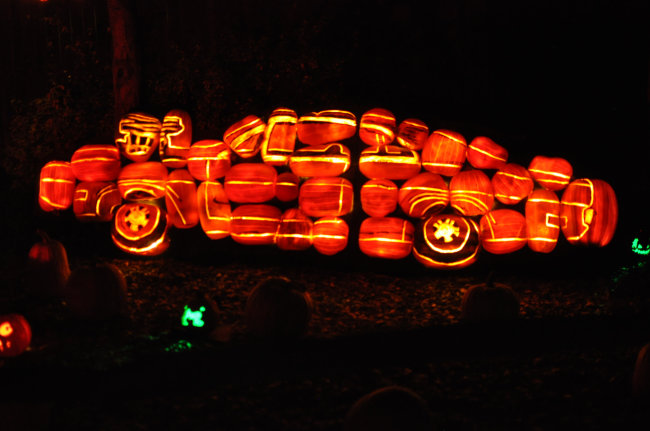 This pumpkin muscle car was pretty great too.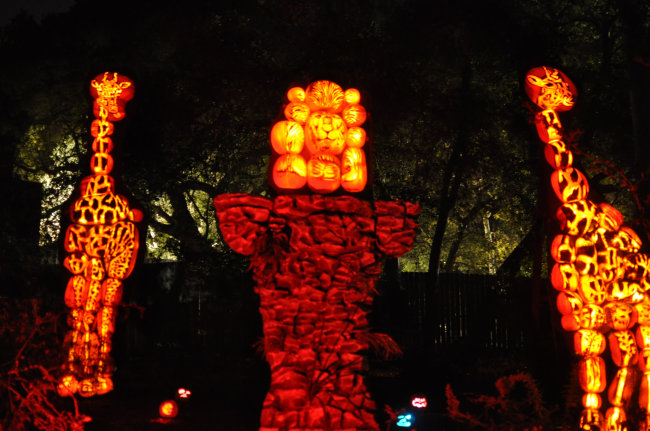 Pumpkin giraffes! It just gets more and more impressive doesn't it?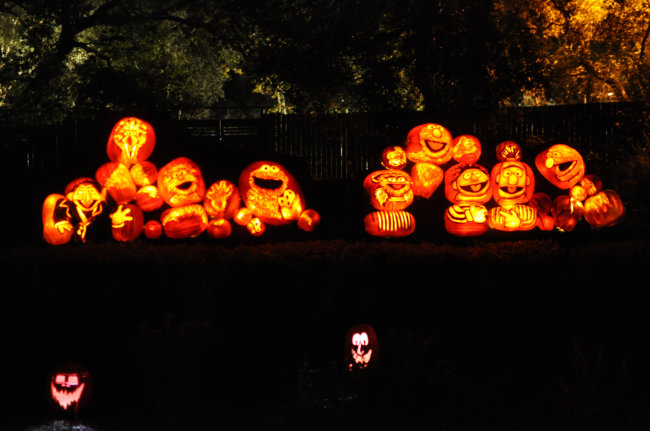 All our favorites from Sesame Street. I was glad to see they didn't forget The Count, considering it was for Halloween.

Jimmy Kimmel, presumably because of his "I told my kids I ate all their Halloween candy" prank videos.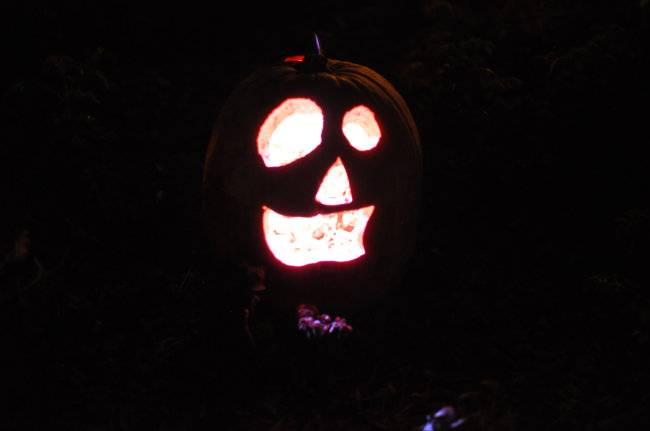 Another happy vintage style pumpkin photo!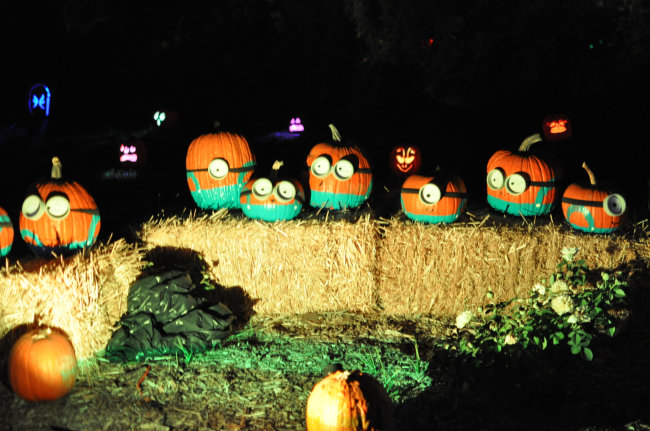 Minions disguised as pumpkins, or pumpkins disguised as Minions?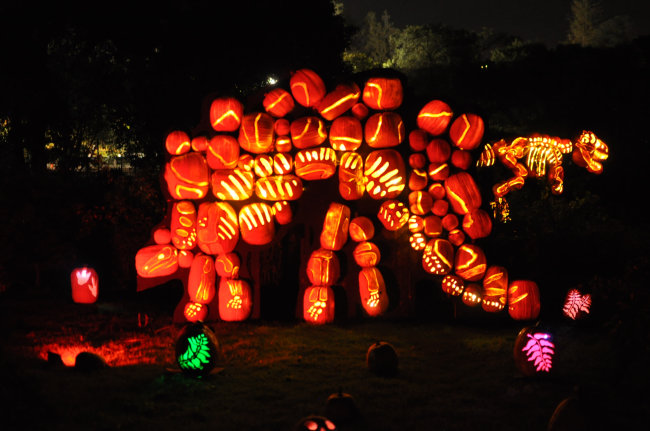 Stegosaurus!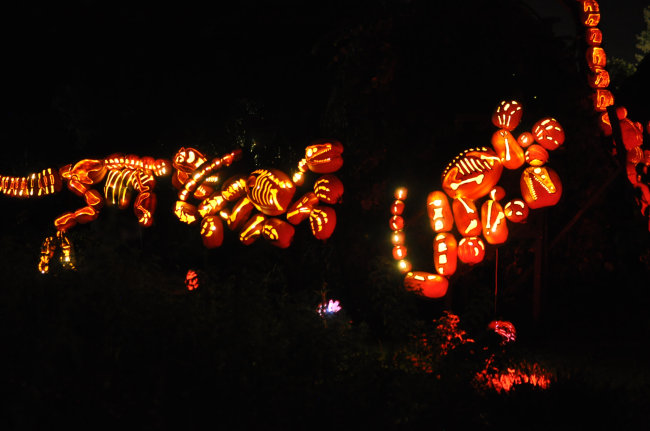 Jumping dinosaurs want your caaaaaaaaandy!

Proof that the brontosaurus really did exist...

...and it was made entirely of jack-o-lanterns.
There are still plenty more photos from
Rise of the Jack O'Lanterns 2015 to see!
Click here to continue onward to page 2!