by: -RoG-
If there's one thing about Halloween that pretty much everyone can get on board with, it's gotta be how amazing carved pumpkins can look when lit up at night. Cutting up a pumpkin, removing the guts, roasting the seeds, and then putting your illuminated jack-o-lantern on display for all to see... there's nothing quite like it. It's one of those unique Halloween things that make the holiday so damn special.
Granted, not all our pumpkin carvings can be true works of art, regardless of how proud we may be of them. Fortunately, there's an organization that has been putting on an insanely impressive display of thousands of carved pumpkins in recent years called Rise of the Jack O'Lanterns. For years I had been hearing about it, as they had a location on Long Island, not too far from where I used to live. Last season, they brought the event to Descanso Gardens here in Los Angeles, so I wasn't about to pass up the opportunity to check it out. I'm happy to report that it was just as incredible as I had hoped. The only problem was, I had been so busy writing other Halloween articles towards the end of last season, I never had a chance to share all of my photos and videos of the event.
Well, now that the 2015 Halloween season has begun and they've announced new dates and locations for Rise of the Jack O'Lanterns this year, I thought it would be the perfect time to share my footage from their 2014 event. So, with that in mind, I hope you enjoy all my photos of some truly stellar pumpkin carving art from Rise of the Jack O'Lanterns! Be sure to make it to the final page in this article for a big 15-minute video tour of the entire event!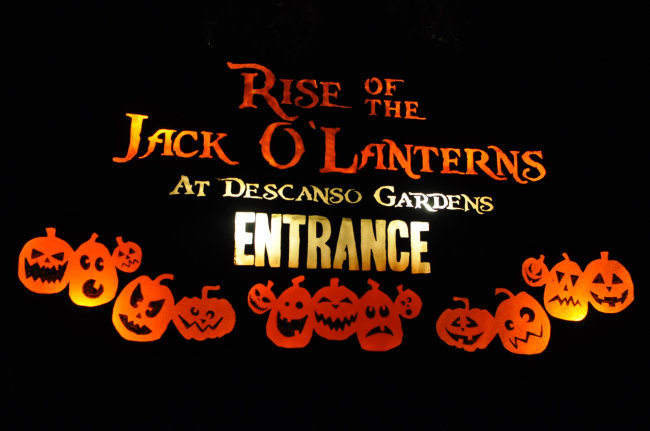 This beautiful sign alone had me convinced we were about to see a truly special Halloween event.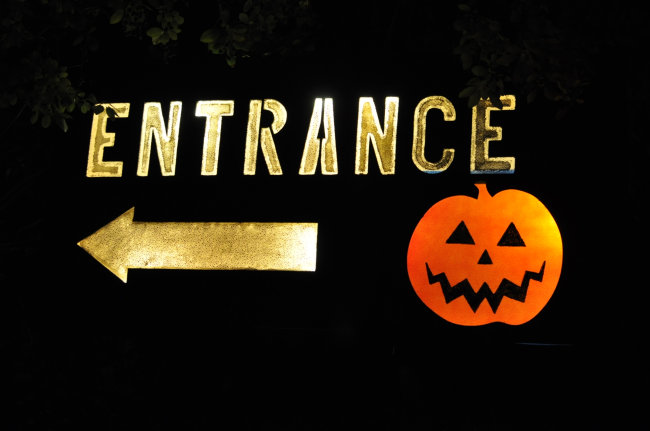 Seriously, I need these signs at my front door this October.
(and all year long too)

Before making it to the beginning, we were treated to Jon Neill taking pumpkin carving to another level.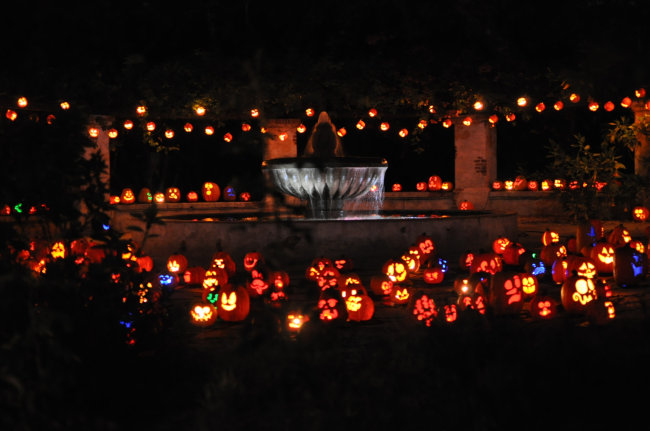 Being greeted by a fountain surrounded by hundreds of illuminated jack-o-lanterns was a hell of a way to start the night!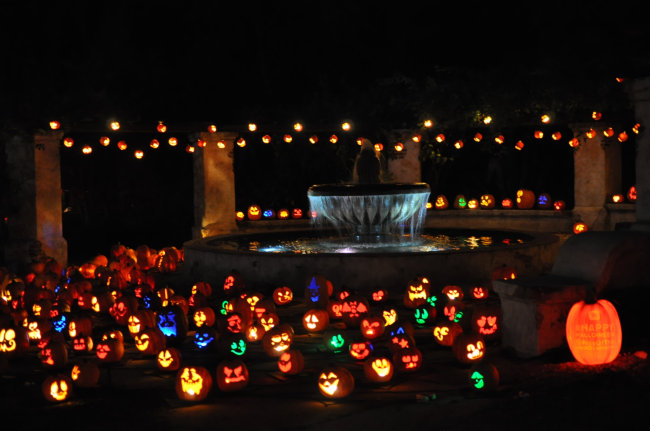 No need to throw pennies in that fountain... my wish had clearly come true already.

Pumpkin totem poles!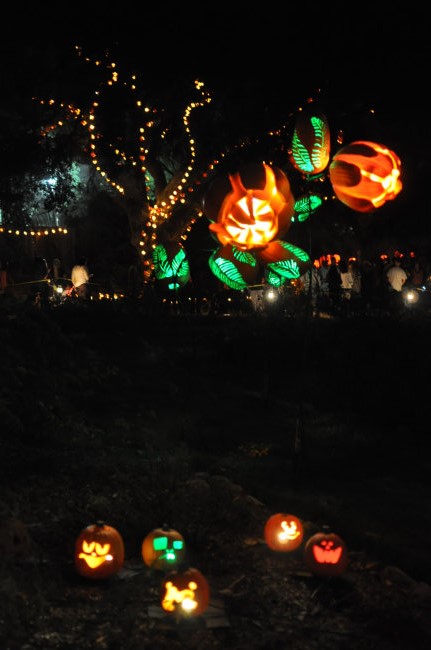 Turning jack-o-lanterns into tulilp-like floral displays.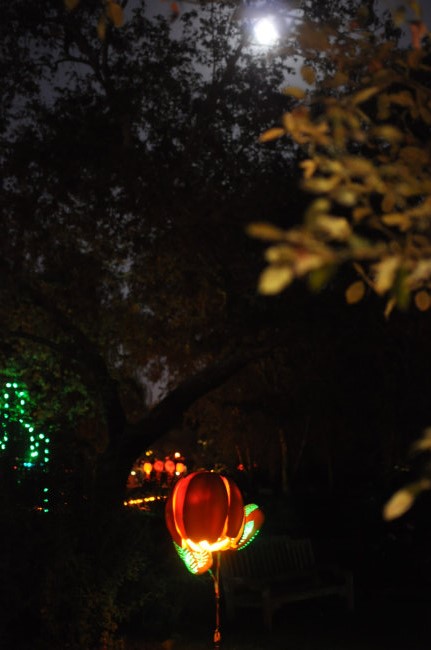 And yes, as if things weren't perfect enough, there was a full moon out that night.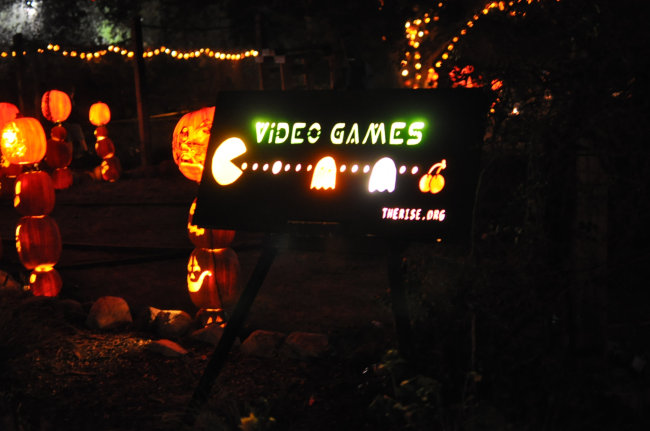 They even had a small section dedicated to video games. Keen!

Mario Kart jack-o-lantern!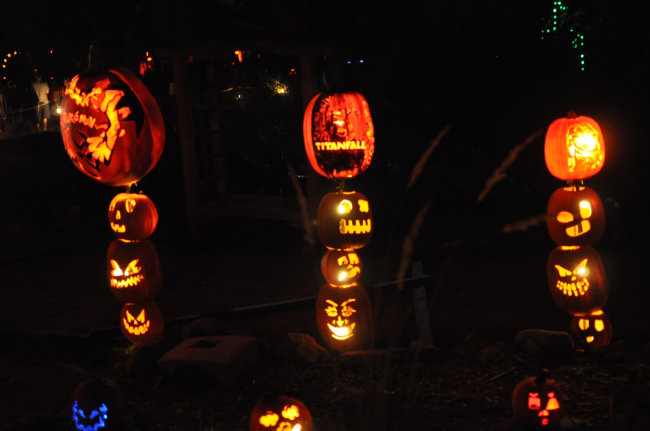 Pokemon, Titanfall, and Halo jack-o-lanterns.

And yes, there was even a Grand Theft Auto V jack-o-lantern.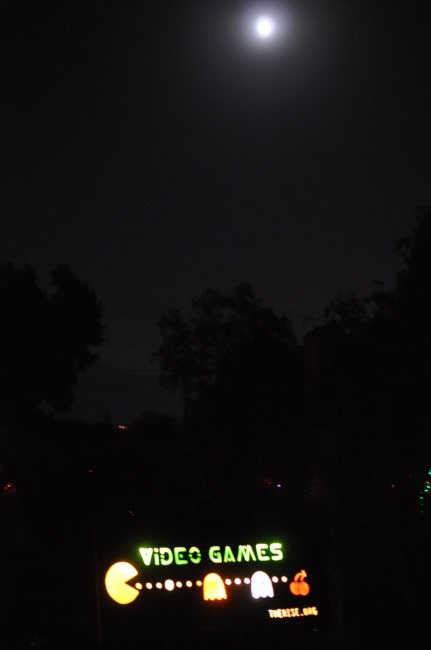 A better shot of the moon.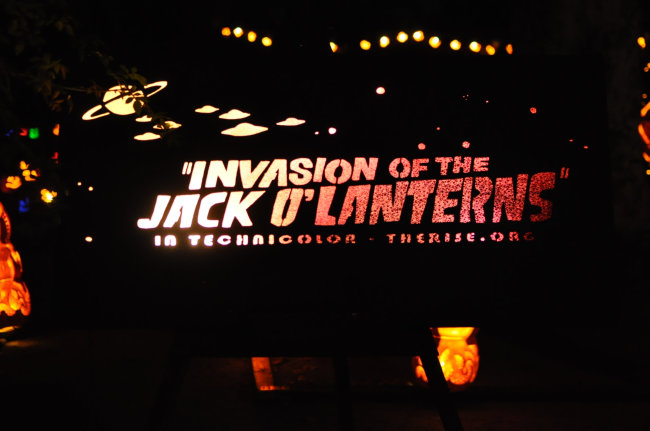 Next up, we arrived at the "Invasion of the Jack O'Lanterns" sci-fi installation.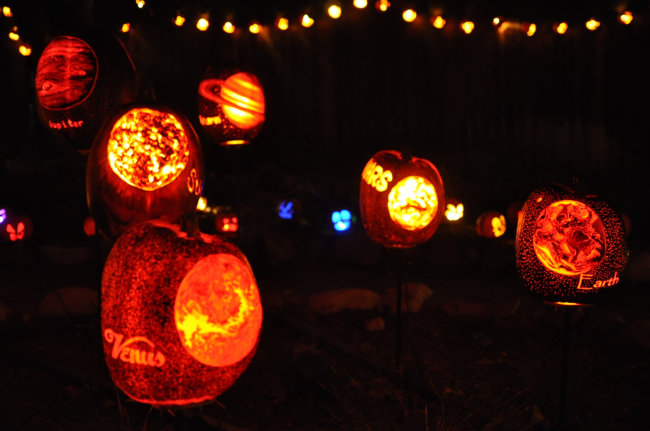 Are entire solar system carved into pumpkins? Amazing.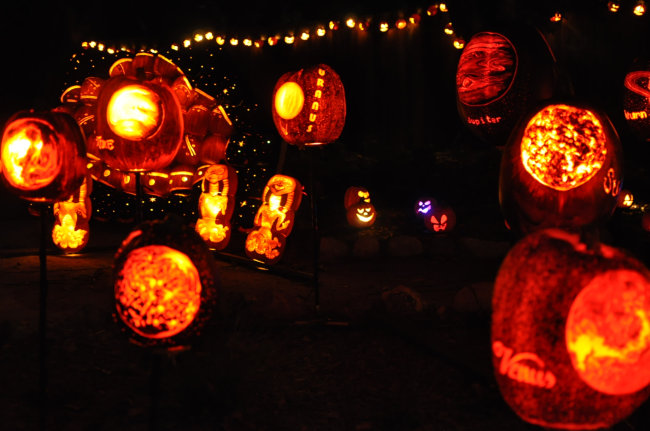 The jack-o-lantern solar system from another angle.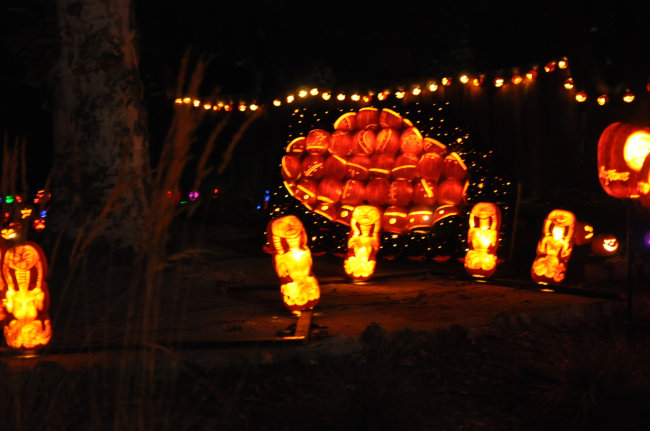 The alien invaders have landed!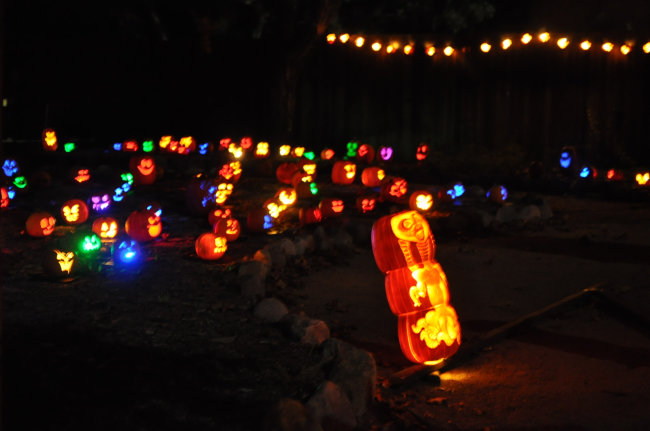 Ever been probed pumpkin?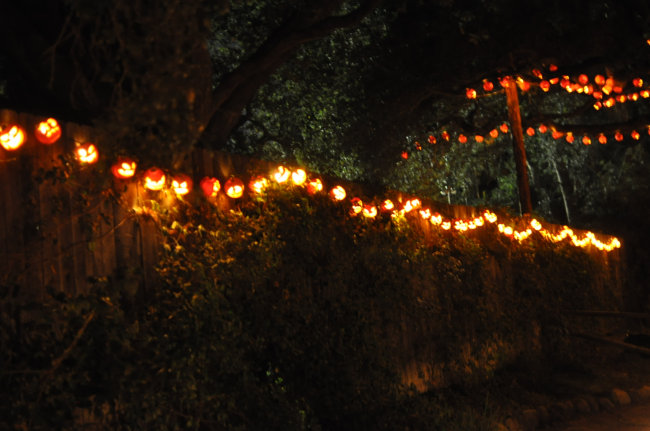 Long strands of illuminated pumpkins lined the fences of the event.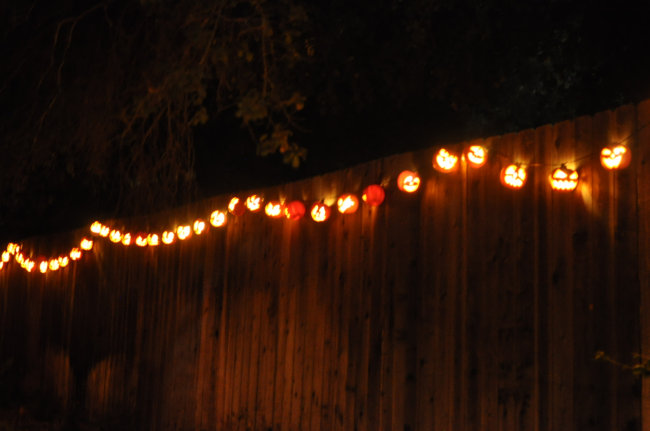 Who wants a white picket fence when you have one covered in these?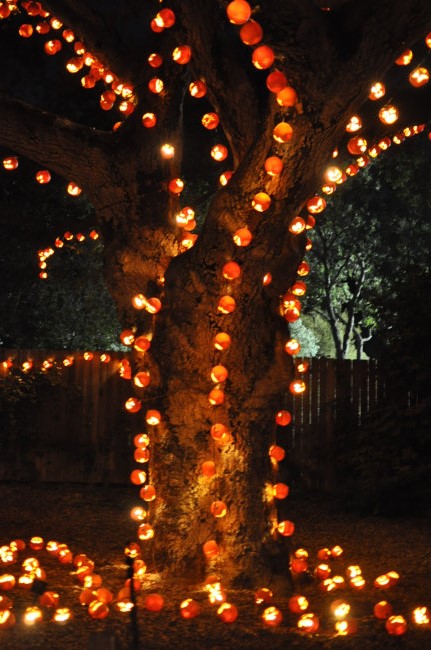 And in an instant, I felt like I had been transported to Ray Bradbury's The Halloween Tree.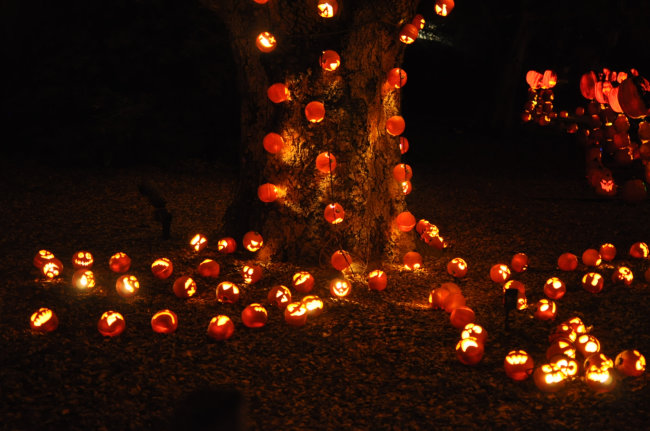 Perfection.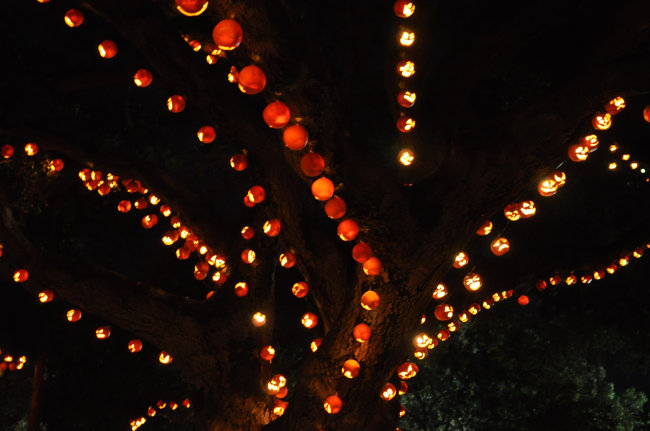 Nature needs to get with the program and make trees naturally occur exactly like this.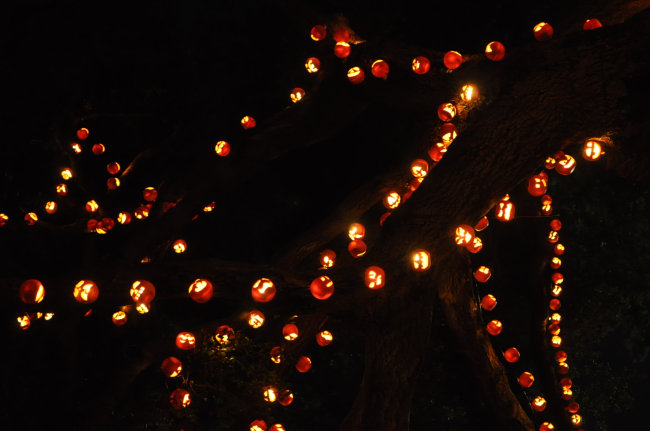 Seriously, I want to live in this tree. Somebody build me a treehouse in it pronto!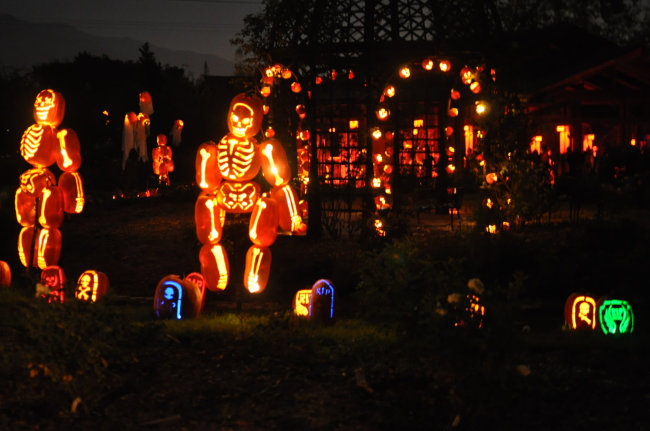 Multiple pumpkins formed life-sized skeletons that danced in the graveyard.
There are still plenty more photos from
Rise of the Jack O'Lanterns to see!
Click here to continue onward to page 2!