by: -RoG-
If there's one thing I've always loved about Christmas time, it's gotta be all the colorful light displays. Well, some years back, one of my friends informed me about a huge holiday display out in Palm Springs, CA called Robolights, and said I simply had to check it out. Over the years, something always came up, and I never had a chance to make the 2+ hour drive out there. This month, however, I decided it was finally time we check out Robolights to see if it was as good as I had heard.
Holy crap. HOLY CRAP. HOOOOOOOLY CRAAAAAAAP!!!
Robolights isn't just good. Robolights isn't just great. Robolights is goddamn AMAZING. Robolights is the brainchild of artist Kenny Irwin Jr., who has been working on it since he was a child. So what is Robolights exactly? It's the largest residential Christmas lights display in the entire country, taking up four acres, with over 8.4 million lights and counting. Yes, you read that correctly. Kenny works on his winter wonderland masterpiece 350 days a year, for 10-12 hours a day, and it shows. It really shows. He doesn't actually celebrate Christmas, having converted to Islam some years back, but it's clear that Kenny embraces the fun of lighting up everything in sight during the holiday season.
Robolights is best explained as taking the idiom, "One man's trash is another man's treasure," to its absolute most extreme conclusion. In fact, I'm pretty sure there's no such thing as "trash" in Kenny's mind. The entire world is just one big art supplies shop as far as he's concerned, and Palm Springs is his canvas. You'll soon discover that this is a guy who truly embraces the concept of buying in bulk, as I take you on a photographic tour of the amazing Robolights 2016 display.
Display... display isn't a big enough word to describe Robolights. It's a world.
The following is a pictorial, featuring over 300 photos from Robolights. At the end of the article, you'll also find a quick video walk-through that I shot while there. And now, allow me to take you on a tour of the magical world that is Robolights 2016.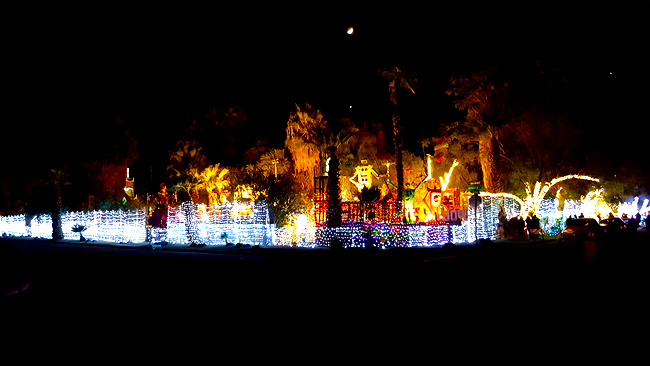 As we parked on this residential street, we were amazed by how much land Robolights actually took up.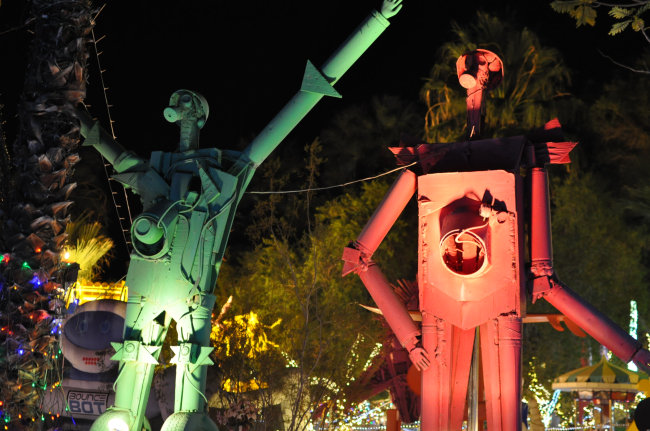 Naturally, you can't have something called Robolights without robots.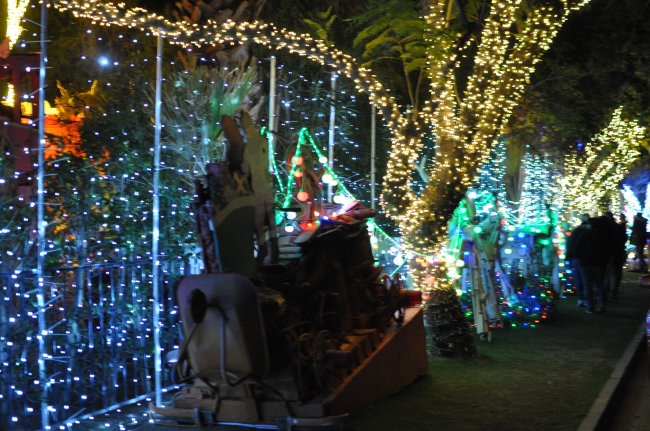 Keep in mind, we weren't even inside yet. This was just the outer perimeter of Robolights!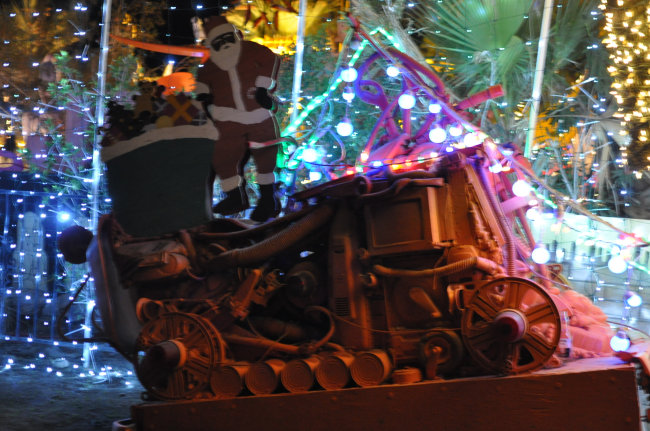 Santa loading up his sled for a robo-adventure!

Robo-Reindeer!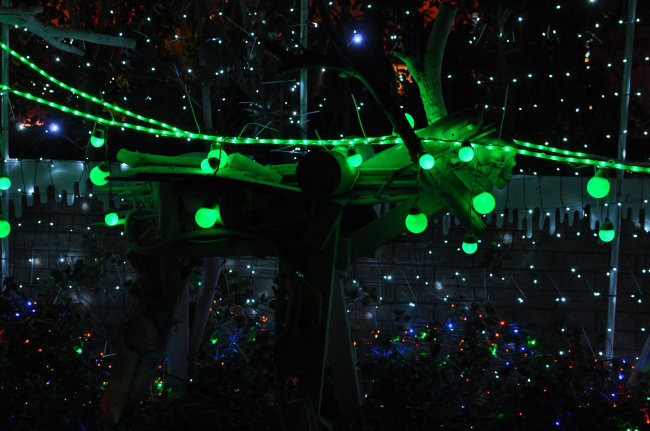 Who needs Rudolph when your reindeer light up like this?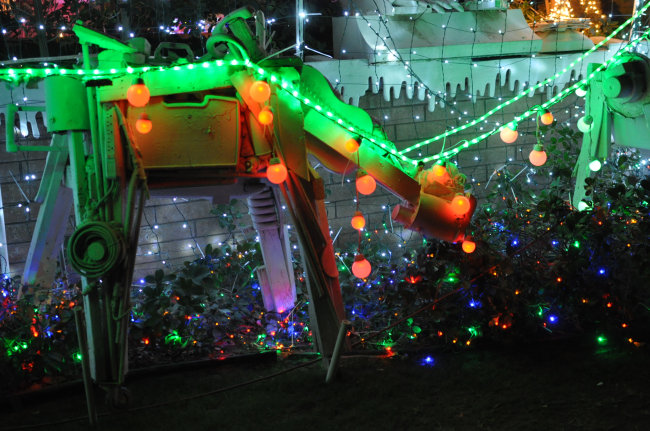 These Robo-Reindeer apparently have a strict diet of consuming nothing but Christmas lights.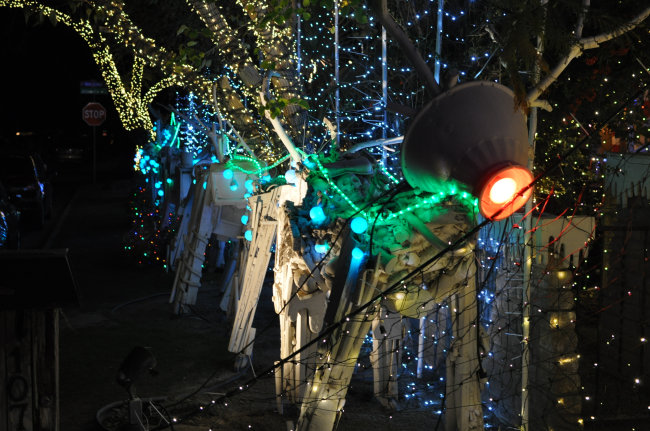 Okay, Rudolph... you can still lead the pack.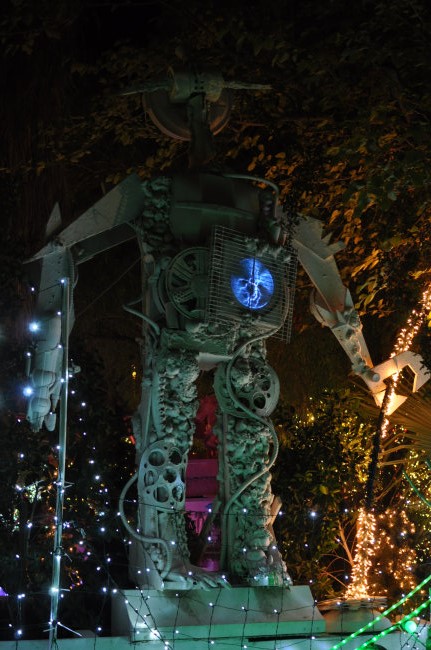 Film reels, a plasma light plate, and more, all repurposed to form a giant robot!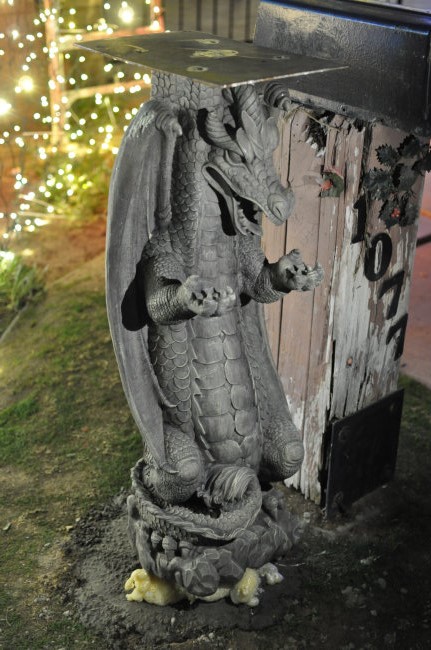 This stone dragon mailbox stand is in dire need of a mailbox.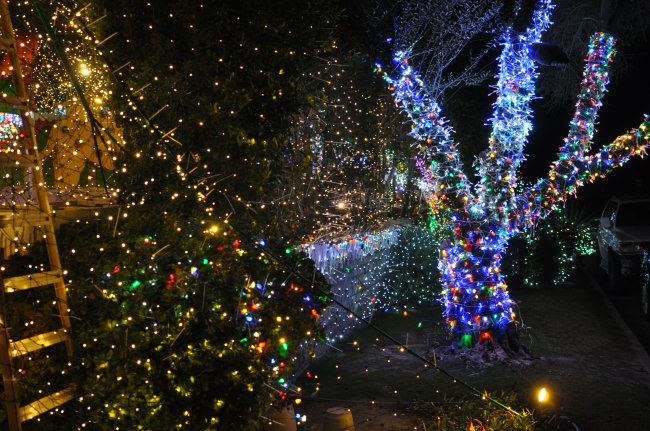 Again, if this is just the outer perimeter, you can just imagine how crazy the decorations inside are gonna be!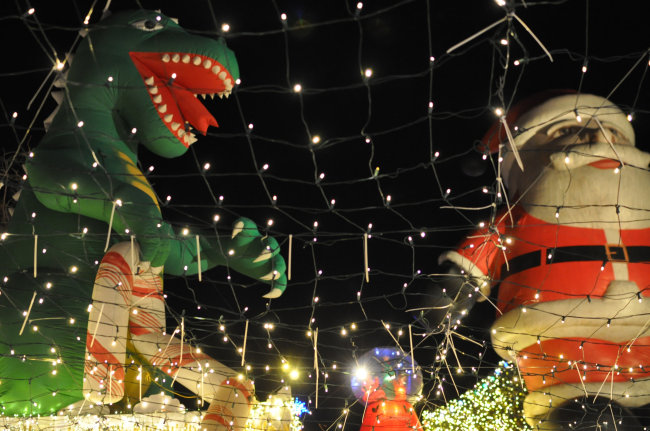 Godzilla vs. Santa proudly standing watch over Robolights 2016.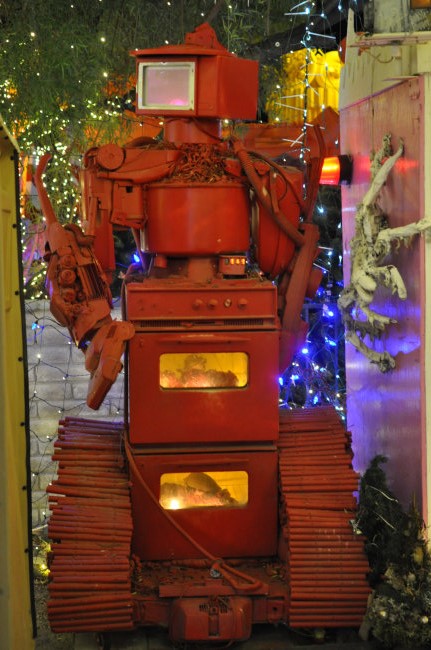 Johnny #5 is a live, and now he can cook a mean casserole.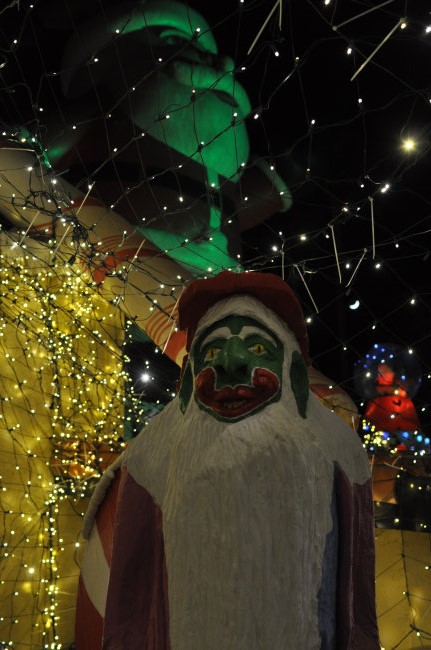 A Santa / Elf hybrid, perhaps?

This robot is feeling down, because it has quite a dilemma:
Attack with the laser gun in one hand, or attack with the frying pan in the other?

You spin me right round, baby, right round.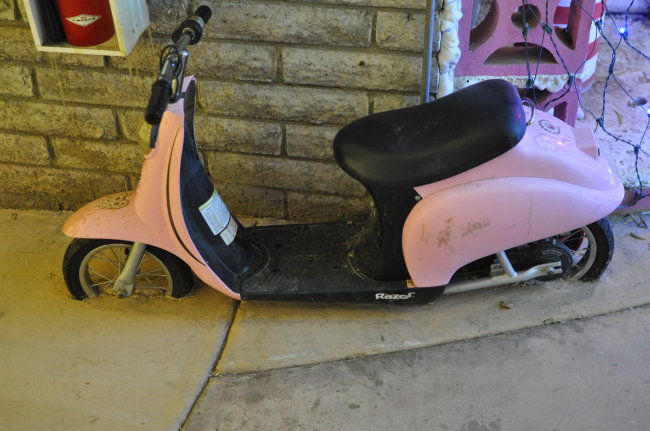 Let's see the city of Palm Springs try to tow away this ride!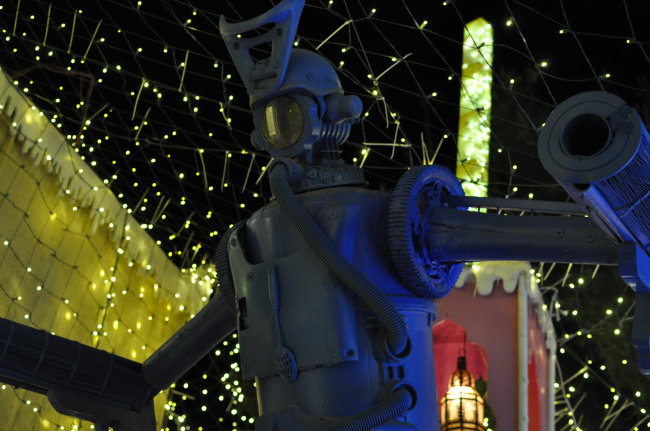 A robot inside Robolights? Shocking!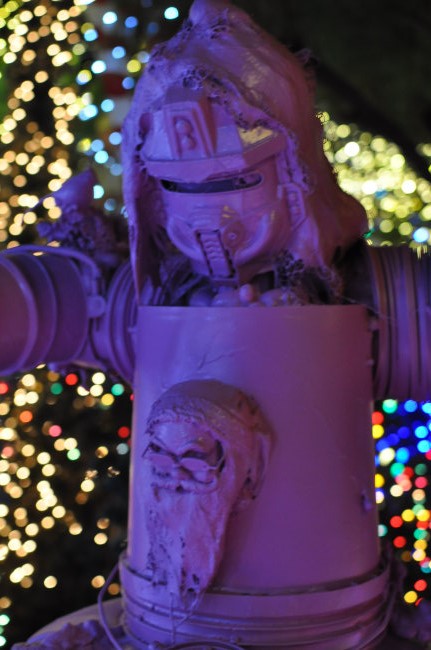 Santa is kind of like Krang in his android body here.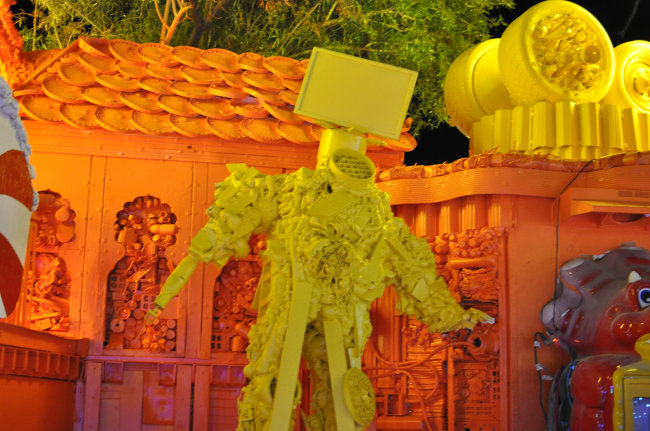 Another robot made of completely random items.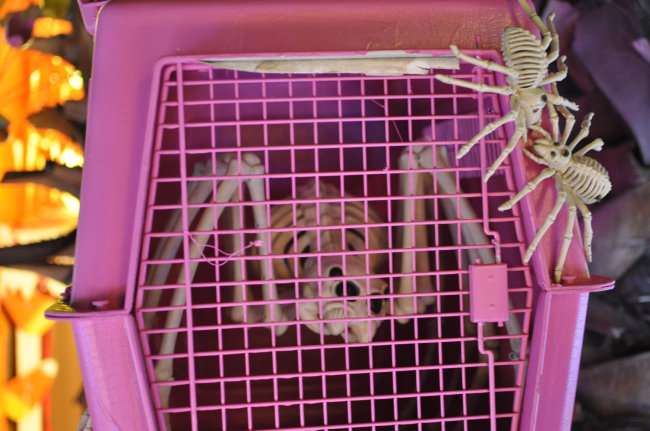 As soon as its younglings figure out how to open the door, this skull spider is gonna feast upon us all.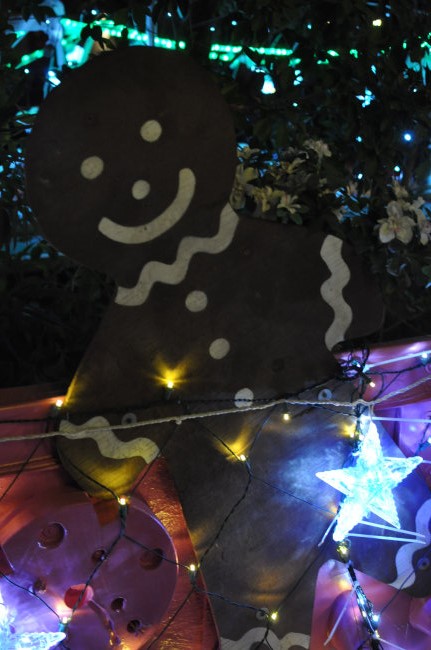 He said I couldn't catch him. He was wrong.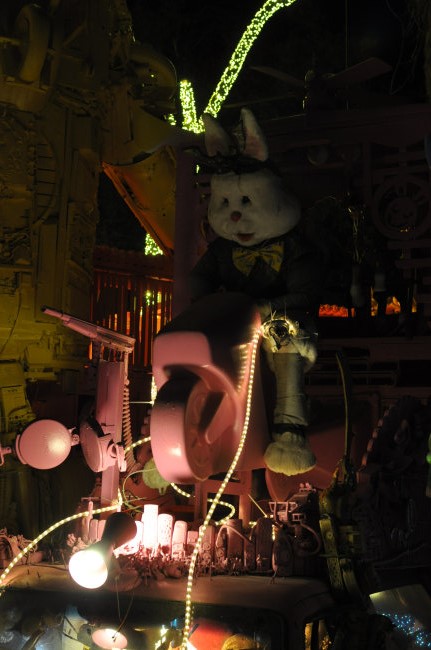 What's Peter Cottontail doing here? I guess he's helping Santa deliver all those gifts around the world in his downtime.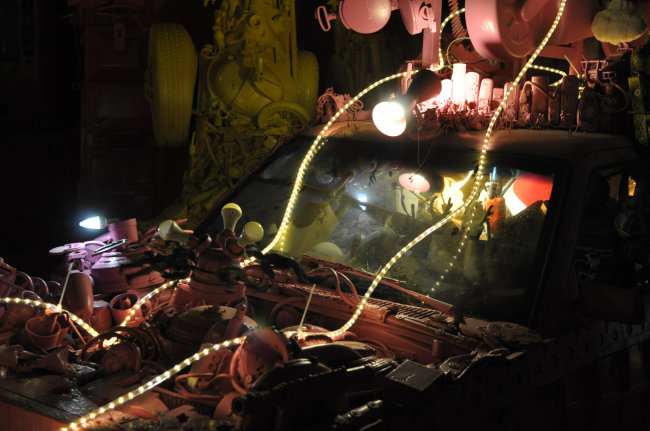 Interesting looking sleigh.

An engine powered by skulls, light bulbs, and spinning action figures? It's like looking at the future of automobiles!

If you can't find your remote, there's a good chance it's somewhere at Robolights.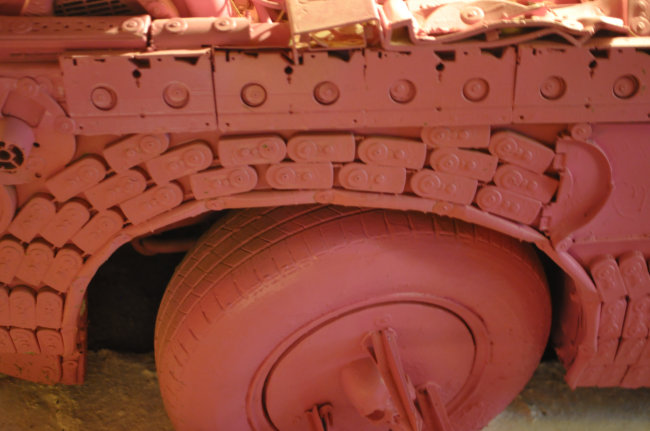 Who needs wood paneling, when you can line your old station wagon with VHS tapes and more?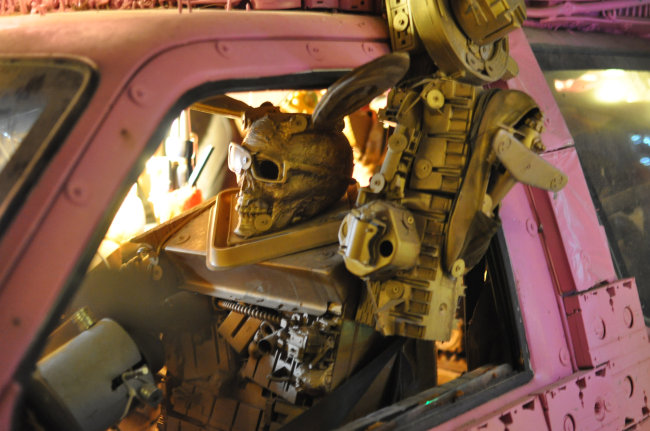 The Easter Bunny meets Mad Max?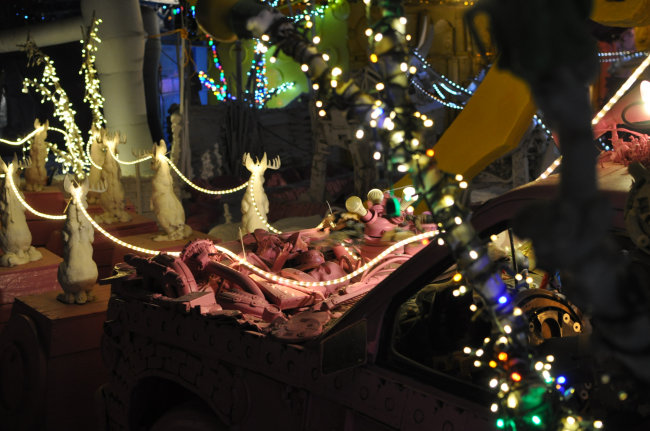 Hmm, those don't look like reindeer.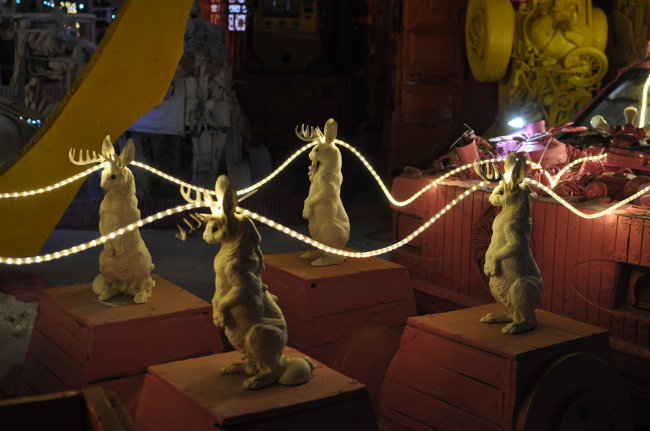 Hey, jackalopes work just as well.

Jack Box from Jack In The Box has finally embraced his giant mech robot form.

FRIENDZ 4EVAR!
There are more photos from Robolights 2016 to see!
Click here to continue onward to page 2!