by: -RoG-
Santa. Every winter we start to hear his name more and more, because everybody is expecting him to deliver gifts to all of the good kiddies in the world. Now, I'm no angel by any means, but this Santa fellow has always brought me absolutely horrible gifts. Whether it was used motor oil in leaky zip-lock bags or rotten vegetables, he's always made sure they found their way to my home. Whatever happened to just getting a lump of coal if you were bad?
Well, damnit, this year I had no intentions of letting Santa pull some more of that shit on me. This year, I was going to capture and interrogate the bastard to find out just what the hell his problem was.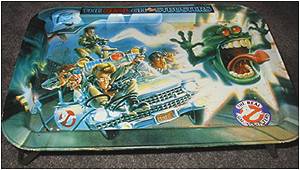 The REAL Ghostbusters.
They're real enough to be on a dinner tray.
The first thing I needed to do was put out some food for Santa, so why not do it in style? I found my old "The REAL Ghostbusters" fold-out dinner tray and it still looks as good as new. If only I had some Hi-C Ecto Cooler to go with it (why they ever stopped making the stuff is beyond me). And speaking of these older dinner trays, I don't know anybody that really uses them anymore even though they're readily available in most thrift shops. All you people with your fancy "chairs" and "tables" thinking you're so above us lowly tray users... "Pfft" I say. PFFT!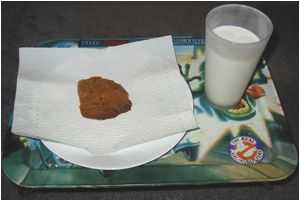 COOKIES! MILK! SLIMER!
Now we all know that Santa is supposed to love it when kids leave cookies and milk for him when he comes to visit. How he can eat and drink that much is beyond me. But hey, if Elvis could do it, why couldn't Santa? So I left him a nice big chocolate chip cookie and a tall glass o' milk and waited to see if he'd show up.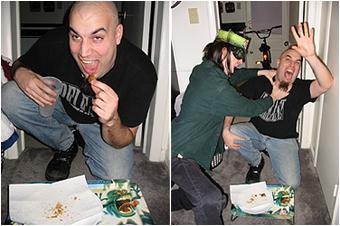 DAMNIT!
Figures, one of my friends (you know him as "Killing Joke" here on I-Mockery) caught a whiff of the cookies and milk and just couldn't help himself. Well, after strangling him to relieve some frustration, we searched through my kitchen to see if there was anything else to leave for Santa since the cookies and milk were all gone. So what did we find?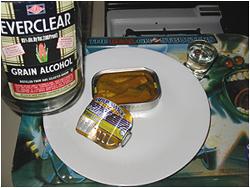 Everclear and Sardines in mustard sauce.
Yes indeed. It may not have been as tasty as cookies and milk, but at least it would knock Santa on his ass when he arrived. Well it would have if...


My roommate Scott, and Killing Joke, didn't consume all of it.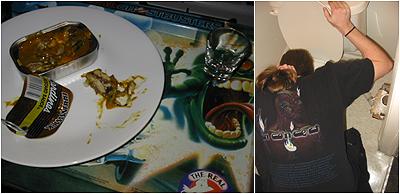 At least Scott quickly realized that Everclear and Sardines don't mix well.
After making both of them swear not to touch the food that I was trying to leave for Santa, we once again went into the kitchen to find some treats. It was looking pretty barren, but we managed to scrap up a few semi-decent things.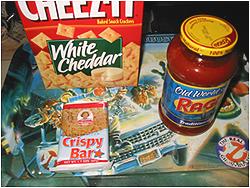 We found stale Cheez-Its, a generic Rice Crispy Treat, and a bottle of Ragu sauce. If nothing else, Santa would reward us for giving him some variety rather than the same old cookies and milk shit he gets from every spoiled brat across the land.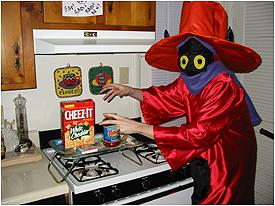 ORKO!?
Ok, this is when things got a little weird. Fucking "Orko", from He-Man and the Masters of the Universe, showed up in our kitchen. Apparently, stale Cheez-Its, generic rice crispy treats, and Ragu sauce is a secret way to call upon the most annoying wizard wannabe of all time.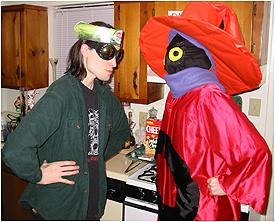 "WHATCHOO LOOKIN' AT FOO'?"
Orko insisted that I let him have the food or else he'd turn me into a gnat. I laughed and told him his amateur magic was no match for the power of the almighty Pickle Hat. You see, it's a little-known fact that not only does my Pickle Hat look stylish, but it also gives the bearer great magical powers. And with those powers...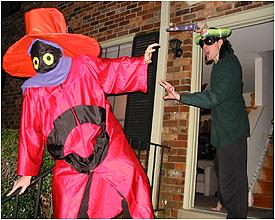 I kicked Orko's ass right outta my house.
And as he went flying out the door, he yelled to me, "We shall meet again RoG! And when we do, you will regret the day you dared to challenge my magical skills!" You know, while I'd like to think he's just "all talk", I do have a feeling Orko will return some day... and it very well me the greatest battle of my entire life. Until that day, I shall medicate and perfect my potent pickled powers. Yay for alliteration!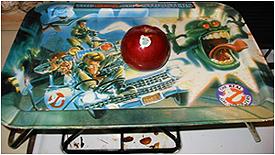 OBBLE!
Having nothing left in the kitchen besides a shiny red apple, we decided to leave it on the tray. I mean, we already had Orko show up, how much worse could it get... right?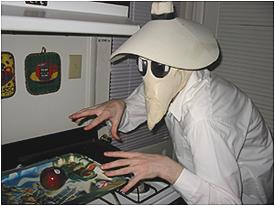 A LOT WORSE.
I never presumed that apples would attract the white spy from Mad Magazine's infamous "Spy vs. Spy" comic strip. But somehow... it did. We heard some rustling in the kitchen an ran in expecting to see Santa, but instead we found...

AHHHHHHHHHHHHH!!!!!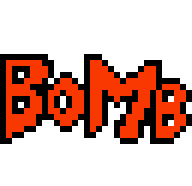 After being blown to smithereens by the bomb that the white spy had so kindly left behind for us, we all agreed that it was time for a new strategy. If we couldn't lure Santa to our place with cheap food products, perhaps we could tempt him with something a little more sensual.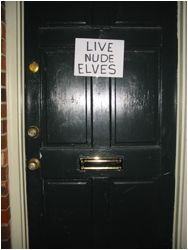 LIVE NUDE ELVES
We decided to put a sign on our door advertising that our place was indeed home to the worlds finest live nude elves. If this didn't get Santa's interest, nothing would.

"HO HO HO! HEY! WHERE'S THE HO'S!?"
Sure enough, the jolly ol' bastard showed up at our door, drooling all over his incredibly realistic looking beard. He also explained that he wasn't in his full Santa outfit because, "Sometimes I prefer to go casual." (actually, I just didn't feel like spending 100 bux on a friggin' Santa suit... work with me here folks.) We yanked his ass inside and prepared for the interrogation of Saint Dick.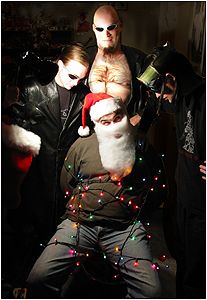 WELL?
Dressed in our most intimidating (and perhaps nauseating) outfits, we tied his ass up in colored Xmas lights and shined a light right in his face just to make him sweat a bit.
RoG: "Ok, I'm giving you one chance to explain all the shitty gifts you've been giving me all these years."
Santa: "What'd you expect? Have you taken a look at your site before? It's not exactly a shining beacon of hope and joy."
RoG: "So? Neither is the Christmas Day parade, but I don't see you dousing their most cherished belongings with rancid milk."
The interrogation went on and on and on... he'd always make up a stupid excuse for why he didn't bring me nice gifts. I honestly think that he didn't have a real reason, he's just a mean bastard who likes to fuck with people.
Santa: "Tell ya what, why don't you take a look in my sack (ho ho ho!) and see what I've brought you guys this year. I'm sure you'll enjoy it all!"
RoG: "Ok fine, let's see what little bundles of joy you've brought us."
We reached in and pulled out our "gifts"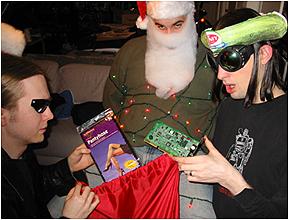 Scott: "Pantyhose!?"
RoG: "A shitty 28.8k modem!?"
Santa: "HO HO HO MOTHERFUCKERS!"
RoG: "That's it Santa, you're going down!"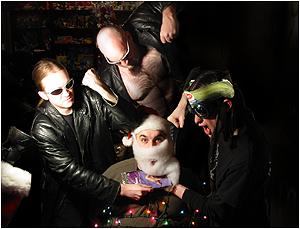 *GULP*
We pummeled Santa like nobody has been pummeled before. Still, that wasn't enough to satiate our rage... we had to do more harm to him. This naturally called for something more drastic. Something that would really drive the point home.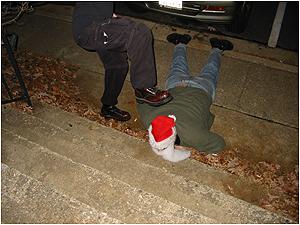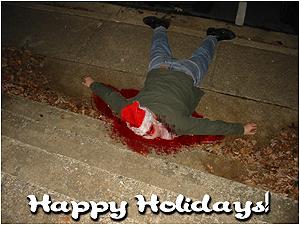 Nothing says "Happy Holidays" like a heartwarming CURB STOMP!
the end.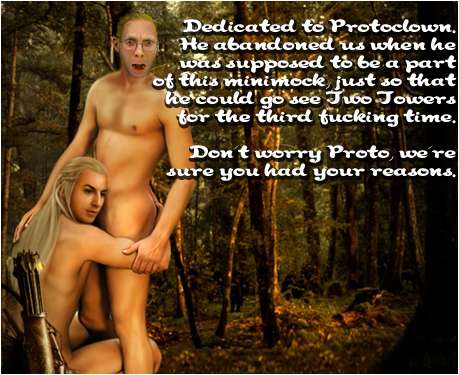 ---
Running a big site like I-Mockery takes a lot o' time and costs moola too.
Want to help show your support?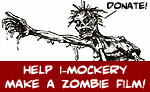 DONATE TO OUR ZOMBIE MOVIE!
Come talk about this piece & more on our Message Forums!
click here for more minimocks!

---


[Minimocks] [Articles] [Games] [Mockeries] [Shorts] [Comics] [Blog] [Info] [Forum] [Advertise] [Home]


Copyright © 1999-2007 I-Mockery.com : All Rights Reserved : ()
No portion of I-Mockery may be reprinted in any form without prior consent
We reserve the right to swallow your soul... and spit out the chewy parts.