by: -RoG-
Where does one begin when trying to describe the life-changing experience that is the Star Wars Holiday Special? Are there words that exist which can accurately describe the pain I associate with viewing this so-called special? Probably not. The reality is, you can read this entire review and have a rough idea of what goes on in the Star Wars Holiday Special. However, until you've actually watched the special in its entirety, you will never truly know the crushing agony that encompasses a single viewing of this abomination.
That being said, perhaps this review will help ease you into the madness, rather than diving in headfirst into a screening of the special like I had the displeasure of doing. Last December, in my Star Wars Christmas Album review, I said that I would give you guys an in-depth review of the Star Wars Holiday Special if you were really bad all year long. I guess this means you were really bad after all. So here it is... my take on what is the Star Wars Holiday Special from 1978.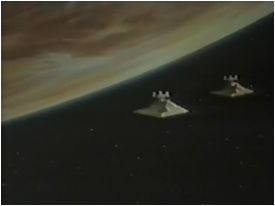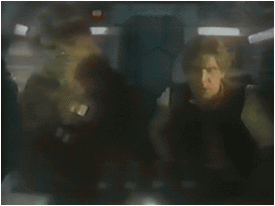 Our story begins with two Imperial Star Destroyers (why do I know their names?) chasing down Han Solo and Chewbacca the Wookiee in the Millennium Falcon. Han is ready to turn around when Chewbacca cries out. I never did understand how anybody could understand the Wookiee language since everything that comes out of their mouths sounds exactly the same. It's a good thing Han Solo repeats everything Chewbacca says in English, or we'd all be completely confused. Apparently Chewbacca's family is waiting for him to arrive to celebrate "Life Day," and it's up to Han Solo to make sure that the big Wookiee gets there in one piece. I don't know what Life Day is, but apparently it's important enough to get Han to jump to light speed.

After Han and Chewie blast off, we see the title come up on the screen and are then treated to shots of all the cast members. We'll get to each of those cast members as we make our way through this review, but I do have to mention Mark Hamill. Just look at him! I'm sorry, but Carrie Fisher has NOTHING on Mark Hamill in this special! He's waay prettier than she could ever hope to be. Hell, I bet he'd even pull off that Jabba slave outfit better than she did. Come on Mark, just flutter those long eye-lashes for me just once. Please?

What you're seeing there isn't just an artists rendition of a Wookiee home, it's the actual picture of the Wookiee home that they use in the Holiday Special. Guess they just didn't wanna spend money on building a huge set like that. I'm sure they invested that money into coming up with a great script instead. Bahahahaha!
Alright, so we're now inside the (tree)house of Chewbacca's family and it doesn't look all that different from the kind of place we'd live in. It has a den with an easy chair and a table. It has bookshelves, a kitchen with an oven. I guess the message here is that Wookiees are really just like us... only hairier.
By the way, that's not your computer monitor fucking up, that's the actual quality of the show. I'm guessing that they figured if the special was made blurry enough, most people wouldn't notice just how atrocious it really was. Oh Lucas, you really were a special effects wizard weren't you!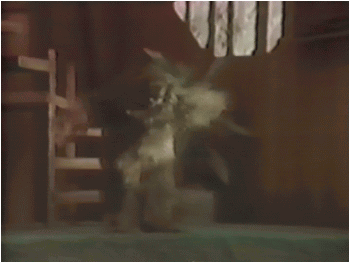 Awww, who's this cute furry fella, hopping down the stairs with glee? Oh it's none other than Chewbacca's son! Say, can you guess his name? Go on, try! Billybacca? No. Zeekbacca? Sorry, guess again. Lumpy? YES! That's it! It's LUMPY THE WOOKIEE! And who's he flying his toy x-wing fighter down to see?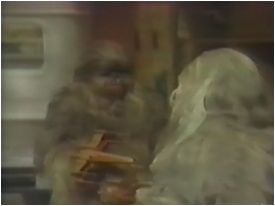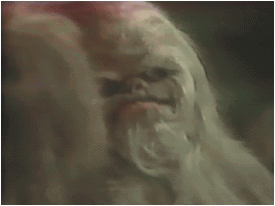 Why it's grandpa, Chewbacca's father, sitting in his Wookiee La-Z-Boy chair! Oh and his name is ITCHY in case you were wondering. Apparently the writers of this story were at such a creative roadblock that they actually had to refer to Snow White and the Seven Dwarves for naming inspiration. Sad, sad, sad. But forget about that, let's take another heartwarming look at grumpy ol' grandpa Itchy!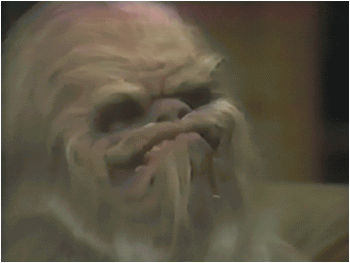 If that's not something that would've given you nightmares as a child, I don't know what is. Actually, if that's not something that would give you nightmares as an adult, I don't know what is! I mean just look at that twisted, circular jaw-grinding action... and all the while you can't tell whether he's pissed off or happy as can be. It's that huge bloody car wreck with mangled corpses sprawled out all over the road that have been cooking in the hot sun all afternoon because all the phone lines were down and no cops found out about it yet and all the vultures have been pecking away at the flesh and it just burns your eyes as you drive by it but you CAN'T...HELP...BUT...KEEP...LOOKING!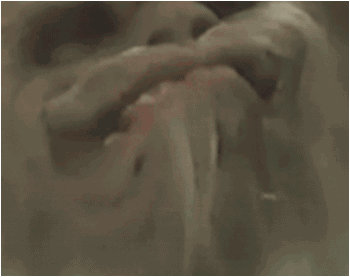 AHHHHHHHHHHHHHHHHHHHHHHH!!!!!!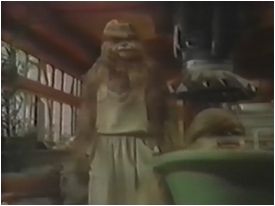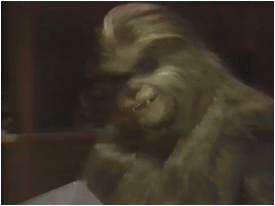 Last but not least, we have Chewbacca's wife, Sneezy. Just kidding, but with the names of his other two family members, Sneezy wouldn't be much of a stretch would it? Well her name is Malla. She spends most of her time in the kitchen (like all Wookiee women should, am I right guys? (HAR HAR HAR! *CHAUVINISTIC WOOKIEE EGO BOOST* HAR HAR HAR!) and crying about how she wishes her husband would hurry up and get home. Can't say I blame her though... if I lived with her noisy kid and Gramps McGrinderjaw, I'd kill for any other kind of company.
Now that we've met Chewie's family, I feel the need to address something. For roughly the first 12 minutes of this special, we hear not a single human voice. Not a single word of English. Instead, our ears are treated to nothing but Wookiee moans, groans, and cries the entire time. Just think about that. They're trying to establish a basic storyline at the beginning of the special with nothing bout Wookiee talk. Are you seeing what I'm getting at here?
I used to love Chewbacca's voice. And that song "Chewbacca" by Supernova? Loved it. Now I can't even hear five measly seconds of that infamous Wookiee vibrato without temporarily losing all motor functions... and bladder control. Lumpy's voice is probably the most grating of them all. The only way I can describe it is if you imagine the sound of Gilbert Gottfried with a kazoo lodged in his throat while getting raped by a sasquatch. Yeah, that's pretty much Lumpy's voice in a nutshell.
Thanks Star Wars Holiday Special!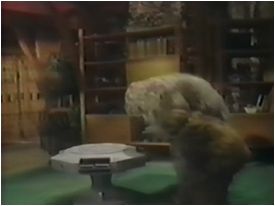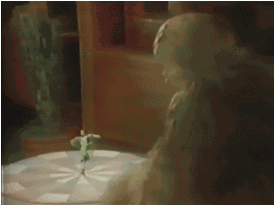 Anyway, Itchy must be getting tired of all the noise Lumpy is constantly making, so he loads up a program on the hologram table to keep the lil' Wookiee preoccupied. Sadly, the program that loads is not nearly as entertaining as the chess-like hologram program that we saw in the actual Star Wars movie where the pieces actually fought each other (and I still believe it was that holo-game in the movie which was the inspiration for the popular "Battle Chess" game for the PC). No what loads instead is an alien circus show.

The ringmaster isn't your typical guy with an oversized top hat and a megaphone. No, this guy appears to be covered from head to toe in seaweed (ok alien seaweed) and rather than giving us hope that someone is about to speak English for the first time in the show, he just gyrates his body and plays his trumpet (ok alien trumpet) whenever it's time for another act to start. You've got some super-flexible, dancing green trapeze alien girl. You've got a red squad of aliens that do some kind of cheerleading routine which ends in a pyramid of sorts. And what act do they save for last to keep Lumpy amused beyond reason? Jugglers.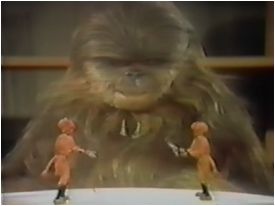 So let me ask you something. What's less entertaining: a) watching some people juggle or b) watching a TV show which has a hologram of some people juggling.
If you guessed "b" you're absolutely right! If not, beat yourself with a juggling prop until you're convinced otherwise. You know things aren't going well when a TV special that takes place in outer space, where pretty much anything you can imagine goes, actually resorts to JUGGLING for the entertainment. Seriously, if at any point in the future you're watching a sci-fi show and they bring in some jugglers, turn the goddamned TV off immediately. Somebody needs to put that sagely advice on a fortune cookie NOW.

Next, Malla goes over to her computer and tries to see if the Millennium Falcon is in the area yet. At least, that's what I think she's doing since the screen says there are "No starships in area."
Now wait just a minute. You're telling me that these Wookiees don't speak a word of English, yet they read English? Lemme guess... when they write they use hieroglyphics right? The brilliant writers of this holiday special are shining through yet again! But wait, who's that popping up on the screen now?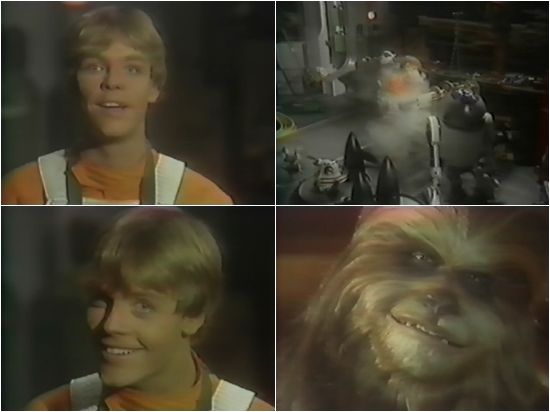 Yes! It's Luke! I don't even care about Luke that much, I'm just so fucking happy to see somebody who will surely speak English I can't contain myself anymore! Thank you writers, thank you for introducing someone who can SPEAK into the story!
So anyway, the Wookiees tell Luke how they're worried about Chewbacca and Luke tells them not to worry because he's never missed a Life Day yet. He tried his best, but Malla just isn't feeling reassured enough. "Come on Malla, let's see a little smile." Luke says with a twinkle in his eye. I'm not sure whether to laugh or cry at Luke and Malla's faces in this scene. Actually, I think I will laugh. I mean, just look at them there... how can you NOT laugh at an emotional moment like that between Mark Hamill and a female Wookiee? This must be the kind of special moment that "Life Day" is all about!
I'm sure Luke would love to stay and chat, but he and R2-D2 have to provide some more hilarious comic relief as the engine they were working on breaks down and smoke starts billowing out of it.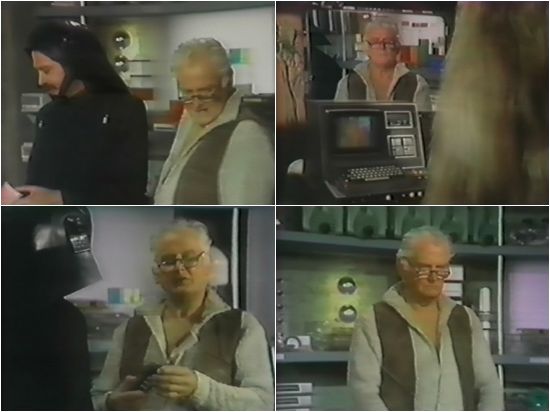 Not feeling comforted enough by Luke, despite staring into those big twinkling eyes of his, Malla decides to call up Saundan's Trading Post on her computer to see if he's heard anything. Saundan apparently brings the Wookiee's some goods such as proton packs (I didn't know the Wookiee's were Ghostbusters too) on a regular basis. Malla isn't calling about trading goods though, she wants to know where her husband is. Problem is, there's an off-duty Imperial Guard in the shop and Saundan could get into big trouble if he talked to Malla about the rebels in the Millennium Falcon. So instead, he speaks in code:
"Don't worry Malla. I know just why you're calling. You're wondering when that shaggy carpet you ordered will arrive at your home. Let me assure you madam, it's on its way. It was made specially for you by a little old woman four planets away. She did it all by herself. In fact you might say she did it by HANd. SOLO."
Wow, that was slick. Real slick. Either the off-duty Imperial Guard just doesn't care or he's dumb as dirt, because he continues looking around the shop. It's funny though, no matter what Saundan tries to show him, the Imperial Guard guy always responds in a low monotone voice. You can tell he's trying really hard to be evil, even though he's on a lunch break. I guess working for the dark side can dampen your spirits like that. But the benefit of working for the dark side is you don't have to pay for anything. When he makes a successful sales pitch for a groomer to the Imperial Guard, the guy just takes it without paying for it. I guess he can use it for his big evil moustache. Ah well, Saundan may have lost one of his items, but I guess it's better than losing his life. Can't help but feel sorry for Saundan though and he stands there and pouts.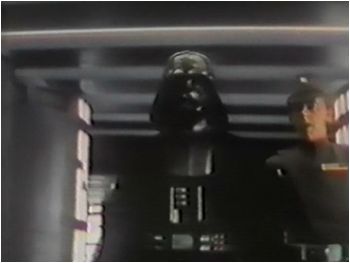 Remember how they used jugglers a little while ago? Yeah, that was one good sign that there wasn't a big budget for this special. Another sign is that rather than filming a new scene, they used some footage of Darth Vader and an Imperial Officer from the actual movie instead. What's hilarious/sad about it is that the Officer's dialogue doesn't even synch up with the way his lips are moving. It's like they didn't even try. They just overdubbed in some new dialogue and left it at that. Well anyway, basically the two talk about how a rebel ship was spotted and that a curfew has been ordered. Guess the Wookiee's will have to stay in their treehouses tonight. "I want the rebels located and identified if it means searching every household in the system." And that's it for Darth Vader in this special. I love how they announced him at the beginning of the special to make it seem like he'd be one of the big characters in it, but nope, that's it. We never see Darth again. Considering he's many people's favorite Star Wars character, I'd say that's another super-smart move by the writers. Way to go guys!
WILL GRANDPA ITCHY GET PISSED OFF AND KILL
LITTLE ITCHY IN A BRUTAL DISPLAY OF WOOKIEE POWER?
CONTINUE TO PAGE 2 TO SEE! CLICK HERE!