by: -RoG-
Action figure playsets are a rare purchase for me these days, because they take up a lot of shelf space and it's not often that one interests me so much. Well, this past summer at the 2015 San Diego Comic-Con, Super7 announced they would be releasing an exclusive ReAction Figures Haunted House Playset. Upon hearing this, my curiosity was instantly piqued, because I love monster toys, and it felt like it had been ages since I had seen a quality playset for horror figures. Given that I had enjoyed many of the ReAction figures so far, it seemed like a perfect fit.
Keep in mind, I still have the stellar Remco Mini Monster Play Case from my childhood, so the ReAction Figures Haunted House Playset had much to live up to. I'm happy to report that I did snag one of those Haunted House playsets at SDCC, so I think it's finally time to open it up and put this house together.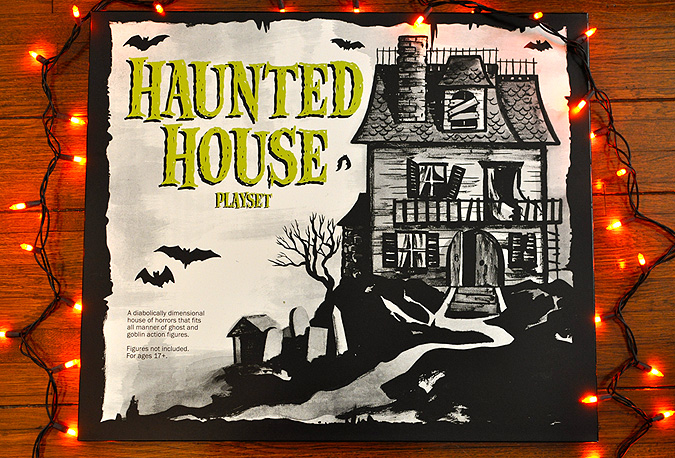 Alright, regardless of the quality of the playset itself, Super7 gets an "A" for presentation here. The matte finish on the box, the eerie green font, and the vintage black & white haunted house artwork makes this feel like a total throwback to the old spooky toys of yesteryear. It's not mentioned on the packaging, but kudos to whoever provided this awesome artwork, because it reminds me a lot of the classic Ideal Haunted House board game. It's strikingly similar if you look at the two boxes side by side, what with the path leading up to the house, the bats, and the dead tree on the left side. I've honestly considered framing this box and hanging it on my wall since back in July... and it still might happen. If it wasn't for seeing this box in person, I might have passed on buying the playset at Comic-Con altogether.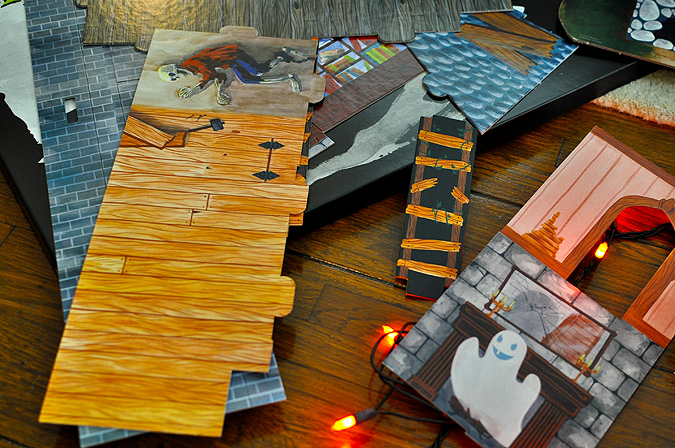 Upon opening the Haunted House Playset box, you'll find a variety of cardboard panels to assemble. Credit where credit is due, they didn't use thin cardboard for these pieces, as they're definitely thick. That said, with that hefty $75 price tag, I really wanted some molded plastic pieces. I know it's not cheap to produce a playset like this, but I think people would've been able to stomach the price a lot easier had it not been all cardboard. Even Super7's previous Alien Egg Chamber playset had a mix of plastic and cardboard.
Cardboard aside, the artwork on all of the pieces is vivid and perfectly suited for a haunted house. Skeletons, ghosts, hidden panels, cobwebs, eyeballs, monster hands... pretty much all the standard fare you'd expect to see inside a spooky old home.
The instructions seem simple enough, but much like your average Ikea furniture setup, it takes long than you'd expect to put together. I actually shot a time-lapse video of my assembling it, but it took so long that my camera ran out of space. The main reason it takes so long is because of the wobbly nature of the cardboard. They planned it decently, but it's still a papercraft nightmare of sorts, because despite the cardboard being fairly thick, the parts all connect loosely. As a result, you can "insert floor tabs into wall slots" and have them pop right out when you move onto the next step. Remember, there are no screws or anything here... it's all cardboard.
I found the bottom floor to be the most annoying part, because this is supposed to be the foundation of the entire haunted house, so it should keep everything nice and sturdy. Unfortunately, the tabs that you push through it aren't long enough, so when you lay it on a flat surface, the whole house can still easily fall over since it's not actually latched onto the base piece. This causes the entire playset to feel very flimsy, which is not a good thing when you're supposed to be able to use it in conjunction with a bunch of action figures.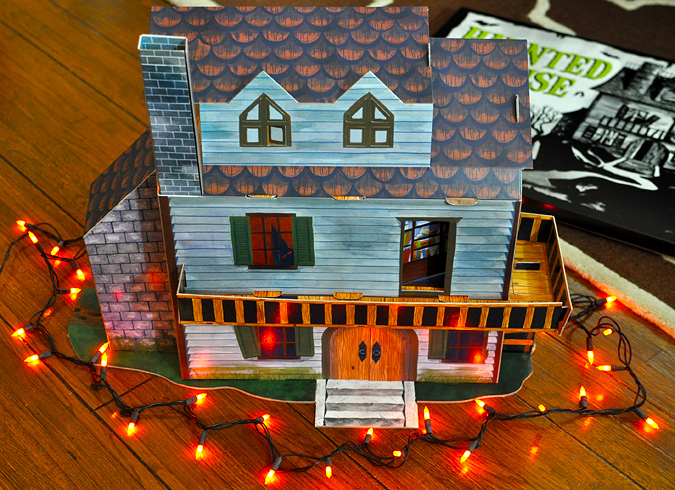 On the plus side, when you do complete the assembly, the Haunted House looks very presentable. The front has a nice balcony wrapping around the second floor, along with a chimney you can toss a poor figure into. I do think they could've decorated the front a bit more though... give it more of a weathered feel, ya know? Missing roof tiles, spider webs, tombstones, broken window shutters, and any of the other visual staples that make Haunted Houses so fascinating.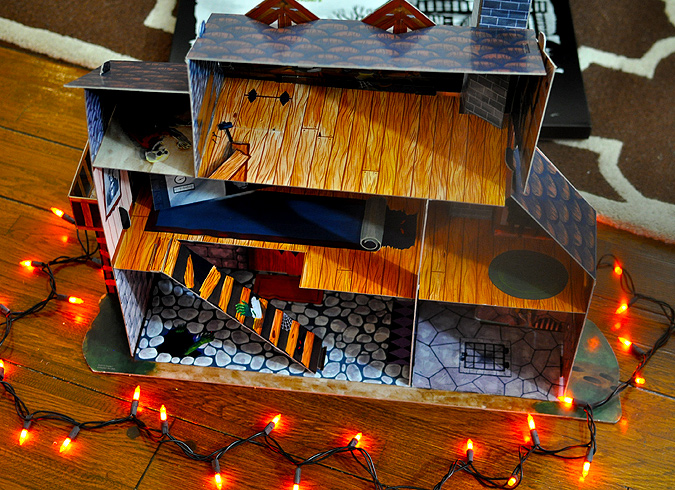 The inside of the house looks far more interesting, and it's obviously where most of the action will take place, if you can keep the thing standing while using your action figures inside it. There's a basement, a middle floor, and top floor which I supposed your figures are supposed to magically teleport to since there's no staircase leading up to it. There are a number of nice decorations to be found throughout the haunted house, and here are a few of the highlights: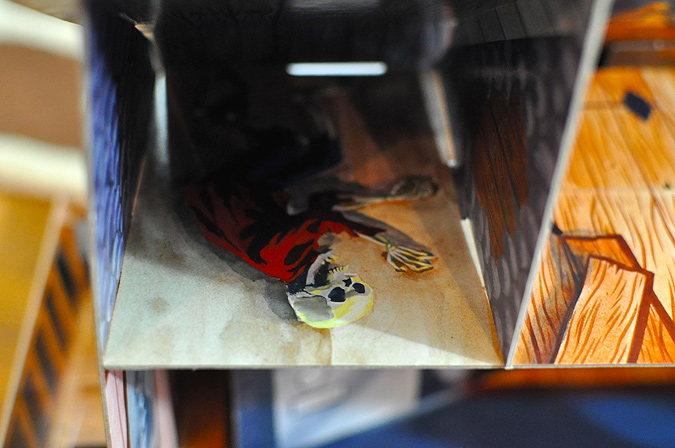 The top floor serves as an attic of sorts, but there's also this hidden side room which seems to be completely inaccessible. That didn't stop from some guy apparently kicking the bucket in there. Would be nice if the skeleton was drawn more to scale, because he appears to be more like a giant crammed into this tiny little space. Still a very nice illustration though.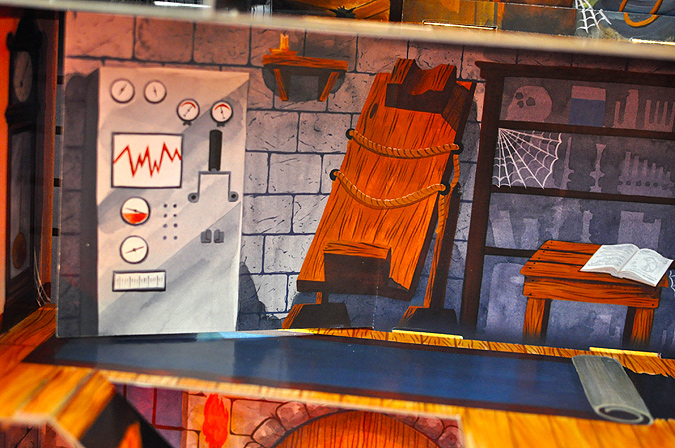 The middle floor has a hidden laboratory panel when you flip over the book case, and it features all the stuff you'd expect like the slab for a monster to lay on and the scientific electronics panel with a knife switch. What's annoying though is that there are no tabs built into this wall to lock it into place one way or the other, so it just kind of hangs there halfway. The only way to get it to stay in place would be to lean an action figure up against it. Plus, when you change it into the laboratory, the book case appears on the opposite side and is wedged up against the window, which looks odd when viewing the playset from the front. While I still love all the artwork, it just seems like they could've planned this room a lot better.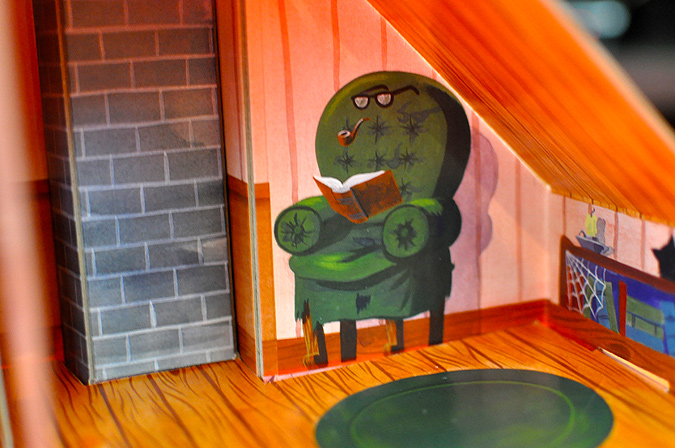 Downstairs in the living room, there's a wonderful little tribute to the Invisible Man, as he's sitting back in his favorite easy chair, enjoying a smoke from his pipe and a nice book to read. It's a simple, small little room, but easily one of my favorites.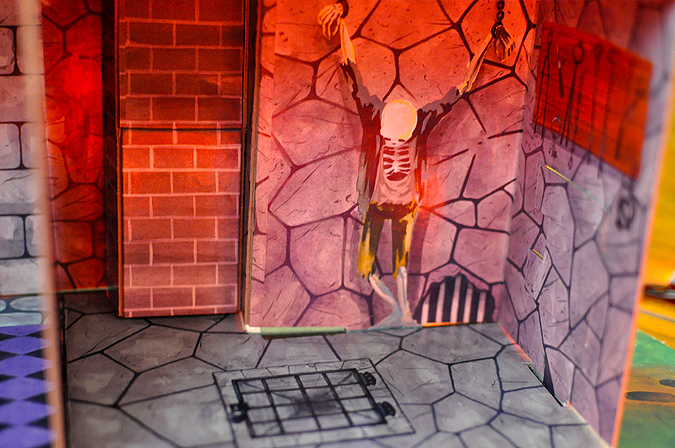 The basement features a dungeon room with a classic "forgotten prison" chained to the wall. It also has one of the secret chimney entrances. There are a few of these, but there's no floors inside the chimney itself, so no matter what chimney panel you put your figures inside of, they'll always fall straight to the bottom dungeon floor. I also couldn't get the upper chimney hidden panel to stay shut, because again, they didn't make a tab for it.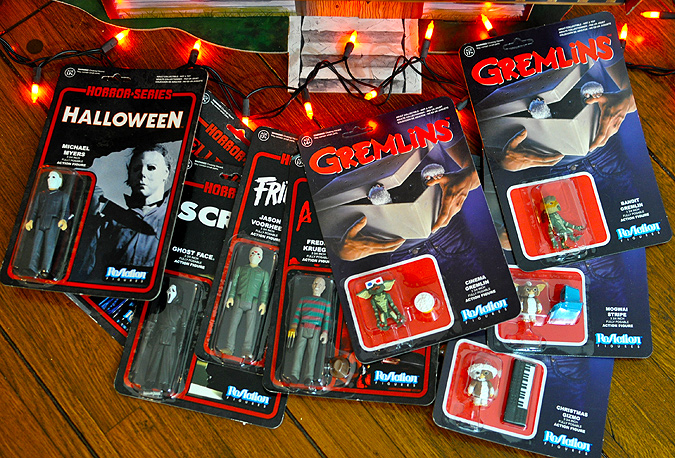 But what good is a Haunted House playset if you don't have any monster toys to fill it with? Fortunately, shortly after I purchased the playset at Comic-Con, I returned home and had a package of ReAction figures waiting for me, sent from my pals over at FUN.com to check out. They sent me a nice batch of Horror and Gremlins ReAction figures, which go perfectly with the ones I already owned. Now sure... I could've left them in their wonderful packaging, but honestly, what fun would that be? Besides, the true test of any playset is to see how fun it is to use the toys that go along with it. That said, I think it's time to return to my youth and play make-believe with some monsters in the haunted house! I present to you: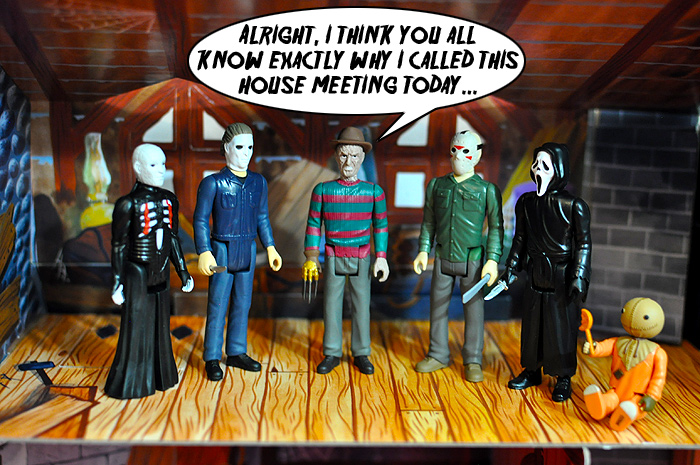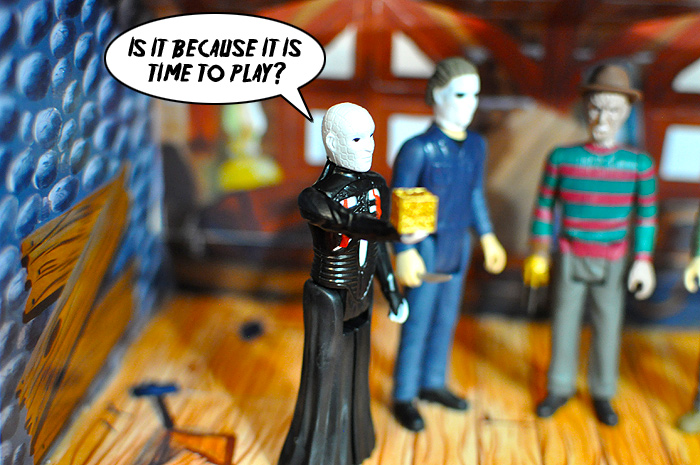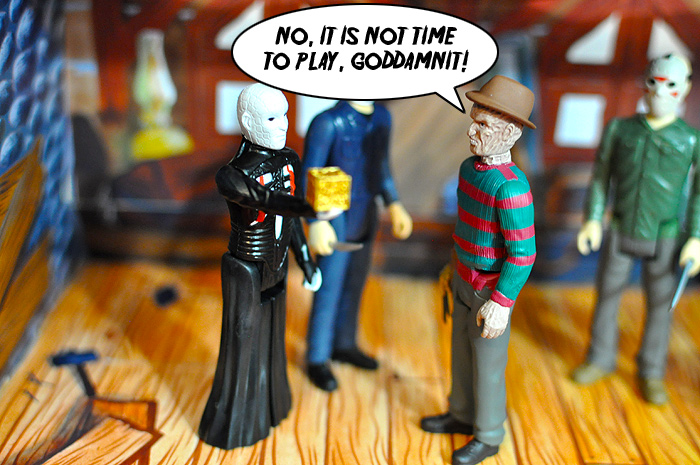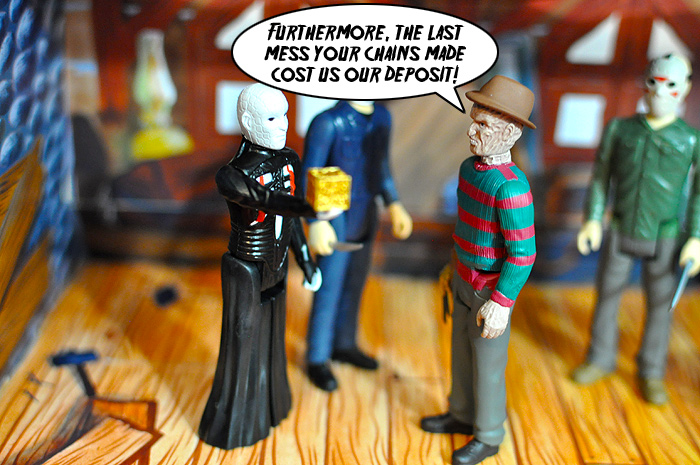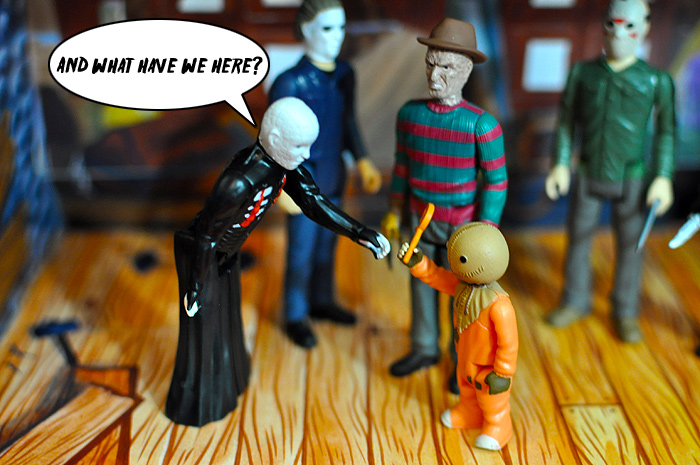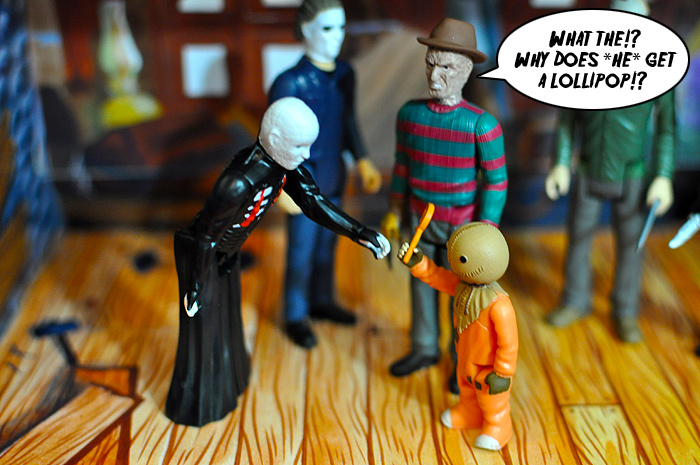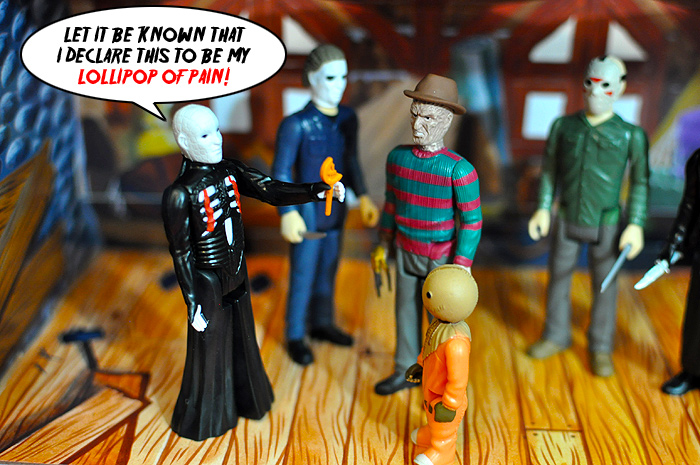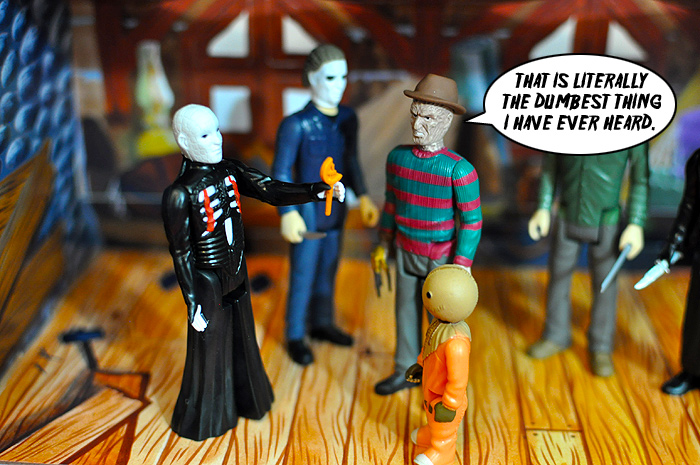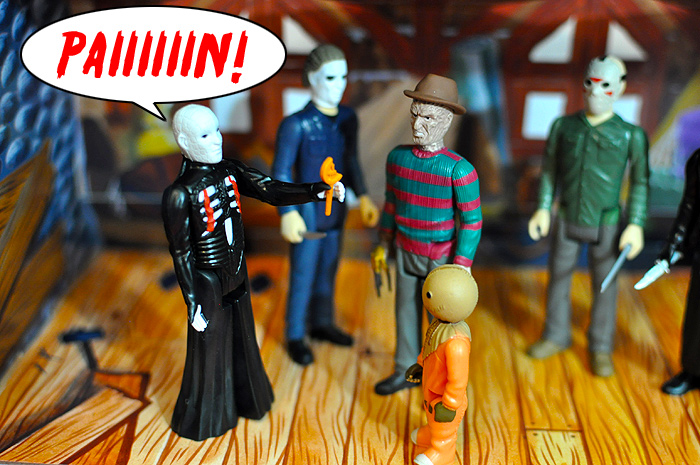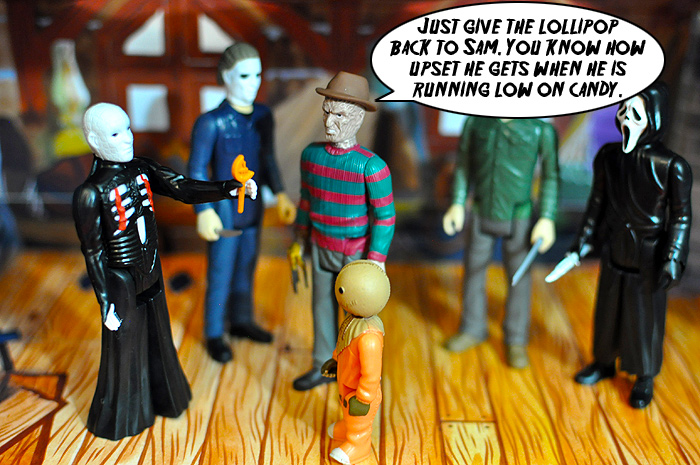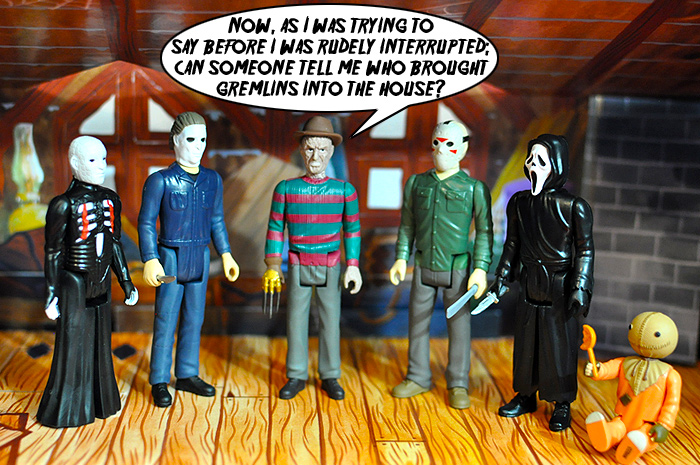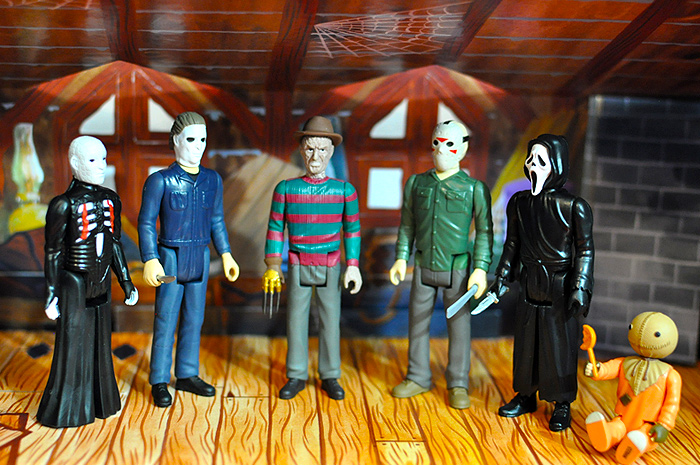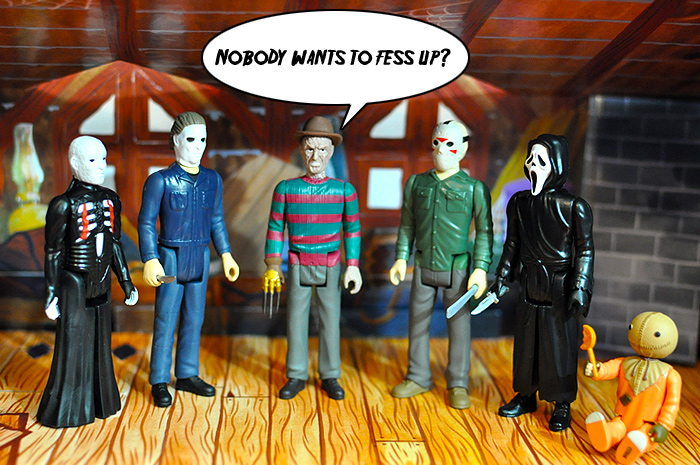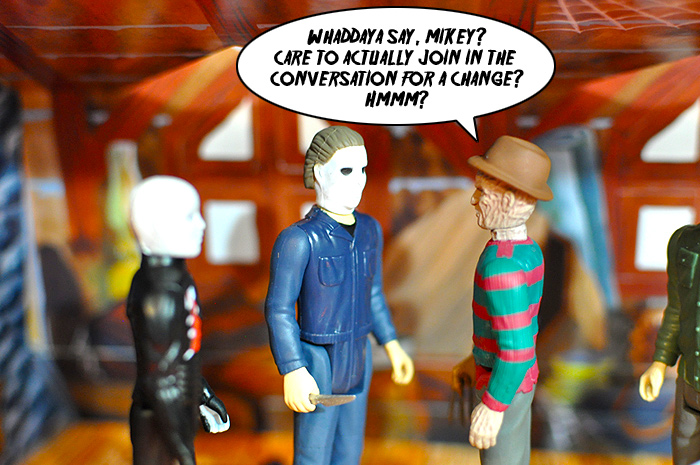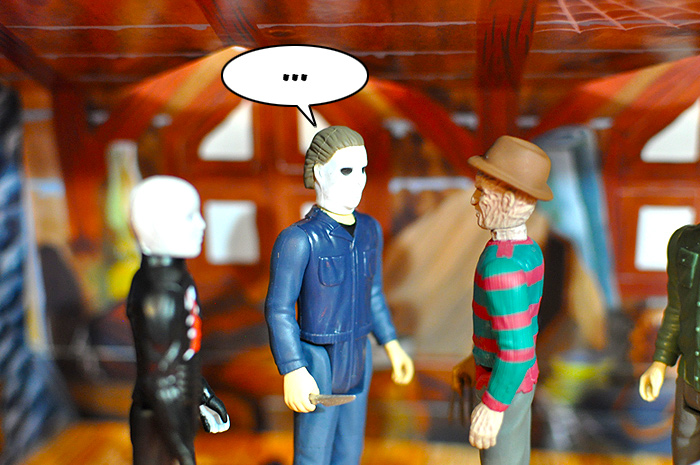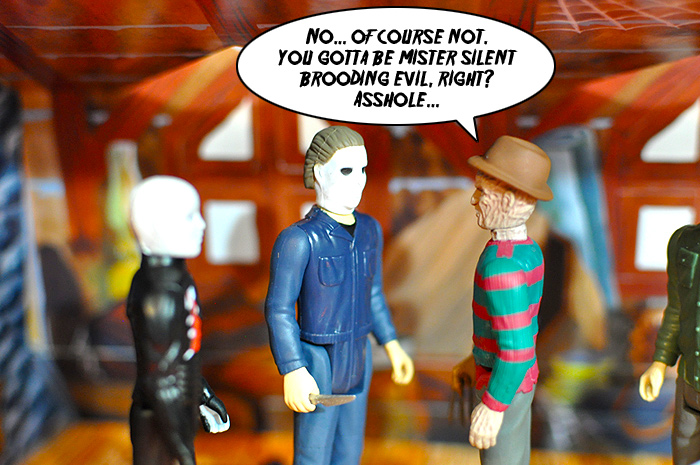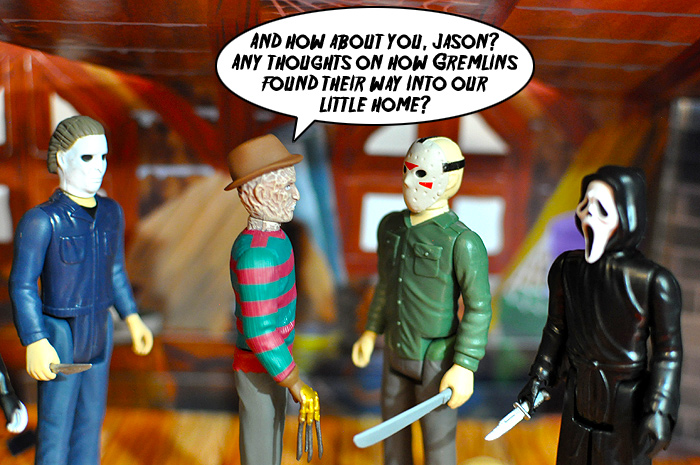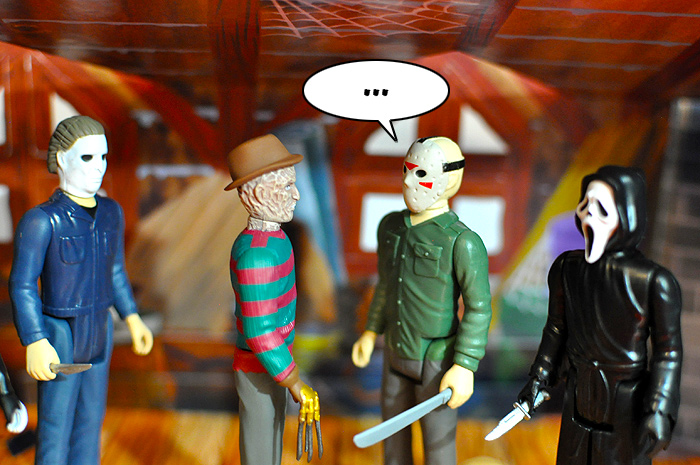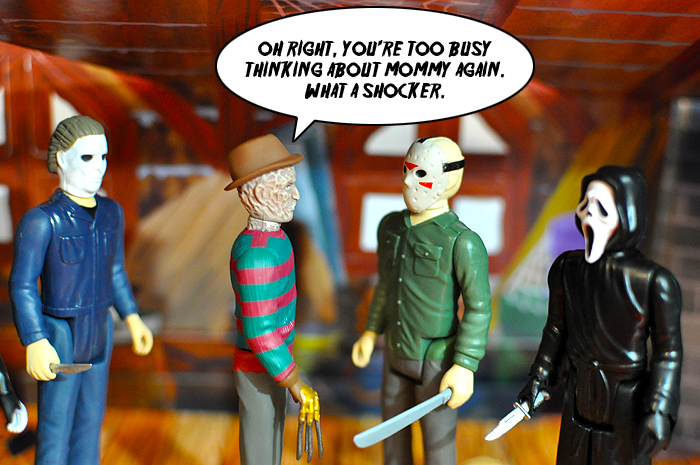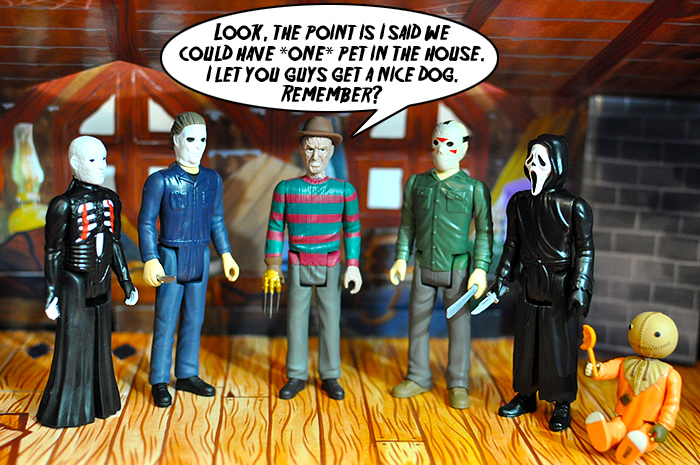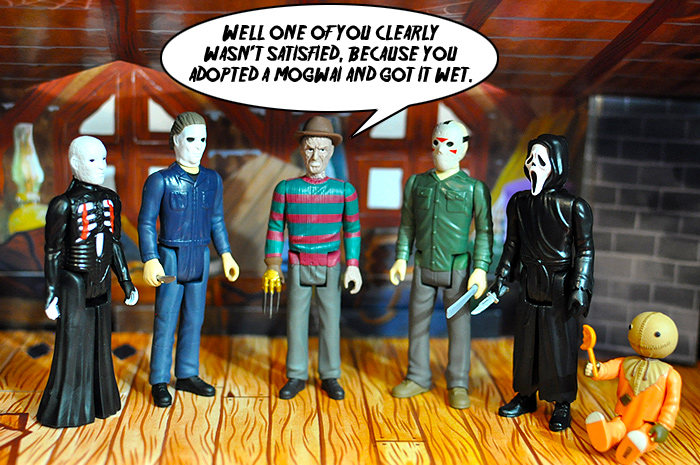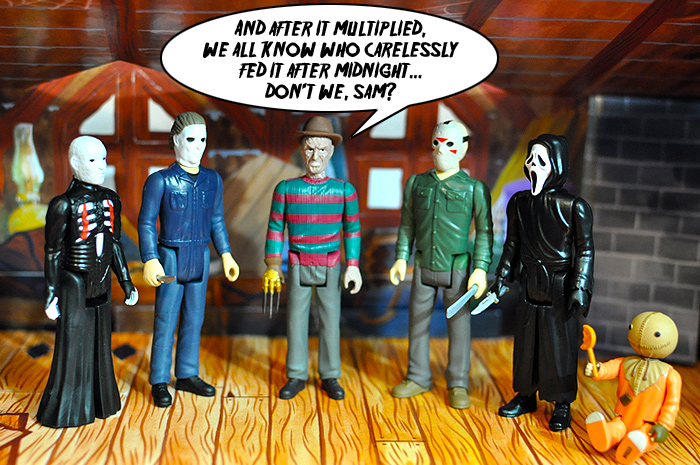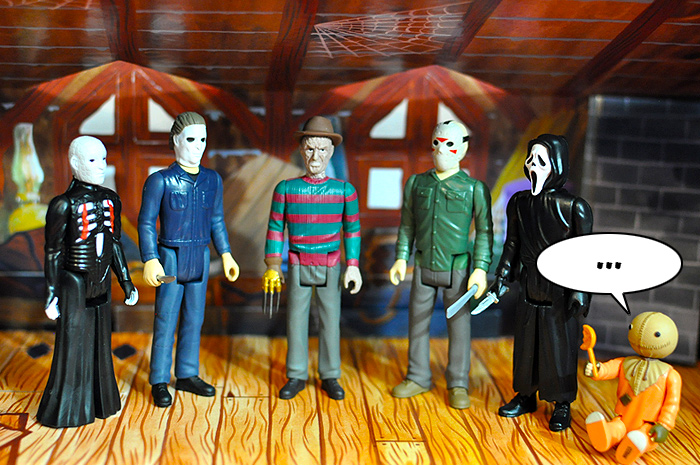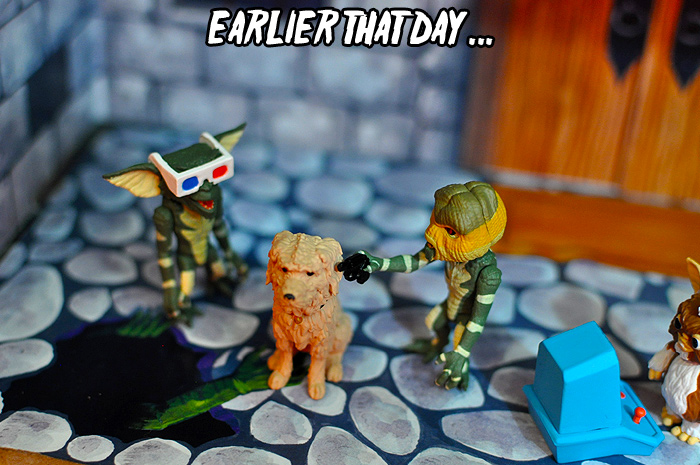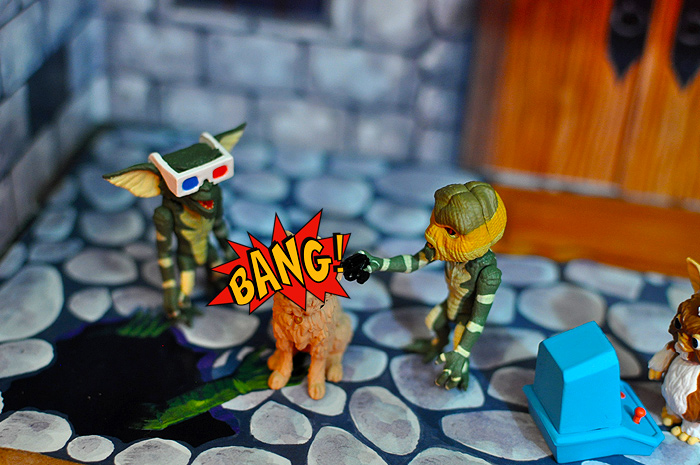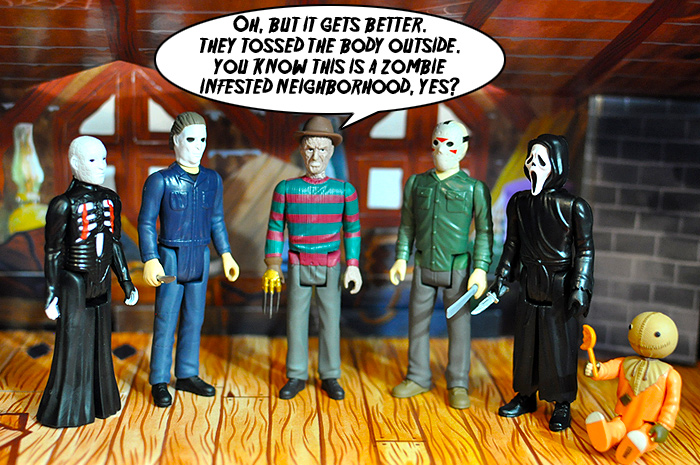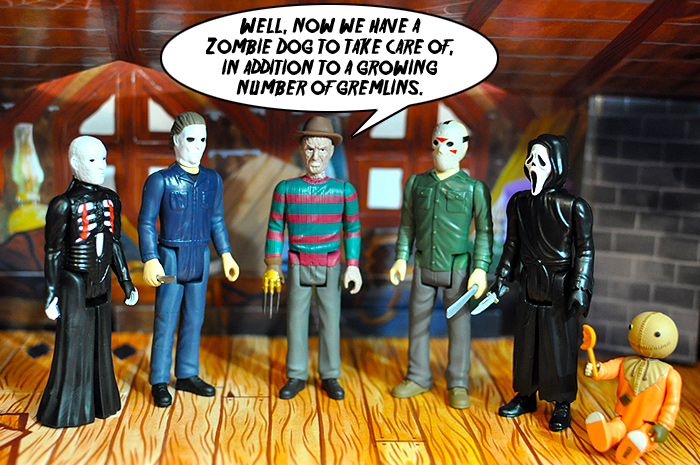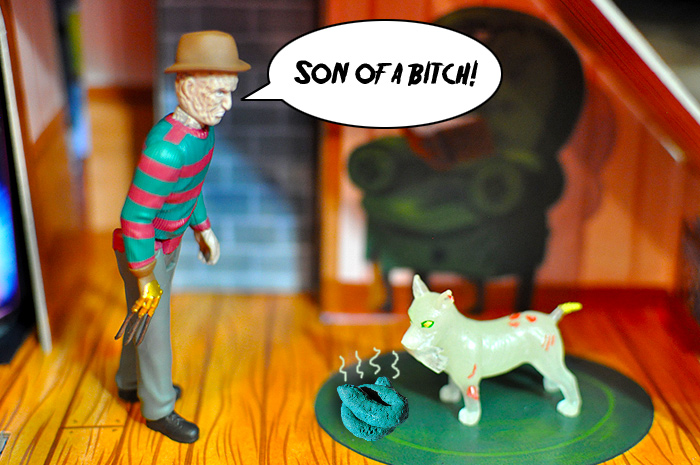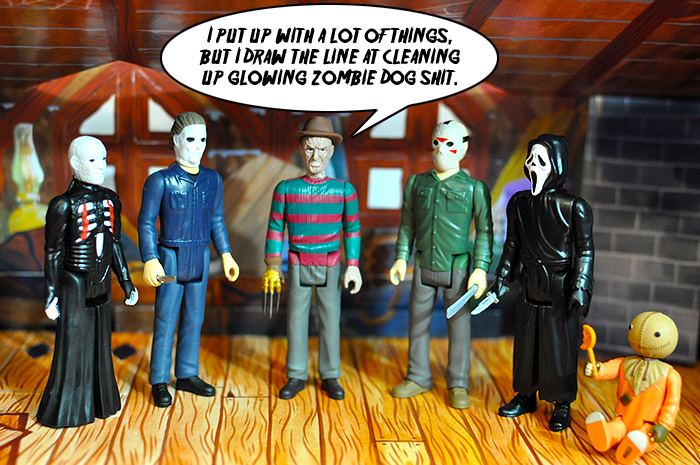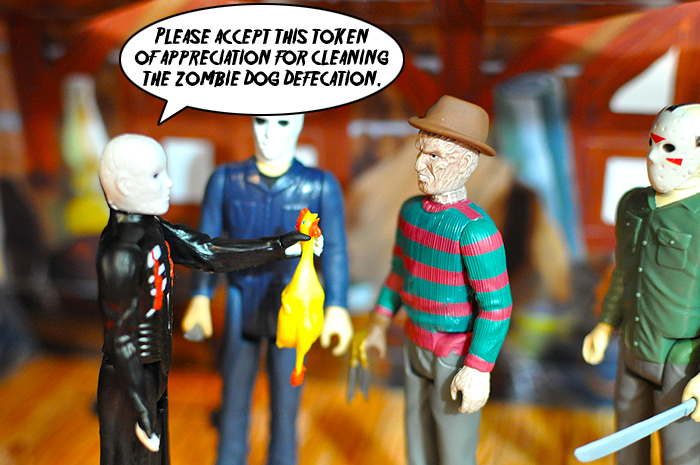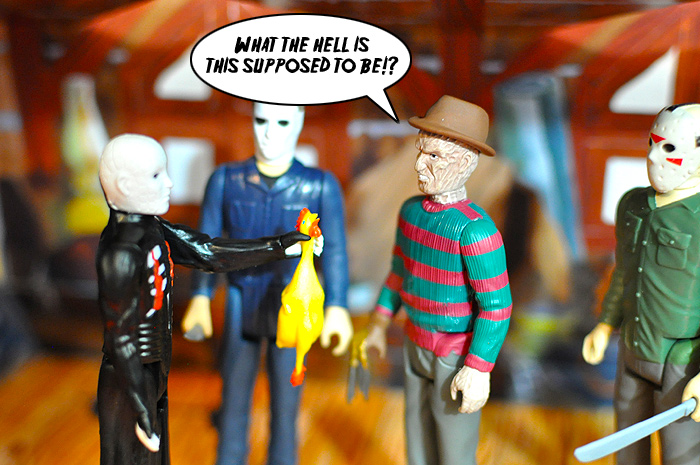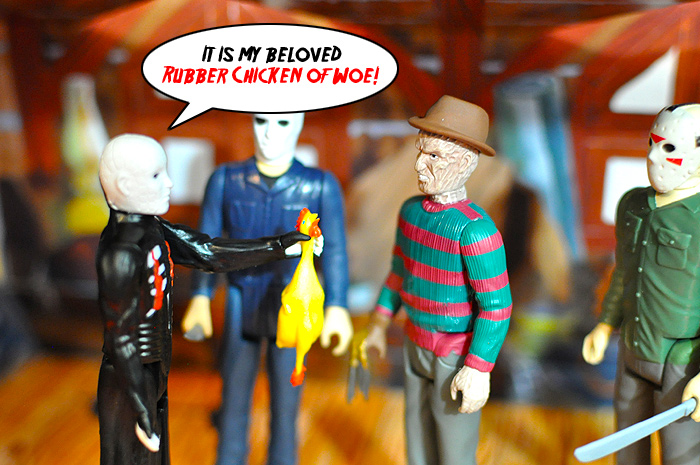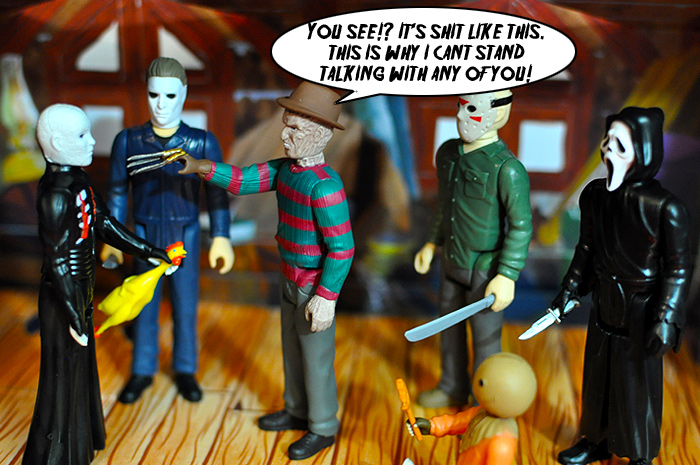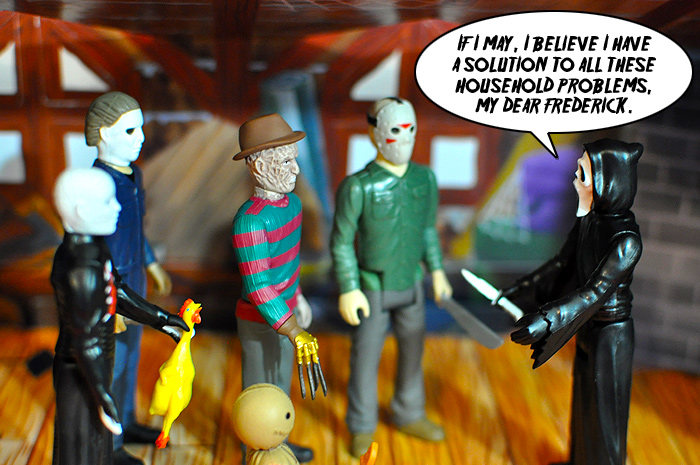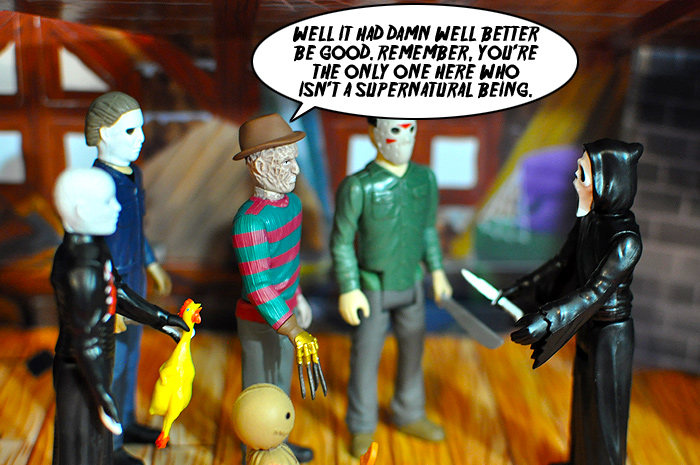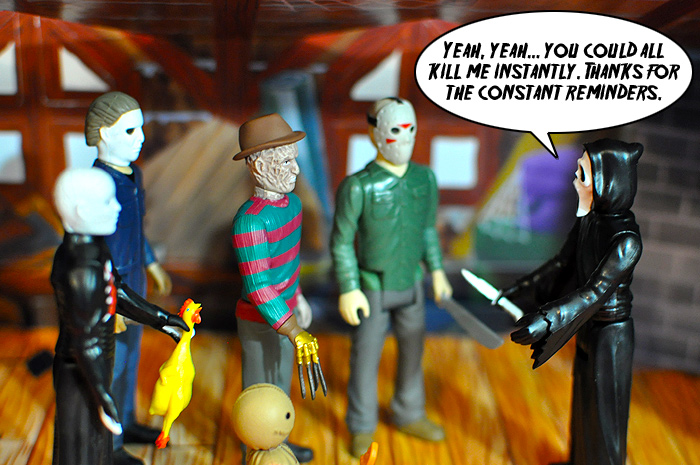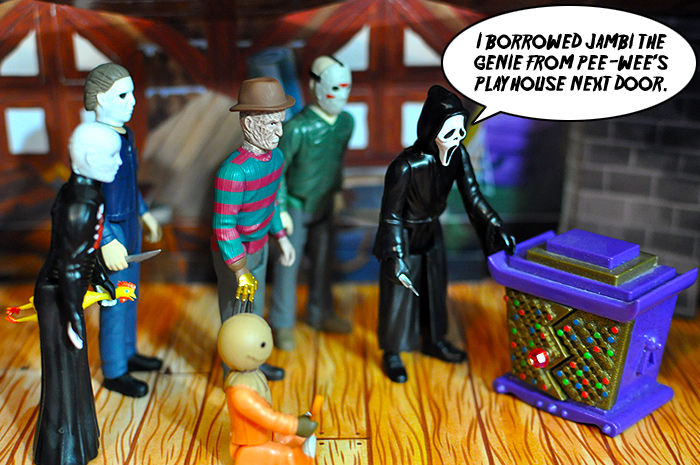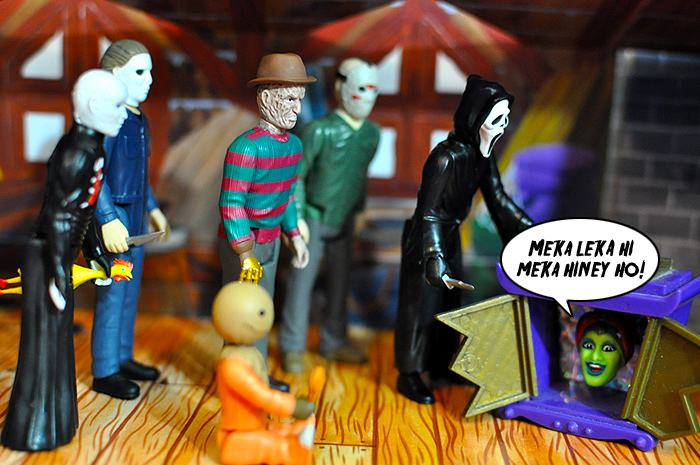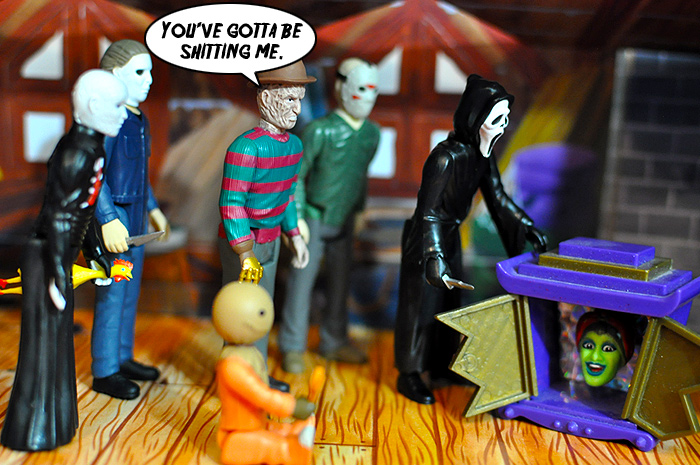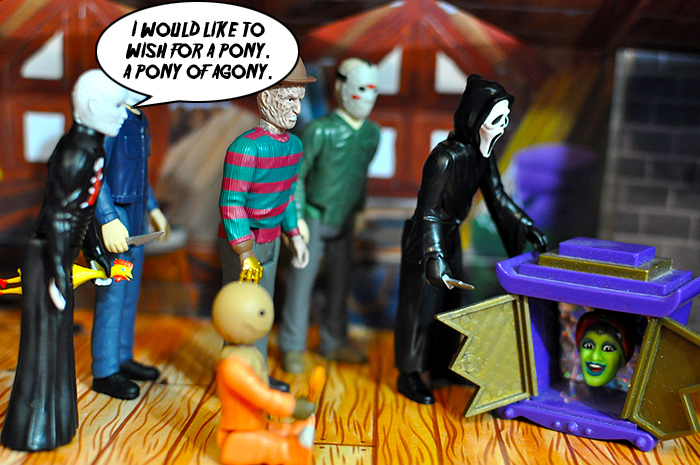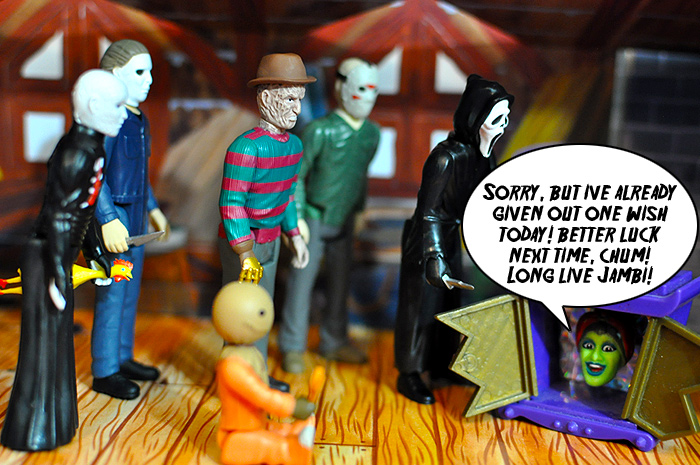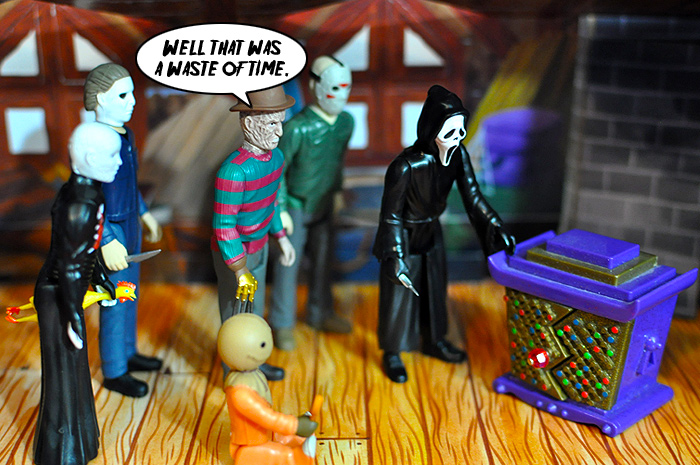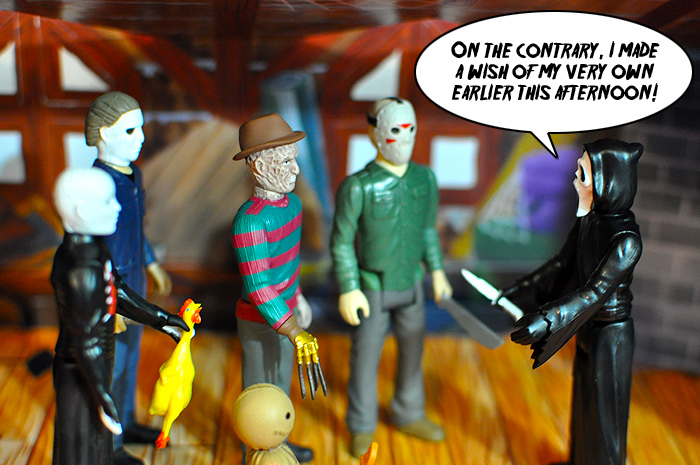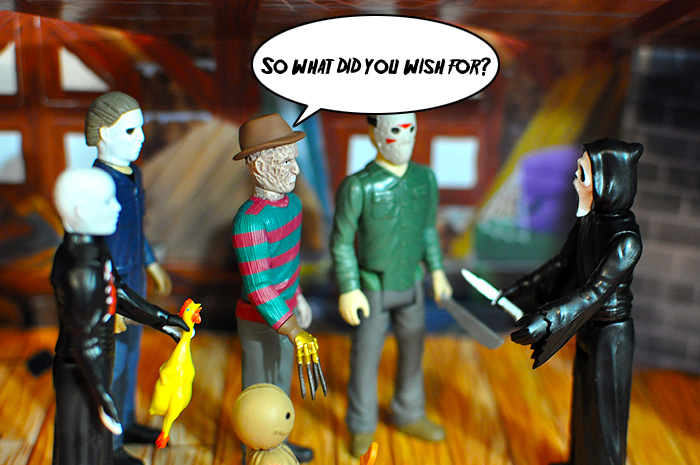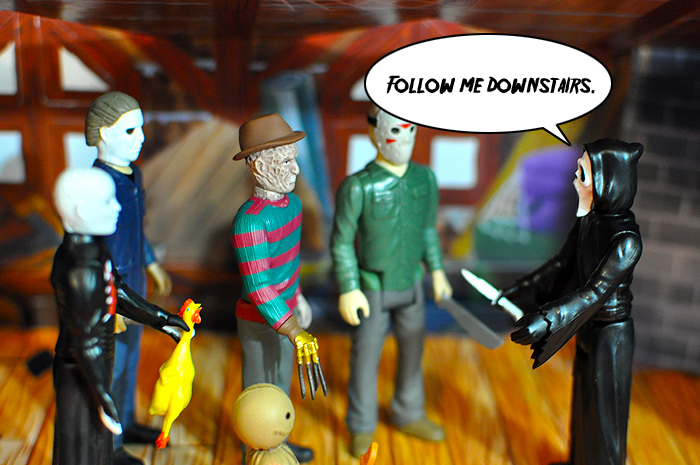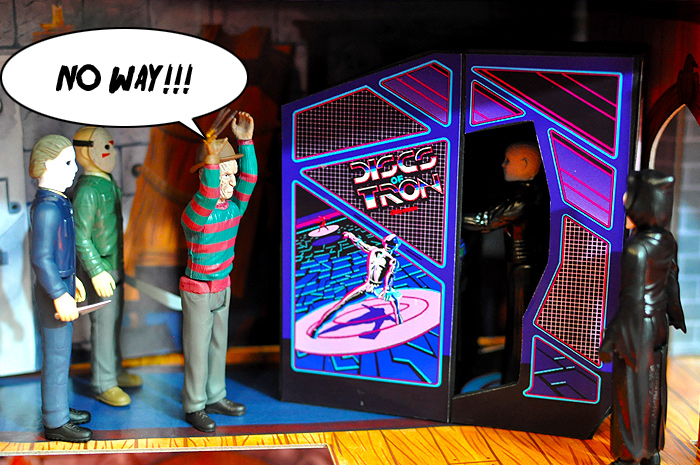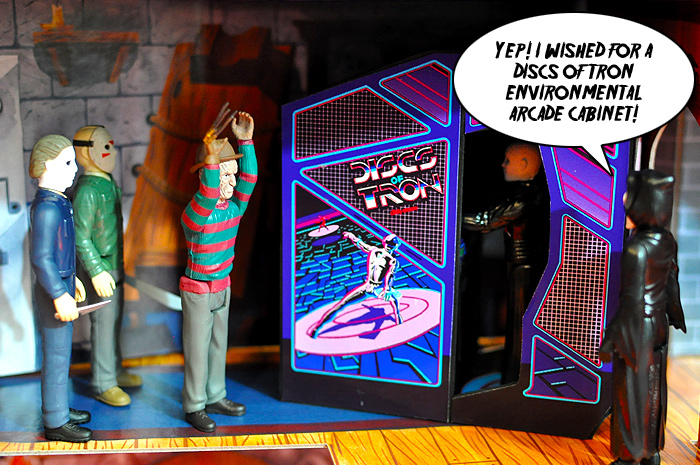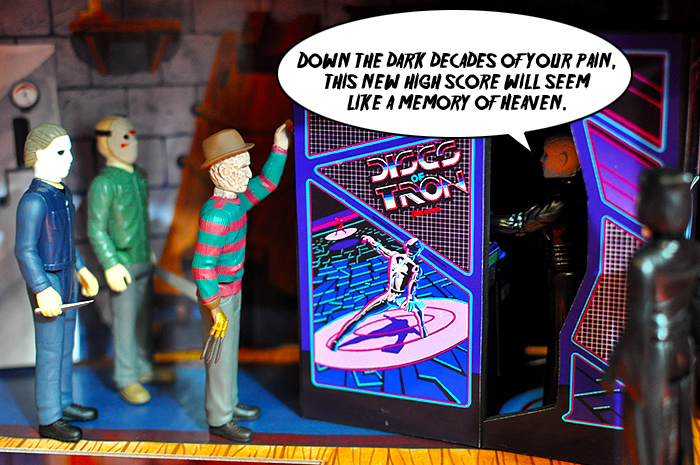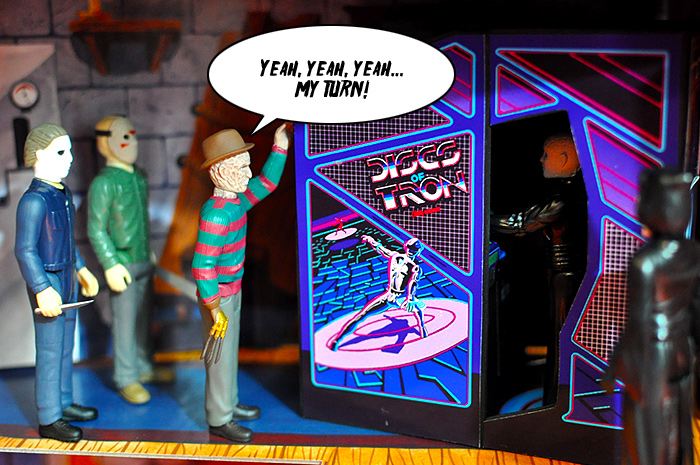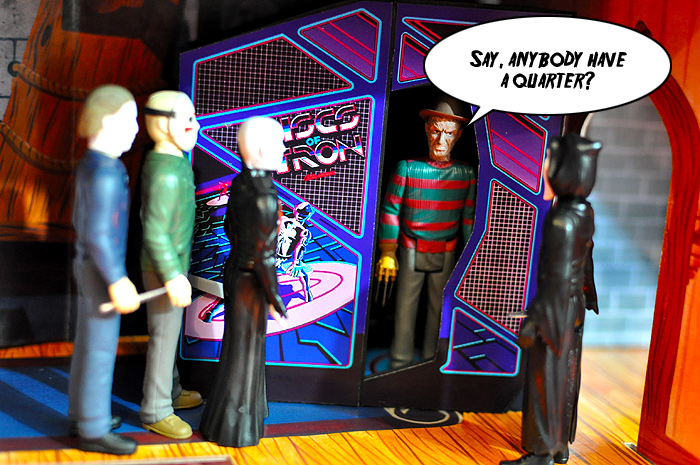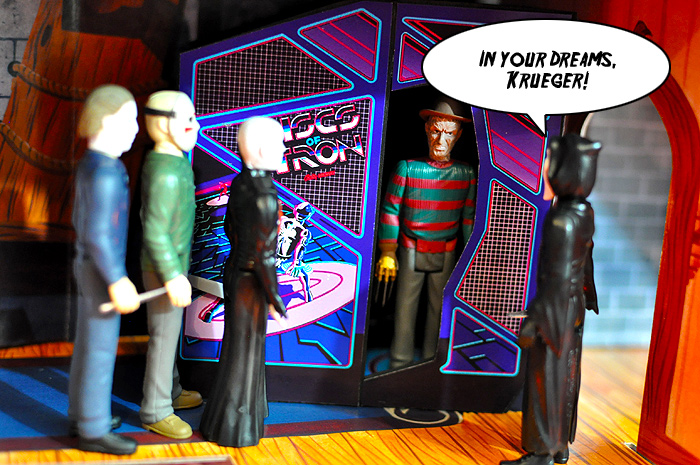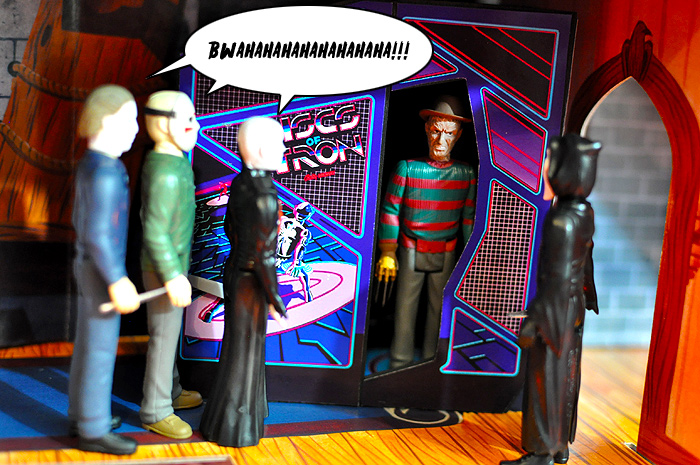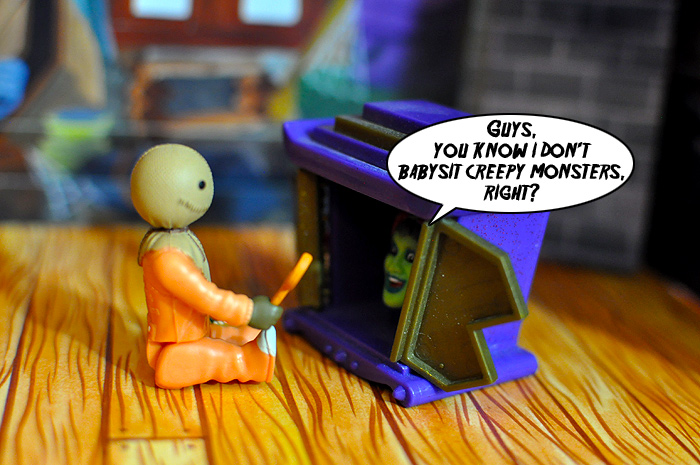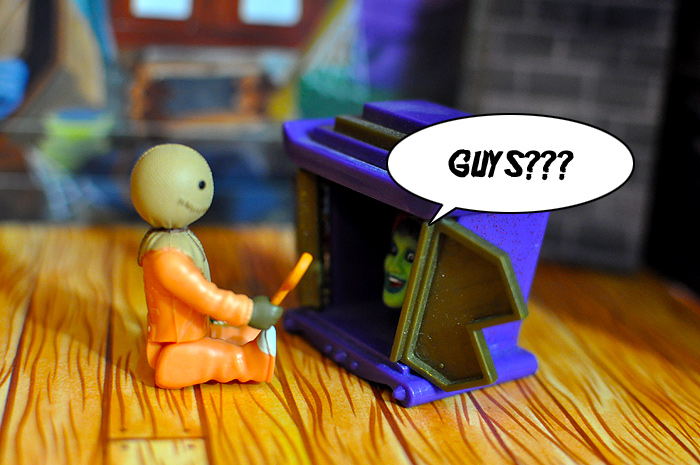 I'm sure I spent waaaay too much time working on this piece, but damn if it wasn't loads of fun putting that story together. Well, it was fun when the figures weren't falling over because the Haunted House is so wobbly. I had to handle the figures so delicately the entire time, or they'd fall like dominoes.
Hope you had as much fun reading it as I did putting the frame-by-frame story together! Super7's ReAction Figures Haunted House may not be the most sturdy playset I've ever owned, and it has quite a few build quality issues that should've been addressed before its release, but it certainly photographs nicely when combined with the toys. I really wanted to like it more, but it's still a nice effort. Big thanks again to my FUN.com friends for sending me such a great assortment of the ReAction Horror and Gremlins figures. Looking forward to photographing more imaginary adventures with them in the future!
Have any questions or comments about this piece?
SHARE YOUR THOUGHTS IN THE READER COMMENTS SECTION BELOW!