by: Dr. Boogie
If you're a fan of the Texas Chainsaw Massacre franchise, you may have some mixed feelings when it comes to the fourth film in the series - Texas Chainsaw Massacre: The Next Generation. You may hate it because of the atrocious acting, and the general awfulness of the plot. On the other hand, you may hate it because it took everything about the series and made it stupid and silly. Whatever the case, I think we can agree that this installment of the series was... unique. I think we can also agree that "unique" is not the same as "good".
We could have done a movie feature piece on the movie, and I could've broken down everything that was wrong with the movie, starting with the nonsensical transition from high school prom to backwoods massacre. We could have done this, but after watching the film, I realized something: much of what's wrong with this movie, much of what went horribly wrong and turned it from a horror film into an unintentional surrealist comedy, can be boiled down into four events. Four black holes into which this movie was sucked. Four shit-spewing geysers that erupted regularly in this movie. Four very bad decisions that will stop you from taking any part of this movie seriously.
I'll start with the most obvious one: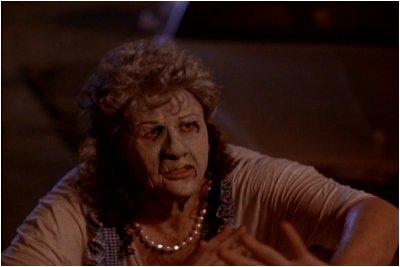 #1: Leatherface Is A Cross-Dresser!
What part of that sentence makes sense? It sounds like an April Fool's joke, but this actually happened in the movie. I guess having Leatherface dressing like a woman was supposed to show how deranged he is, but it kind of undercuts his menace.
By now, some of you are thinking back to the original Texas Chainsaw Massacre, which did briefly feature Leatherface in a dress. Well this was nothing like that. When he first starts cross-dressing, he looks like Mrs. Doubtfire. Gray-haired and matronly: not scary.
But that's just the beginning. The real fun comes with his next outfit: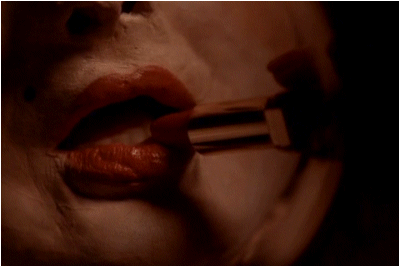 You see that? That is a horror icon applying lipstick and adjusting HIS cleavage. This seems like as good a time as any to point out that this movie was written and directed by Kim Henkel, the same man who co-wrote the original Texas Chainsaw Massacre. So in twenty years' time, he's gone from making movies about a maniac who carves his victims up with a chainsaw while wearing a mask made of their skin, to making a movie about that same maniac wearing a dress, putting on makeup, having breasts, all while failing to actually kill anyone.
Leatherface's treatment in this movie could've been the end of this entire list, but oh no, there's more: Leatherface's family consists of Darla, a crazy broad who mostly gets slapped around; W.E., a redneck who quotes literature almost every time he speaks; and last, but certainly not best, is...

#2: Vilmer!
Vilmer is the head of the family. He also fills the role of lead antagonist, as Leatherface is no longer up to the task. When we first meet Vilmer, we assume he's just an annoying redneck, because he's played by Matthew McConaughey. However, we soon learn that he is a manic psychopath when he runs over Jenny's (Renee Zellweger) boyfriend, and then backs up and runs him over several more times.
But things only go downhill from there. When Vilmer wants to be scary, he puts his face right next to another character's face and screams. The rest of the time, he shouts a lot and performs random acts of violence (usually alternating between slapping Darla around and cutting himself) that are meant to show how crazy he is. The problem is that he comes across as a loud jackass.
On his right leg, Vilmer wears a leg brace attached to a vacuum hose. Initially, I didn't think much of it, until I started hearing strange mechanical noises whenever he was walking around. It turns out the makeshift leg brace was actually some kind of device that allowed his leg to move. And that's not even the best part: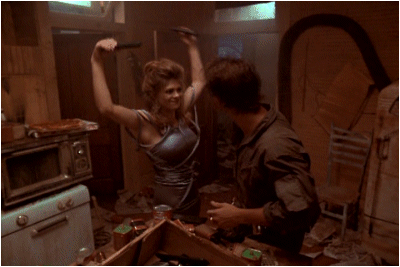 His mechanical leg is remote-controlled!
Vilmer keeps a box of TV remotes in his kitchen, and most of them don't do anything. A couple, however, can cause his mechanical leg to bend and straighten. The rest of the time, I guess his leg is in manual mode. A couple times in the movie, he steps on someone with his mechanical leg, and you get the impression that maybe it can apply more pressure than his boring, analog leg. But even that bit of potential scariness is undercut when Jenny escapes Vilmer by grabbing a remote and making his leg spaz out. Then Vilmer grabs the other remote: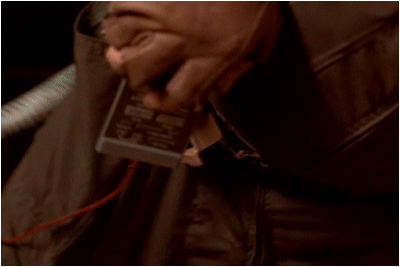 Remote fight!
A reminder: this was meant to be a horror film. Now, you've got an epic battle over control of the villain's leg using TV remotes. Best of all, if you listen past all the mechanical whirring and squeaking of Vilmer's leg, you can faintly hear the roar of Leatherface's chainsaw. Moments earlier, he was ready to carve Jenny's face off. Now, he's just looking on from the sidelines, no doubt as dumbstruck as I was when I first saw this robo-leg scene.
That fight took place during a scene that has appeared multiple times in the franchise, but as with everything else, this time was way different...

#3: The Dinner Scene!
At first glance, everything seems to be in order: The furniture is made out of bones, some of which may even be human. There are a handful of desiccated corpses sitting around with the assembled maniacs. It looks a lot like the classic scene from the original. No doubt we'll be seeing a disturbing sequence of events that will drive home the point that all these people are totally bonkers. Pff, wrong.
For starters, once Jenny wakes up and surveys the scene, we get this: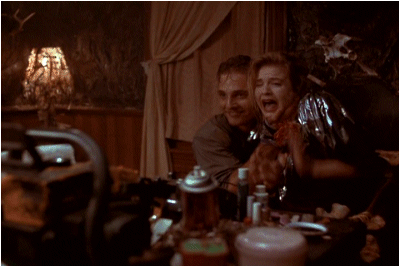 "Aaaauuugh!!!"
She yells, then Vilmer yells, then Leatherface joins in yelling too, until Darla lightly slaps him. Even if you could convince yourself that this is a scary scene, all that goes out the window when you see Leatherface again.
At this point, even Jenny is starting to be less than frightened by the family's antics. Vilmer says that they're going to take her face and make it Leatherface's new one, but Jenny slaps him and tells him she's "not gonna to put up with any more of your crap." Vilmer responds by roaring, throwing Darla on the floor, and hitting W.E. with a hammer.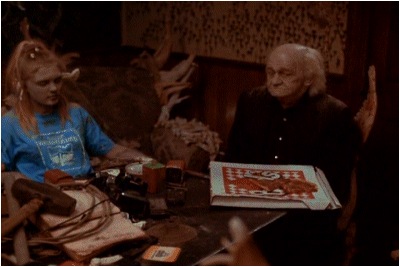 And this happens. The old man, whom you assumed was just a dried-up corpse, stands up, grabs a knife, and walks away. He doesn't walk over to stab anyone, he just leaves. He leaves the movie, and we never see him again. I laughed. The bit with the dried-up old man was used in the original, only it was done in a way to make it seem, oh I don't know... scary.
Completely nonplused, Jenny says she's leaving, calming an enraged Leatherface with a simple "you sit the fuck down!" So, Vilmer tries something new.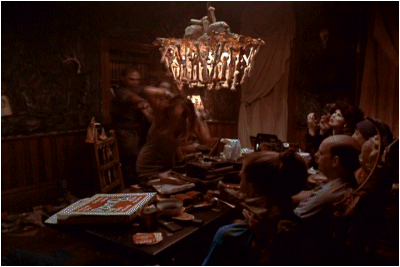 He pours some lighter fluid on Jenny's dipshit friend, Heather, and lights a small fire on her back. And Heather sure is a trooper: earlier, Leatherface put her on a big meathook, but she got herself down and crawled mostly away before being recaptured. Of course, that hook injury has apparently healed up within the span of ten minutes, but hey, now she's on fire. She tries to play it cool, not reacting to the fire for several seconds, but she eventually panics and runs right into the wall of keys. Then Darla puts out the fire.
How scared would you be if a stranger started a small fire on your friend's back, and then put it out after fifteen seconds? Very? Somewhat? Not at all?
But I've saved the best for last: earlier in the film, Darla explains to Jenny that Vilmer works for a shadowy group of people who secretly run everything. She goes onto explain that they've been doing it for close to a thousand years, and "who do you think killed Kennedy?" She later explains that she can't leave Vilmer because she's got a chip in her head that'll explode if she does. As the viewer, you dismiss all this because she's crazy. She's crazy, and it's the stupidest thing you've ever heard. Even Jenny exclaims, "it's bullshit, and nobody believes any of it but your idiot girlfriend. It's fucking pathetic!" Then, right in the middle of dinner, Vilmer gets a visit from...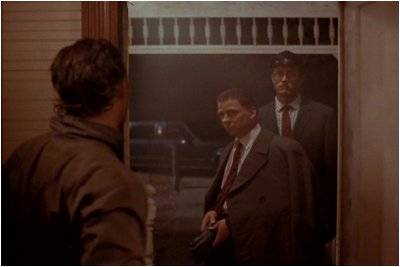 #4: The Illuminati!
That's right, it's all true. Vilmer, the psychotic hillbilly and his crazy family, are working for the Illuminati. But what does this secret organization want him for? Well, that's what agent Rothman has stopped by to explain: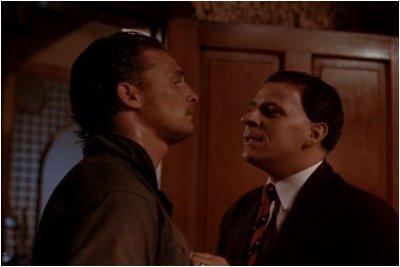 "I want these people to know the meaning of horror. Horror. Is that clear?"
No. No, it isn't clear. How is a family of psychopaths sporadically kidnapping and murdering people going to inspire horror in "these people"? Furthermore, why is a lunatic like Vilmer even listening to this guy? From what we've seen of Vilmer so far, the moment Rothman showed up, Vilmer should've punched Darla in the face and taken a dump on the porch.
Rothman acknowledges that the whole thing is a fiasco, though he refuses to imagine that his vague mission objective might have something to do with it. No, he calms Jenny down and explains that things are going to change. Then he does this: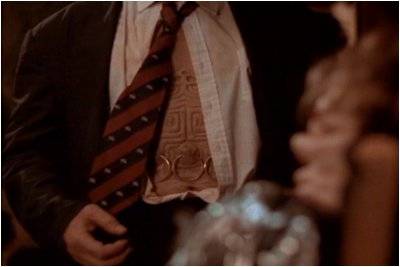 He unbuttons his shirt and shows off his embossed stomach with rings to Jenny. Why his stomach has hieroglyphic scars and door-knockers built into it is anybody's guess, but before we have a chance to process this anomaly, he starts giving Jenny a tongue bath.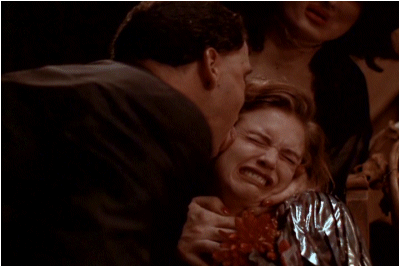 What the hell is going on in this movie? It's as though the director took the plot summaries from several other movies, tore them into a dozen little pieces, put the pieces in a hat, and then wrote the script by drawing pieces out of the hat.
A short time after finding out that Vilmer is part of an inscrutable plot to do something, Jenny runs off with Vilmer and Leatherface in hot pursuit. During the chase, a crop duster decides to fly low and clip Vilmer. Seriously. Well, Leatherface is positively distraught by Vilmer's demise.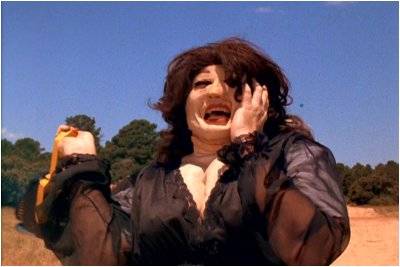 And so, with the main villain out of the picture, Rothman pulls up in his limo and gives Jenny a lift. He apologizes for how badly things turned out (which I took to be him apologizing for the movie in general), and starts in with a bunch of philosophical crap. Jenny cuts him off with a "fuck you," again reading the audience's collective mind. So he drops her off at the hospital, she eyeballs some stranger on a passing gurney, and the movie's over.
The worst movies in history all have one thing in common: a lack of self-awareness. Watching this film, you realize that no one involved in the production saw it and said, "We can't show people this! It's not scary at all. It's just stupid!" Best case scenario: they saw how bad things were late in the game, but decided to release it anyway, rather than face the wrath of their investors. To all the aspiring filmmakers out there: sometimes no movie is better than a bad one.
Then again, who wouldn't love to see Halloween: The Next Generation? In this one, Michael Myers is a drunken party clown who tries to kill people, but every time he does, his sister drives up in her truck and honks the horn, which scares him really badly. And the big twist at the end is that he's working for the CIA, and before he can kill the heroine, a stray mule kicks him in the head.
Ooh, I'm getting chills!
Have any questions or comments about this piece?
Email Dr. Boogie