by: -RoG-
The 'Burbs is one of those rare, special little movies that, no matter how many times you've already seen it, you can't help but watch it any time it comes on TV. The humor in this movie is absolutley universal, and if you've ever lived in the suburbs, you can surely relate to many aspects of it. In suburbia, nothing exciting ever happens, so the residents come up with their own crazy little ways to keep themselves busy - in this case, boredom and paranoia lead them to suspect their new neighbors of being part of some homicidal Satanic cult. With no official proof of this, Ray Peterson (Tom Hanks) and his pals start taking matters into their own hands to find out once and for all what their new neighbors, The Klopeks, are really up to.
It's a perfect blend of comedy and horror with some truly awesome characters, so I'd like to take some time today to share five of my favorite things about the movie.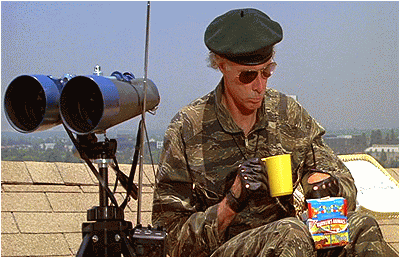 #1: Mark Rumsfield
As far as I'm concerned, out of all the characters in the movie, nobody is as entertaining to watch as Rumsfield (Bruce Dern). He's an old ex-military man who's obviously been retired for a while, but he's still clinging onto his old rigid lifestyle. Rifles, night-vision sniper scopes, walkie-talkies, glass cutters... even though he's living in suburbia, he's got it all and is more than ready to jump at any chance he can get to use the stuff. After all, his creedo is still, "A soldier's way saves the day!"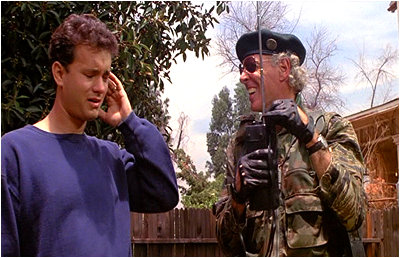 Even with his competitive military background, he's still been losing the "who has the best lawn on the block?" battle against his neighbor Walter and his poodle who he's trained to crap in Rumsfield's yard. And believe me, you haven't lived life until you've seen Rumsfield threaten Walter: "That scum-sucking, barking rat of yours has just taken his last dump on my lawn! I find one more - just one - and I'm gonna catch him and staple his ass shut!" And like most cranky old men, he hates all teenage delinquents (or lame-o meatballs as he calls them) - especially Ricky Butler (Corey Feldman), who constantly distracts Rumsfield from his covert operations. All in all, he's exactly the kind of quirky old dude you'd want to have in your neighborhood because any time you see him, you can bet your ass that he'd put on a good show whether he realizes it or not. Whether its watching him fall off a roof from his sniper position or watching his youthful excitement as his fellow neighborhood "soldiers" complete little missions, Rumsfield will always be the man. Oh, and watching him slide-tackle one of the Klopeks has got to be one of the greatest moments in the entire movie, especially when he proclaims: "Don't you make a move sonny! I was eighteen months in the bush and I could snap your neck in a heartbeat!"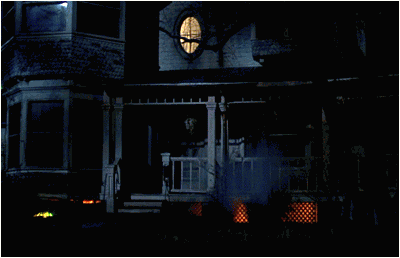 #2: The Klopek House
Back in middle school, I was walking around late at night with a friend when all of a sudden a window in a nearby house lit up bright green and a shadowy figure appeared in the window. It didn't move, it didn't make a sound... it just stood there looking at us while the green light glowed behind it - and keep in mind, this was around 2am. Needless to say, my friend and I made a run for it... for all we knew it was the prince of darkness himself.
Every neighborhood in suburbia has that one house that creeps everybody out, and the Klopek house from The 'Burbs is no different. Whatever is going on in the house, it's one of the main reasons that all the other residents in the neighborhood are suspicious of them. Late at night, the house emits a loud sound like a jet engine starting up while a bright fiery glow lights up the basement. Nobody knows what the hell is going on down there at first, but whatever it is, Rumsfield remarks, "it smells like their cooking a god damned cat over there!" It's definitely one of the best creepy houses you'll ever see in a movie - old, creeky, unkempt, and of course, it has a furnace from hell in the basement. I'm still hoping to see a place like the Klopek house come Halloween one of these years. If you have a basement, you owe it to all the trick-or-treaters out there to Klopekicize the hell out of it.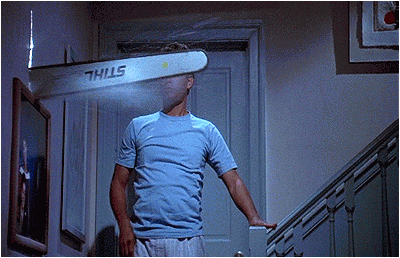 #3: Ray Peterson's Nightmare
If there's one thing I love in movies, it's a good dream sequence. No, not just because I'm a huge fan of the Nightmare On Elm Street movies... it's simply because all the rules of reality that govern what would be a normal comedy get thrown right out the window during a good dream sequence. After having his neighbor, Art Weingartner, continually bother him about how his neighbors are Satanists, Ray Peterson can't get them out of his head. Eventually he falls asleep and we're treated to his own personal nightmare which starts out with a chainsaw-wielding maniac cutting right into the wall of his house and sawing through a picture of his family. From there, it changes to Ray being tied to an oversized barbeque grill in the Klopek's backyard by a bunch of hilarious looking Satanists who are all wearing death shrouds - complete with goat horns sticking out of their heads. They saved the best part for last though, because Walter (the missing neighbor that they're all convinced the Klopek's killed) appears before Ray with an axe embedded in his head. His precious poodle also has a miniature axe embedded in its head as well. Before the garbage man drags Walter and the poodle away, Walter warns Ray not to let them do what they did to him, but it's too late. Ray looks up and sees Uncle Reuben Klopek about to drive a sacrificial dagger into his chest... and then he wakes up.
It's a great scene and his neighbor Art shows up briefly as a psychotic soda fountain worker, but even better, if you listen closely, you'll hear all of the satanists quietly chanting "I want to kill everyone. Satan is good. Satan is our pal." It's funny, because when you think about it, it's really Art who has gotten into Ray's head, not the Klopeks.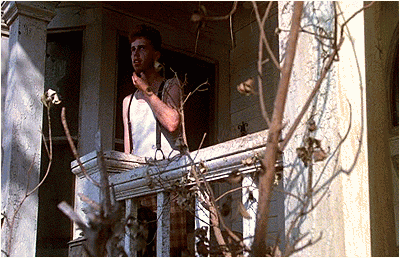 #4: Hans Klopek
Hans Klopek. He's the youngest of the Klopek family and I always loved how absolutely weird he looked and acted in this flick. He's an extremely jittery guy who obviously doesn't get to see a lot of sunlight or converse with people. What's more, his relationship with Rumsfield is hilarious, because he obviously makes Hans extremely nervous and loves to harp on him - I particularly enjoy the part towards the end of the movie where Rumsfield calls him "Pinocchio" because of the ridiculous outfit with lederhosen that he's wearing. But the real reason I love Hans is because when he takes out the trash, he really takes out the trash.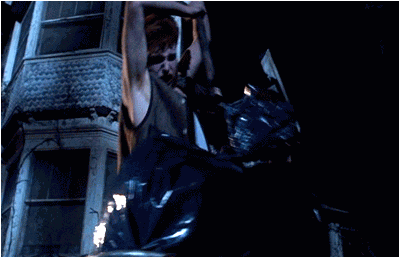 At one point in the movie, Ray and his pals are spying on the Klopek house in the middle of the night when a car pulls out of their garage without the lights turned on and stops at the edge of the driveway. Hans emerges from the car, goes to the trunk and removes a large, apparently heavy bag of trash. He puts it in a nearby trashcan, grabs a garden hoe and then proceeds to repeatedly (and furiously) beat the living hell out of the trashbag for a while. He then puts the lid back on the trashcan, gets back into the car and backs it up into the garage. Ray Peterson then comments, "I've never seen that. I've never seen anybody drive their garbage down to the street and bang the hell out of it with a stick. I-I've never seen that." You and me both Ray, you and me both...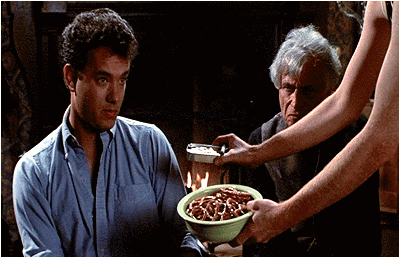 #5: Worst. Snack. Ever.
Ray's wife Carol (Carrie Fisher) is fed up with all of the nonsense that her husband and his friends are getting into because of their new neighbors, so she decides to put and end to everything by having them all pay a visit to the Klopeks in an attempt to get to know them better. In addition to pounding the hell out of trash, Hans is apparently in charge of serving snacks on the rare occasion that they have guests over at the Klopek house. He comes out with a bowl of pretzels and a can of sardines. At first, the women decline Hans' offer of sardines, but when he makes his way over to Ray and asks him if he'd like a sardine, Ray's wife nods to him as if to say, "Go on honey, be polite and eat the sardine!" Like a good husband, Ray grabs one of the slimy sardines, places it on a pretzel and slowly puts it into his mouth knowing full well that it's going to be 100% awful.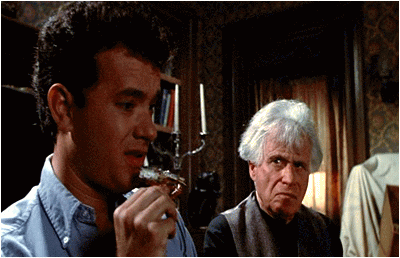 The noises that the sardine makes when entering his mouth and as he begins to chew it are absolutely nauseating and the sound guy deserves an award for this scene. If it doesn't make you cringe when you watch and listen to it, then there's gotta be something wrong with you. Ray then has an equally hilarious allergic(?) reaction to the sardine-pretzel treat and starts half-sneezing uncontrollably until he finally grabs a nearby newspaper and yacks up the treat into it. Classic.
The 'Burbs will always hold a special place in my movie collection because it brings back a lot of memories and it's just one of those flicks you simply can't get tired of watching no matter how many times you've seen it. It's a gut-busting reminder to us all about just how childish we can become when boredom strikes and we let our imaginations run wild. I'm sure Joe Dante doesn't realize this is the most important film he ever made, and that's saying a lot considering this is the guy who made Piranha, Gremlins and more... but we hardcore fans know it really is his best work. God I love this street.
Have any questions or comments about this piece?
SHARE YOUR THOUGHTS IN THE READER COMMENTS SECTION BELOW!