by: Dr. Boogie
After their success with Personal Nightmare, Horror Soft went on to develop several more first person horror games. While I'm sure they had other virtues, their biggest improvement in my eyes was the greater abundance and detail in their death sequences. The two Elvira-themed games that came immediately after were okay in that regard, but most of those deaths were a little too same-y. A few too many cases of using a single picture of some dead-looking guy and drawing some minor effects on his face to illustrate that he had been bitten by a vampire, or decapitated by a deranged chef, or chewed on by giant ants.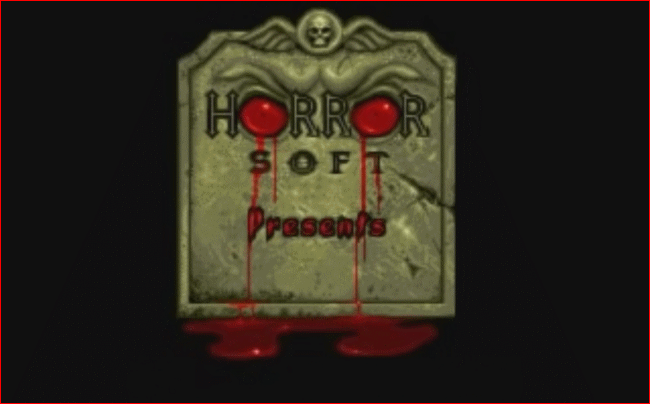 Could that be why the Horror Soft tombstone logo is no longer graced by Elvira's digital likeness? It remained an integral part of the logo during the two previous titles, but those were both games that were explicitly about Elvira. So then why was she in the logo for a game about an English kid who comes home to fight the devil? And why isn't she on the logo now?
Perhaps it's because of the gore.
It wasn't until their final outing as a developer that Horror Soft really got a handle on what kind of things your art department needs to turn out to creep out adults and scar young children for life.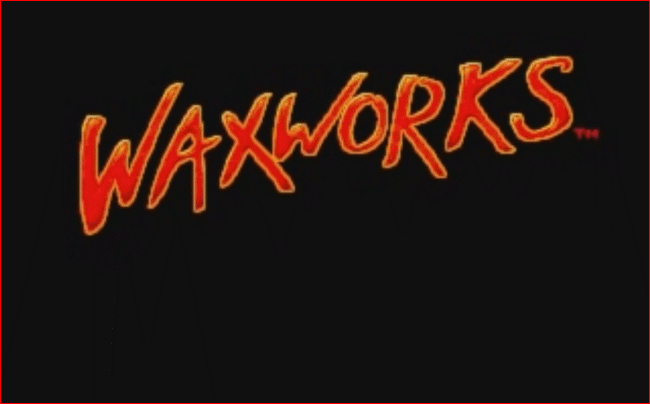 In spite of the Waxworks name, there are no wax-related deaths in the game, rather your adventure takes place within the confines of a waxworks, sort of:
Long ago, your ancestor caught an old gypsy stealing one of his chickens and cut off one of her hands. In return, she cursed your family so that in every generation that had twins, one twin would be good, and the other evil. Eventually, your uncle built a waxworks cataloging the four worst times in history that this happened. Then he died, and now you have to enter the bodies of the four good twins via the four waxwork exhibits and defeat each evil twin to save your twin brother from being evil. Also, your dead uncle can communicate with you via crystal ball to help you out.
Each exhibit gives a little history saying how each of the four particularly bad evil twins was eventually stopped by his good twin, so it doesn't really seem like you need to be doing any of this. Nevertheless, your uncle explains that you must because you need artifacts from the evil twins to be used when the time arrives to prevent the curse from being cast.
In short, you are doomed. That's why you'll spend a lot of the game looking at these gruesome death scenes and really struggling to give an answer when the game asks you, "play again?"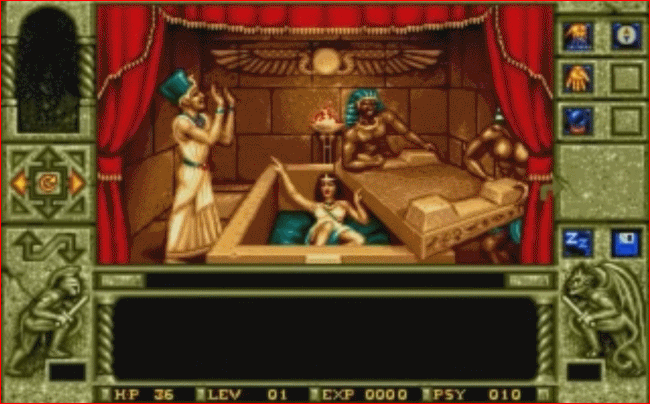 The very first evil twin came from Egypt, way before the curse was even cast, so this gypsy curse thing gets into a chicken/egg thing. Regardless, most of the deaths you can experience in Egypt are caused by the countless traps within the pyramid maze: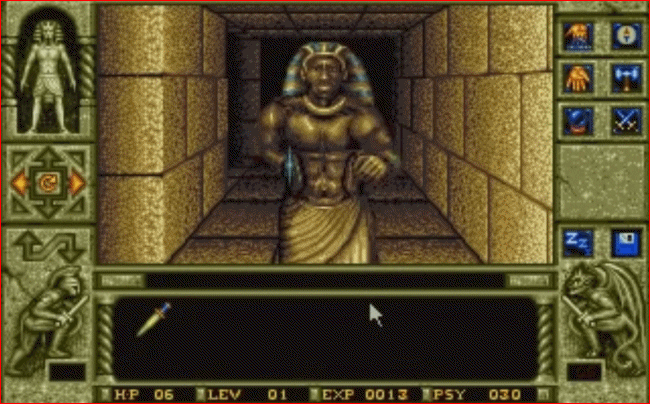 Guards almost outnumber traps. Almost. They really don't like you, probably because you distract them from having to constantly watch their feet for tripwires and snakes and pressure plates and pits and so on, so you can expect to get your head cut off if you wind up getting in a fight with them.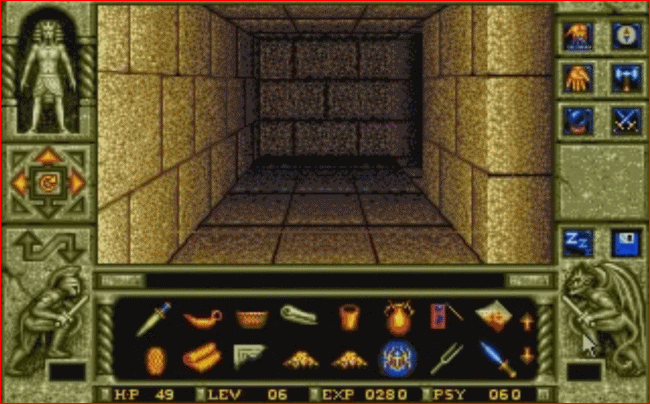 I understand the desire to protect the inside of their evil cult lair, but causing controlled cave-ins like this seems really counterproductive. At the end of the day, there's really only two exits from the pyramid, then you lose one killing that pesky hero, and how long until one of those nemes-loving guards gets bored and blunders into one?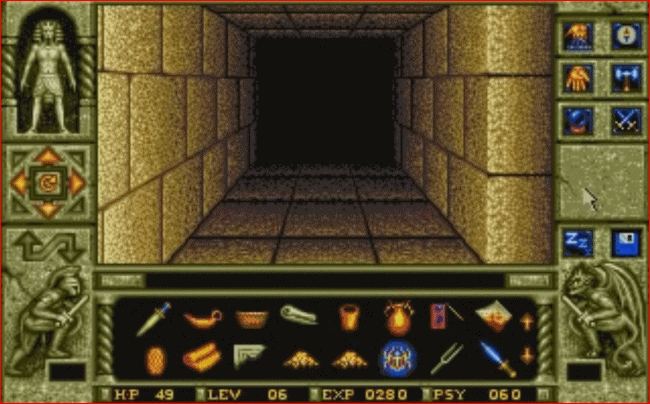 I mean granted, you could say that most traps have a risk that your security team will accidentally set one off, but consider these blade traps: someone triggers the giant blades and gets chopped good. Afterwards, all you need to do is have someone cart off the remains, wipe off the blades, and stuff them back into the ceiling.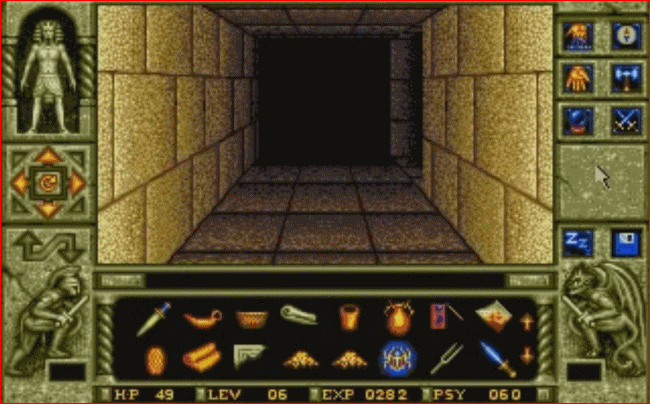 The boulder trap is kind of the same thing. Someone has to clean that boulder, and you know it's going to roll all the way down that hallway, leaving skidmarks from the poor chump it flattened as it goes. Way less control than some blades flying out of the ceiling.
Spike pits are right on the fence. On the one hand, a floor panel drops away and your enemies are swiftly conveyed to their deaths. That means no unsightly mess in your corridors. On the other hand, you've got to maintain a strict schedule for someone to maintain those pits, especially if you're getting a lot of break-ins from heroes with poor puzzle-solving abilities. How embarrassing would it be to have some hero fall into a spike trap and land on top of a stack of corpses completely covering the spikes?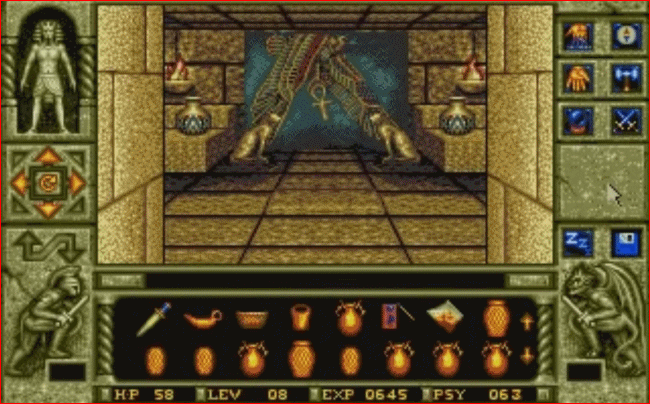 And speaking of maintenance, apart from having to reload those arrow traps, you've got to hire the ancient Egyptian equivalent of IT to come calibrate the traps so that they're shooting arrows accurately and with impalement-level force. Do you know how much it's going to cost to hire someone like that? The answer is nothing, because you've been killing all the architects, artists, and trap designers that put together your pyramid because you want to keep its secrets safe, but word gets around. Eventually, no one is going to want to make service calls to that one pyramid where trap technicians check in, but they don't check out.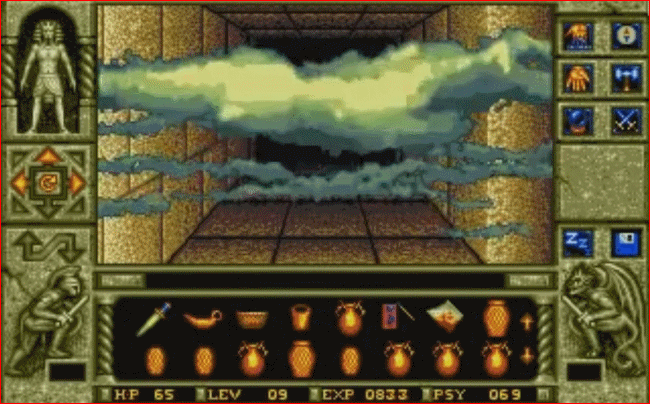 Gas... where to even start with this one.
Remember when I was talking about those nerds in the arrow trap calibration department? Those guys are going to be comparatively easier to find than someone who knows the exact stoichiometric ratio you need to make sure the poison gas filling your vast tunnel system is suitably lethal. Dumping all the gas you have at once and hoping for the best? What is this, amateur hour?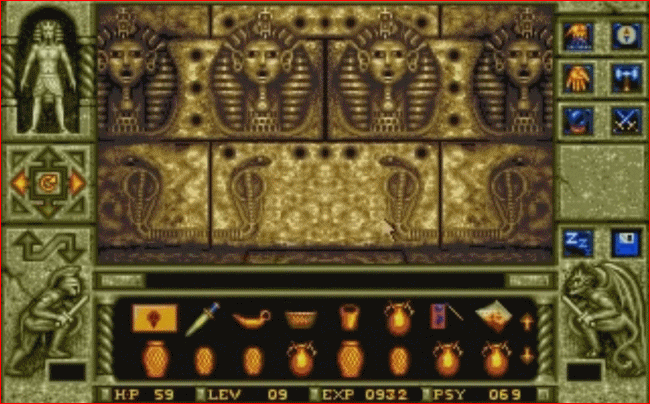 I don't know how much money you make sacrificing virgins to Anubis, but between buying poison gas and cobras by the barrelful, all I know is I'm in the wrong line of work. Resetting this particular trap is probably little more than just giving your slaves some gloves and a cobra sack, but you're going to have to buy a ton of mice to keep these things fed. And then you're going to have to kill all your mice delivery men so they don't blow your whole "surprise, cobras!" angle. And then you're right back in the arrow trap problem.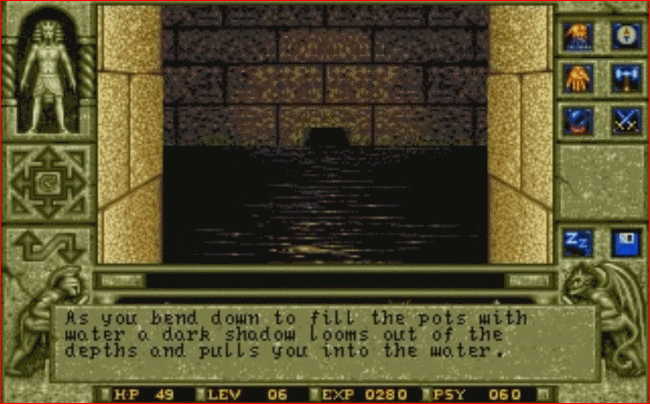 Now the crocodile, that's a good trap. All the heavy lifting is done by the crocodile. You don't have to clean anything. You just have to toss it some meat in between excursions from clumsy heroes. Or just give it whichever guard objects to blade/boulder-cleaning duty.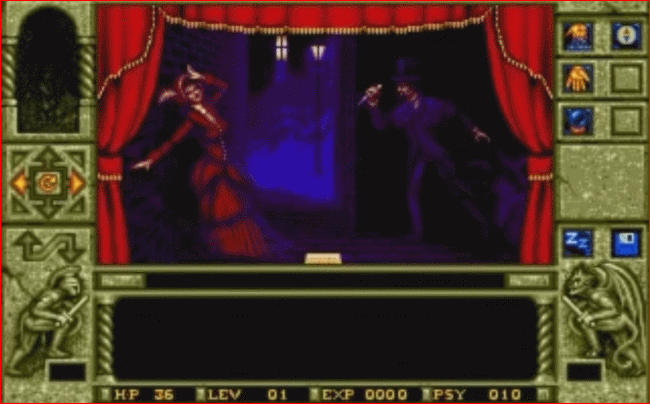 According to your uncle's research, the eighth evil twin was none other than Jack the Ripper. That's great news because once you wrap up this whole "evil twin" thing, you can take his research to the authorities and finally identify the heretofore unidentified serial killer known only as "Jack the Ripper". I mean, you won't because beating the game means the curse was never cast and said Ripper would cease to be thanks to some confusing magic/time travel business going on in the narrative... ah, who cares?
Point is, there are a lot fewer unique ways to die in Victorian London than there were in ancient Egypt. Chalk that up to the bobbies' unwillingness to install swinging blades in the alleys.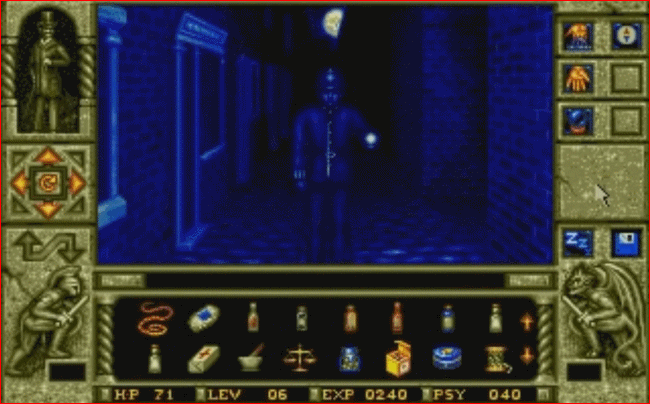 Speaking of bobbies, under normal circumstances I'd argue that a man who can best an entire pyramid full of burly guards can probably knock out a lone cop. Unfortunately, these guys are like raptors in that there's always another one right behind you, waiting for the one in front to distract you. Then it's off to a very uneventful trial and hanging. Much fewer deaths, but much more death flavor text.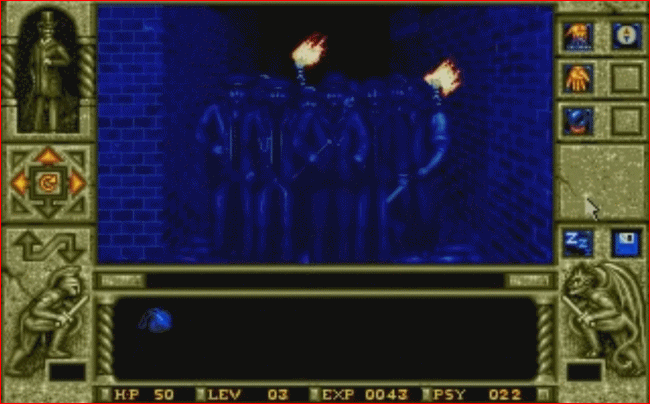 The devs figure this one speaks for itself. No real need to have a paragraph of text explaining how you got your head kicked in by an angry cockney mob.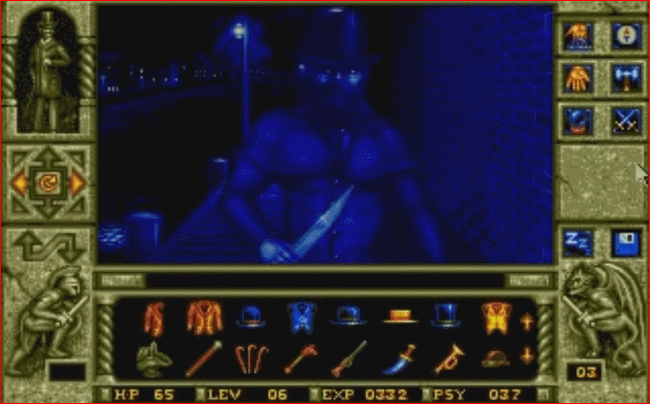 After a long run of rummaging through people's apartments and running down leads with the yet unmurdered prostitutes of Whitechapel, you finally get to duke it out with the Rip-man himself. Just don't lose your knife fight. And certainly don't attempt to turn and flee.
Interesting side note: I guess this is what Jack the Ripper looks like, since the two of your are supposed to be twins.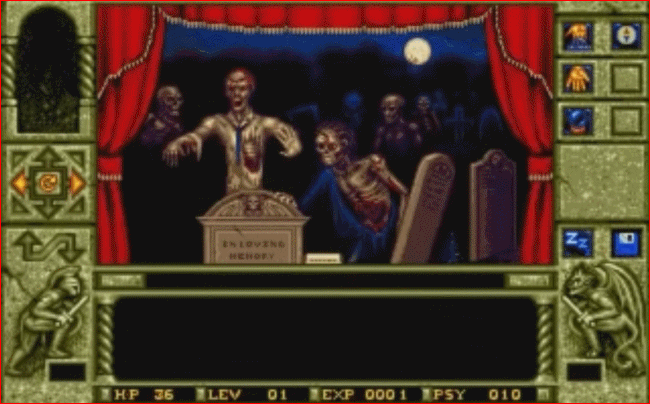 The fifth evil twin is a necromancer operating out of a graveyard... somewhere, and at some unspecified point in time. Presumably somewhere in Europe because the plaque talks about him replacing a baron with a zombie. It also mentions him enslaving a vampire, so I guess vampires exist in this world even absent the gypsy curse?
Good news: we're finally getting closer to the better death scenes.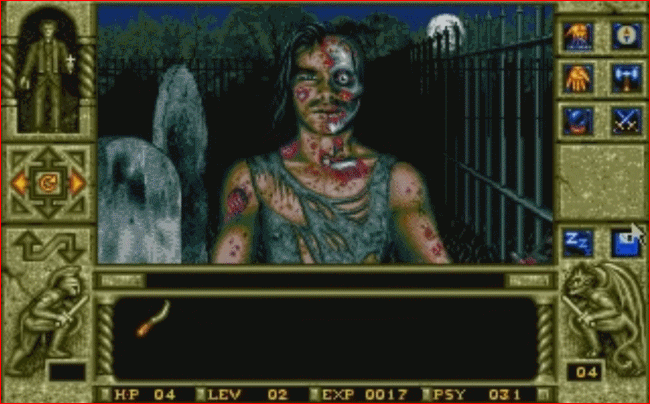 Now there's the one that had to have given kids nightmares. Zombies aren't all that tough, although they will keep fighting you until you've completely removed their head and arms. The problem is that they never stop coming in this level, and you only have one opportunity to heal yourself. If you don't get this level figured out in a timely fashion, you're going to be haunted by this picture of your missing jaw and a torso that looks like what happens when I try to unpack and repack a suitcase.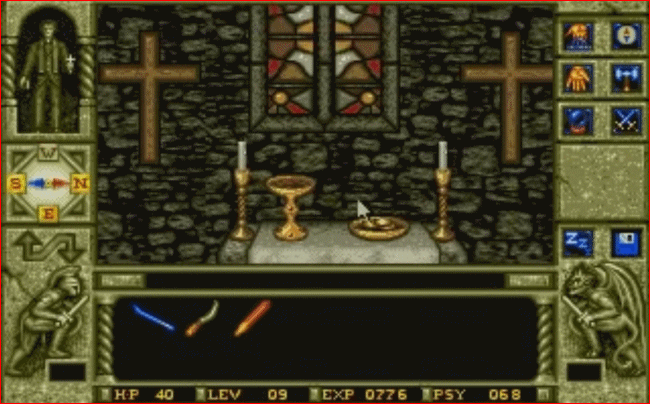 In contrast to the zombie pic, I can't see anyone being scared by this one. I love it, though. How tough would it have been to animate the vampire lunging at the player, or doing a slightly less goofy version of the vampire kill from Personal Nightmare? Instead, you've got this dorky-looking vampire craning his neck and leaning forward like he's playing no-touch vampirism.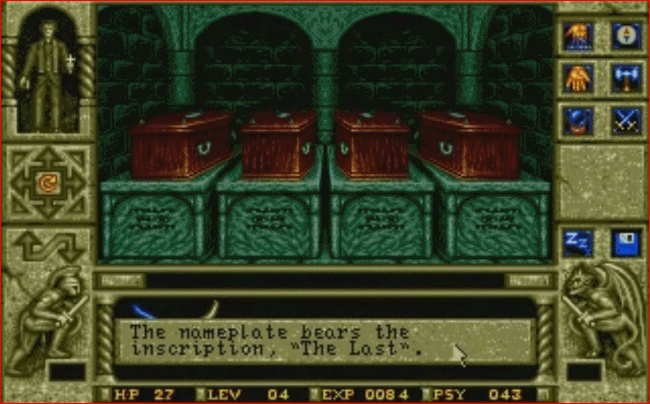 These abstract ones require a bit more explanation than you get from a single goofy vampire pic. You find a tomb with four coffins in it. Three are past ancestors of yours whom the necromancer has imprisoned for fun. The fourth is a deadly trap that drags you in and poses you in much the same way. Your only indication that something like this might happen is that the coffin is labeled as containing "The Last", referring to you being the last of the good twins in your family, but it's hard to imagine someone playing this game and not trying to look in every coffin.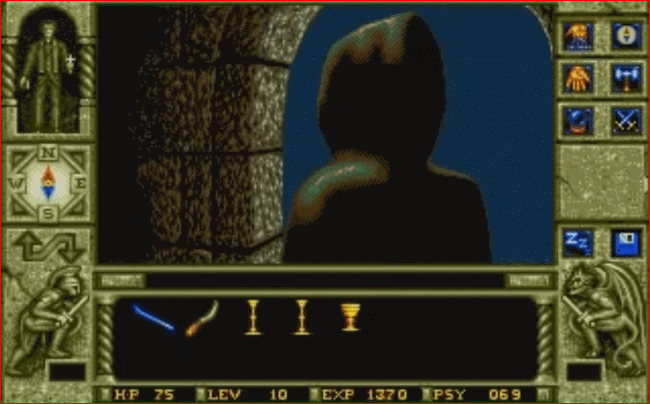 In contrast to the coffin death that seems almost unavoidable, dying while facing the necromancer requires willful ignorance. As you are heading into the battle, your dead uncle chimes in and reminds you that no weapon can hurt the necromancer, and the only way to defeat him is to touch him. So just touch him! I'll give you that you might think touching him with a weapon should count, but when you know that normal weapons can't hurt him, why wouldn't you try something else?
Because you're dumb, that's why.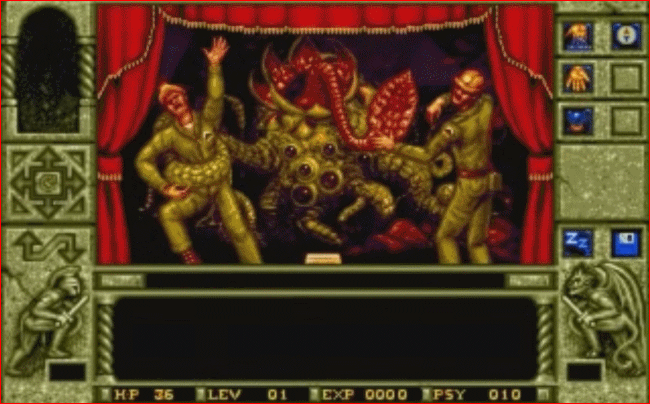 The seventh evil twin got a recipe for a diabolical potion from Beelzebub himself. Drinking it makes him and his followers physically superior to regular humans, with one minor side effect: it gradually turns the drinker into a grotesque plant monster. In this case, the evil twin is so far gone that he's been reduced to a limbless plant monster residing in an abandoned mine. Thank goodness his mindless followers are still ambulatory.
The death scenes in the mine are similar to the pyramid ones in that a lot of them are just derivations off a single picture. This time it's that guy with his head crooked slightly with a terrified look on his face from the Jack the Ripper scene: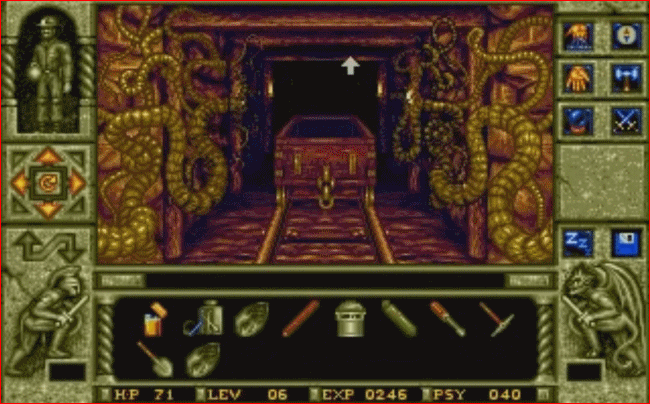 I can't decide if this is an embarrassing way to die. It's the slowest runaway mine cart I've ever seen, but it's also completely silent, making it the cougar of runaway mine carts. Either way, getting killed by it is probably the best mistake you can make with the mine cart; as if travels down the track, you have to use some wood to block it at just the right spot, or it'll cut you off from the rest of the level. And it goes without saying that you're way too dumb to trying pushing it or climbing over it.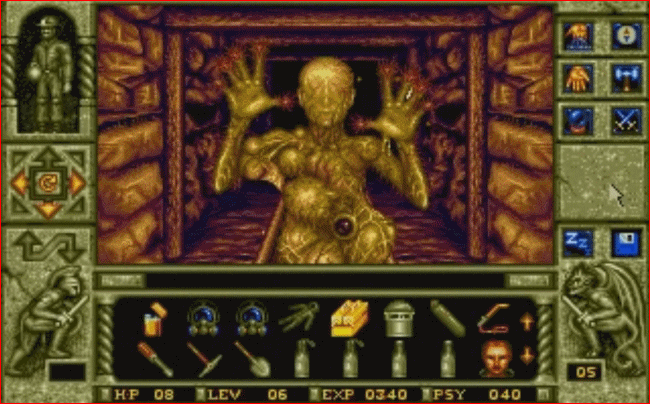 I don't know if it's the belly button eye or the touching you with his gross fingers, but when I look at these things, I'm not sure I believe Beelzebub's potion has made them "physically superior". There's something to be said for being able to burn holes in your enemies' faces by poking them, but it's really a pyrrhic victory.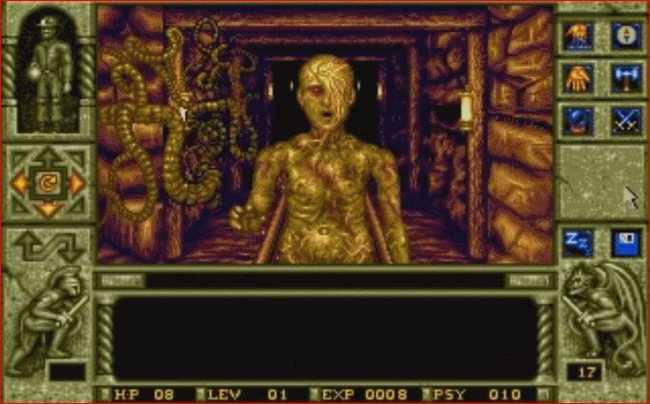 Same goes double for tongue guy. Those are some nasty sores he put on that bearded dope, but where is he keeping that tongue? His torso must be almost completely hollow to accommodate a six-foot tongue. And just an aside: how do any of these mutants have the depth perception needed to hit anything with their tongues/fingers? The most sighted among them only has one giant eye on the tumorous growth where half his face used to be.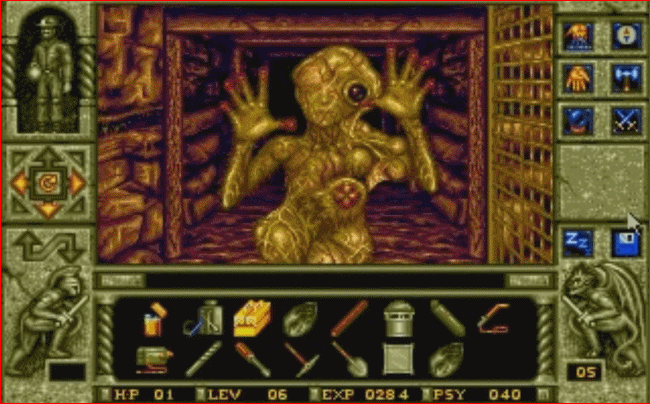 Seriously, just take a step back when he swipes at you. Those retractable claws add a couple inches to his reach, but not enough to make up for the absence of stereoscopic vision.
Worth noting that you wind up dispatching most of these guys by spraying them with weed killer.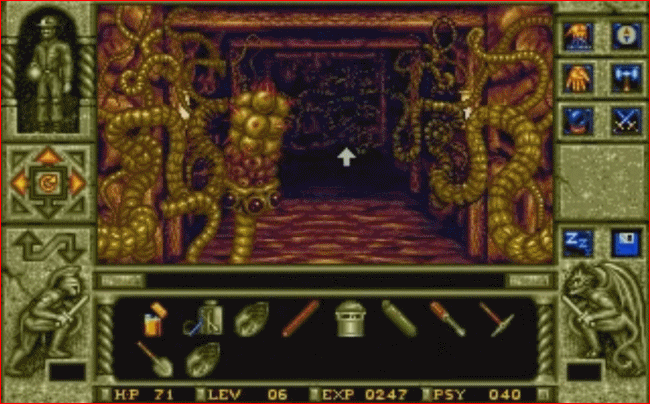 Of course you need to make sure to leave yourself with enough weed killer to take care of the plants that you can't fight off. Sometimes, it feels like a given trap isn't more lethal than the monsters. Spikes rocketing through the air are dangerous, but more dangerous than getting your face raked by claw guy, or licked by tongue dude, or prodded by goo fingers?
Breathing in acid fumes, that I can understand. I have to imagine the devs were struggling with this one because they wanted to make an animation that conveyed a plant pod spewing acid fumes in your face, but in the end they settled on more flavor text. The bloody bubbles on the mouth and the puffy damaged eyes are good, but think about how this looks without that explanation about breathing acid and your lungs burning. All you see is a pod move slightly and then a shot of you foaming at the mouth.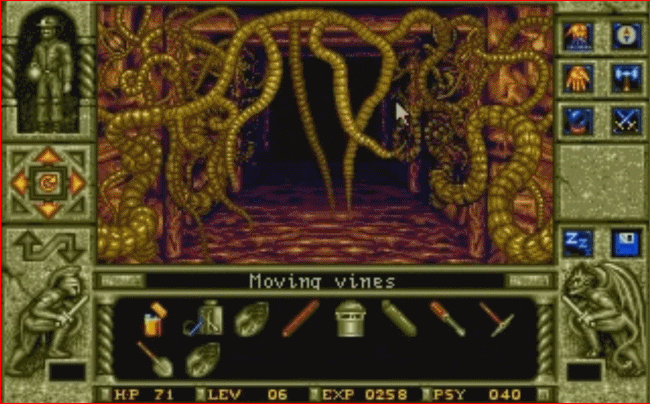 This one is just excellent. I don't even mind that they snuck that headshot in at the last second. Seeing a man get his head and arm ripped off looks great. It looks so good that I'm starting to look back at the rest of the deaths with contempt. Like what was up with all those trap deaths in Egypt? At least show me some distress in a guy getting killed by Indian Jones kinds of shit!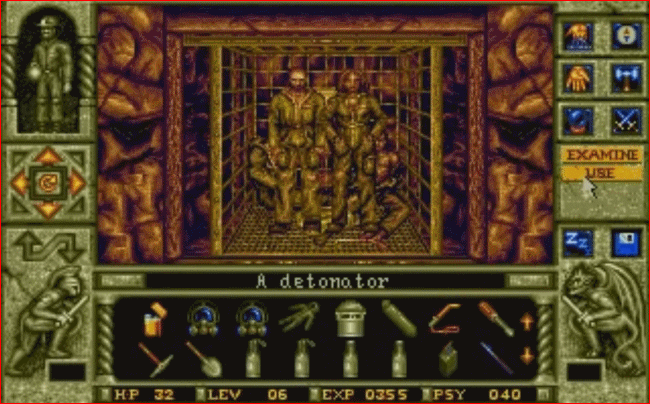 This one is called "poor planning". By the time you get the point where you set off a bunch of dynamite in the mine, all you have to do is press the button and ride the elevator to the surface. Provided that you already made sure the elevator was working. Oh, and guess what: you've got to manually shut the gate yourself. And if you try to shut it straight away, you'll find there's a safety lock you have to manually disengage. But you can still do all of that before you push the detonator. You've just got to be on the lookout for that kind of cheese.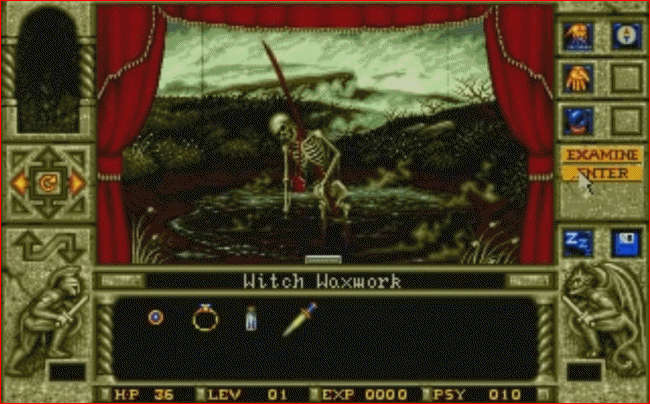 The grand finale, wherein you travel back in time to kill the witch as she's getting her hand chopped off, is kind of a letdown: your uncle gives you several items and tells you when to use them, and in what order. If you don't listen, then the witch carries out her curse and you get some text saying you failed. You aren't killed this time, you just fail. Seems like you could just pop back into the waxwork because the whole point is that it sends you back through time, so in theory you should be able to make as many attempts as you want, but you know... magic.
The ending of the game hints at the possibility of a sequel. Unfortunately, we never got to see that sequel as Horror Soft changed gears and became Adventure Soft. They still made adventure games, but those games were markedly different in tone compared to those from the Horror Soft days. The company is still in business, but the odds of getting Waxworks II seem pretty slim.
Maybe there's a fan out there with a Kickstarter and a script about another dead relative with a completely different Waxworks that needs a leg up...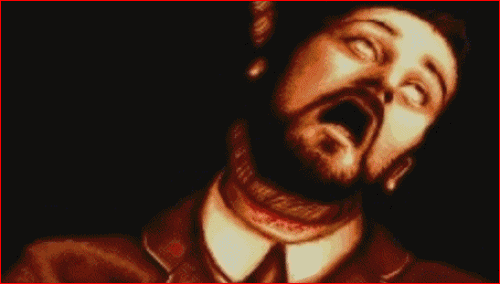 Have any questions or comments about this piece?
SHARE YOUR THOUGHTS IN THE READER COMMENTS SECTION BELOW!