by: -RoG-
Today I wanted to pay homage to what I've always considered to be one of the greatest classic trading card sticker sets from the eighties: Weird Wheels! Released in 1980 by the Topps company, Weird Wheels features the brilliant artwork of Norman Saunders and Gary Hallgren. The artwork for the set was heavily inspired by the amazing hot rod creatures created by Ed "Big Daddy" Roth back in the 50s & 60s, including Rat Fink and the "Weird-Oh's" model kits.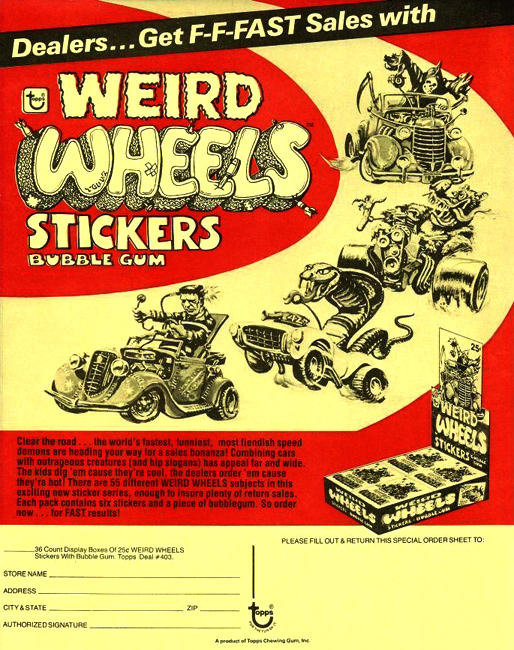 Weird Wheels consists of 55 different trading card stickers, each one featuring some kind of monster, creature, or mutant riding on a hot rod tailored to its nature. It's one of those lesser-known sets that I honestly think most people would flip out over, because not only is the artwork some of the best ever released for a Topps set, but the ideas are often brilliant as well. I'd really love to see Topps release a book full of the original artwork for Weird Wheels, just like they did for their Garbage Pail Kids and Mars Attacks trading cards.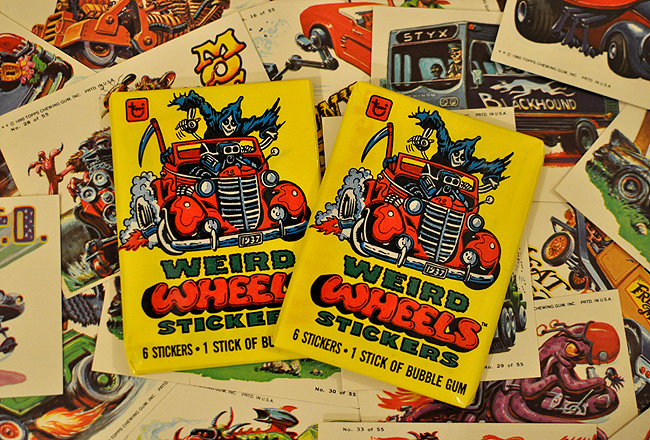 So now that you know some of the details behind this set, I'd like to share with you my scans of what I consider to be some of the best cards in the Weird Wheels collection to check out during the Halloween season: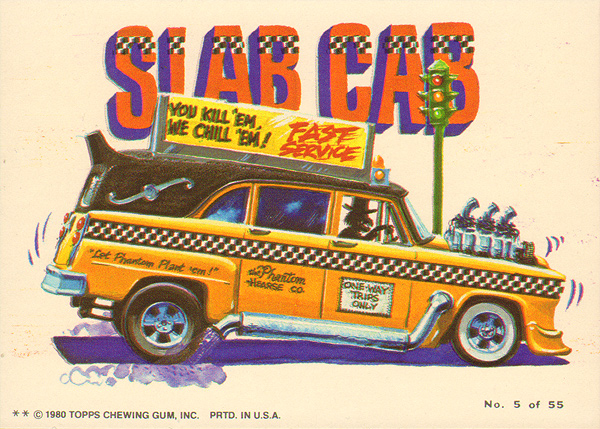 Slab Cab is a hybrid taxi-hearse hot rod, and I love all the written gags on it including: "You kill 'em, we chill 'em!", "Let Phantom plant 'em!", and "One-way tours only." Even if Slab Cab doesn't have a future in cab driving, he can fall back on a career of writing great catchphrases.
Bone Dragger is a perfect example of a card inspired by Ed Roth's work, what with the exaggerated gear shift and engine. Gotta appreciate the little details too though, like the ribs making up the front of the car along with the coffin driver's seat.
Okay, so this one isn't particularly Halloween-themed, but come on... a car turned into a giant Stingray? That rules. Plus, it appears to be driven by a demon eel or a cooked lobster claw.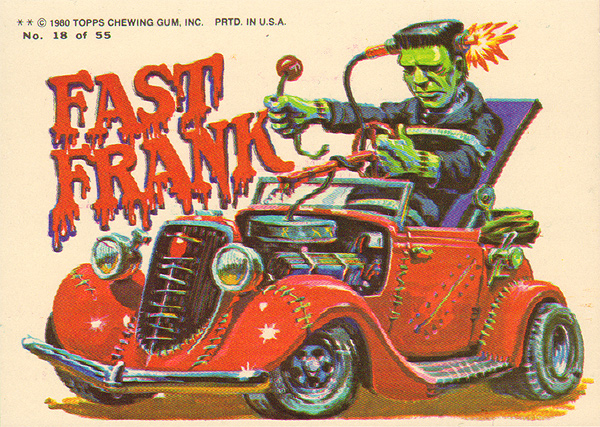 Alright, even if you weren't sold on any of the others, I don't see how any Halloween horror fan couldn't love this one.
The Fast Frank card has sooo much going for it. First off, Frankenstein's bolts are hooked directly to the engine, presumably to give him all the electric juice he so desires. His immense power is being demonstrated as he's ripped out both the entire gearshift and the steering wheel, all while being strapped into his lab slab. As if that's not enough, the entire car is covered in stitches, as if it were pieced together with random car parts, just as Franky was pieced together with random body parts.
Gotta love that bloody font too. Fast Frank is easily one of the best cards in the entire set.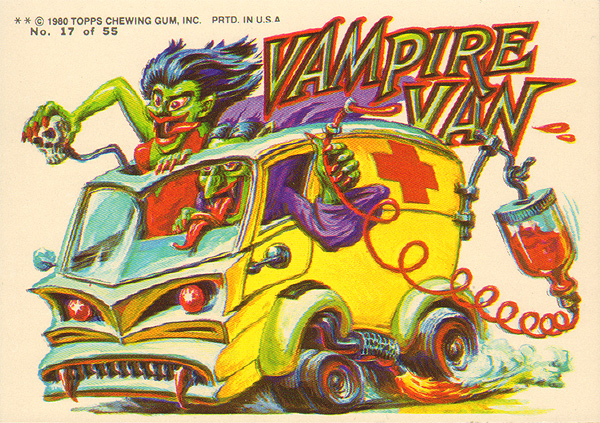 Vampire Van is another classic, with two vampires enjoying a night on the town together. The female vampire is in charge of the gearshift skull, while the male vampire is handling the steering with his Gene Simmons-esque tongue. I'm surprised he's using his tongue to help steer the van, since he has that IV blood drip in his hands. Then again, maybe he feeds that to the fan itself, what with it having a ferocious looking set of vampire fangs 'n all.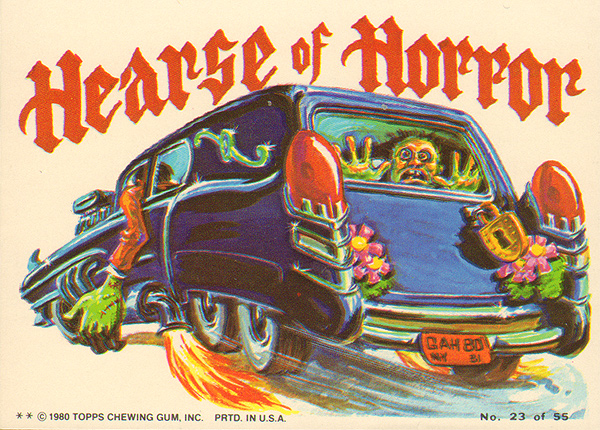 The Hearse of Horror is a bit more simple, but it makes me think of Phantasm, what with the driver claiming a body before the person has actually deceased. The oversized padlock on the back door is a nice touch too.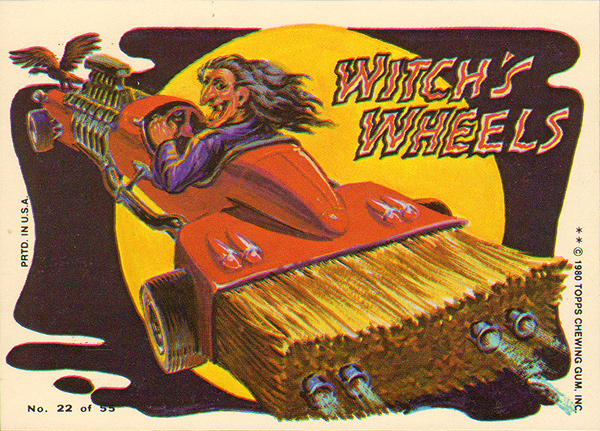 Turning her broom into a hot rod for the Witch's Wheels card was a brilliant move. The only thing I'm not sure about is why there appears to be a duck on the front of her car? Wouldn't a black crow or something more ominous be more appropriate?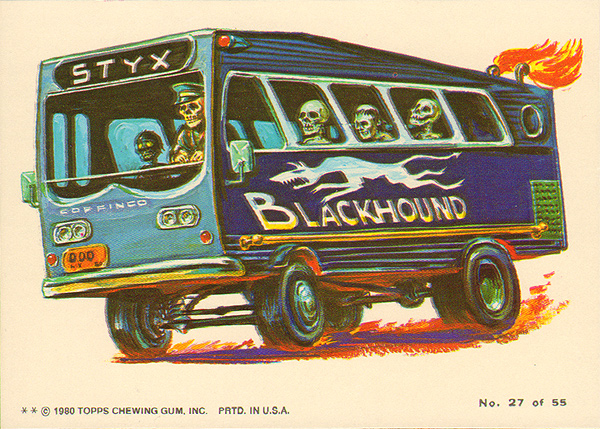 Oh how I love this Blackhound sticker card! The idea of having Charon the ferryman becoming a bus driver to transport souls across the river Styx is genius, and I certainly appreciate the Greyhound bus parody as well.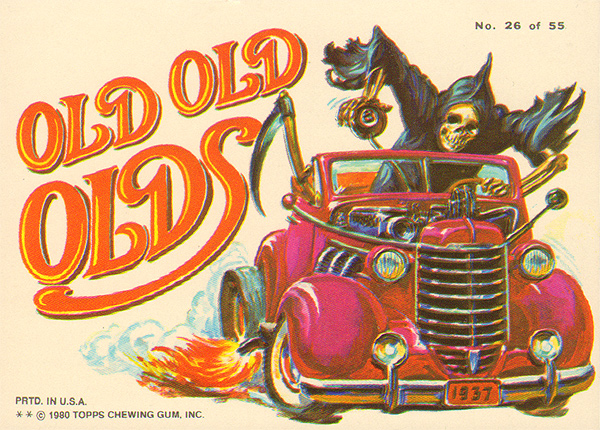 Being that it's both the image they used on the Weird Wheels box cover and all of the individual trading card packs, it's no surprise that Old Old Olds was the very first card that led me to becoming obsessed with collecting the entire set when I was younger. Easy to see why too... I've always been a sucker for classic depictions of the Grim Reaper, and he's in fine form here, complete with requisite scythe and an exaggerated gear-shift.
Sure, that Camaro Z28 has seen better days, what with the door barely hanging on and potted plants growing out of the engine, but just look at Zom B. Zee. He's so damn happy about how cool he looks in that car, he doesn't even care that the engine is just as dead as he is.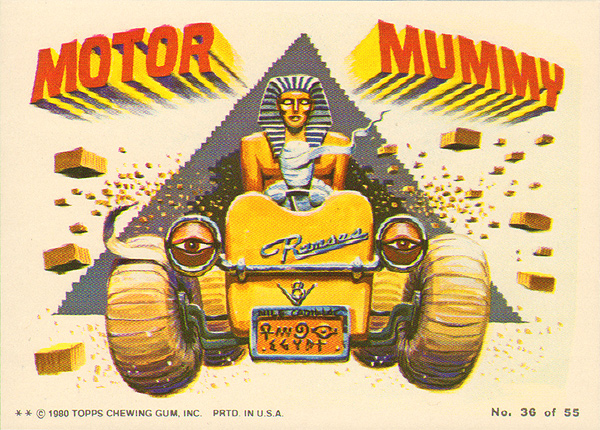 Okay, a few things here. First off, I love that Motor Mummy is driving despite the fact that his entire face is completely covered with mummy gauze wraps. Why? Because his hot rod has built-in eyes of its own, so the mummy doesn't need to see where he's going. Also, the car itself is amazing what with the license plate number written in hieroglyphics and the wheels also being covered in mummy wraps as it comes bursting out of a pyramid.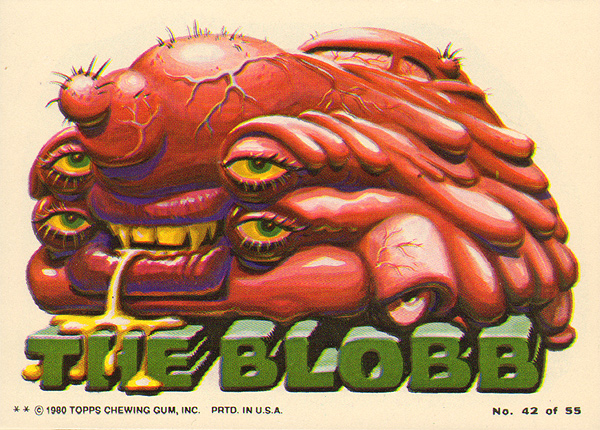 I love The Blobb. It's just such a weird card. Yes, they spelled the name differently, perhaps to avoid copyright issues, but look how they drew it. It's not just some liquid ooze, it's a mutant creature covered in veins, hairs, and what appears to be some large tumorous growths, all while spewing yellow mucus onto its name. Definitely one of the grossest cards in the set.
Not to be confused with the 70s TV b-movie of the same name, Killdozer wins the award for bloodiest card in the entire set. Given the size of the blood puddly, this is clearly just one big murder machine, with extra spiky metal wheels and a driver who is far too excited about causing so much bloody mayhem.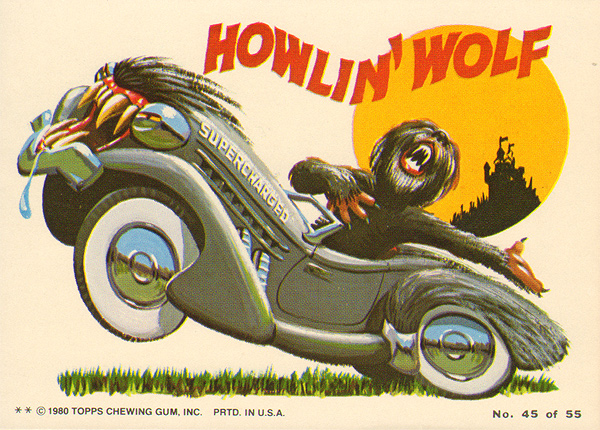 The supercharged Howlin' Wolf is another wonderful monster mobile, though I feel like he appears to be singing some opera rather than howling at that moon in the background. What's nice is that the moon appears to have changed his vehicle as well, for it's sprouted a vicious looking set of teeth, and some shaggy grey wolf hairs too.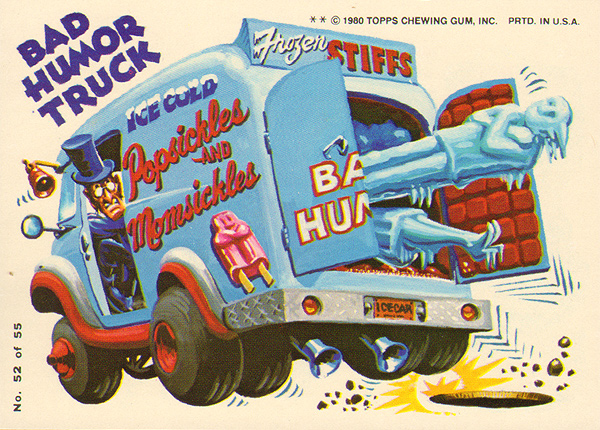 I feel like the Good Humor / Bad Humor gag has been done a bajillion times by now, but that certainly doesn't make me love the Bad Humor Truck any less. Between the "Popsickles and Momsickles" and "Frozen Stiffs" gags, along with bodies flying out of the rear due to it running over an exposed manhole, they did everything right with this card.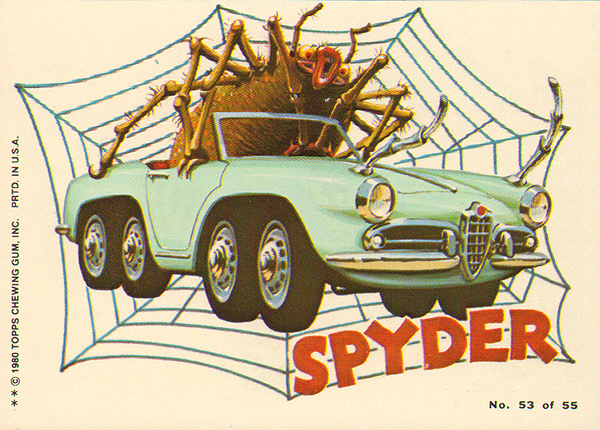 Looks like the Spyder caught itself a fine automobile in its web and did some nice alterations. It gave the car a set of chrome insect antennae, and even better, it has eight wheels to match the spider's eight legs!
And lastly, we have another one of my truly favorite pieces. Boo-Ick depicts a gaggle of ghosts who took up residence in a broken down car and actually turned it into a haunted house! One of them is even pretending to drive it with an ecto-wheel! There's simply nothing I don't love about this card.
And that's just 17 of the 55 cards in the amazing Weird Wheels set. If you'd like to see the rest, you'll be happy to know I did scan all of them in, and you can check 'em out below:
I should also note that there's an old article that provides some additional backstory on Weird Wheels, along with sharing a few of the unreleased cards from the follow-up set that sadly never happened. It's well worth reading if you like what you've seen so far.
Topps was really onto something when they released Weird Wheels back in 1980. It's something that both monster and hot rod fans alike can enjoy, and I'd love to see them revisit it sometime with some more mutant mobiles. There's easily more than enough material out there to work with. After all, the world won't be complete until we see the Creature from the Black Lagoon driving in a hot rod that's partially made out of an aquarium.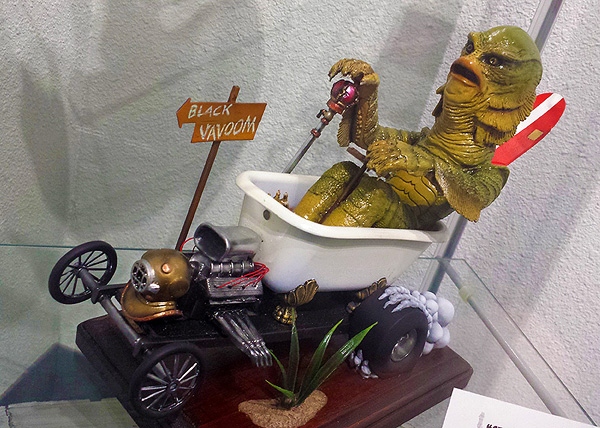 Wait... the Creature driving a bath tub? Alright, close enough.
Have any questions or comments about this piece?
SHARE YOUR THOUGHTS IN THE READER COMMENTS SECTION BELOW!