by: Dr. Boogie
You know the movie Predator? You better if you're on a site like this. Have you ever wondered what it would have been like if the Predator didn't have any sort of tools? Like, what if instead of a shoulder-mounted plasma caster, he had a bunch of sucker fish that he threw like frisbees? What if instead of being agile and invisible, he just stood in place and slightly off camera? What if instead of action stars Arnold Schwarzenegger and Carl Weathers starring in the film, you had twin beefcakes Jack Palance and Martin Landau? Wouldn't that have been a better movie?
Well, wouldn't it have been a cheaper movie? By about 1:100, you bet your ass it would be!
It's that kind of cut-rate... let's say "ingenuity" that we've come to expect from director Greydon Clark. You may remember him as the director of Uninvited, that one god awful horror movie about a mutant house cat that was about as scary as one of those Sarah Mclaughlin ASPCA commercials. He enjoyed so much "success" from that film that he's moved onto making movies where the monster isn't quite so adorable. And he managed to get some biggish stars in there, too. So let's take an in-depth look at Greydon Clark's "Without Warning" from 1980.
Our film opens on a confusing note as a man is on a hunting trip with his son who appears to be the same age. He wants his son to be more manly because he lived with his mother after the divorce and a whole bunch of other crap that really shouldnt have been dumped on a couple of nobodies like this. Bottom line: the hunter gives his 40-something son a gun, and the son dumps the ammo as part of his youthful rebellion. Then the horror begins:
They came out into the wilderness looking for wild game. Instead, they found killer tea cozies. Dad doesn't have the wherewithal to remove the creatures himself, and his son is a worthless 70s guy with no ammo. So they both get killed and we got a good look at the kind of creature effects that are going to draw us into this story about aliens in the California brush.
But enough about these expositional mooks. Let's see about getting some main characters lined up:
Sandy and Beth, Tom and Greg. These four are pairing off and getting ready to head up to the lake for nice afternoon, totally devoid of discus monsters and puncture wounds. While the rest of them wouldn't go on to do much, Tom is none other than a young David Caruso. Years before he was known for the way he put on his sunglasses, he was best known for putting on excessively tiny shorts.
The group still needs a few other supplies. Thankfully, there's an old gas station along the way where they can stock up on essentials, and recognizable faces:
Sandy discovers that the women's restroom is in just as nice a shape as any other gas station bathroom, so she tries the men's room. Therein, she encounters "Sarge", a shell-shocked Vietnam vet played by Martin Landau. During their brief exchange, or perhaps simply because it takes place in a gas station bathroom, you can tell that Sarge is nuts. Despite this, Sandy questions him about the warning written on the wall:
And just like that, the title of the film is rendered completely pointless.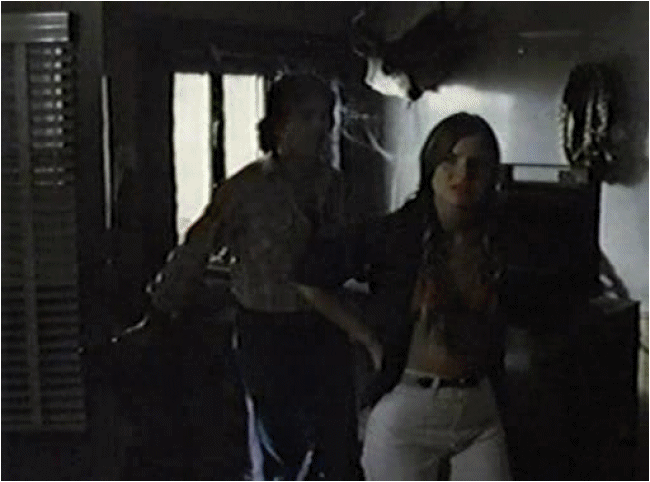 Inside the gas station, the gang finds a filthy interior complete with a baseball cap filled with rats. That's two scenes now where these characters have seen things that would've made a normal person peel out of this gas station like they just caught a glimpse of the owner.
Speaking of which: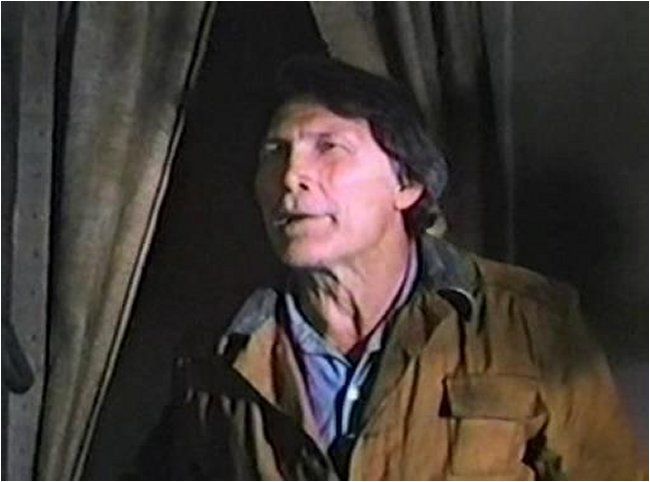 Jack Palance plays Joe Taylor, shop owner, hunting enthusiast, and unsettling townie all rolled into one. He is legitimately confused as to why a group of people in a van have stopped at his gas station. They tell him their plans at the lake, and he warns them about hunting season. That's two warnings in a film that claims to offer none!
As they prepare to leave, he slams the door shut and again warns the kids not to go down to the lake. I have a new title for the movie: Warnings Abound.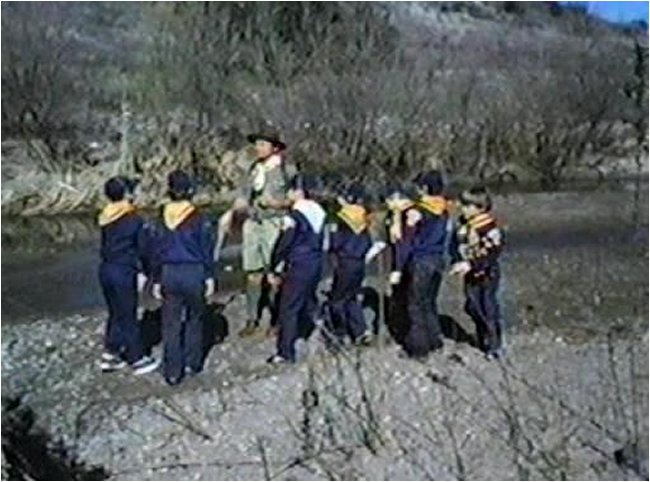 Or maybe "Vignettes Aplenty".
Elsewhere, a scout master is leading a team of cub scouts along a creek while doing his worst impression of WC Fields. All of a sudden, his compass goes berserk, so he goes out to try and find some landmarks. Along the way, he finds the camper from the first victims, and gets drawn away by some weird noises. Just once I'd like to see a scene like this where someone wanders around the wilderness courting death from the movie's monster, and then have them get killed by a mountain lion or something ordinary like that.
Not this time, though. While making an absolutely pathetic attempt to light his cigarette with some flint, get gets attacked by those flying saucer-like creatures.
So he's dead and his scouts are left to their own devices. Pretty soon, they happen upon some kind of off camera horror that inspires them to abandon all training and flee into brush, screaming all the while.
Man, I could listen to that all day, and if the director had his way, I probably would.
And talk about good timing: our main characters just happen to be driving past that same creek, oblivious to the hellacious noise coming out of all those children. Let's see if we can't get any of them killed off.
The four of them spend some interminable amount of time not getting killed until deciding to split up so Tom and Beth can get some lakeside, mosquito-infested, sand-in-your-crotch action. Greg and Sandy go for a hike and return to find the lovebirds missing. They start a picnic, but by the end of it the other two still haven't returned. This minor inconvenience turns Greg into a giant whining baby, so they decide to march into the wilderness to find Tom and Beth.
As they follow a trail deeper into the hills, Sandy is so distracted that she falls into what I can only describe as an open grave in the middle of a field. This does not upset her at all. In fact, after climbing out of the pit, she points at a creepy shed on the other side of the field and the two of them go check it out. How badly do these two want to be killed?
In spite of looking like Jed Clampett's ancestral home, the shed is stamped with the label "Water Dept." Presumably, the water department retired this particular outpost after they realized there was no water. They pop inside to look because realistically, what danger could there be in checking out a ramshackle shed in the middle of nowhere surrounded by graves?
Geez, working for the Water Department is harder than I thought!
Upon seeing the corpses of their two friends, and also a scoutmaster and two other guys, Greg and Sandy bolt back through the field of graves. Seriously, guys, the graves are already dug. Do your friends a solid and pop them in one before you go.
I hate to play devil's advocate, but it's not like all this trouble came without warning...
Hours later, the two of them finally arrive back at the van. In spite of how long it took to get from the shack to the van, they haven't calmed down even a little. Greg can't even remember how his keys work, and that gives those flying suckerfish time to catch up.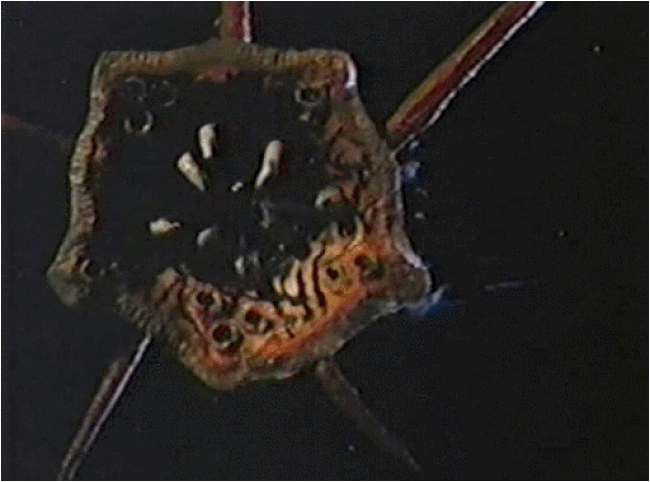 One of the creatures lands on the windshield. Sandy screams that it's eating through the windshield, but that really doesn't appear to be the case. In fact, you could probably just brush it off with the wipers.
Ah, but here I am being glib again. How dumb would that be if they tried the wipers and the creature just came r---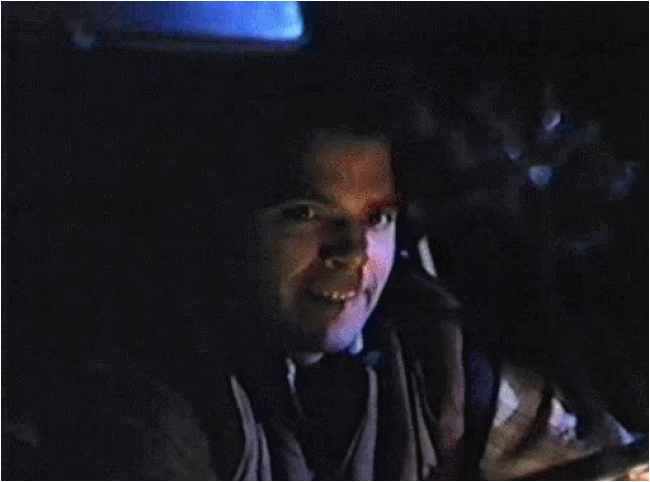 With the alien invasion is defeated, Sandy and Greg drive away, laughing all the while. Or is it?
There's still plenty more of Without Warning to see!
Click here to continue onward to page 2!