Super Dodge Ball was always one of my favorite NES games... I guess it was something about the concept of a sport where you smashed somebody with a ball so hard that it caused them to die which appealed to me. Of course, if you did this in any professional sport, you would get ejected from the game and have to suffer by going home to sit in your huge mansion. Poor you. But in Super Dodge Ball, killing your teammate was not only encouraged... it was the object of the game! So, you can imagine my shock when I heard that there was a rom hack of this game. Would it be tainted with the usual nazi propaganda and/or phallic references, or would it actually stand out from the pack? Let's take a look...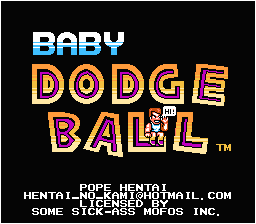 The title screen was changed nicely enough, so that's a good sign already since 90% of rom hackers apparently consider changing a single sprite into a penis to be a major accomplishment. When I saw the rom hacker's name "Pope Hentai", I quickly began to worry that this game would soon become an onslaught of perversion. But what about the "Baby" in "Baby Dodge Ball"?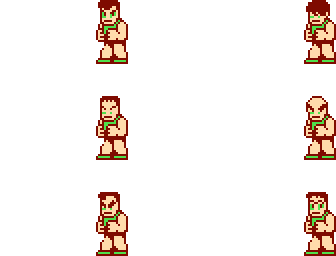 Admittedly, when I first saw the title of the game I figured it would be a cute little game in which all of the characters were changed into babies. As you can see above, however, all of the characters are just as they appeared in the original game.
SAM - The man with the plan. He's the toughest guy on your team and he can blast the ball at the opponents. I've killed people with him with just one shot countless times.

JOHN - Not the greatest player, but boy oh boy do the ladies love his shaggy hairdo.

MIKE - I don't really use him that much, but he sure is one Frankenstein lookin' mofo, eh?

BILL - He works the sidelines, and man, are those eyebrows ever HUGE! I think he uses them instead of his arms to throw the ball. They're probably stronger than his arms anyway...

RANDY - Nobody likes this guy. He's that brat that we all hated back in school and he's always up to no good. Fortunately, he's on our team so we don't have to worry about him fucking with us.

STEVE - This guy never really wanted to play dodge ball, but when the rest of the team told him that they'd rape and kill his family if he didn't join in, he quickly signed up for the action.
Ok, now that you know the background info on our team's lineup, where the hell do the babies come into play? Well the babies aren't really amongst the players in Baby Dodge Ball. You see...


THE BABIES ARE THE BALLS!
Correcto. This rom hacker decided to remove the standard dodge ball sprites from the game and replace it with an innocent, smiling, diaper-clad baby. So your mission is to throw a helpless baby at your teammates with the intention of killing them. Allow me to demonstrate.


ME THROW BABY!


*THWOMP!*
This just goes to prove a belief that I've always had...



Babies do cause brain damage.
Now I've seen a lot of twisted rom hack concepts before, but I have a feeling that this "Pope Hentai" was being influenced by a greater power. No, not drugs (though I'm sure they did play a role in his early childhood development), I'm talking about a force that none of us could stand up against. Let's go into round 1 of the World Cup Play and see if we can uncover who Pope Hentai's "puppet master" really is.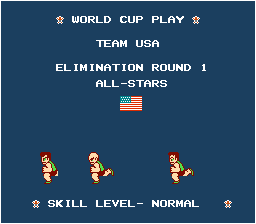 Ok, even though our team is "Team USA" we're apparently going up against some more Americans in round 1. That's fine by me, I welcome the opportunity to kill some of my fellow countrymen anyday.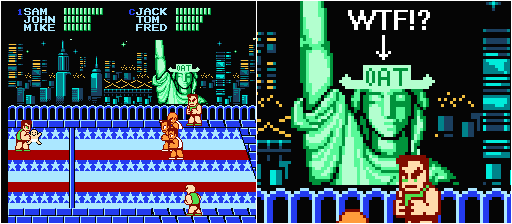 Oh god no. Do you see what I see? Our first big clue about who influenced Pope Hentai to create this blasphemous baby-throwing barbarity. Resting atop the Statue of Liberty's head is not the usual crown that we would expect. Instead, it is a hat (which strangely resembles my Pickle Hat in shape) that reads OAT. And OAT can mean only one thing. Wilford fucking Brimley. We've all seen how he's taken the world of rom hacks by storm with Wilford Brimley Battle, Wilford Kong, and a plethora of other hacks. Could he be working his evil oaty ways into Baby Dodge Ball? Shit, I hope not. Maybe it was just a joke. Maybe Pope Hentai is just messing with our minds. Yeah, I'm sure that's it. Ha, ha. Good one!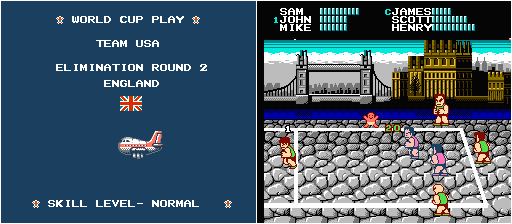 After beating the USA "All-Stars" in front of the Statue of Oaterty, I hopped a plane over to England to battle those wankers on a cobblestone court. I'm happy to report there were no signs of Wilford Brimley in this round, just some nice London scenery. But what was up with our Baby Dodge Ball?

For some reason, it mutated into a sun burnt color while in England. I could maybe understand that if we had been playing in Florida or something, but England isn't exactly where you go to catch a few rays, ya know? Maybe it's not a sun burn, maybe the baby is just bleeding internally from being slammed down on the cobblestones. Either way, the baby appears to be quite happy. I have to admit, I love how it just continues to smile no matter how hard you blast it at your opponents. Anyway, onto Round 3.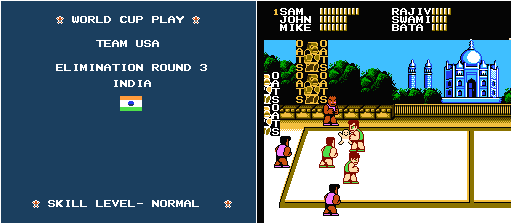 I guess England made me a little too confident, because I damned near soiled myself when I arrived in India. Normally the Taj Mahal would be quite a spectacle to see, but I couldn't keep my eyes off of something else that was in the background.

A GIANT GOLDEN OATS STATUE!
The people of India had apparently built several shrines to oats and placed them all over the courtyard. Two references to Wilford Brimley was bad enough, but wait... I think I recognize the golden figure in the middle. Could it be? No... it couldn't............... could it?


NOOOOOOOOOOOOOOOOOOOOOOOOOO!!!
FUCK! It is Wilford Brimley! I knew I recognized that oat-ridden bastard! He's the one behind this whole goddamned game! He's the one controlling Pope Hentai! He's the one out to swallow our souls and feed them Quaker Oats for all eternity! And it gets weirder. India's main player, Rajiv, caught my attention.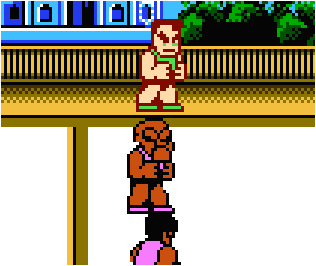 Rajiv looks strangely familiar to me. Something about his face...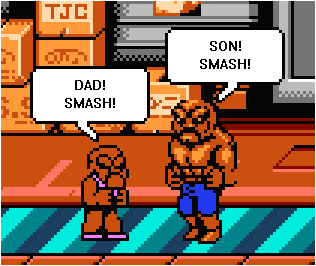 HOLY SHIT! RAJIV IS ABOBO'S SON!
There's no denying it, Rajiv is, without a doubt in my mind, Abobo's long lost son. That explains the ridiculous strength that Rajiv possessed, which enabled him to take out two of my teammates. I consider myself lucky to have gotten past that round alive. If only I had a conveyer belt, perhaps I could have thwarted Rajiv a little earlier on. Oh well, there was no sense looking back on things when I had to enter the frigid courts of Iceland in Round 4.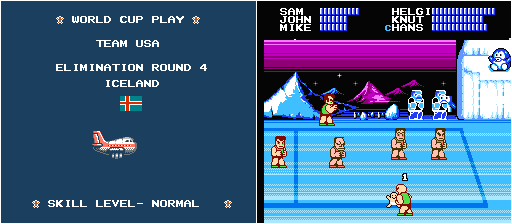 Sure, it was fun playing on the slippery ice, but I was too busy being distracted by the horrors taking place in the top right-hand corner of the screen. Not one, but two Wilford Brimley ice monsters were taunting a penguin!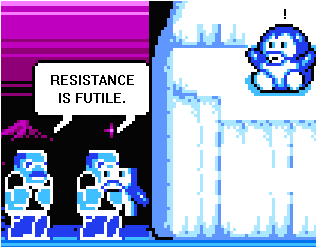 Sickening. Just sickening.
Upon closer inspection I quickly realized that one Wilford had already captured a small penguin. It's hard to tell whether he's whispering oaty horror stories into the penguins ear, or just plain eating the poor little bastard's skull. Either way, it's quite clear that the little penguin is NOT happy about it. And just look at the big penguin. It can't do a damned thing to help out the little one. It knows that the little penguin is a goner, and now the only thing the big penguin can do is stay up on his ice perch and hope that the Wilford twins can never make their way up there. You know... FUCK P.E.T.A. This just proves that they're completely useless. While they're busy whining about Judas Priest having an album named "Hell Bent for Leather" instead of "Hell Bent for Pleather", there's helpless penguins out there being destroyed by Wilford Brimley! You want to stop animal cruelty? Well here's your chance damnit!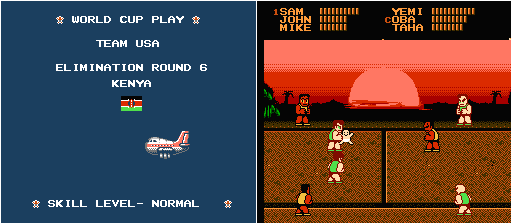 While I tried my hardest to throw the baby dodge ball at the frozen Wilford twins, nothing could stop them, so I beat Iceland's team and hopped a plane to Kenya for round 6 and tried to block that memory of penguin-torture from my mind forever. While the sunset sure was a pretty sight, it wasn't going to help relax me. I hate that level anyway because you can't get a good running start for shit in all of that dirt. Stupid Kenya. It's called "paving the roads". Try it sometime. >:(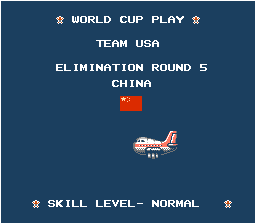 After I finished playing in the dirt, I took a plane over to China only to see that they too had fallen under the spell of Wilford Brimley. Strange, my fortune cookies never mentioned anything about oats.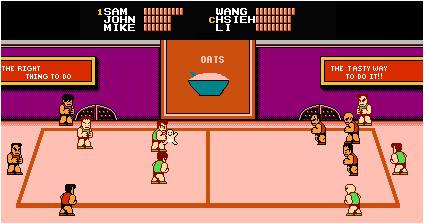 Just take a look at that game court. Can we say OAT WORSHIP? These people friggin' LOVE Wilford. Just look at those signs! "OATS - THE RIGHT THING TO DO" & "OATS - THE TASTY WAY TO DO IT!!" How the hell am I supposed to concentrate with those things looking me right in the face!? And even after I won, my own teammates started succumbing to the ways of Wilford.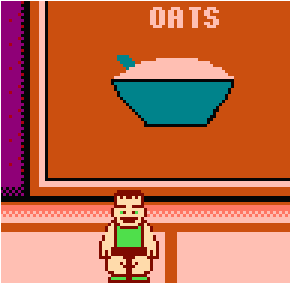 NO MIKE! DON'T GIVE IN! YOU MUST RESIST THE TEMPTATION OF THE OATS!
But it was already too late, my teammates were already head-over-heels in love with oats. All I could do now was press onward and hope that this damned game would end soon enough.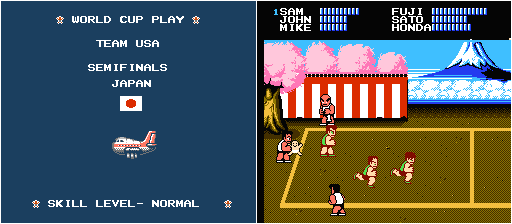 The Semifinals in Japan didn't have any real changes, but I now want to visit Japan for two things. 1) So I can buy all things Domo-Kun and 2) So I can see trees that look like they're made of cotton candy.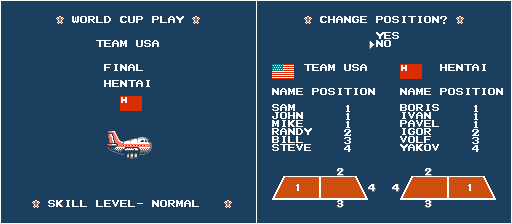 In the final round, I was expecting to go to Russia (just like in the original Super Dodge Ball game). Instead, I was apparently flying to a mystical land known as "Hentai". Oddly enough, the names of the Hentai team players all sounded very Russian. Boris, Ivan, Yakov... very suspicious.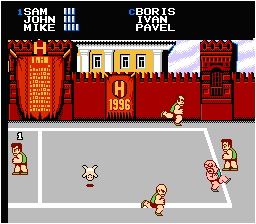 And the level itself looked very much like the Russian board from the original game. Fortunately, there was no actual hentai to be found anywhere on this board, but I decided it would be best to not stick around just in case some decided to show up. I already had to deal with Wilford... I don't think I could handle being attacked by a 50-armed penis monster or something. Anyway, killing off these Russian, er, Hentain players was probably the nicest thing I could do for them. By killing them, Wilford would never be able to rule their lives.


May their oatless souls rest in peace.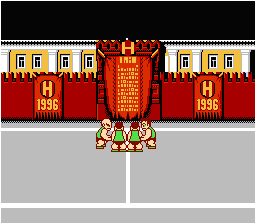 My brainwashed teammates congratulated me on our victory as they tossed me in the air, but I couldn't help but think that in their own minds, they were throwing me up in the air as an offering to their god... a great Wilford up in the sky. A scary thought indeed. Well, at least now the game was over and all I had to do was make it through the credits.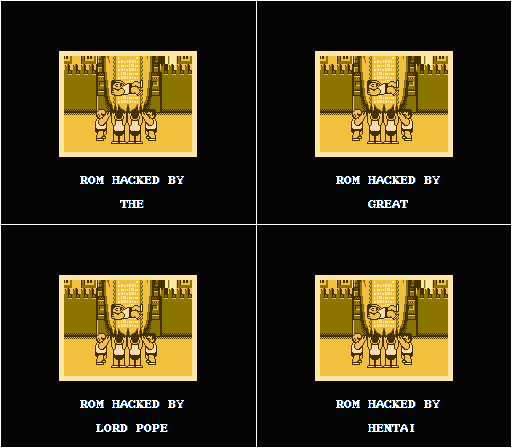 Apparently, "The Great Lord Pope Hentai" couldn't figure out a way to put his full name on one screen, so he broke it up into 4 parts. Yep, I had to sit through 4 screens of credits just to get through his goddamned name!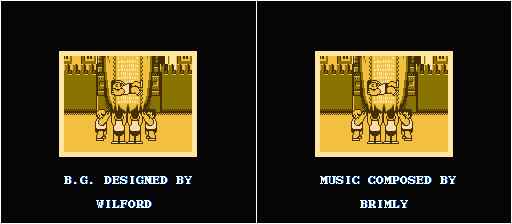 And there we have it. All the proof you need that Wilford Brimley was working behind the scenes in the creation of this game. I had no idea he was a composer though. And notice the misspelling of his last name? I'm guessing that explains why we haven't heard from Pope Hentai in a while. Wilford probably killed him off for such a blasphemous error. But there's more...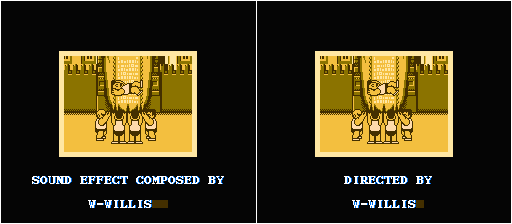 Wesley Willis!? You mean that crazy lyrical schizophrenic helped out with this game? That explains a lot. Actually, if Wesley saw how this game turned out, I'm sure he'd be rolling over in his grave. Or at the very least, he'd pop out for a minute to say, "Suck a Cheetah's Dick!" Good ol' Wesley... he always did have a way with words.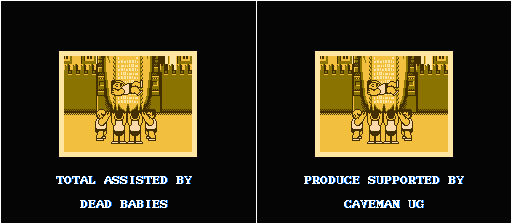 Ah yes, where would this game be without the assistance of dead babies. Wait, they were dead? I thought they were alive - hence the smiles on their faces. And what's this about produce? I don't recall seeing any vegetables in this game... though my mind feels like one after playing it and I wouldn't mind hurling some rotten ones at the creator of this hack.
All of that was mind-shattering enough, but the final credits screen really sealed the deal: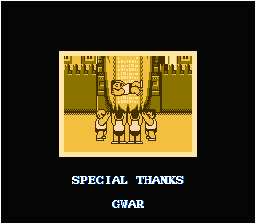 So GWAR inspired this hack? And they say heavy metal music isn't a bad influence on people...
---
*** You too can play Baby Dodge BAll! ***
[CLICK HERE TO DOWNLOAD THE BABY DODGE BALL ROM FOR THE NES!]
[CLICK HERE TO DOWNLOAD THE NES EMULATOR]
---
Come talk about Rom Hacks & more on our Message Forums!