Protoclown's 2007 Movie Awards
by: Protoclown
I don't give a tinker's damn, a tin shit, a rat's ass, or a baker's fuck about the annual Academy Awards where a bunch of assholes determine which of the artsy-fartsy mainstream films released in whatever year are the best. I'm totally down with the idea of giving credit where it's due, however, so I've decided to issue my own Awards, which are no doubt more meaningful than the Oscars.
By the time you read this, the Oscars will have already happened, but as I write this, they have not, so you can think of this article as a "time capsule" from the past, sharing with you the quaint and obsolete way we used to think about things just a few days ago.
Obviously since I am only one person I can only do films that a) I have seen, b) I have been made aware of, or c) know nothing about but feel like spouting off about them anyway. Just remember that I studied film in college so my word is law (LAW!) and we should get along just fine.
Sorry Rambo fans, but this list only includes movies that came out in 2007. Maybe next year.
Without further ado, here are my picks for various categories that I just made up:
Best Moustache:
The nominees are:
-Andy Samberg, Hot Rod
-Daniel Day Lewis, There Will Be Blood
And the winner is: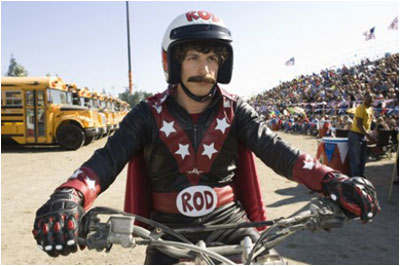 Andy Samberg, Hot Rod
Sorry Daniel Day-Lewis, your manly man's man moustache put on a damned fine performance in There Will Be Blood, but I'm afraid it just can't compete with the cheesy, slightly crooked, and obviously fake moustache worn by Andy Samberg in Hot Rod. I mean, it looks like a giant, hairy caterpillar climbed onto his face and decided to take up residence there. How can you beat that? Answer: You can't, that's how.
Most Horrific Abomination Committed to Film
The nominees are:
-Alvin and the Chipmunks
-Delta Farce
-Underdog
-Norbit
And the winner is: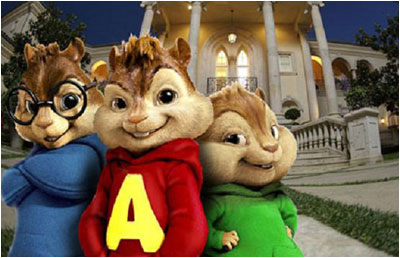 Alvin and the Chipmunks
Picking from among these crimes against life, death, and the undead realm between was no easy task. The fact that I am still alive and not in jail should clue you in to the fact that I've never seen any of these, nor do I plan to. But as I have been unfortunate enough to sit through the trailers of all of these, I feel as if I've seen them all. And while they are all certainly cringe-worthy, Alvin and the Chipmunks is perhaps the cringiest of all, with its laughably bad CGI and hip-hopped versions of the titular characters. Eddie Murphy hasn't done anything worthwhile in well over a decade, Larry the Cable Guy is perhaps the worst example of a human being since Adolf Hitler, but Jason Lee is in two, count 'em, two of these movies. I don't care about My Name Is Earl, but I really want to like you, Jason Lee. Why do you make career choices that make me sad?
Best Western
The nominees are:
-The Assassination of Jesse James by the Coward Robert Ford
-3:10 To Yuma
And the winner is: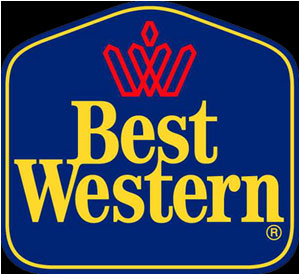 Best Western
Best Western International is the world's largest hotel brand with over 4,200 hotels in 80 countries. Their uniqueness is found in each hotel's charm and local appeal while maintaining a commitment to quality, service and value.
Worst Raping of a Classic Franchise
The nominees are:
-Transformers
-Halloween 2007
-Aliens Vs. Predator: Requiem
-Resident Evil: Extinction
And the winner is: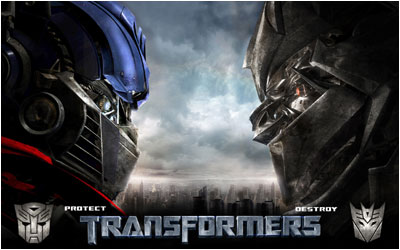 Transformers
Okay, I know I've made no secret of my hatred for this movie, and there's nothing I can really say here that I haven't said before, so let's talk about the fact that Michael Bay has announced that he's writing the inevitable sequel. My god, not only are they letting it get behind the camera again, but they're giving it crayons and letting it smash them against paper in the hope that something resembling words might come out. I like to think about that little fact when I get curious to remember what the taste of my own bile is like.
Best Sequel
The nominees are:
-Live Free or Die Hard
-Bourne Ultimatum
-Pirates of the Caribbean 3: At World's End
-Ocean's 13
And the winner is: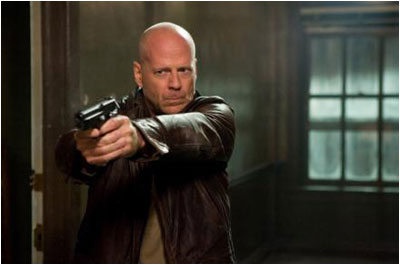 Live Free or Die Hard
Holy shit, this was an enjoyable movie! If you had told me a year ago that a PG-13 Die Hard would be one of the best in the series, you obviously would have been a time traveler from the future, because there's no way in hell anyone could have predicted that shit. This movie is so ridiculously over the top, but in an extremely enjoyable way, that I walked out of the movie with a huge smile on my face. Even that annoying Apple commercials kid couldn't drag this one down.
Comic Book Movie That Made Me Feel Sort Of Embarrassed About Reading Comics
The nominees are:
-Fantastic Four: Rise of the Silver Surfer
-Ghost Rider
-Spider Man 3
And the winner is: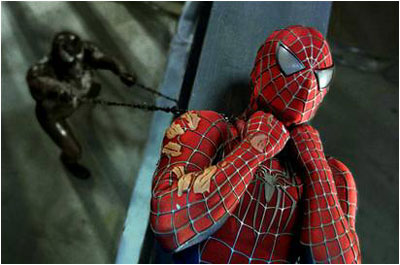 Spider-Man 3
Honestly, all three of these movies are bad, and I think that Spider-Man 3 just barely edges out in quality over the other two. Why then did I pick that one for this award? Well, Ghost Rider was bad in a ridiculously cheesy, fun kind of way, and it had Sam Elliott in it, which automatically gives it some points. Nobody expected Fantastic Four: Rise of the Silver Surfer to be any good in the first place, and though it sucked, its worst crime was being insanely boring. Spider-Man 3 should have and could have been good. It had Sam Raimi behind it, it had all the cast from the first two returning, and it was riding high off of Spider-Man 2, one of the best comic movies ever made. There's just no excuse for this movie sucking as bad as it did. You see that picture up there? That's how I felt when I was in the theater watching this movie.
Best Movie That No One Saw
The nominees are:
-Grindhouse
-Hot Rod
-Black Snake Moan
And the winner is: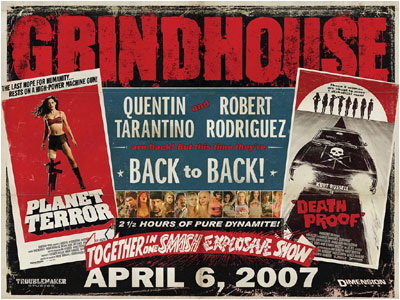 Grindhouse
All three of these movies were great, but Grindhouse should have been a fucking blockbuster. What the fuck happened? I remember on opening night trying to get a group of friends to see this movie, and we only managed to gather a group about half the size of our usual. Nobody seemed interested, which puzzled and confused me, but I shrugged it off, because maybe everyone simply had other plans. We ordered our tickets early, prepared for the certainty of sold out shows and lines wrapping around the theater, only to walk right into the movie and find almost nothing inside but crickets and tumbleweeds. The movie also happened to be probably THE most enjoyable movie I saw all year. Not only that, but there were two films for the price of one, and the second one was even BETTER (albeit slower) than the first! I raved about this movie afterward to anyone and everyone who would listen, and STILL no one went to go see it, opting to wait for DVD, not understanding that a movie like this HAS to be experienced on the big screen. I was honestly angry that so few people showed interest in something so awesome. And now the DVDs are out, but they ruined the experience by splitting the movies apart and taking away the fake trailers because it performed so badly in the theaters. So hey, thanks a lot, assholes.
Stupidest Title
The nominees are:
-Mr. Magorium's Wonder Emporium
-I Want Someone To Eat Cheese With
And the winner is: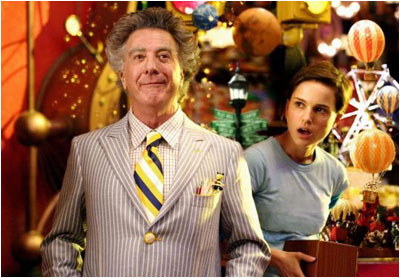 Mr. Magorium's Wonder Emporium
This award is simply based on the name, not the quality of the movie, though it certainly looks like a piece of shit on top of the godawful title. Were Dustin Hoffman and Natalie Portman desperate for rent money that month? Or maybe they had serious drug habits to support? Perhaps we'll never know why they chose to be in this movie, but the title is so obviously contrived to sound cute, when all it's succeeded in doing is ensuring that anyone actually named Mr. Magorium is going to be on the receiving end of a never-ending supply of gut punches from random strangers for the rest of his life.
Worst Sequel That Absolutely No One Was Looking Forward To
The nominees are:
-Hostel: Part II
-Daddy Day Camp
-The Hills Have Eyes 2
-Saw IV
And the winner is:

Hostel: Part II
I've not seen any of these movies, and I don't plan to. But I've seen the first installments of all except Daddy Day Camp (and the first two Saw movies), so this is based on the continuation of quality that came before. Hostel was so fucking weak it made sick. While everyone else was getting nauseated by "intense" scenes that cut away from showing you anything truly grisly, I was getting sick by how sick everyone else in the theater was getting. The only thing that could have even come close to redeeming this piece of shit is if all the annoying fuckhead characters had died, but no, quite possibly the most annoying fuckhead of all survived the whole movie. I'm not the least bit interested in the sequel, but the only thing that could even begin to make it worthwhile is if that character from the first movie dies a horrible death, preferably in the first five minutes.
Most Offensively Stupid Ending
The nominees are:
-The Number 23
And the winner is: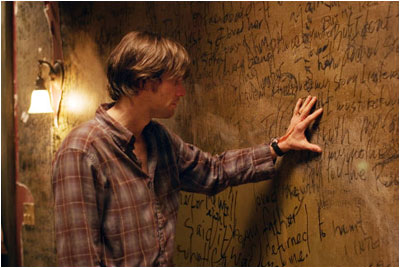 The Number 23
I know, considering the extensive list of nominees, you're shocked by this choice. I actually liked this movie right up until the end, where it decided to get completely retarded and insult my intelligence. Jim Carrey did a bang-up job playing a convincing thriller/noir role, and I really enjoyed his performance. Unfortunately things all fell apart at the end when the big surprise ending to this "mystery" was all based on information that was deliberately kept from the audience but absolutely would NOT have been kept from Jim Carrey's character. I'm being vague to avoid spoilers (though the whole movie is a "spoiler" anyway, if you ask me), but there is just no WAY this revelation would not have come up EARLY ON during his search for information. The end result is a horribly contrived and stupid mess, and from what I hear they actually filmed several completely different endings for this movie, which just goes to show that they had no idea what the hell they wanted to do in the first place. They should have gone with one of the other ones, but this it's no surprise they fucked it up considering that Joel Schumacher was behind the wheel of this vehicle.
Best Action Hero
The nominees are:
-John McClane, Live Free or Die Hard
-Jason Bourne, The Bourne Ultimatum
-Alice, Resident Evil: Extinction
And the winner is: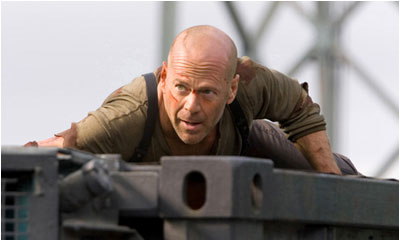 John McClane, Live Free or Die Hard
Sorry Jason, Alice, but John McClane kicks your asses. I was kind of surprised that Bruce still had it in him at his age, but he clearly does. Some of the stuff in this movie in terms of the crazy shit that John McClane manages to pull off is his best yet. Clearly Mr. McClane is still not a man with whom to fuck. Ho ho ho.
Biggest Band of Idiots in a Survival Horror Film
The nominees are:
-Resident Evil: Extinction
-Aliens Vs. Predator: Requiem
And the winner is: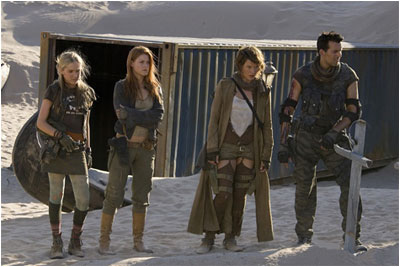 Resident Evil: Extinction
As moronic as the survivors in AvP2 may have been, they were at least new to the game. The idiot band of survivors in Resident Evil: Extinction did not have that excuse, however, and deserved to die horrible deaths for being so incredibly cretinous. If these people survived as long as they did and didn't even think to check each other for zombie bites and cuts after an attack (because it's inevitable in a zombie movie that someone just bitten will keep their condition a secret and put the whole group in danger), then it's obvious that they managed to live so long on simple luck and certainly NOT any intelligence or cunning. Also, they seemed surprised to see flocks of zombie birds that they should have encountered previously and decided the best defense against them was to run around with their arms in the air and shoot them with pistols. But worst of all, these idiots decided it would be a smart idea to equip their school bus with spikes and run over zombies, spraying infected blood all over and into the bus. Way to go, guys.
Well, that's it for my 2007 awards. If there's anything you don't agree with, sound off in the comments below and tell me why. Also, if there's a category you'd like to see if I do a follow-up piece next year, let me know, and I may just include it (largely depending on what kinds of movies come out this year, of course).
Questions or Comments about this piece?
Protoclown