Protoclown's 2008 Movie Awards
by: Protoclown
It's that Oscary time of the year again, where the movies from 2008 get the "recognition" they "deserve". But why waste your time watching the Oscars when you could read my far superior movie awards list? Obviously since I myself am not an academy or a committee or even an unruly street gang, I can only speak from my own personal experience. If I haven't seen it, it can't make my list, unless I feel like talking at length about something I know nothing about (which I do often). But you should know that I'm always right anyway, so my word can be trusted implicitly (that previous statement is the only thing I've ever been wrong about).
Like last year's awards, the Oscars will have already taken place by the time you read this, but I write this on Sunday afternoon, before the winners are announced. So if there are any "coincidences" in our choices, you should know that they hacked into my computer, looked at my notes, and obviously copied me. They can expect a lawsuit shortly.
I've made no secret of the fact that The Dark Knight was by far my favorite film of 2008, so I'm going to try very hard not to award it in the few positive categories I do.
Here are this year's categories:
Worst Raping of a Classic Franchise
The nominees are:
Indiana Jones and the Kingdom of the Crystal Skull
Speed Racer
The X-Files: I Want To Believe
And the winner is:

Indiana Jones and the Kingdom of the Crystal Skull
Like anyone's surprised. Anyone who hadn't given up on X-Files when Mulder left probably has an unhealthy obsession with Gillian Anderson, and Speed Racer was never any good anyway--I just included it so I'd have more than two choices here. But Indiana Jones was so insanely good back in the day. Having grown up with the original three movies, the characters are near and dear to me, and witnessing the brutal rape of one of my childhood heroes was almost more than I could take. At first I came out of the theater thinking "Okay, it wasn't as good as the others, but it wasn't that bad", but that was just the initial numbness and disbelief. After that wore off, all I could think of was Indy in the fridge, and "Mutt" brachiating with the monkeys. The wailing and gnashing of teeth that went along with seeing this movie was of fucking Biblical proportions.
Holy Shit This Movie is Brutal Award
The nominees are:
The Dark Knight
Gran Torino
Rambo
Beverly Hills Chihuahua
And the winner is: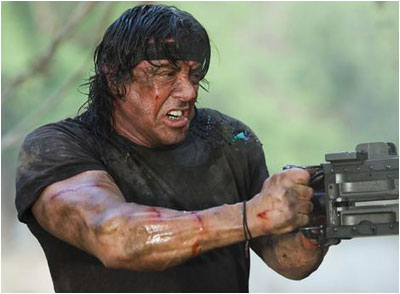 Rambo
There is just no contest. Seeing this movie is like a punch to the balls from Edward Scissorhands' older brother Mickey Chainsawhands (and if you are a lady he sews the balls on first and then punches them). There isn't really much of a plot to speak of: Pretty girl's organization is in trouble. Rambo wants nothing to do with it. Pretty girl gets in trouble. Rambo says "fuck it" and starts killing everybody. And that's pretty much the movie. But the over-the-top violence is insanely intense, and the computer generated effects enhance the gore without coming across as overly cartoony. When people talk about "brutal orgies of violence" this is pretty much exactly what they are talking about.
Most Horrific Abomination Committed to Film
The nominees are:
In the Name of the King: A Dungeon Siege Tale
Witless Protection
The Love Guru
Beverly Hills Chihuahua
Twilight
The Spirit

And the winner is: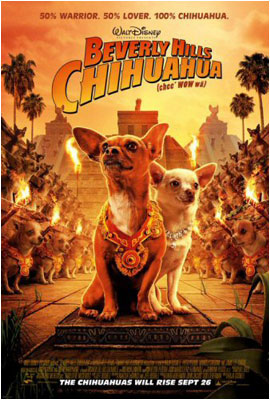 Beverly Hills Chihuahua
Ugh, so many nominees this year worthy of this award. This is always a difficult category to judge because I tend to avoid these movies, and this year I have only seen one of them. And while The Spirit was marginally more traumatic than the invasion of Normandy, there was one two-minute trailer that scarred me more than that 90-minute movie could ever hope to. Note to filmmakers everywhere: having CGI-assisted talking animals in a live-action movie has never, ever been remotely funny or charming. Please stop. Every time you make one of these movies a suicide bomber gets his wings.
Best Sequel Other Than Dark Knight, Because Honestly, Let's Give Something Else a Chance
The nominees are:
Hellboy II: The Golden Army
The Incredible Hulk
Rambo

And the winner is: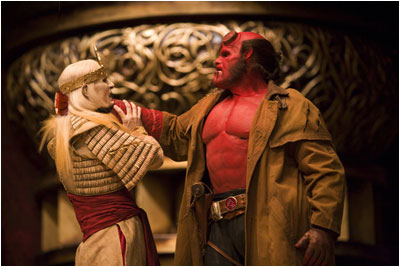 Hellboy II: The Golden Army
While I feel that the other two movies greatly improved upon the previous entry in their respective franchises and Hellboy II did not outdo the first one (at least in terms of plot), it was an immensely enjoyable, visually beautiful movie. Few people make movies this imaginative anymore, so seeing Del Toro's (and Mike Mignola's) vision brought to life took me back to my childhood, where anything could happen and monsters really did exist.
Best Villain
The nominees are:
The Joker, The Dark Knight
Dick Cheney, W.
Obadiah Stane, Iron Man
George Lucas, Indiana Jones and the Kingdom of the Crystal Skull

And the winner is: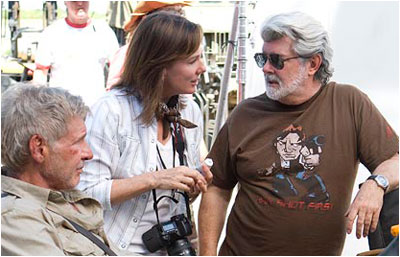 George Lucas

You totally thought I was going to say the Joker, didn't you? But all of the twisted tortures he had lined up for Batman pale in comparison to the ones that George Lucas had in store for us when we went to see the new Indiana Jones film. Spielberg is not without his blame either, being the director and all, but I firmly believe that 99% of the stupid ideas in this movie came from Lucas. He was after all unsatisfied with the previous drafts of the script, and forced rewrite after rewrite (the one by Frank Darabont was almost certainly fantastic) until this pile of shit was what we ended up with. When you try too hard to please everyone, you usually end up pleasing no one. Fucking aliens! In an Indiana Jones movie! It's absolutely unthinkable. And to add insult to injury, ol' George walked around wearing a "Han Shot First" t-shirt on the set, just as a big "fuck you!" to all the fans of the classic Star Wars films.
Sequel That Absolutely No One
Was Looking Forward To
The nominees are:
The X-Files: I Want To Believe
The Mummy: Tomb of the Dragon Emperor

And the winner is: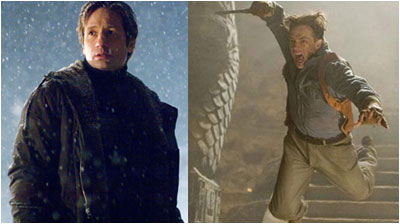 It's a tie! X-Files and The Mummy!

Did anyone honestly give enough of a shit to go see either of these movies? I know I didn't. They may be decent, or they may be absolute crap. I've not heard good things about either, but having not seen them, I can't say for myself! And that's really the whole point. These franchises were well past their prime and found themselves going up against much more interesting franchises that people are actually still interested in.
Stupidest Title
The nominees are:
Bangkok Dangerous
Quantum of Solace
Indiana Jones and the Kingdom of the Crystal Skull
The Sisterhood of the Traveling Pants 2
Beer For My Horses

And the winner is: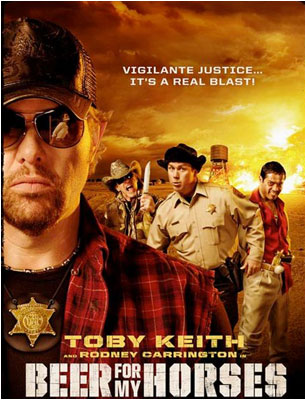 Beer For My Horses
I don't really know anything about this movie beyond the fact that I have no interest in it, the title is retarded, and the movie poster makes it look incredibly craptastic. But as this category judges the title only, I think I'm qualified to call this the winner just having seen the poster alone. "Beer For My Horses"? Are you fucking serious? I can't even think of a situation where that title may have some relevance in the movie itself. And you know, I don't really want to.
Biggest Disappointment
The nominees are:
Be Kind Rewind
The Happening
Wanted
Hancock
RocknRolla

And the winner is: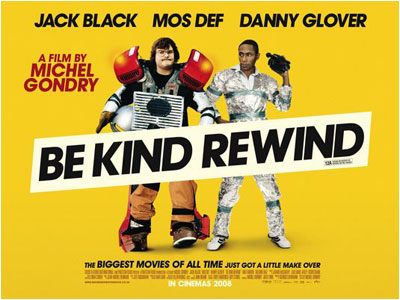 Be Kind Rewind
Being a big fan of Jack Black, Mos Def, and Michel Gondry, I really, really wanted to like this movie. But unfortunately it was a great big dud. After Eternal Sunshine of the Spotless Mind, I was expecting all kinds of inventive, bizarre visuals, especially considering the premise of this film. But unfortunately everything from the performances to the set pieces fell flat and didn't really interest me. Jack Black and Mos Def are usually quite fun to watch, but neither one of them seemed to really be much into this one. There was so much potential behind the premise of this film, but unfortunately almost all of it ended up completely wasted. It's not even that the movie was bad--it just didn't come close to what I was hoping it would be.
Dumbest Plot Twist
The nominees are:
The Happening
Hancock

And the winner is:

The Happening
For a movie called The Happening, there really isn't very much that happens in this movie. Shyamalan tries to buck convention by throwing his usual completely formulaic, contrived plot twist into the very beginning of the movie--the trees and plants are attacking humanity and trying to kill us all! What an incredibly stupid idea for a story. They have about as much palpable menace for the audience as one might expect: none at all. I kept waiting for another twist to come at the end--Aliens Were Behind it All! Or Jesus Was Really a Plant! Something, anything to explain this madness away and at least make it not quite suck so much. But alas, it was not to be.
Best Movie That No One Saw
The nominees are:
Burn After Reading
4 Months, 3 Weeks, and 2 Days

And the winner is: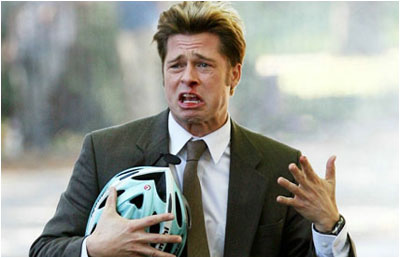 Burn After Reading
What seems to frequently happen to the Coen brothers is that they will make one movie that's a hit with mainstream audiences, is universally acclaimed and widely seen--and then right after that they will make a movie that is every bit as good if not better that only manages to achieve a small cult following, while being largely ignored by the general public. This time around Burn After Reading was that film. This movie featured the Coens' usual amusingly convoluted plot, hilarious performances by all the actors, a really clever script, and yet it seems that most people have never even heard of it. If you haven't seen this film but have enjoyed the Coens' other comedies, you should definitely check this one out.
Best Movie I Had No Interest In, But Got
Dragged Along To and Enjoyed Anyway
The nominees are:
The Chronicles of Narnia: Prince Caspian
WALL-E
Kung Fu Panda
And the winner is: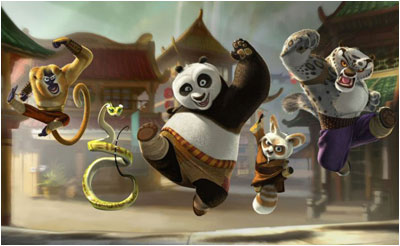 Kung Fu Panda
Since I don't have kids, a lot of "family friendly" movies either don't interest me off the bat or just don't come across my radar. So I'm glad that a friend of mine made me sit and watch Kung Fu Panda, because it was a highly amusing and enjoyable film. The computer animation is just beautiful, and as far as animated movies go, most people preferred WALL-E but I will say that I found this to be the superior film. The entire movie is worth sitting through just for the turtle character alone, who is absolutely hilarious, and not in that "the kids will just love him because he's so goofy" kind of way that annoys me about most of these animated films.
Most Awesome Title
The nominees are:
The Midnight Meat Train
Bangkok Dangerous

And the winner is: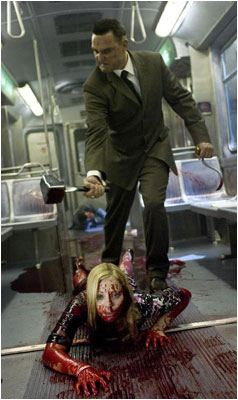 The Midnight Meat Train
I have to admit I've not seen this movie yet, but this is the most amazingly awesome title in the entire history of film. I dare you to even try refuting that claim. Go ahead, make a fool of yourself. The fact that they managed to give this movie a name that just screams "gay hardcore porno" and then somehow get it into American movie theaters is an incredible feat that will go down in the history of cinema as one of the best. If you doubt the awesomeness of this title, the next time you're at a social gathering and find yourself talking to people who probably aren't the biggest horror movie buffs, just casually bring up the title of this film and mention how much you enjoyed it. Then just wait and see for the looks of surprise, disgust, fear, awe, embarrassment and shame you receive in return.
And this concludes my movie awards for 2008. Agree? Disagree? Want to suggest a new category for next year? Sound off in the comments below and let me know!
Questions or Comments about this piece?
Protoclown