Juicy Juice. I drink more of this stuff than anything. The Berry flavored kind is easily one of the tastiest drinks on the market and it's even good for you. Being a guy who has a reputation for eating weird blue food products and testing out every spin-off of the EZ Bake Oven, it's nice to have something healthy in my life. Well anyway, I go through like 15-20 bottles of this stuff a month, and late last year I noticed they were having a special "Arthur Storybook Spectacular" promotion going on.
Each bottle of juice contained a special promotion code that you would collect and then enter in on their "special" web site. After you collected 12 codes, you would be qualified to have your very own personalized Arthur storybook! 12 codes? That's all? Hah, I collected enough within a week! Of course, they STILL charge you for shipping and handling of the book even though your body weight is now 99% juice. Regardless, I was willing to pay the 2 bucks for a chance at having an amusing personalized Arthur book.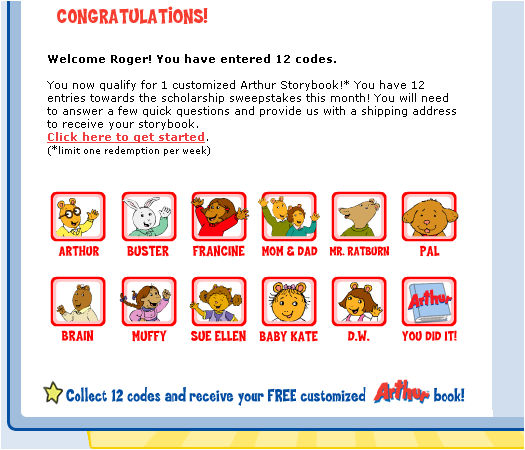 So I get to the web site and start entering in the codes. Now mind you, I actually had to drink more than 12 bottles because the geniuses behind this promotion would actually sometimes put the label glue ON the codes, so when you peeled off the label to find your code, it would get torn apart and become completely illegible. Again, since I drink a ton of this stuff, I had more than enough codes to work with.
Once I was done entering in the codes, I had to start entering in random information that would apparently show up in the book. Now rather than just have only my real information in there, I decided to throw in a few extra names.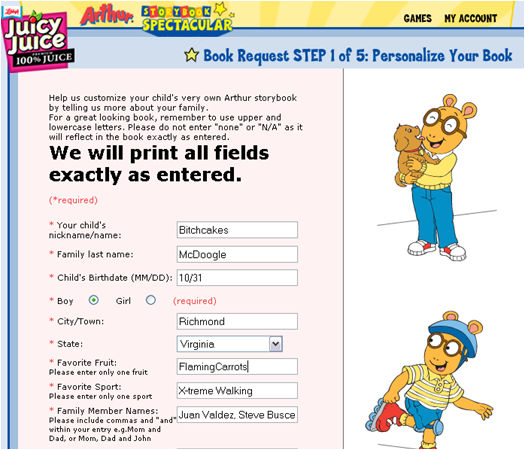 I originally entered "Bitchcakes McDoogle" as my child's name, but I got a letter in the mail about 4 weeks later basically stating that I was in violation of their principles. Hey, what if that really was the name of somebody's kid, huh!? I was hoping they didn't even monitor was text was entered into the form fields, but this wasn't the case...
Oh well. At least they sent me some coupons for free Juicy Juice bottles and refunded the shipping and handling. Still, I wanted my damned book. So I went back to the site to re-enter my info and decided to change the child's name to "Serpento McCobra" instead...
Sure enough, this time the book was accepted. About 6 weeks later, much to my amusement, the personalized Arthur book had arrived at my door. And now you too can enjoy my personalized book and try to spot the text of mine that was added in!
CLICK HERE TO READ THE STORY BOOK!
And remember kids... "Good food is food that's good for you."
Go figure.