As the demographic of I-Mockery.com ages, there are bound to be changes in both readership and content. Gone will be the salad days of yore when you could gambol about freely reading article on 80's video games, 'hating' on various 'scenes' and trying to find out what the hell 'salad days' are. You may already be finding more serious matters taking up the time you once spent working on a keen ride for the pine box derby, trying to find a date for the Junior Formal and buttonholing the old man for a hand out and the car keys. Why, by the time you read this, buttonholing old men may be illegal in most states!

Take a moment and look to your left. That sweet little girl next door it seems like you were goin' steady with just last week sure has swelled up into some unholy mood swing piņata! Whoa there sport! Don't blindfold yourself and beat her senseless with a stick just yet! She's no fatso, and that ain't candy in there! The little lady is going to have a baby, and chances are it's yours!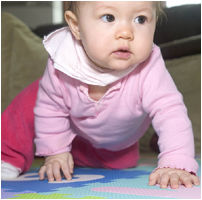 This is a baby. You are in some serious trouble.
(Important note to women reading this article: You reading this note is the closest emotional contact I have ever had with any woman apart from my wife. I think I may love you. DO NOT TELL HER SHE GETS MAD! If there are no women reading this article, please disregard.)

I guess it's too late to tell you that when a Mommy and Daddy love each other very much, some pretty terrible things can happen, one of which is children. That horse has already left the station and there's no use closing the barn door either, because you burned that door when you got married without protection. You have no one to blame but yourself, but don't worry! In less than nine months you'll have someone to blame for the rest of your life and for much of that time they won't be able to take you in a fight!

But you can't blame somebody if they don't have a name! Don't you wish you'd thought of that before you got yours? Now the pressure is on. How to decide? There are literally SEVEN HUNDRED AND SIXTEEN NAMES OUT THERE! How do you pick the one that will grate on your nerves the least once you've said it several million times, usually in conjunction with phrases like "Your finger doesn't go there", "That's not what God made the cat for!" and "Must you set everything on fire?"

Luckily for you, I'm here! No, not your computer, me, ME the actual living human being who created this content! I'm a real person with real feelings and emotions and needs, but that's not what you came here for is it? No, all you want are the damn BABY NAMES! Which is good, because if you were looking for duck hunting tips, you'd be in the wrong article.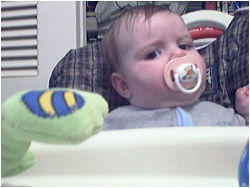 This baby got named 'Dave'. Know what he has in common
with all the other babies named Dave? He hates his parents.
THE MOST POPULAREST BABY NAMES FOR 2007
Nothing rankles worse than thinking you picked out a unique name for your baby and then finding out half the kids in the day care answer to the same moniker! Here are this years most popularest names so you can avoid them.
Boy Baby Names:
Jacob
Ethan
Joshua
Rankle
Ryan
Tyler
Dylan

Girl Baby Names
Ashley
Emma
Hannah
Ashley
Moniker
Ashley
Ashley

Hermaphroditic Baby Names
Cletus
WaCHA!
Mofungo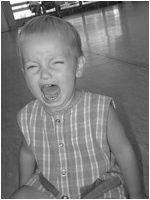 Quick! Think of a name for this baby! Got one? Great! Seventeen million
people just named their baby the same thing. No wonder she's crying.
But wait, you say! So I avoid last year's most popularest names and then end up giving the offspring some name that turns out to be one of THIS years most popularest! Lucky for you, Modern computer science makes predictamacation far more easier namewise than it was back when your parents named you and all your siblings 'Pete'. Here's what researchers tell us will be...
THE MOST POPULAREST BABY NAMES FOR 2008
Boy Baby Names
Mr. Stu
Hyperdrive
T'Challah
Slam Baxter
The Five Fingers of Death
WaCHA!
Jacob

Girl Baby Names
Hannah
Dakota
Ashley
The Clencher
Ashley
Ashley
Friggin' Ashley

Dangerous Mutant Baby Names
OH MY CHRIST IT HAS CLAWS
Ashley.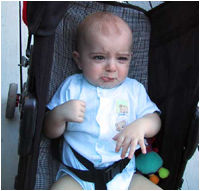 Caption: This Babies parents named her Sarah, a nice middle of the road utility name that will doom her to a life of sheepish insignificance
A WARNING TO PARENTS WHO THINK
THEY'RE CLEVER!
In recent years there has been a growing tendency amongst Hippies, Celebrities and the Negro Community to think they can avoid the perils of baby naming by making up new names. While amusing to parents, someday 'Apple' Paltrow is going to fill a pillowcase with cans of Fanta and beat her mother to death with it. 'Suri' Cruise will do much the same thing, but not because of her name which is really the least of her worries. In addition, the people most likely to think saddling a baby with a unique name is a good idea are the same people who are most likely to come up with a unique name being chosen at the exact same moment by dozens of other idiot parents just like them. So, in closing, I give you a list of seemingly unique baby names you should STAY THE HELL AWAY FROM because people are going to use them.

Boy Baby Names
New Mexico
Spork
Any name with a number where a letter should be
Ham Salad
I-pod
Slate
Chinese Pete

Girl Baby Names
Anything in text message shorthand
Shanikwah
Elishaun
Vermillion
Lusterware
Cauliflower
Ashley

Androgynous Baby Names
Seven
Axe
Rotatoe
Sky Puppy
Universal Joint
@
Ashley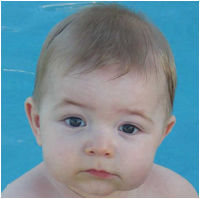 This baby is named Lester. He wants you to go the hell away.
Questions or Comments about this piece?
email Max Burbank
---
Want to experience some more animal fun facts?
Then check out:
---