Big League Chew: Now & Then!
by: -RoG-
When it comes to bubblegum, we've all got our preferences. For some, it's packs of tiny size Chiclets or comic-wrapped pieces of Bazooka. For others it's yards o' Bubble-Tape. For me, however, it really doesn't get much better than good ol' Big League Chew. It doesn't limit you like most gum does where you have to unwrap piece by unsatisfying piece. Nope, with Big League Chew you can STUFF YOUR FACE. In fact, that should have been their slogan. Sure, that "you're in the big league" song was great 'n all, but imagine a song where all they kept repeating the phrase "STUFF YOUR FACE!" Here, I'll write the lyrics, and one of you can record a song:
BOTTOM O' THE 9TH
GOTTA MAKE IT TO HOME BASE
ONLY WAY TO GET THERE IS TO
STUFF YOUR FACE!

HEADIN' FOR THE END ZONE
GOTTA MAKE IT THERE WITH GRACE
ONLY WAY TO SHOW IT IS TO
STUFF YOUR FACE!

RUNNIN' ROUND THAT TRACK
GOTTA WIN THIS RACE
ONLY WAY TO DO IT IS TO
STUFF YOUR FACE!

TEARIN' THROUGH THAT MARATHON
GOTTA FINISH IN FIRST PLACE
ONLY WAY TO SPANK IT IS TO
STUFF YOUR FACE!

STUFF YOUR FACE!
STUFF YOUR FACE!
YEAH YOU HEARD ME!
YOU UGLY SONOFABITCH!
STUFF IT! STUFF IT GOOD!
STUFF IT UP!
STUFF IT DOWN!
STUFF YOUR FACE!
That right there is poetry my friends. I expect the song on my desk by morning. Now back to Big League Chew. It was an amazing idea... getting kids to stuff their faces with as much gum as they desired while at the same time being subconsciously programmed to eat chewing tobacco when they got older. But let's take a look at just how they sucked a helpless kid into their world of tasty pseudo-tobacco. Believe it or not, I was able to score an unopened pack of Big League Chew... FROM 1981!!!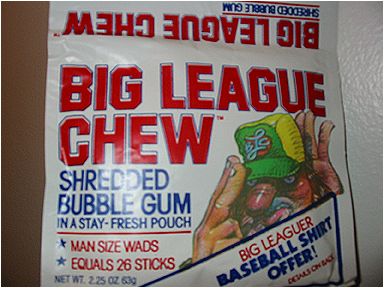 Feast your eyes on that beauty. FEAST! This is what growing up in the 80's was all about. I can't think of another decade in which one of the most popular candy products was a package of gum with a homeless maniac on it. I mean look at the guy for crissakes. That's no ordinary baseball player my friends... that's a dirty homeless guy who just happened to find a nice lookin' hat. Furthermore, that is without a doubt the most unintentionally phallic cartoon nose in the history of man. Oh but there's more...

That's right, we're not talking about regular size wads of gum here people... we're talking about MAN SIZE WADS! Even if you absolutely despise bubblegum, you'd be a fool not to support a company with the balls to put MAN SIZE WADS on their product packages. Ok, now I think there should be a bridge in my song in which some guttural-voiced mofo says "STUFF YOUR FACE WITH MAN SIZE WADS!" while someone else plays a wicked banjo and/or jaw harp solo. So yeah, when you record the song with my amazing lyrics, be sure you add that part in.
The back of the pouch almost always had some more wicked artwork on it along with some kind of cool offer. I'd love to get in touch with the artist who made all the Big League Chew drawings so I could maybe put all of them on display for you guys to see, but I was unable to find out who the artist was. Maybe he choked to death on a man size wad and the Big League Chew people covered it up by practically erasing every trace of him from this earth.
Now, plenty of people are surprised upon finding out that they actually still make Big League Chew. Well, they do still make it, but sadly, it's gone through some crappy changes to stay hip with the times.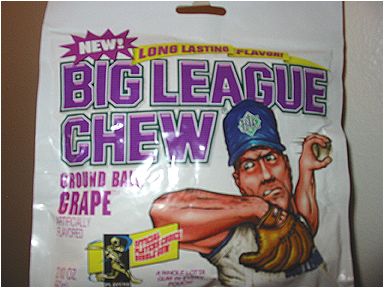 Notice anything different? Yep, no more crazy penis-nosed homeless maniacs on the pouch. While that's hard enough to comprehend, I can't imagine how they could possibly remove one of the greatest slogans of all time. "Man Size Wads" is no longer part of Big League Chew's claim to fame. So what do we have on the cover instead? A crappy catch phrase that's barely noticeable: "A whole lotta gum in every pouch!" Pfft. Doesn't even begin to compare to Man Size Wads!
And to insult us even more, they're gradually giving us less gum and hoping we won't notice. Well I noticed damnit.
1981 Package NET WT. = 2.25 OZ (63g)
2004 Package NET WT. = 2.10 OZ (60g)
There's your man sized wad of proof right there, pal. The packages aren't even smaller, they're just giving you less gum. I WANT MY THREE GRAMS BACK!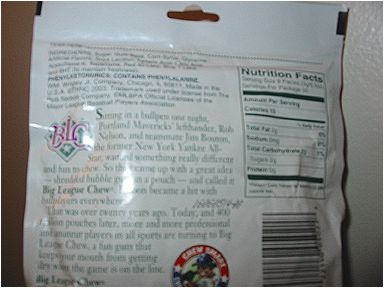 The back of the package isn't any better either. Instead of more cool artwork, we get the history of Big League Chew. Look, I used to buy Big League Chew to eat man sized wads while looking at crazy cartoon drawings, not to read up on the history of the gum and all the ingredients. They take up a ridiculous amount of space on the back of the pouch for the Nutrition Facts and ingredients. Yep, that's much better than cool drawings and a free t-shirt offer. Bastards.
With all of this in mind, I would like to start a movement. A movement to get them to change the packages back to the original 80s style. We want our crazy penis-nosed homeless guys on the packages! We want our man size wads on the packages! We want our extra .15 ounces of gum in the packages!So all of you, take two whole minutes out of your time and contact Wrigley. Let them know you won't stand for this huge kick in the nuts to a mighty gum of the 80s!
Moving right along, it's time to tear open these bad boys and see what wonders lurk inside. So here we go... bubble gum evil, sealed in a big league tomb for over 20 years, and now we shall set it free to wreak havoc upon all mankind!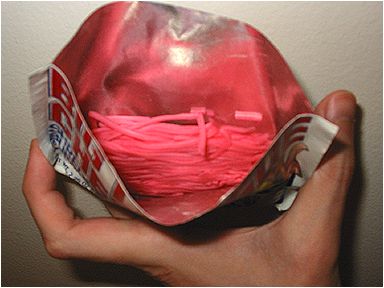 I have to say I'm impressed. The gum has held up fairly well considering it's been over 20 years. And while I didn't unleash some hideous gum creature upon all mankind, I did unleash an insanely strong smell of bubblegum upon my apartment. I swear this place is gonna smell like Big League Chew for the next 3 months. Not that that's a bad thing, hell, they should probably make Big League Chew air fresheners. Sure beats the hell outta those pine-scent trees.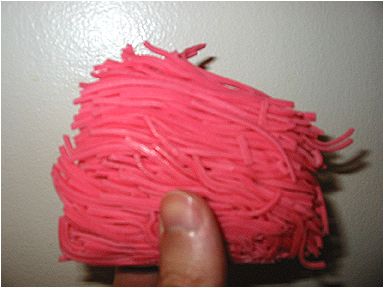 And there you have it... A REAL MAN SIZE WAD! While the color is still bright pink as ever, the gum is definitely somewhat brittle. Still, it's been 20 years... you'd think the stuff would snap like back of Balki Bartokomous in a wrestling match against Hulk Hogan. But no, the gum is just a little brittle. Is it edible? Hmm, I'll have to think about that for a bit.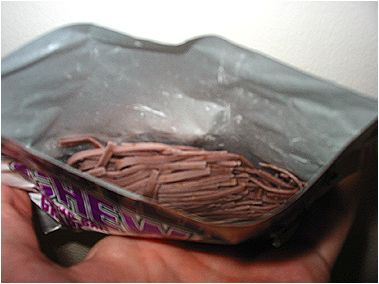 Well it's good to see that while the packages of Big League Chew have changed, the gum itself is still the same. But the smell of this newer package just can't compare to the scent domination of the old 80s package. The smell had been brewing in that old package for over 20 years. Sorry new gum, you just didn't stand a chance in the smell category. The inside of the newer package is less shiny too. Damnit, we all like shiny things. SHINY!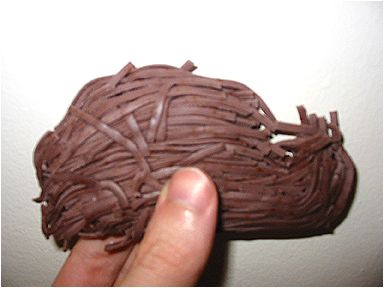 It was a little difficult getting the gum out of the new package because it was stuck to the sides in some places. Maybe it wouldn't be like that if the inside of the package had been shinier. While it doesn't look nearly as impressive to me as the original 80's bright pink man size wad of Big League Chew, it does bear a striking resemblance to the old Volkswagen Bugs.

Mmmmm... Volkswagen never looked so tasty.
So there you have it, two generations of Big League Chew, together at long last. I thought they would get along great, but I guess it's kinda like when you try to bring a new kitten into the family when you already have an old cat who's been with you for 10 years. The old cat really just doesn't like the new cat at all, no matter how friendly it tries to be. The same is true for Big League Chew.
Yep, that really happened. I didn't even know bubblegum could bleed, did you? By the way... you know that 20-year-old man size wad of Big League Chew?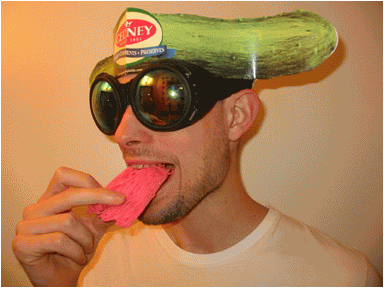 It may bring back a lot of memories, but I do not recommend eating it.

BIG LEAGUE CHEW SONG SUBMISSIONS!


Awesome. Some people have already sent in versions of my "Stuff your Face" song.
If you can record a version of it, I'll post it here for everyone to enjoy!
Hobo Renee's "Stuff Your Face" mp3
Hawaiian Mage's "Stuff Your Face" mp3
And for another trip down memory lane, here's the original Big League Chew commercial!
Have any questions or comments about this piece?
SHARE YOUR THOUGHTS IN THE READER COMMENTS SECTION BELOW!