A Special Moment With Bob, The Christmas Lobster
by: Max Burbank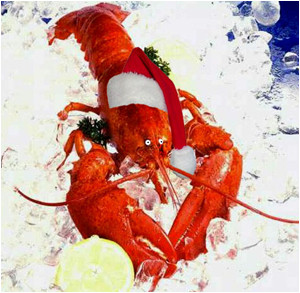 Well HELLO there, landlubbers! MEEEEEEEH-REE CHRISTMAS! And a pleasant Chanukah to all our Jewish fiends though it's December 18th and that's already over with, what with it comin' early an' all this year! It's ME, yer old pal BOB, THE CHRISTMAS LOBSTER, SANTA'S FAVORITE LOBSTER, come ta' fill ya up with salty ol' oceanic themed Yuletide merriment! JOY TO THE WORLD! PEACE ON EARTH, GOOD WILL TOWARD MEN! GOD REST YE MERRY GENTLEMEN!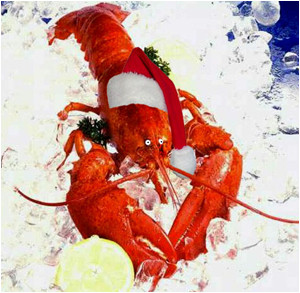 That's right, it's ME! ME! BOB! SANTA'S #1 LOBSTER! Have you all been good little boys and girls? I hope so! I sure do hope so, because the man in the big red suit is watchin' you! He knows! He knows who's been naughty and who's been nice! He knows it all! He knows what you done!... MEEEEEH-REE CHRISTMAS!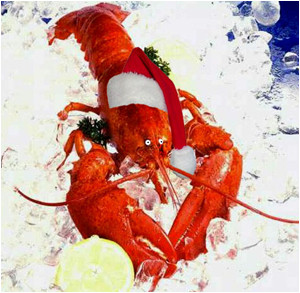 What's that? You've never HEARD the tale of Bob Lobster, the Christmas lobster? The most famous lobster of all? Well, now, we almost didn't HAVE a Christmas that year, Christmas almost got itself CANCELED that year is what all! And it would have to if not for a certain lobster! Sit down, sit down, it's a magical Christmas tale, full of wonder and... and magic and... and music! Christmas music! Let's all sing a Christmas song!
"Bob, Bob the Lobster
Was a Holly, Jolly, soul;
And the children know
That he filter feeds
And two eyes made out a' coal!
Bobby the Snowman...
C'MON, SING!!
Was a happy... happy... Snow...
Lobster... and he liked to drink
And he liked to smoke
And he... he..."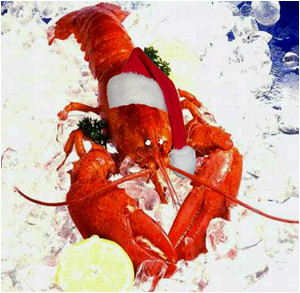 Okay, now, the fact of the matter is I'm not so much Santa's favorite lobster as I am the only lobster he knows. I assume. Talking lobsters being rare. I've met him. If he saw me he might not know me, but that's on account of most lobsters looking generally the same to human beings, if that's what Santa is, but if you ASKED him "Santa, do you know any Lobsters?", he would almost certainly say "Bob". If he recollected at all. Which you think he would, I mean you'd remember if you met a talking lobster, but Santa has an unusual life if you see what I mean, so I might have slipped of his radar, so to speak.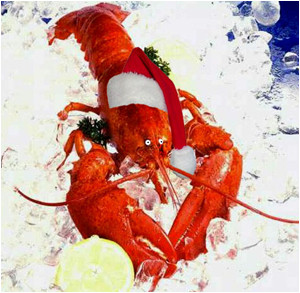 I suppose it's a bit presumptuous to call myself "The Christmas Lobster" what with my acquaintance with Santa being as I've admitted slight, but, uh... I uh... I am red. And there's no arguing with that. So MEEEEEEEH-REE CHRISTMAS! MEEEEEEEH-REE CHRISTMAS! MEEEEEEEH-REE CHRISTMAS!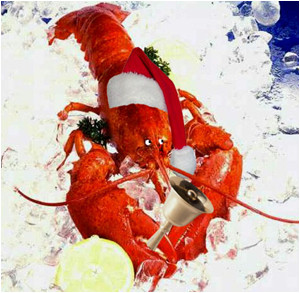 LOOK! LOOK! I'M RINGIN' ONE A' THEM HAND BELLS! A CHRISTMAS BELL! I'M RINGIN'... I'm ringin'... Ya ever seen that before? A Lobster? Ringin' a, a, a Christmas bell? I'M A CHRISTMAS LOBSTER!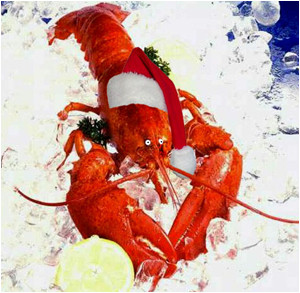 All right, now, see, the thing of it is, I'm a little short on cash. And I wouldn't even mention it if it wasn't for the holidays, you know, and my children, see, I don't want my children wakin' up on Christmas mornin' with no presents under the tree on account a' their dad bein' outa work n' all. I mean it shames me to ask, it does, look how low I sunk, metaphorically, as bein' a bottom feeder I've already sunk as low as I can without burrowing.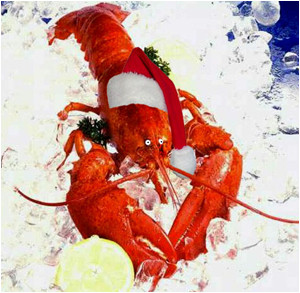 That was a lie. I don't need money for my children. I mean, I do have children, I suppose I do, millions probably, tiny little things, but I'm not really involved with 'em. You know, the wife, uh... the wife... you know, to be frank I don't honestly know where she was when she ejected the last twenty to thirty thousand of me kiddies into the sea, any more than she knows where the sea carried 'em. That's how it is with us.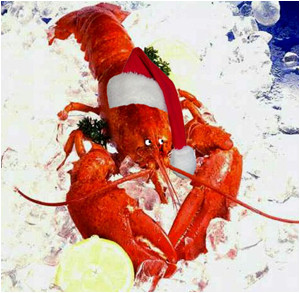 No, no, so I don't need the money for my kids, the truth is I'm late on my rent, and uh, you know, my landlord... No, no, my SEAlord, right, my SEAlord...
Look, I DID meet Santa. We DID have an adventure together, a magic Christmas adventure... I mean, you know, not like Rudolph. Or, or, or Topper, that penguin he hung with back in the day. I'm just one of the many, many talking animals Santa has befriended over the years, and if he had some ocean related concerns, you know, like a, a mermaid had forgotten the true meaning of Christmas, he send... he'd send... well, he'd send Squirmo is who he'd send, that's a talking dolphin Santa knows, she's a, part elf... not really a nice story, actually... But if Squirmo was busy, or sick, or, you know, stuck in a gill net... well, I suppose Santa would have to call me... if he thought of it... unless he knows... a seal or something.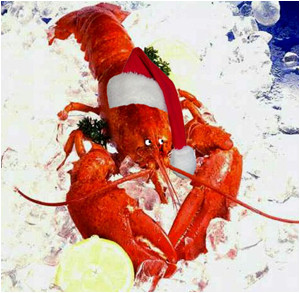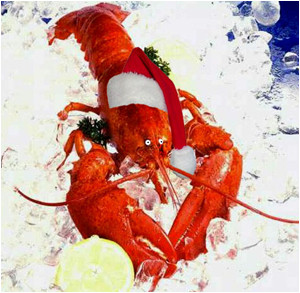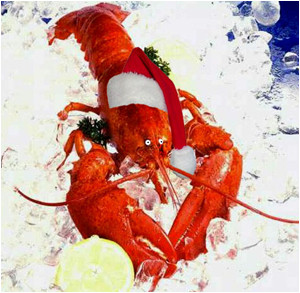 Okay I need the money for drugs. Bob Lobster is a smack addict. That's right, I'm riding the white horse. Are you happy?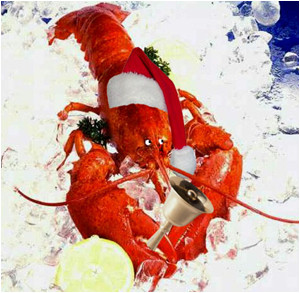 MEEEEEEEH-REE CHRISTMAS! MEEEEEEEH-REE CHRISTMAS! YOU THINK YOU'RE BETTER THAN ME? DO YOU?! MEEEEEEEH-REE GOD DAMN CHRISTMAS, YOU, YOU SONS OF BITCHES IS WHAT YOU ARE! UP ON YOUR... Up on your high horse...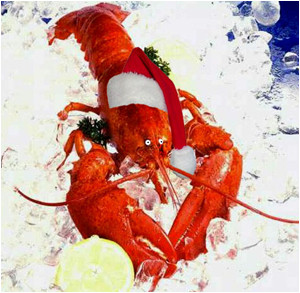 Of course you think you're better than me. Who wouldn't think they were better than a junky lobster? God forgive you if you don't think you're better than me.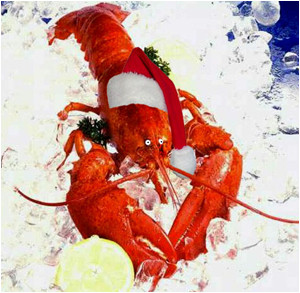 Listen, I'm sorry. I'm sorry. I interrupted your holidays. I did. I brought you down. Look, forget it, okay, forget about me, I'm not important. You go on. You've got shopping to do. Seriously. I don't even know what I'm getting all upset about, because in all likelihood in about a half an hour I'm going to be boiled alive and served with melted butter, which is FINE with me because I've had just about enough of TRYING TO GET A NEEDLE UNDER ME SHELL! IT'S NOT EASY! IT IS NOT EASY TO BE A JUNKY LOBSTER! NEIL YOUNG NEVER WROTE ANY SONGS ABOUT ME, THANK YOU VERY MUCH!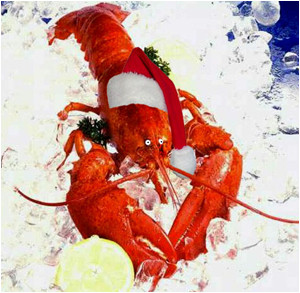 No, I'm just yanking your chain, I'm not a junky. I was just messing with you. Jesus. Junky lobster. Like that's even possible. Does Santa give presents to people as dumb as you? Seriously.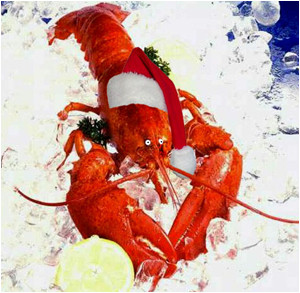 Anyway, have a good Christmas, right? I mean it, seriously. One day of the year, right? To not feel like crap? Whatever. Listen, listen, listen, though, only if you see Santa? Will you tell him? Tell him I said "hey"? Just... just... tell him "Merry Christmas" for me, okay?... If you see him.
Like you're gonna. A person like you. You are SO on the naughty list. OH WHAT ARE YOU GONNA DO, BOIL ME ALIVE AND EAT ME!? SURPRISE ENDING!! SURPRISE ENDING ALERT!! LOBSTER DIES BOILED ALIVE AND EATEN!! EVERYBODY SHOCKED BY UNEXPECTED TWIST!!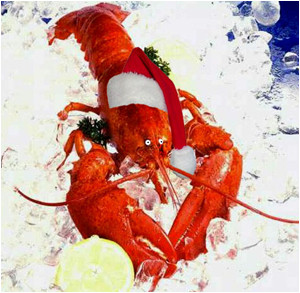 Yeah, that's right, you go. Merry Christmas, jerk. Thanks for nothin'. Don't mind me. Don't give me another thought. I'm just gonna lay here on this ice next to this lemon. HEY, IF YOU SEE SANTA, TELL HIM CHRISTMAS IS ABOUT JESUS! J-E-S-U-S, NOT SANTA! OKAY? OKAY?! It's not Santasmas. Guy's gotta get some perspective. Big swollen head is what. Must be hard as hell to get down the chimney.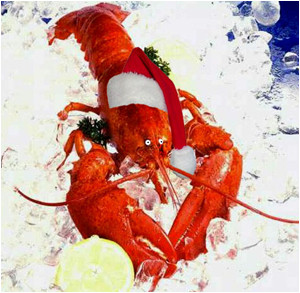 Okay, I'm done. Show's over, clown. Goodnight.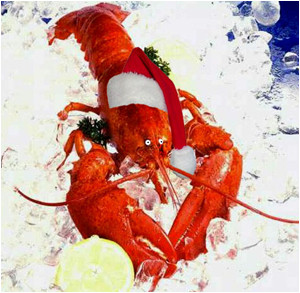 Merry Christmas.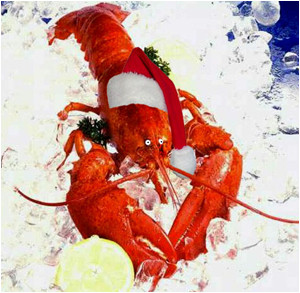 Sack of crap bastard.
Questions or Comments about this piece?
email Max Burbank