Not too long ago I was taking a stroll down the breakfast aisle in my grocery store when I was shocked to discover a mutation of a classic. No, they hadn't changed Boo Berry on me; they changed that nice old lady, Mrs. Butterworth.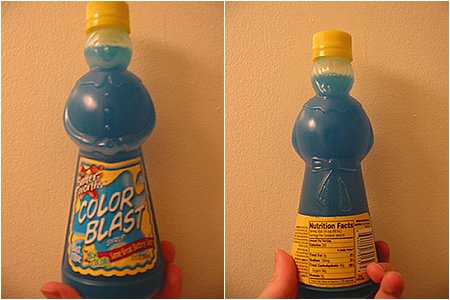 EGADS! SHE'S BLUE!
Yep, it would appear that she has gone the way of kids ice cream, yogurt, fish sticks, french fries, and ketchup by becoming blue. Mrs. Butterworth's "Color Blast" syrup has arrived. Now I'm all for blue food products as you probably already know, but what was the reasoning behind this? I can understand them changing the color of foods that might be hard to get kids to try, but I've never met a kid who didn't like maple syrup. It practically tastes like liquid sugar to me. Still, someone saw the means to make the stuff blue in an attempt to attract more kids and... me. :(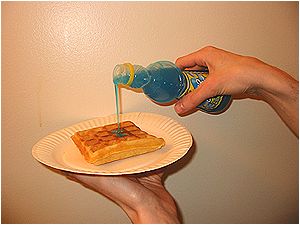 So I dared to dream a dreamer's dream and made myself a Belgian waffle. But this was no ordinary Belgian waffle. It was a Belgian waffle that was going where no Belgian waffle had gone before. It was going to be covered in blue syrup. I have to say, I was quite amazed as to just how bright blue the syrup was. It's practically neon. But would this potentially-radioactive syrup pass the ol' taste test?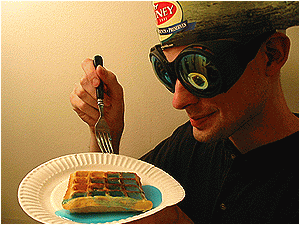 Believe it or not, yes. It may look different, but it tastes just as "buttery" as regular Mrs. Butterworth's syrup. I'm sure I have cancer now as a result of eating it, but hey... it's a small price to pay for the novelty of blue syrup, right?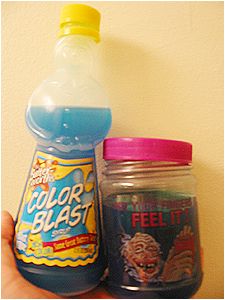 I also recalled my jug of Oozeified Body Parts from last Halloween and how blue that stuff was. So a comparison of the two was obviously in order to see who would be the reigning champion of sticky bright blue substances...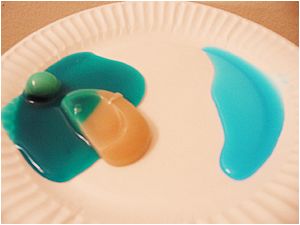 Damn, that Mrs. Butterworth knows how to put up a good fight. The contest wasn't even close. Even if I gave the Oozeified Body Parts bonus points for having an ear and an eyeball, it still couldn't beat that bright neon blue syrup. Not by a longshot. Color me blue... and impressed.
---
And now without further adieu, we have a very special guest who wishes to talk about another use for Mrs. Butterworth's Blue Color Blast syrup!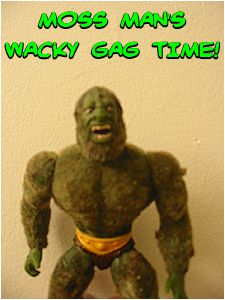 Moss Man: "Hello kids! Today I'm here to share with you one of my favorite gags to play on someone. Well, not just anyone. The gag only really works if you happen to know a squid who likes to eat Belgian waffles that are covered in blue syrup. But the way I figure it, everybody has at least one friend like that.. who just happens to be a squid. So make a Belgian waffle with Mrs. Butterworth's blue syrup and feed it to your squid pal."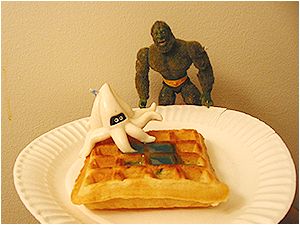 Moss Man: "That's right little fella, slurp up that blue stuff as if it was an easy one-way trip to the ultimate cephalopod climax! Feeeeeeed on the tasty blue syruuuuuuup! I'm gonna go run to the post office while you're eating. Enjoy!"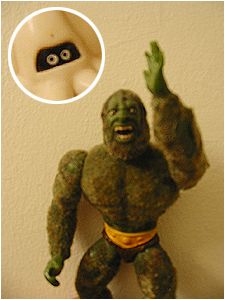 Moss Man: "Ok folks, now here's where the gag comes into play. While your squid pal is dining away on the blue waffle, he thinks you've left to run out to the post office. But you haven't! You're hiding out nearby, just waiting for him to finish his blue meal! And once he's done... that's when it's time to strike!"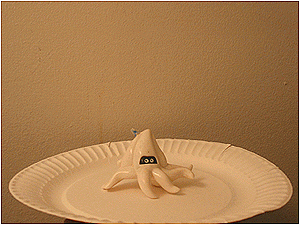 Moss Man: "Ahahahahah! He was so scared, he shot out neon blue ink!"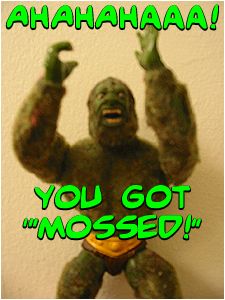 Moss Man: "Fuck Ashton, I deserve my own show... bitches."
---
Want some background info on Moss Man?
CLICK HERE!