A Handful Of Treats For The 2013 Christmas Holiday Season!
by: -RoG-
While the holidays are known for being jam-packed with delicious edibles, not all of us have the time to prepare some fine home-cooked snacks to enjoy. Fortunately, there are plenty of companies out there doing their best to fill that void with festive treats that are worth checking into. While it's been a busy December for me, I've been collecting a variety of new Christmas treats so I could report back to you with a proper taste test.
Now, I already covered Sugar Cookie Flavor Pebbles Cereal earlier in the month, so if you missed out on that, be sure to check it out in the blog, because it's probably the most festive food packaging you'll see. Also, the cereal smells amazing. I'm also happy to report that Peppermint Crunch Junior Mints are still making the rounds, and I've devoured far too many of them this season. That said, there are still other fascinating holiday treats to test out, so let's begin with my first find: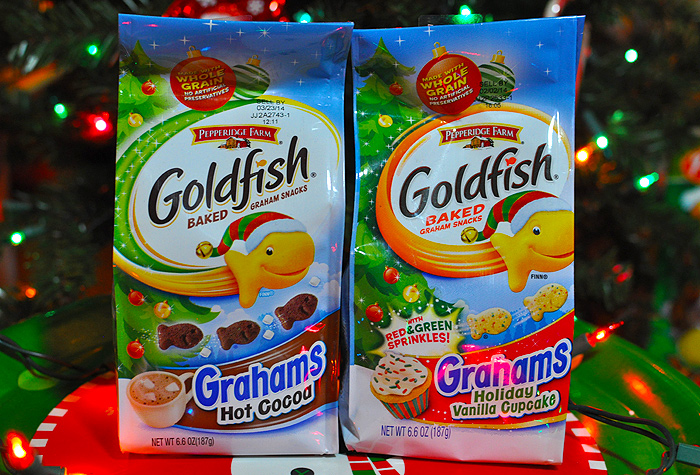 Hot Cocoa and Holiday Vanilla Cupcake Goldfish Grahams
I love that Pepperidge Farm has transformed their Goldfish crackers into Christmas holiday treats. I'm already a big fan of their Ginger Man cookies, especially when they add festive holiday sugar crystals to them come December each year, so I see no reason why all their products (including Goldfish) shouldn't get the same treatment. And just look at the packaging on these... a magical goldfish wearing an elf hat with a jingle bell on it (who I just learned is named "Finn"), flying through right past a Christmas tree. If that kind of imagery doesn't get you in the holiday spirit, I'm not sure anything will.
The two flavors are "Hot Cocoa" and "Holiday Vanilla Cupcake" grahams. Alright, let's be honest here... they're just sticking the word "holiday" on the cupcake ones in order to sell more bags. I don't know anybody who really considers cupcakes to be a part of traditional Christmas holiday treats. You'd think they'd go with something like "holiday sugar cookies" instead. I'm not sure why they didn't add "holiday" to the hot cocoa flavor text, since that flavor is much more in line with the winter season. Maybe they realized it'd be redundant, like calling candy corn "Halloween candy corn".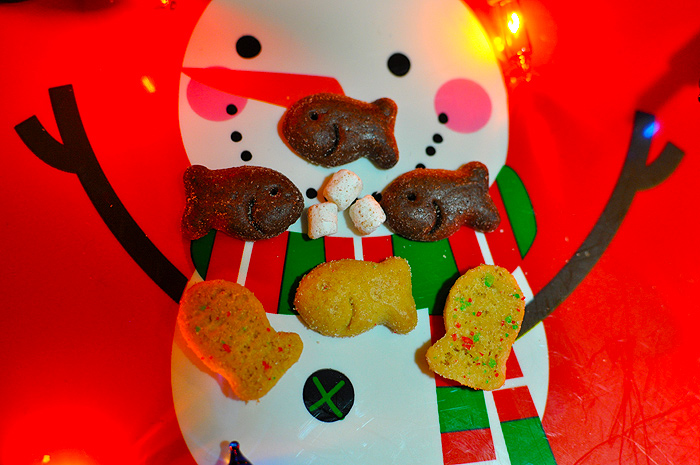 So when I first saw the Hot Cocoa Goldfish, I figured, "Yeah, they're called Hot Cocoa, but it'll just be like regular chocolate flavored cookies." I was wrong. Upon opening the bag, I was delighted to discover that it not only contained the chocolate goldfish, but it was also filled with the same kind of tiny marshmallows you'd find in your average Swiss Miss cocoa mix packet. These just went from good to great. I'm really surprised they don't promote anywhere on the packaging the fact that the marshmallows are included. That's a HUGE selling point if you ask me. Sure, they show marshmallows on the front, but I barely noticed them at first and figured it was just their way of making the package look nicer. The chocolate actually reminds me of the hot cocoa powder too, so combine that with the marshmallows and you have a major winner right here.
As you can see, the Holiday Vanilla Cupcake Goldfish are loaded with red and green sprinkles... well they're more like speckles, but it's an aesthetic that's certainly appreciated either way. Having tasted them, Pepperidge Farm honestly could've called these things whatever they wanted, because it's not like they remind me of vanilla cupcakes. What they really taste like are Animal Crackers more than anything. Don't get me wrong, I like 'em a whole lot, but after the Hot Cocoa flavor, I was hoping for something that tasted like genuine cupcakes.
All in all, you really can't go wrong with either flavor here. Dump one of each bag into a bowl and you'll have yourself one awesome treat to munch on throughout December. Here's hoping Pepperidge Farm continues to test out new holiday Goldfish grahams flavors next year.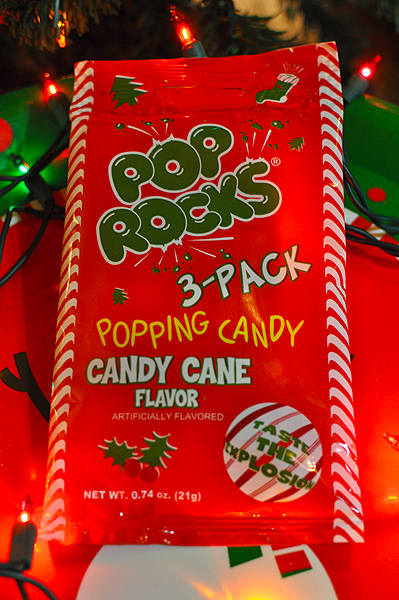 Candy Cane Pop Rocks Popping Candy
Candy Cane Pop Rocks have been out for years now, but this is my first time actually trying them. I guess the allure of a stocking stuffer 3-pack proved too hard to resist. Well that and the "Taste the Explosion" tagline. The packaging itself is simple enough as always, but they still spruced it up with candy stripe borders, mistletoe, a stocking, and some small Christmas trees being jettisoned off into space due to the explosion of the Pop Rocks logo.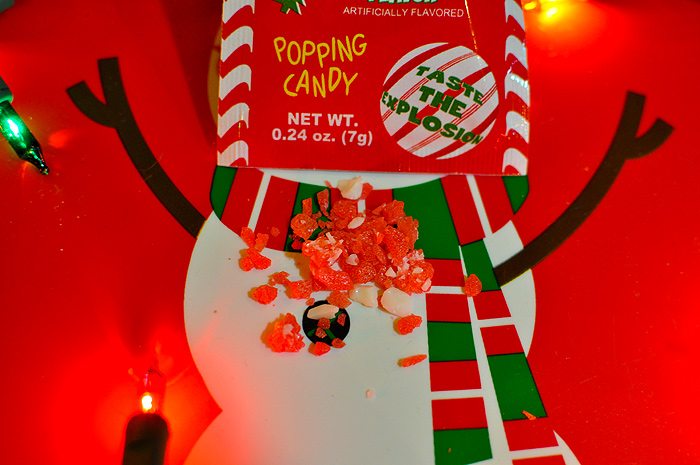 It's nice that they gave these the two-tone color treatment to simulate the classic red and white candy cane visuals. It certainly does look like a candy cane exploded into a hundred merry little shards. Now as much as I love the sensation of Pop Rocks popping in my mouth (oh the magic of carbon dioxide!), and as much as I enjoy the flavor of peppermint, it's just not working with these at all. For whatever reason, the closest thing I can equate the flavor to is some lousy cough syrup. It still feels cool when the candy pops in your mouth 'n all, but a good peppermint flavor sadly this is not. I'd strongly suggest sticking with one of the more traditional Pop Rocks varieties.

Twix Gingerbread Cookie Bars
Now this was an unexpected addition to this year's round-up of Christmas treats. Twix is one of those perfect candies that you don't need to mess with, but I do love gingerbread cookies, so I had to give these a try. The packaging isn't much to write home about since they just slapped the same gingerbread man design on there twice. I'm guessing these would be a bigger seller if they had added in some more holiday visuals or changed the color of the bag, because I almost walked right past them thinking they were regular Twix.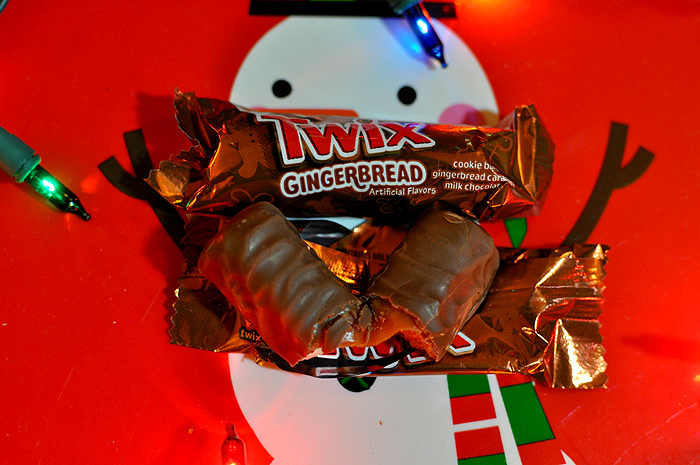 Upon tasting them for the first time, what surprised me is that it wasn't the cookie part of the Twix bars that they changed the flavor of... it was the caramel!? Yep, they actually changed the flavor of the caramel to give it a gingerbread flavoring. So how is it? Well, it's not bad per se, but it definitely tastes more bitter. As a result, it just makes me wish I had a regular Twix cookie bar to eat instead. It's a good effort on their part, but why they didn't change the cookie to be gingerbread instead of the caramel, will forever be a mystery to me. Maybe they'll try that next year instead. I sure hope so, because it seems like an idea that really could work.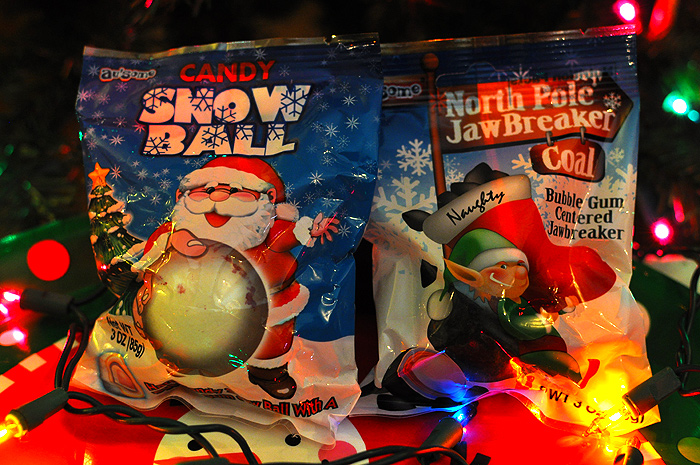 Au'some North Pole Candy Snowball & Coal Jawbreakers
I've reviewed a variety of Au'some brand products for my annual Halloween Candy Guide over the years, but I believe this is my first time trying any of their Christmas candies. They've just released these big jawbreaker candies; one made to look like a snowball, the other like a lump of coal. The packaging is nice and cheerful, and I particularly like how the celophane window on the snowball makes it look like Santa is holding a huge snowball in his freakishly large hand. Sure, they're trying to trick our eyes with perspective by making his hand look like it's in the foreground, but we know the truth... Santa has a giant mutant hand.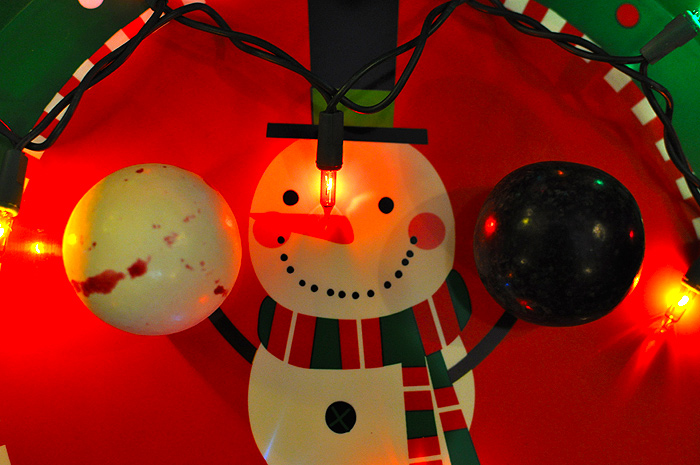 I didn't think these would have any real scent at all, but each jawbreaker has a very strong, distinct smell. The snow ball smells incredibly sweet, and if I had my eyes closed, I'd swear it came from a pack of Wonka SweeTarts candies. The coal smells a lot more like bubble gum, so it's less of a shock to the sinuses. As far as the taste goes, neither has a particularly strong flavor, as jawbreakers are more of a test of willpower rather than something you eat because they're delicious. If I'm lucky, I'll finish these by Christmas 2014, but for now, all I can tell you is that there is a bubble gum reward in the center of each one. Considering how long it takes to polish one of these off, there should probably be gold in the middle, but at least they're giving you something to look forward to after all that licking work. Whether you choose the naughty coal or the nice snowball - which may not be so nice after all, since it appears to have blood stains splattered all over it - I'm sure you'll enjoy these if you're already fan of jawbreaker candies.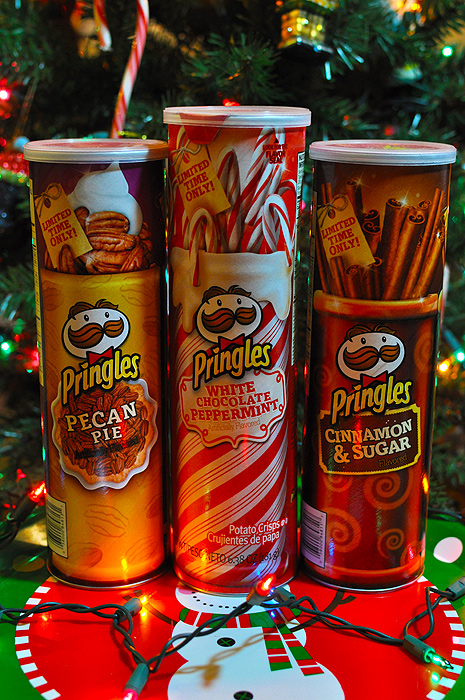 Pringles Limited Edition Pecan Pie, Cinnamon & Sugar, and
White Chocolate Peppermint Potato Chips
Since we sadly no longer have the incredible Jones Soda Holiday Packs being produced anymore, who is going to bring us new curiosities to digest every December? Well, it seems that Pringles is getting into the "so-weird-you-have-to-try-it" food arena, because the past two seasons have brought us some bizarre chip flavors, and I have three of them here today. They definitely haven't slacked off when it comes to the packaging on these, giving each flavor its own unique design. They even have the pecans, candy canes, and cinnamon sticks sparkling in the holiday lights, with "Limited Time Only!" gift tags on them as if to suggest they're presents. Presents for your mouth. Well let's just see about that...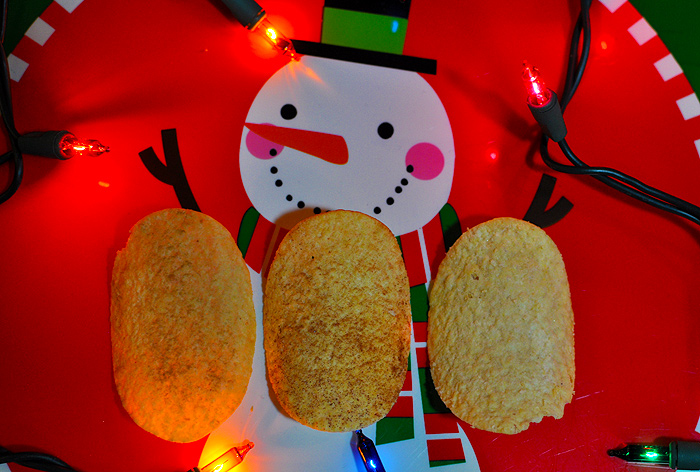 First off, we have the new Pecan Pie flavor. Allow me to preface this by saying I've never been a huge fan of pecans, so the idea of pecan pie flavored potato chips isn't exactly the most appealing thing to me. Then again, I love cashews, but I'm still not sure that I'd want to eat them in potato chip form. That said, these chips aren't half bad, and I dare say if you're a fan of pecans, these will be right up your alley. They taste exactly like pecans and they blend with the potato chips nicely.
Next up, there's the Cinnamon & Sugar flavor, and this is the one I was most interested in. The good news is, these chips don't disappoint. The sweet sugar works really well with the Pringles, and I'm sure I'll finish off the entire can before the holidays are over. As you can see, they also have the most flavor dusting on them... or it's simply the easiest to see. The cinnamon is very subtle in these though, as you'll probably only really notice the sugar on them.
Lastly, there's the dreaded White Chocolate Peppermint flavor from the 2012 Christmas season that was reported to be incredibly bad. I didn't get my hands on them in time for the holidays last year, but I did procure a can that didn't expire before Christmas of 2013, so you're getting the taste test now instead. Call it morbid curiosity, but I just had to try a potato chip that was flavored like white chocolate and peppermints. Snack chips just don't get much stranger than that (though the Lays "Chicken & Waffle" potato chips certainly were unconventional as well).
And you know what? They're just not as insanely bad as some places were reporting. Sure, the White Chocolate Peppermint artificial flavoring isn't incredibly appetizing, and they do leave a bit of a bad aftertaste in your mouth, but these chips simply aren't that awful. Maybe it's because I've had smoked salmon paté flavored soda in the past, so when I hear people say something tastes awful, I take it with a grain of salt, because I'm quite sure they've never downed any of that noxious liquid that still haunts my dreams to this day. Now while you won't find this variety in stores any longer, Pringles apparently didn't give up on this variety entirely despite all the bad reviews last year. Instead of trashing the idea completely, they removed the peppermint flavoring from the mix so you can now get some White Chocolate Pringles this year. I haven't found them in stores yet, but they're supposedly an improvement on the ones from last year.
All three flavors are worth trying not just because you can say you did, but because there's really nothing else like them out there. So if you're curious about these as I was, track 'em down and pop open a can (or three) and lemme know what you think of the flavors. Out of the three, the Cinnamon & Sugar flavor easily wins my vote as the best of the flavors.
That wraps it up for my 2013 Christmas holiday treats taste testing. Have you tried any of these products yet, or are there others I should be made aware of? Drop a comment below and lemme know-ho-ho.
Have any questions or comments about this piece?
SHARE YOUR THOUGHTS IN THE READER COMMENTS SECTION BELOW!