The Ten Most Dangerous Toys of 2008!
by: Protoclown
It's Christmas time, and you know what that means. It means that there are evil, dangerous toys out there plotting to kill your precious little children. Every Christmas Massachusetts-based organization W.A.T.C.H. (We All Tickle Coy Hippos) releases their list of the most dangerous toys that are just waiting to charm their way into your homes, and every year I take that list and make fun of it list the real reasons these toys are considered so dangerous. What doesn't the government want you to know about these toys? (I apologize for the poor quality of some of these images. These toys must often be photographed out in the wild where they don't exactly stop and pose for a picture).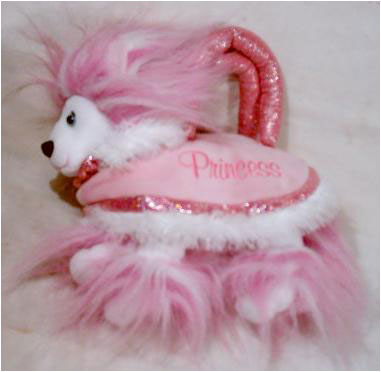 1. Animal Alley Purse Pet
These colorful little hairball/ponies marketed towards infants are not only a fun, whimsically-colored companion, but they also double as purses so that your infant can store his or her cash, make-up, and other accessories.
Why is it Dangerous?
Unless you're trying to get an early start training your child to be a whore, consumer or otherwise, there is no reason for your child to have a horse purse with the word "Princess" branded on the side. Apart from the obvious danger of this toy teaching your children that it's okay to store their things in the family pet, the hair has a sinister way of detaching from the purse pet and snaking its way into your child's eyes, nose, and mouth, suffocating your child with its pretty pinkness, like some kind of evil alien entity trying to use your child as a warn, sustaining host body.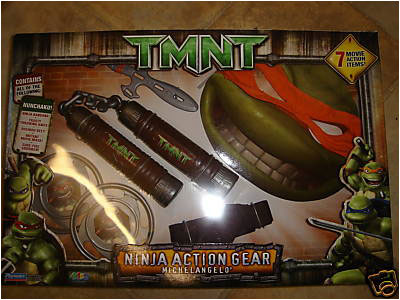 2. TMNT Ninja Battle Gear - Michelangelo
This authentic ninja training gear encourages your four-year-old child to master the dark ninja arts of assassination!
Why is it Dangerous?
Do you really want your child donning a cold red mask of death and slitting the throats of neighborhood children? Pummeling their teachers in the groin with hard plastic nunchucks, or perhaps slicing car tires with their plastic shuriken, sending passing vehicles careening to an explosive death? Or worse yet, do you want to risk being the target of a political assassination ordered by their shadowy ninja master?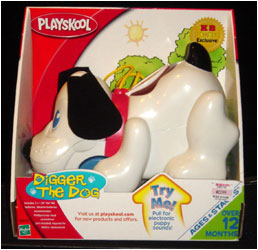 3. Walk'n Sounds Digger the Dog
This wheeled, immovable lump of a dog comes with a noose for dragging it behind you on walks.
Why is it Dangerous?
Aside from the little hole in the top of its back, inviting children to put their feet inside and practice their roller skating in a prime location like the top of the stairs, the wheels are a potential fire hazard as they send sparks flying while they grind across the pavement. Also, this dog has been known to go bad and turn on the children it once loved, often requiring it to be put down. Best not to risk inviting it into your home.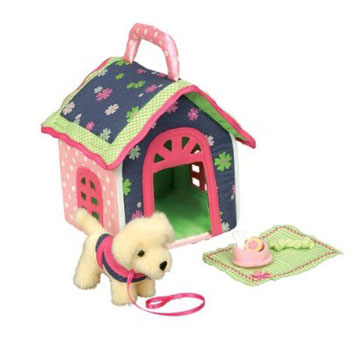 4. Pucci Puppies - My Own Puppy House Golden Retriever
This little puppy prima donna comes with quite the palatial estate, complete with bone, cookie, chew toy, magical flying carpet, and massage table.
Why is it Dangerous?
It generally sets a bad example when children see their toy puppy living it up and enjoying a higher quality of life than they will ever dream of achieving. Children are going to take all kinds of wrong lessons from this, such as believing their real dog should have its own butler, or perhaps reasoning that if they move into their dog's backyard doghouse, they will receive better treatment than they actually do at home. Also, due to a manufacturing defect, when you press a tiny button on its back, the dog's eyes fire lasers capable of cutting through metal.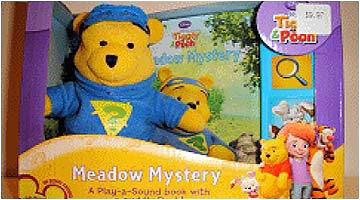 5. Meadow Mystery Play-a-Sound Book With a Cuddly Pooh
This annoying, sound-effect laden book provides an educational experience for children, while also offering a lovable, huggable companion to enjoy storytime with.
Why is it Dangerous?
This book is widely seen as a detailed "how to" guide for getting away with murder, as the story chronicles Tigger's carefully planned murderous rampage against Winnie the Pooh, Piglet, Eeyore and the other annoying characters of the Pooh mythos. There is naturally some concern that children may end up copying Tigger's precisely calculated, cold-blooded methods as they attempt to emulate their beloved hero. Other parents have expressed concern that their children might take another wrong lesson from the book and come to think of "poo" as "cuddly", which is not very good from a hygiene standpoint.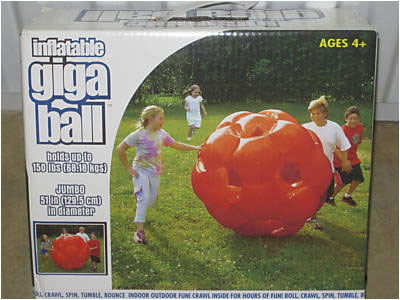 6. Inflatable Giga Ball
Children are meant to climb into this inflatable ball and then go on bouncy adventures within its protective, easily popped casing.
Why is it Dangerous?
Think back to when you were a kid for a moment. If you had a toy like this available to you, what's the first thing you would have done with it? If you answered "roll down the biggest hill you could possibly find", give yourself a point. While the packaging shows some children enjoying the Giga Ball in the safety of their flat, empty back yard, real children will desire the kinds of thrills that can only come from darting and weaving the Giga Ball through a line oncoming rush hour traffic. Don't kid yourself--the children who are enjoying this toy the way the manufacturers intended are the boring ones. And you don't want to admit your kids are boring, do you?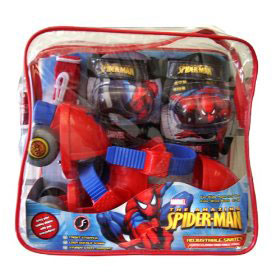 7. Spider-Man Adjustable Toy Skates
These skates plastered with images of everyone's favorite wallcrawler will provide your youngster with far more excitement than boring old regular skates.
Why is it Dangerous?
Let me ask you something. Have you ever seen Spider-Man roller skate while fighting crime? I haven't either. And don't think that hasn't occurred to your child once they've strapped these deathskates to their feet. What does Spider-Man do? He swings around off of high buildings and fights crime. And where's the one place you probably don't want to be if you have wheels on your feet and an overwhelming sense of vertigo hits you as you look down? Yeah. The top of a building. Guess where your child is going to be.


8. Sportsman Shotgun
This toy shotgun will teach your children the importance of gun safety while they learn the discipline of target shooting, whether the targets be stationary cutouts or the mailman.
Why is it Dangerous?
Um, it's a shotgun? Actually this weapon comes with rubber ammo, but you'll note that it doesn't have one of those required-by-law orange safety tips, nor is it painted in outlandish, unrealistic colors that reassure police officers that it's not a real weapon. So when little Timmy takes this toy outside to go and play War with the other kids, his chances of getting gunned down by a police officer are pretty good. At that point the other kids playing War had best hope that one of them decided to be the medic, which is unlikely because nobody ever wants to be the medic.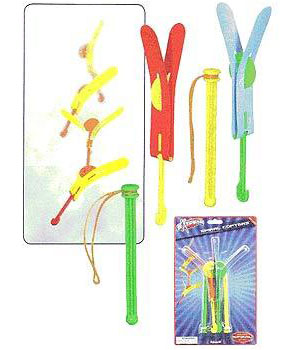 9. Extreme Spiral Copters
These spinning copters are supposed to assault the eyes with "awesome spiral action" as they go airborne.
Why is it Dangerous?
Once your children are hypnotized by the "awesome spiral action", the spiral copters unleash a barrage of advertising in the form of banners that float in the sky behind the spiral copters. Your children will come home from their play begging you to buy this or that crappy product that they would otherwise have no interest in. And who knows what future plans manufacturer Toysmith Group has for these children? Perhaps they plan to turn these unsuspecting children into a massive child army bent on taking over the world.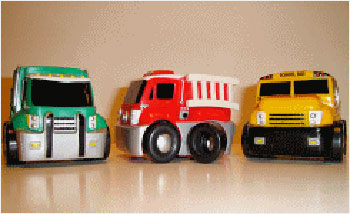 10. Go Go Minis Pullback Vehicle
These short, stubby little vehicles speed forward after you pull them back and let them go.
Why is it Dangerous?
By playing with these toys, your children will learn that they can get as fat as they want and that they will be able to find short, fat vehicles designed just for them. Aside from that, these little battering rams would have serious destructive power if you were to say, load them up with C-4 and send them into a bank. And if that doesn't bother you, just imagine all the stubbed toes you'll have when your child launches them at your feet while you're not looking.
So that's the list for 2008. For those of you who don't like this year's selections, you can take that up with W.A.T.C.H. I don't decide what toys are going to be the most dangerous every year, I merely report on the ones that are. If I were you, I would stay away from these death traps. Just because they don't look like demonic ventriloquist dummies with red, glowing eyes doesn't mean that they aren't possessed by evil. Or that they really suck.
Questions or Comments about this piece?
Protoclown