The Frank & Son Collectible Show!
by: -RoG-
If somebody were to ask me where I would go shopping if I was rich, I think the first stop on my list would have to be the Frank & Son Collectible Show. Ever since I moved out here, I heard tales of this huge show in City of Industry, CA which featured more toys, video games and pop culture collectibles under one roof than just about anywhere in the world, so had to check out it. Well the stories about this place turned out to be quite accurate, because it features 60,000 square feet of collectibles that I could spend an eternity sifting through. Think of it as the San Diego Comic-Con, but with more completely random items for sale and nobody dressed up as their favorite obscure anime character. It's in a very inconspicuous warehouse that you wouldn't even notice if you drove by it, so this is definitely one of those places that spreads around by word-of-mouth simply because it has things you can't find in any other store. Admission to the show is free as well, which is nice, because it can be hard to feel like you're getting a deal on a toy for five bux if you're had to pay $10 - $20 just to get into the event.
Dr. Boogie and I decided to take a trip to check out the show a little over a month ago, and while I was definitely drooling over all the things I wanted to buy, I did manage to snap a handful of photos of some of the best finds from that day. So here's a look at some of my favorite things: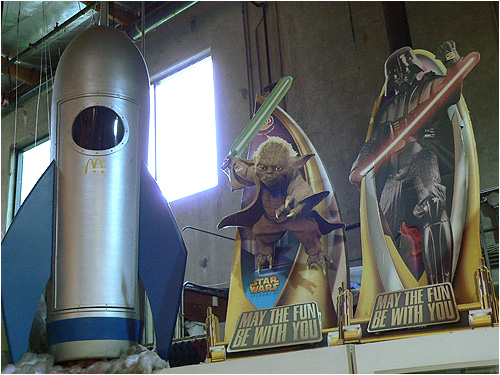 If old McDonalds standees and decorations are your thing, they've got you covered at this show.
I won't lie... I really wanted that rocket.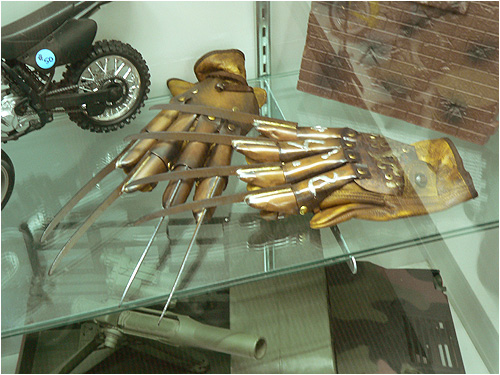 Replica gloves from A Nightmare on Elm Street > Slap Chop.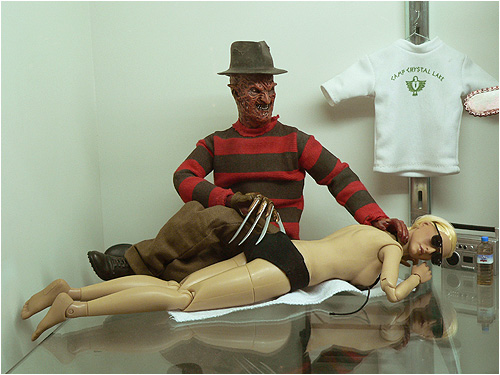 A custom Freddy Krueger doll, oiling up a beach beauty. I'm sure it happened in some fanfic.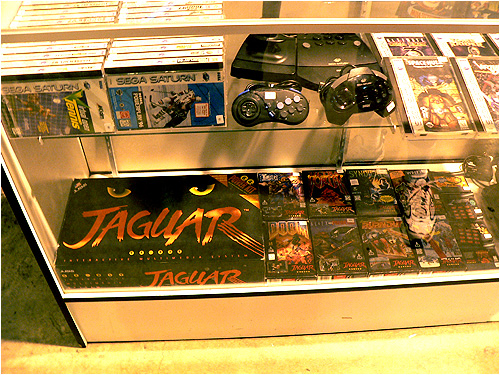 Atari Jaguar, the greatest video game system in the history of the world, placed
behind protective glass so millions of adoring fans wouldn't fight over it.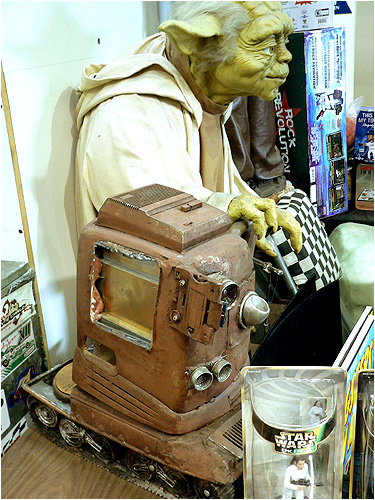 I don't know what inspired somebody to turn an old film projector into a Jawa Sandcrawler, but I love that this exists.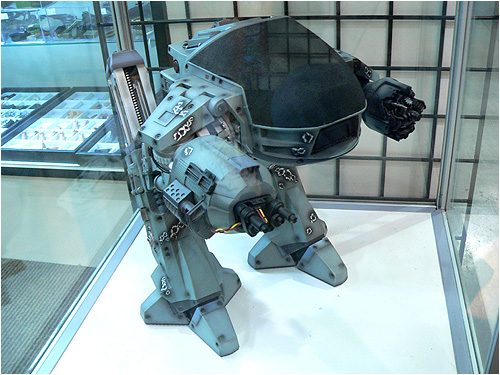 Please put down your weapon. You have 20 seconds to comply.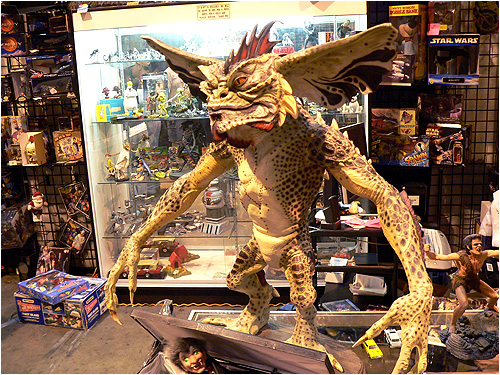 Anybody in the market for a life-size Gremlin from the sequel?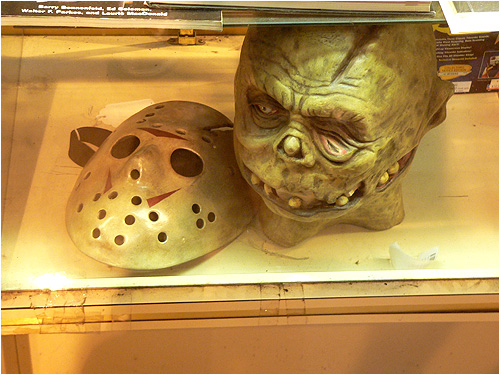 Keep the mask on Jason... it's a good look for you, trust me.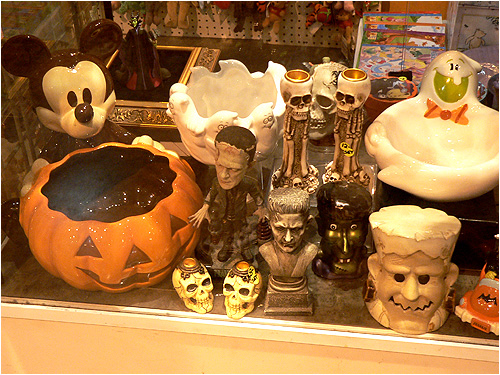 Some old Halloween ceramics including Mickey Mouse, Frankenstein's Monster and more.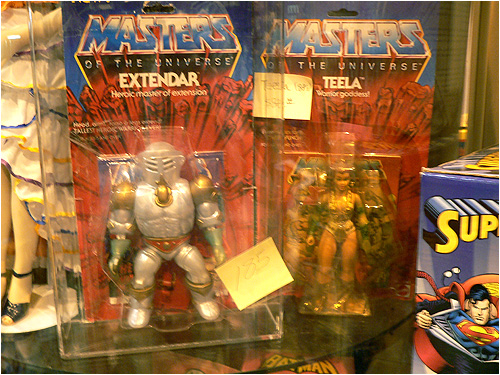 Vintage Masters of the Universe figures Extendar and Teela still in their original packaging.
Heroic master of extension? That's what she said.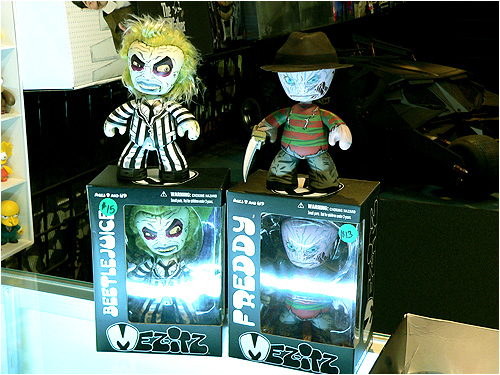 I guess Beetlejuice is pissed that Freddy ate his Zagnut candy bar.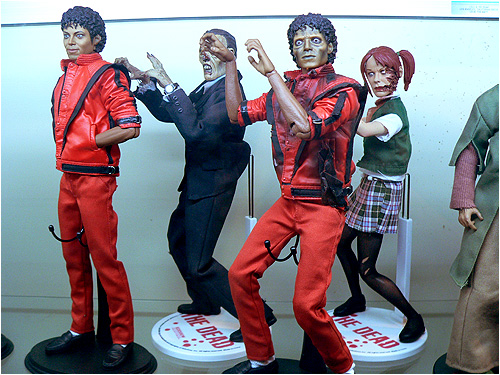 Some realistic Thriller figures along with some other dancing zombies.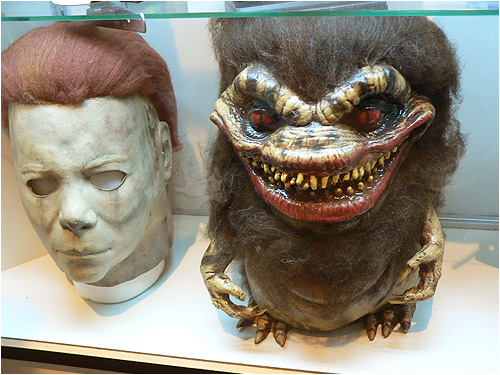 That's a hell of a nice looking Critter! I bet he'd look great wearing that Michael Myers mask too.
Say, now there's an idea for a new Halloween sequel. I guarantee it'd be better than those awful Rob Zombie ones.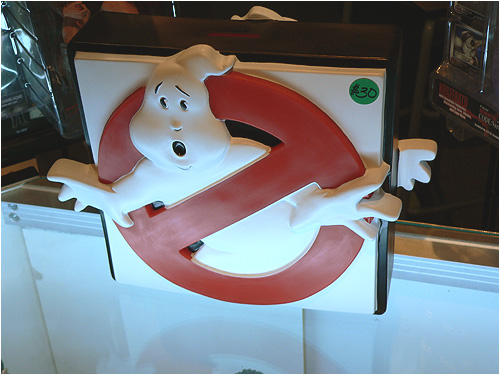 For those of you who happen to own an old firehouse, here's the Ghostbusters sign so you can get your business going.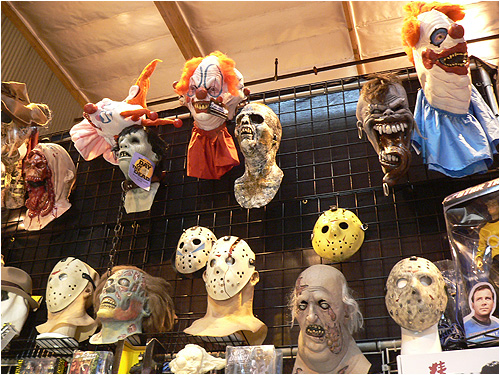 Monster masks galore, including a variety of Voorhees hockey masks and Killer Klowns.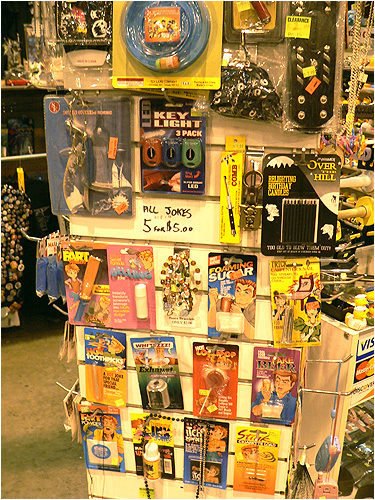 You just don't see these old gags any more, and five for $5 is a pretty good deal since most places charge $3 for one.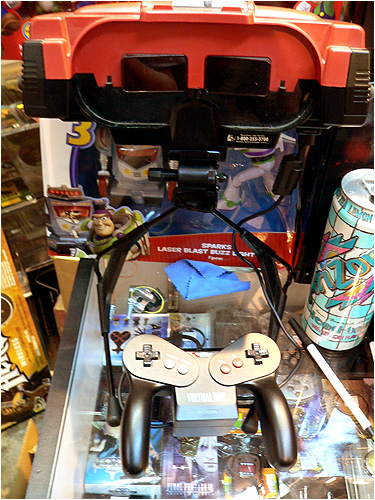 How do you make the Virtual Boy an even more excruciating experience? Sell it without the black eye visor attachment.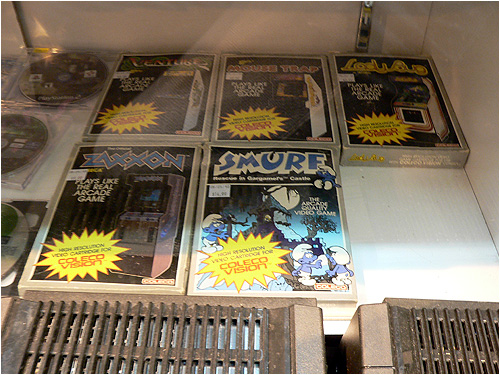 Smurftastic ColecoVision games still in the box.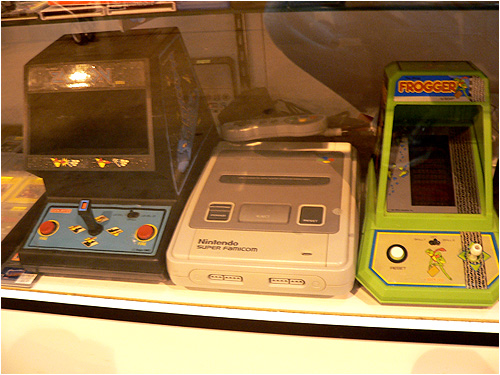 A Super Famicom wedged between the classic battery-powered tabletop arcade games, Frogger and Zaxxon.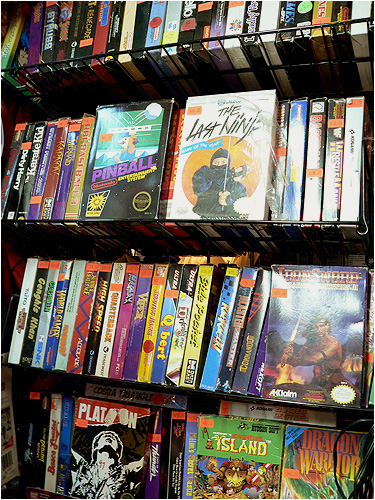 Classic NES games with their boxes, including "The Last Ninja" and
the infamous "Ironsword: Wizards & Warriors II" box with Fabio on it.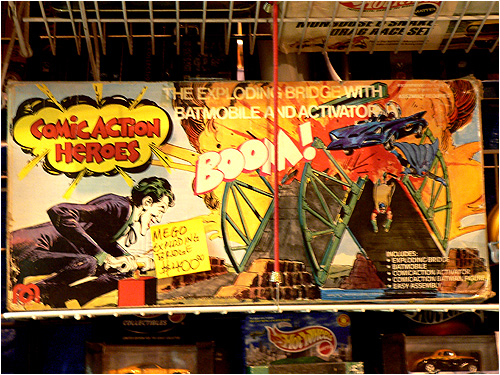 A vintage MEGO exploding bridge playset. Yes, you could actually pretend to be the joker and
explode a bridge as the Batmobile was crossing it. Proof once again that toys used to be so much better.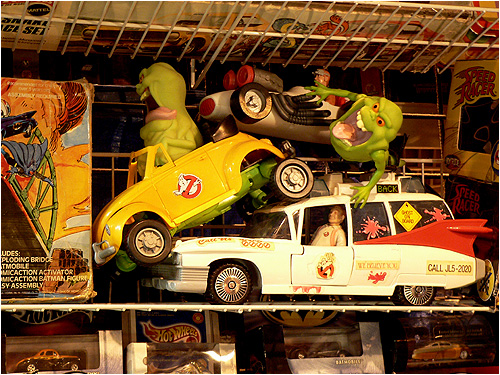 Everybody knows about the Ecto-1, but did you know that Slimer drove a Ghostbusters VW Bug?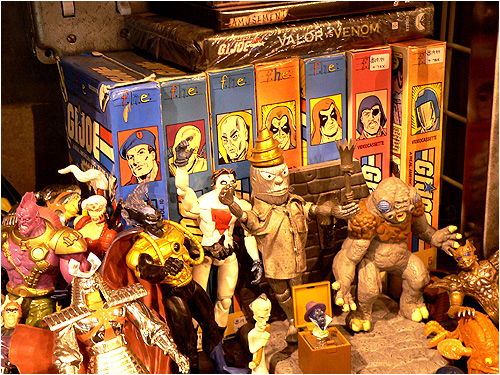 The original oversized f.h.e. boxes for G.I. Joe cartoons on VHS!
I used to rent the shit out of these when I was a kid from my local video store!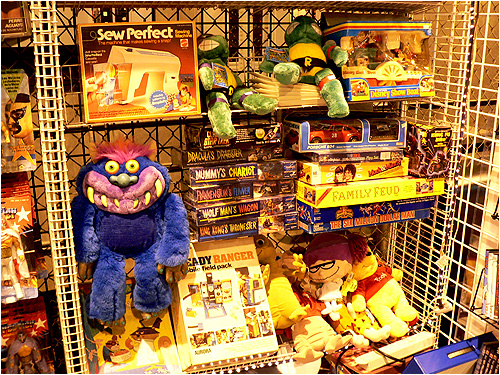 My Pet Monster, Sew Perfect, Teenage Mutant Ninja Turtles, some classic monster model kits, board games and more.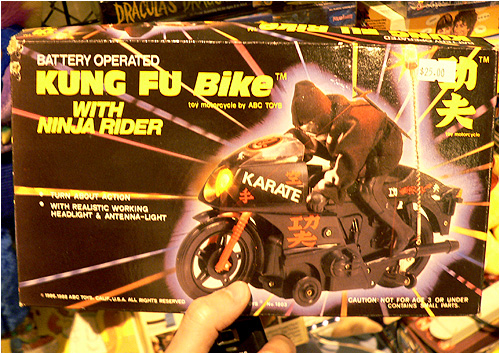 This is amazing. A "kung fu" bike that says "karate" on the front with a "ninja" riding it. Kung fu, karate and ninjitsu
together at last? Somehow, I don't think this is what they meant when "mixed martial arts" was first started up.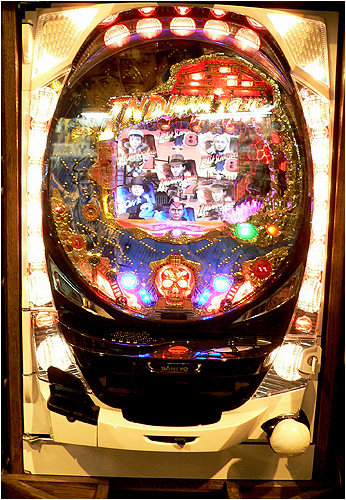 And the best find of the show was this beautiful Indiana Jones pachinko machine from Japan. WANT.
Hope you enjoyed this little photo gallery of the Frank & Son Collectible Show. It's one of those places that just feels like a treasure hunt; sure, you can shop online for the same stuff, but going to a show like this to discover things feels far more rewarding and will often remind you of things you completely forgot about and/or introduce you to things you never even knew existed. That said, expect to see more coverage of the Frank & Son Collectible Show on I-Mockery in the future, as we plan on making many trips out there... much to the chagrin of our wallets.
Have any questions or comments about this piece?
SHARE YOUR THOUGHTS IN THE READER COMMENTS SECTION BELOW!