Toys Have Officially Jumped The Shark
by: -RoG-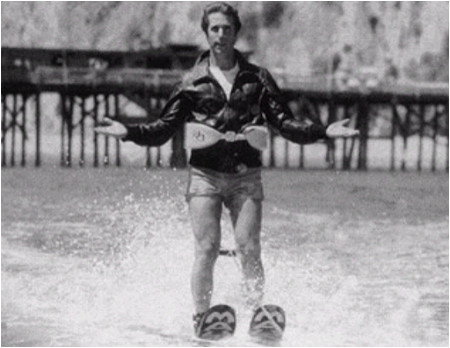 By now, everybody's heard the phrase "jump the shark". With Hollywood puking out remake after remake instead of creating something original, and never-ending shows like E.R. currently being in season 249, it's not surprising this colloquialism has become so commonplace these days. While seeing Fonzie jump a shark did indeed signify the beginning of a long, drawn-out end to Happy Days, it at least gave us a phrase that will never cease to come in handy.
But the phrase isn't just limited to movies and television. No, it can be used for just about anything... bands, video games, authors, and even toys. Ah yes, toys. Who remembers when they first saw The Flash and his brand new motorcycle? I know I do. I remember it vividly, because it unlocked an uncontrollable rage which caused me to punch the box repeatedly until I was dragged out of the toy store by security. True story. These days, all you need to do is take a trip to your local toy store and you'll be bombarded with products which can only raise one question: "What the hell were they thinking!?"
Today, I'd like to take a look at one of those toys... only difference is, this one takes "jumping the shark" quite literally.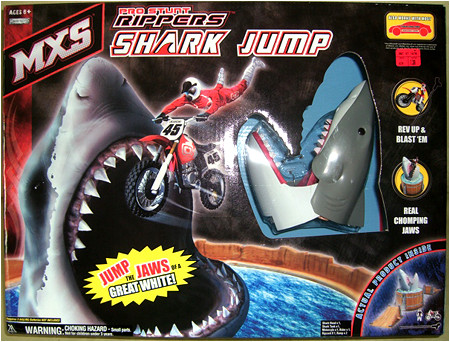 Your eyes do not deceive you. Toy makers have finally found a way to cash in on the popular "jump the shark" phrase by turning it into the Road Champs MXS Pro Stunt Rippers Shark Jump Challenge set! I found this thing at Target and simply couldn't believe it was real...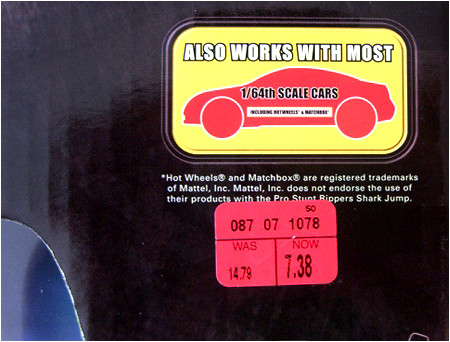 ...but when I saw the glorious red closeout price tag, I knew it was a sign that I had to give this thing a shot. A guy on a motorcycle who jumps over a hungry great white shark? Amazing! The fact that it was also compatible with some Hot Wheels cars (which I just happened to have) was icing on the cake. Though, the sad reality was, I should've seen that little note as more of a warning instead of a bonus, but more on that later.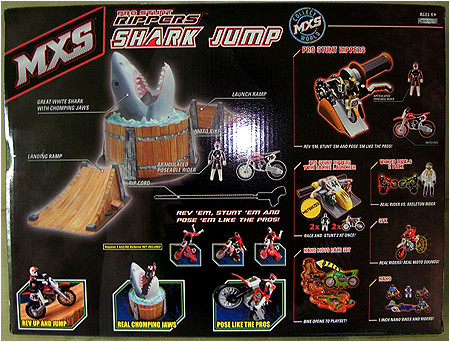 As you can see, the Shark Jump Challenge set is compromised of two ramps (which are not nearly as ornate as the ones pictured on the box, mind you), a ripcord-powered motorcycle guy (who can be posed like the pros!) and a tank containing a great white shark with battery-powered chomping jaws. The shark is obviously the highlight of this set because a) This would never exist in real life. If it did, the world would be far cooler than it really is. And b) They're really asking you to suspend your disbelief here. I mean really... where are we supposed to think the rest of the shark's body went inside that small wooden tank? Don't even get me started on the whole water displacement thing either. But hey, if scientists are able to make motorcycle-hungry shark heads that can function without a body, I'm all for it. If nature didn't get it right the first time around, it's up to we humans to bastardize fix it... right? Right.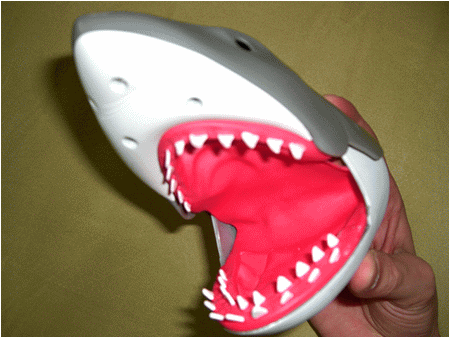 If nothing else, the shark head actually makes for a pretty good finger puppet. Hell, if you put this thing up against some zombie finger puppets, you just might have yourself a future award-winning play on your hands. After all, you don't know that sharks and zombies go hand-in-hand, right? If not, you have some extra reading to do after you're done with this article.
You've also gotta appreciate the attention to detail they put into it by giving the shark multiple rows o' teeth. It's a scientific fact that the only reason a shark has multiple rows of teeth is so it is able to eat motorcycles. Bet you didn't know that didja? Well now you do. Stick with me long enough, and you'll be ready to win big on Jeopardy.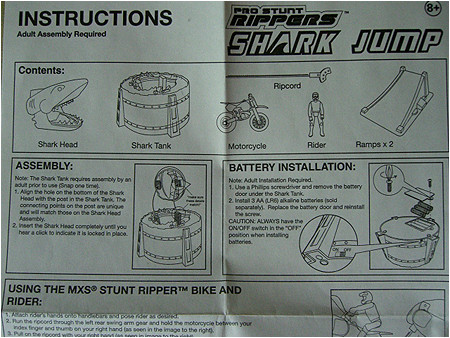 Assembling the set didn't take much time, but attaching the shark head to the tank was a bit tricky. If the head doesn't click properly with the mechanism inside the tank, the jaws won't open and the shark will just twitch like it's having a seizure when you turn the tank on. In all honesty, even if you do line it up exactly right, the shark doesn't always chomp its jaws properly. On top of that, the ripcord slips through a small space between the motorcycle frame and the rear wheel whenever you try to use it, so it doesn't even build up enough speed to clear the ramp. I guess you can't expect much from a toy that was on closeout because not a single person (except me) bought one. And here I thought all kids out there would love the combination of sharks and motorcycles. Actually, if they made this a toy where the shark rides a motorcycle and jumps through a flaming hoop or something, I'm sure it would've been a bestseller. But what's done is done...
So, with the Shark Jump Challenge set fully assembled and ready to go, I broke out the ol' video camera so you could see just how entertaining this seven dollar gem really is... or isn't. Enjoy!
Questions or Comments about this piece?
-RoG-