Sinister Pointe's Not So Merry Holiday Haunt!
by: -RoG-
I've always loved going out driving during the Christmas holiday season in search of those extraordinary homes that went way overboard with their festive light decorations. There's rarely been a time when I've turned down an opportunity to check out some Christmas light displays. After all, you're talking to a guy who went all the way to South Korea in search of a unique Christmas experience.
If there's one thing that's always made Christmas come second to Halloween in the eternal battle for holiday supremacy, it's gotta be the lack of haunts to visit. Sure, you can go see Santa at a Mall or check out some theme parks that have some Christmas decorations up, but those just don't compare to the countless creative haunted attractions one can visit during the Halloween season each year.
Thankfully, one place decided to fill that gap.
Sinister Pointe is a wonderful independent haunted attraction in Brea, California that I've been visiting for years now. Every Halloween they put on a fantastic haunt in their warehouse with multiple paths you can take, and it's truly unlike any other scare spot I've visited. A really wonderful little operation. Well, for the past two years I've had the pleasure of checking out a special haunt they do in December called "Sinister Pointe's Not So Merry Holiday Haunt" which delivers the kind of Christmas frights that horror fans around the world would die to experience. It's only open four nights come December each year, and while I visited on a last-minute whim this time, I still managed to snap some nice shots of what I encountered in their hilariously horrific holiday haunt. So join me on this photographic tour as I do my best to recap everything that went down in this haunt that Santa would surely declare naughty: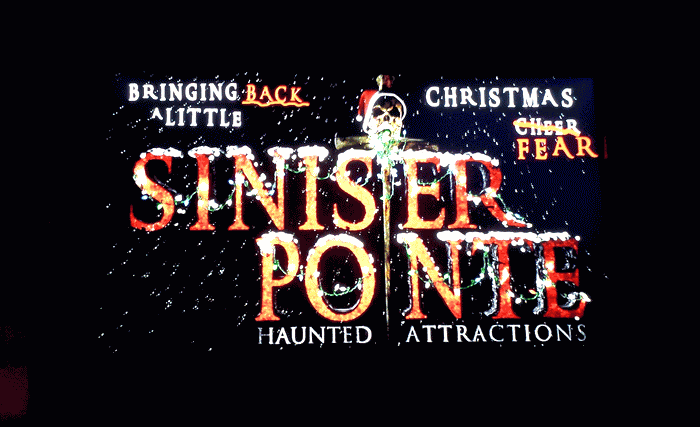 It all begins in a small office where you purchase your tickets. I remember the first time I came here and noticed an old Boglins "Vlobb" toy sitting on the desk behind the counter and was immediately convinced I had found something special. Right above the ticket booth is a screen showing some footage of the event, including their Christmasified logo and a tagline about how they're "Bringing back a little Christmas cheer fear". Corny as something the Cryptkeeper himself would say... so it's clearly right up my alley.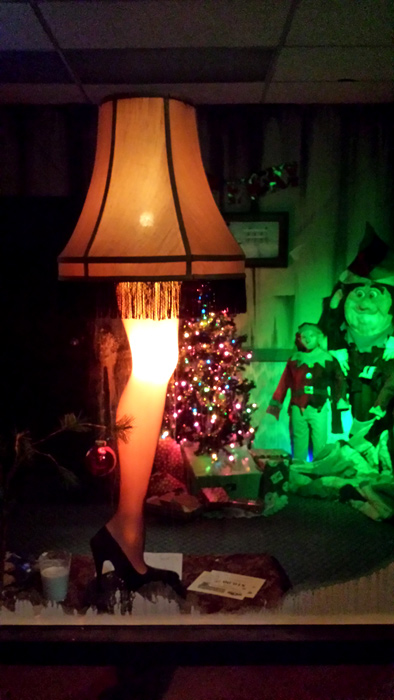 There's also a life-sized leg lamp from A Christmas Story on display in the window. While it looks like an innocent enough scene, when you walk inside this little office, there's an elf who harasses you with a slew of sexual innuendo. That's should come as no surprise though, for they warn people in advance that the event is crude and the characters will insult you and use profanity at will. In other words - if you take life too seriously, this isn't the Christmas event for you. But hey, you're already on this web site, so I think it's safe enough for us to proceed.
Whether it's a haunt or a roller coaster, waiting in line is usually one of the most painful things about visiting any attraction. Fortunately, that's not the case at Sinister Pointe. While you're waiting to get into their "Not So Merry Haunt", you'll have various holiday monsters approaching you, but you'll also be treated to some nice visuals such as the illuminated trophy head of Rudolph the Red-Nosed Reindeer. Perhaps even better is the fact that they were projecting the video for "Last Christmas" by Wham! on a big screen. Seeing the severed head of Rudolph combined with that super-sappy 80s Christmas video and Christmas monsters approaching you really sets the tone for the madness that you're about to experience.
I should also note that while it wasn't in operation on this particular night, they also have a machine you can operate while in line that allows you to spray air at people who are inside the maze and it shows you their surprised reactions on the screen. You can even pick up a tasty cup o' hot cocoa to enjoy while you stand around. Like I said, waiting in line at Sinister Pointe is a LOT better than it is at most places.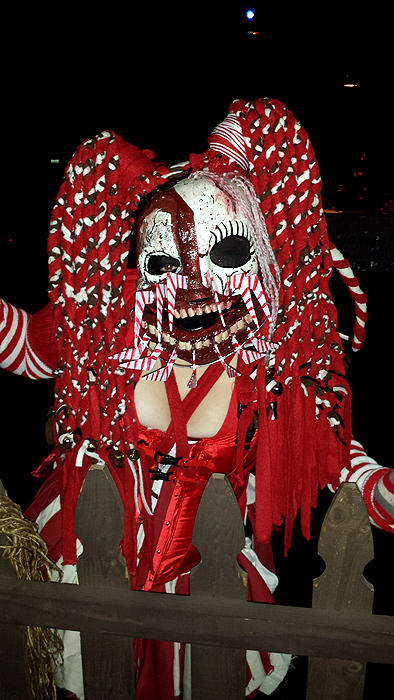 And speaking of waiting in line, here's the first goblin / elf / thing that approached us. She appeared to be some kind of Christmas experiment gone awry, complete with candy cane dreadlocks and razor-sharp external teeth. As terrifying as that may seem, she's actually quite friendly and happy to see you. She walked right up to me, noticed I was wearing a hoodie, grabbed the two pull-strings, and then tied them together in a bow. "Now you're wrapped up like a Christmas present!", she quickly giggled and then ran off into the night. There was also a disheveled kid in a zombie-like state kept repeating "Last Christmas I gave you my heart..." to everybody. Even though he didn't have an impressive outfit, you could tell he was excited to be participating.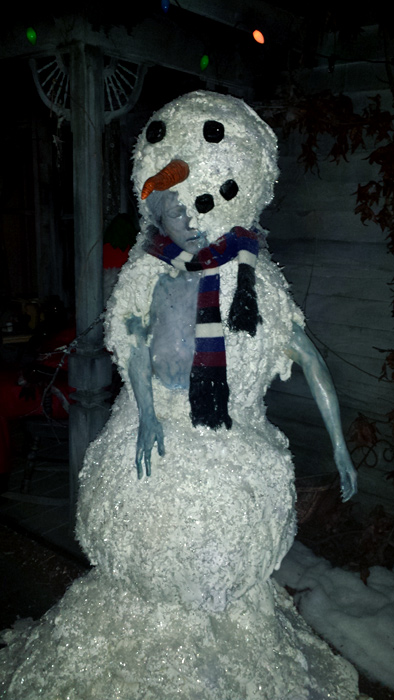 Upon heading inside, the very first thing we noticed was this large snowman. Of course, this being a haunt, it couldn't just be your standard snowman, so it had a real human stuff inside it. It reminded me a lot of the cotton candy cocoons seen in Killer Klowns from Outer Space, only instead of being stuffed inside the sugary delight, the deceased were stored in these large snowballs for some Christmas monster to devour later on. Gotta love that they gave the skin a nice pale blue-gray hue, so the corpse looks like it's been frozen for quite some time. Like I said, these guys do really solid work.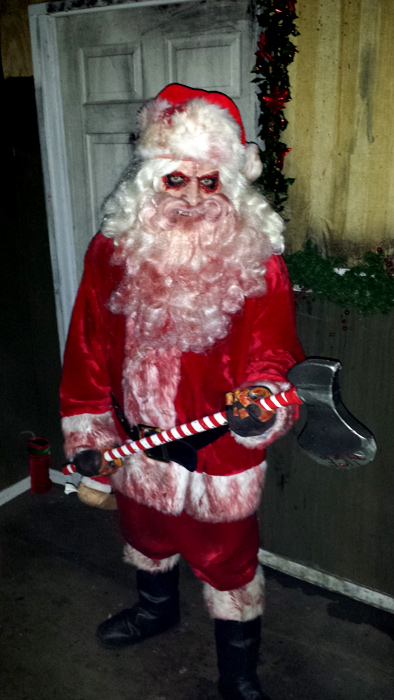 After getting our photo with their own bad Santa (which you'll see later on in this article), we were ushered into the main portion of the house/maze by this angry axe-wielding Santa. As soon as you knock on the door, he comes bursting out, asking if you've been naughty or nice before he leads you in. On a related note, I think more axes should come with candy cane handles.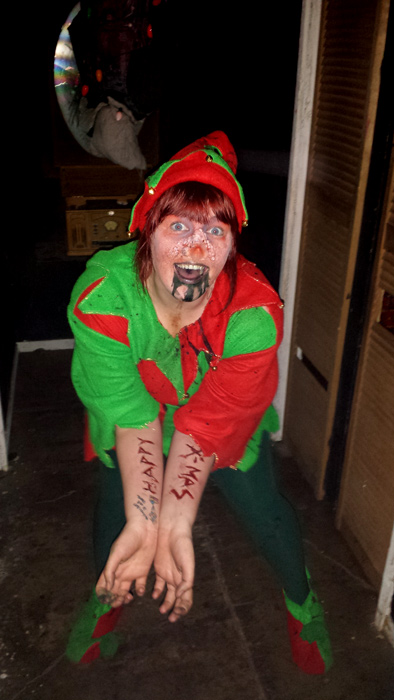 Once Santa points you to the next room, you arrive in a short hallway where this slightly crazed yet extremely happy elf lady awaits your arrival. She tells you that you have to choose a door. You can either choose the one on the left or the one on the right, which I love, because there are different experiences to be had in the maze each time you go through it. We asked her which one was a longer / more deadly path and after some coaxing, she suggested we try the door on the right. Who knows if she was telling the truth though; after all, this is an elf who had "HAPPY X-MAS" carved into bloody wrists along with some unidentified black liquid seeping out of her mouth.
In the next room we were told by another creepy elf to get on our knees and crawl inside a big Christmas present box. When we did, we ended up inside a pitch black corridor that we literally had to feel our way around as we walked in search of an exit. It goes on for a surprisingly long time while random spooky sounds are playing, but even scarier was the fact that my hand was going numb due to Re squeezing it so hard. Yeah, I think she was a bit frightened.
When we reached the exit of that section, were were insulted by some jester elf who called us morons for not following the arrows or something. There were arrows? Anyway, we walk around the corner and come face to face with this: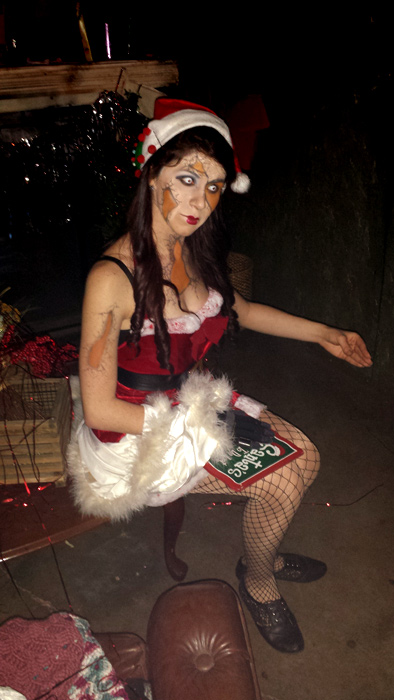 Holy crap, was this elf awesome. She just sat there by the fireplace, moving ever so slightly like a marionette puppet whose strings were unseen. Her face was stitched together and she was wearing some killer contact lenses too. Creepy. I was hoping she was going to read us a terrifying Christmas tale from that Santa book of hers, but she remained silent. Santa has some eerie helpers, and she's definitely one of 'em.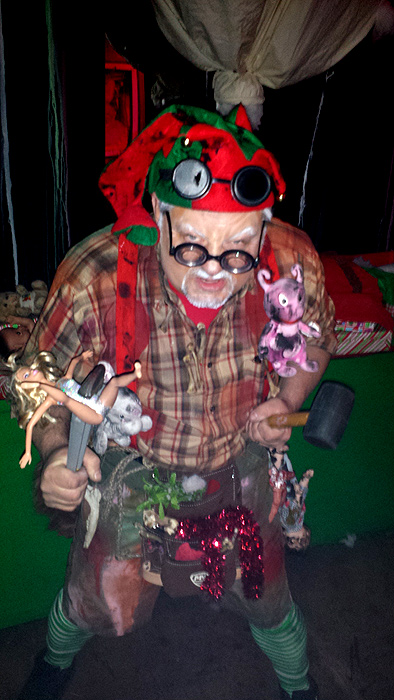 We then encountered this loud-mouthed head toymaker elf. He asked us if we wanted to see what new toys he was working on, so we obliged and followed him to his workbench. Between a pair of pliers, he held up a Barbie doll and made her ass face us and he said, "I made Twerking Barbie!" as he shaked her in the air. Then he told us to "get the fuck out!" - probably so he could get back to creating more million-dollar toy concepts.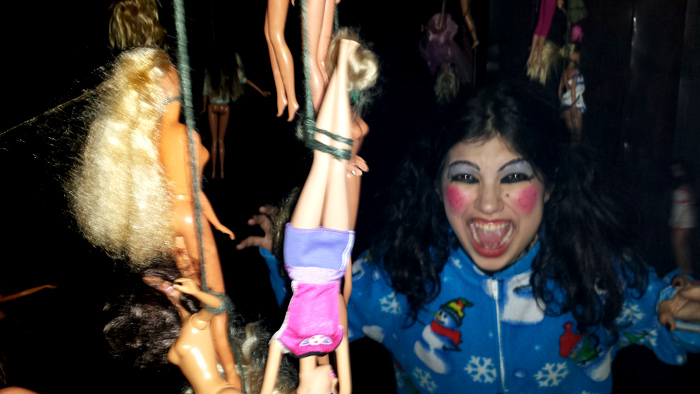 It turns out he had this lunatic niece or daughter (I can't say for sure who she really was) wearing some blue snowman footie pajamas whom he was making all these Barbie dolls for. In her room we saw what must have been about fifty different Barbie dolls hanging on strings from the ceiling. She kept asking us if we wanted to see the surprise she made for us, so after we looked at the dolls long enough, we agreed to check it out. She then pointed out her lovely surprise: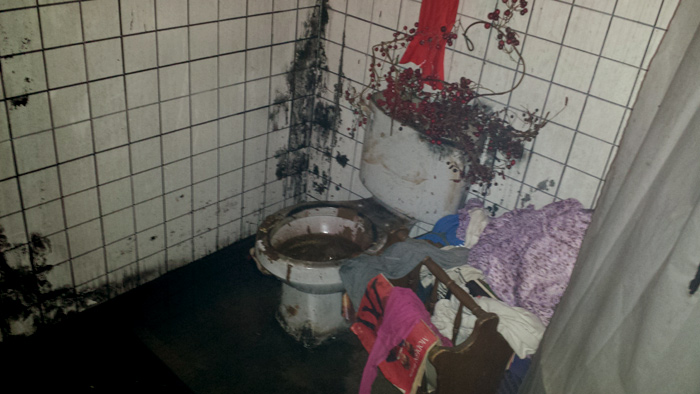 It was a toilet filled with shit. Christmas shit, no doubt, but shit nevertheless. Now I had seen this toilet in their Halloween haunt, so this time I was prepared. I turned my back to it started walking backwards, and sure enough, I was sprayed with water that shot out directly from the bowl. If you have any mysophobic friends, then I cannot recommend this haunt enough, because seeing them get sprayed with mock shit-water will surely prove to be one of the most horrifying experiences of their entire lives. If that's not worth paying the $15 admission fee, I don't know what is.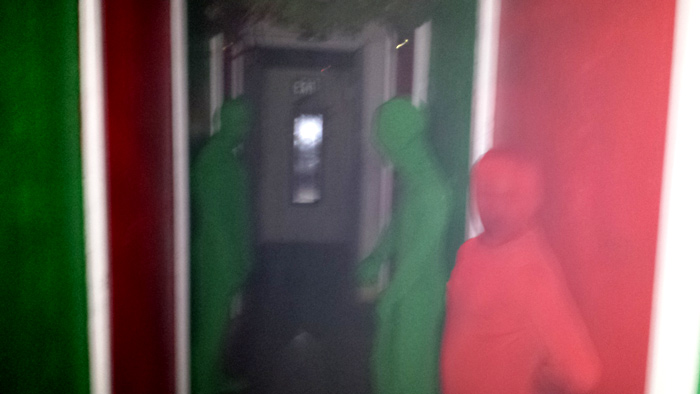 One of my favorite parts of the haunt this year was this new hallway made of red and green stripes. The photo doesn't do it justice, but trust me, it looked eerie as hell, seeing these faceless figures sitting up against the walls, not knowing which ones were real. Our friend Tracy suggested that the real ones were the ones who had noticeable feet, but I didn't trust a single one of them. When you encounter a hallway like this, your best bet is to just run the hell through it and hope you're not captured and turned into a faceless being who spends eternity standing up against Christmas colored walls.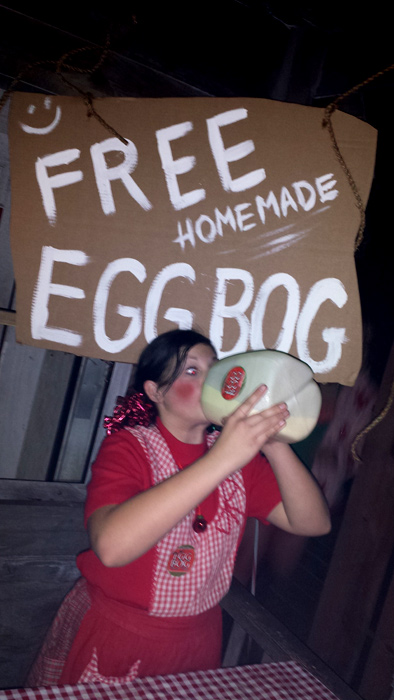 I will never, ever look at egg nog again without thinking of Egg Bog. Don't let the sign fool you, this lady was drinking all of the Egg Bog herself, chugging a whole gallon right down before our very eyes. If I were the owners of this haunt, I'd create some Egg Bog souvenir t-shirts. Hell, any souvenir t-shirts representing the holiday haunt would've been nice.
After being bedazzled by the homemade Egg Bog lady, some guy came and took me by the hand and walked me down a hallway asking if I'd like to see where the Egg Bog comes from. Boy, would I! So we ended up in an actual bog, where we saw a bunch of figures hunched over this little wooden bridge, puking nonstop into the bog. As we crossed the bridge, it shook around, much to the amusement of the sinister looking guy who was operating it.
Next, we came to a room that had no visible exit doors, just a lot of creepy figures leaning up against the walls and buttons that you could push. Every time we pushed a button, we were sure one of them was going to jump out at us. Eventually one of the buttons activated a lock and we realized that one of the walls could be pushed open so we could continue our horrific holiday hike through hell.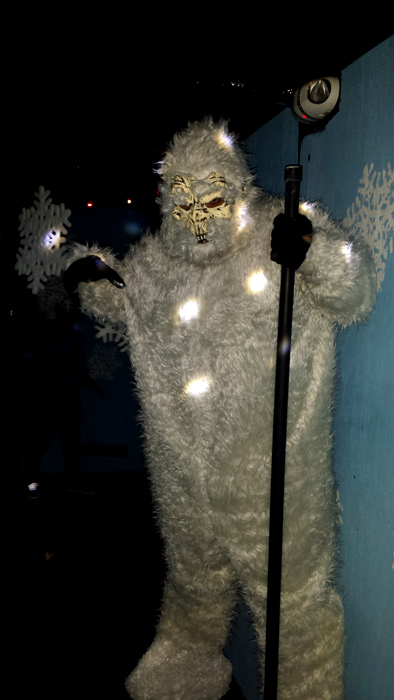 We soon found ourselves in another long corridor with snowflakes hanging everywhere, when a giant yeti came to attack us. As if the angry yeti wasn't distracting enough, we almost got run over by an elf who came tumbling down an incline on what I believe was a sled. Maybe he slid down on his hands and knees, it's hard to tell when you've got a yeti chasing you around.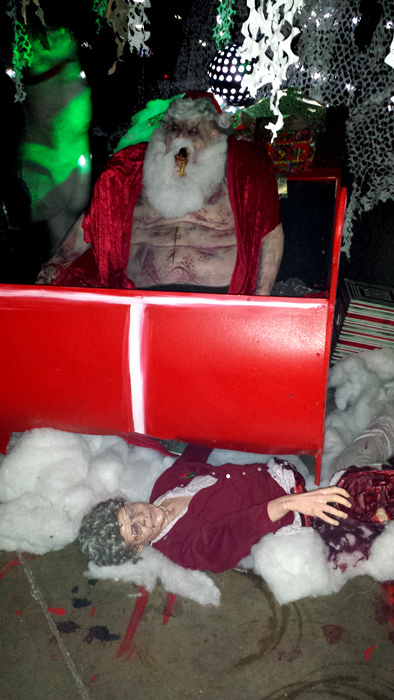 As soon as we turned the corner, we found ourselves staring at the big man himself: Santa Claus. Only this wasn't your typical holly jolly Santa... this was exposed beer gut, mucus leaking from his mouth, carved-up his own skin, and ran over Mrs. Claus with his sled Santa. In other words, the same Santa you've probably seen at the mall a hundred times or so over the course of your life.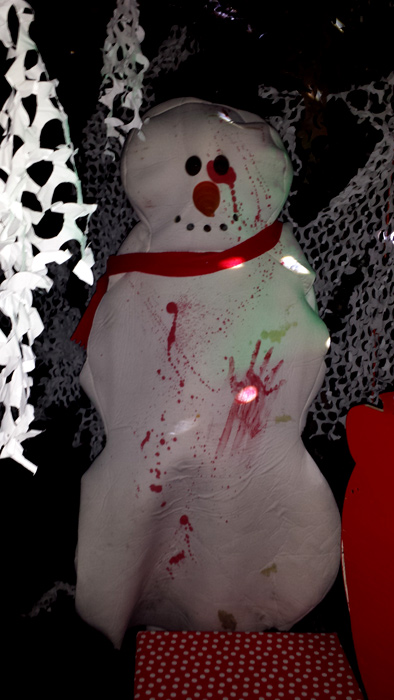 We didn't even realize this bloody snowman was a real person when it popped out from the wall and started hopping around the room. Maybe it was one of those snowman victims from the very start of the maze, begging us to lend a helping hand, but that wasn't an option.
Now this is where my memory of the events is a bit hazy, because I don't have photos of it all, so some of it may be slightly out of order. We ended up having to push through this super-tight inflated pathway. And when I say it was super-tight, I meant you literally had to push your way through it, because the inflated walls were pushed up on you from each side.
Once we emerged from it, we came face to face with a demented Who from Whoville, who led us to a room that had us choose naughty or nice. I was down for the naughty path, since it required us to crawl on our knees and enter what appeared to be a furnace, but my companions wanted to go the nice route. Since it was my fault we were even at this haunt, I felt it was only fair that I let them choose the path this time. So we then came into this pitch-black room with a single bowl of candy canes illuminated in the center of it. We were happy to take some, especially since the elf that was guarding them yelled into my face. In retrospect, I should've showed him what yelling really sounds like; after all, I am the Jedi master of yelling.
What I am not a Jedi of is wielding chainsaws, but they had some guy who was, and he chased us right out of the maze at the end, poking me right square in the ass with it at one point. Upon exiting, we went up to the booth to check out our group photo with their not-so-merry Santa: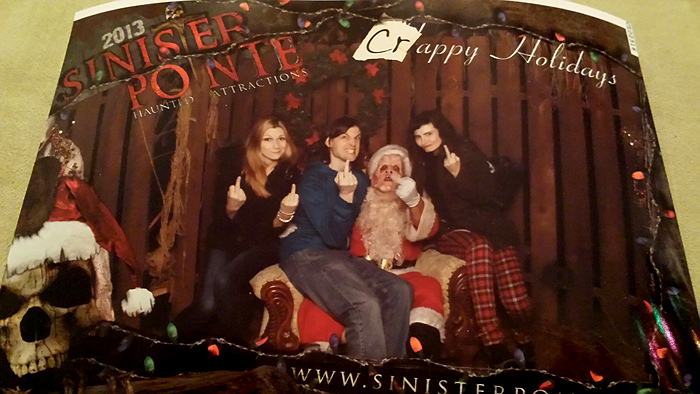 Now there's a photo mom will surely love.
All in all, Sinister Pointe's Not So Merry Holiday Haunt is a completely unique Christmas experience. If you're anywhere near Southern California during the winter months next year, and you'd like to take a break from all the ho-ho-happy attractions and festive light displays, Sinister Pointe is an absolute must-see. They put a lot of love into this special little haunt, and it's getting better every year. I for one can't wait to go again come December of 2014. Crappy Holidays!
Have any questions or comments about this piece?
SHARE YOUR THOUGHTS IN THE READER COMMENTS SECTION BELOW!