Where Are They Now?
by: Max Burbank
Say, remember that guy? You know who I mean, the one who was on that show? Oh, he was on T-shirts and coffee mugs and everybody would say that thing he said in that funny voice of his? And then he had a show that got canceled after three episodes? What the hell ever happened to him? Well, the great thing about the Internet is, no matter how humiliating and debasing a person's failures, if they were ever even remotely famous, they're privacy is gone forever! With multiple fan sites, databases, search engines and a host of fair weather friends, jilted ex-lovers, parole officers and priests more than willing to spill the darkest secrets they ever heard or made up, it's open season on the fallen famous!
If you like trash picking, mud slinging, stalking, necrophilia and "E!", you're gonna love... WHERE ARE THEY NOW?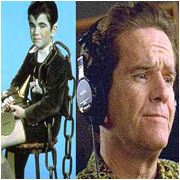 BUTCH PATRICK: AKA Eddie Munster.
Although remembered exclusively as Eddie the pointy eared wolf boy, many fans are surprised to learn the show only ran two seasons both of which were bad. You might not know the irritating teen star of Sid and Marty Krofts 1970's drug fueled video rampage "Lidsville" was actually... Butch Patrick! "Lidsville" was pretty much the same as "H.R. Puff 'N Stuff" but as a result of the acid being cut with more speed all the characters were anthropomorphic hats. Butch starred opposite Charles Nelson Reilley, who's broad comedic performance masked the fact that the actor was a protege of renowned Stanislavski method acting guru Uta Hagen while allowing his gayness to become so gay it could be seen from the moon. After Lidsville was cancelled amidst rumors of embezzlement and open gunplay on the set, Patrick dropped out of sight. Rumors that he's the voice of "Pinky Pie" in the promotional "My Little Pony" videos are false. After several years as a Wal-Mart greeter, the man who was once Eddie Munster seems poised for a comeback with the release of his forthcoming memoir, "Chicken Soup for the Guy Who Used to Play Eddie Munster's soul". He also runs his own web site.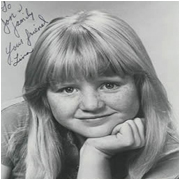 TINA YUTHERS
The adorable, precocious young child star who played Jennifer Keaton on the First Season of sitcom "Family Ties" went on to play the Hulking Behemoth Jennifer Keaton in all the other seasons of "Family Ties". Unemployable once the show was cancelled on account of what Brandon Tartikoff once called "That terrifying brow ridge", Tina worked briefly as a Merchant Marine and part time forklift before starting her own band, "Jaded". Her difficult adolescence now behind her, she's distanced herself from her celebrity past by dyeing her hair black and insisting everyone else in "Jaded" be acromegalic. She also runs her own web site.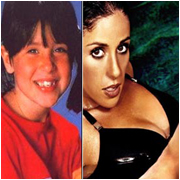 SOLEIL MOON FRYE
Chiefly known for her four year stint as "Punky Brewster" and having an even stupider real name. As a teenager, Brewster suffered from the twin agonies of a debilitating medical condition, Gigantomastia, (Literally 'giant breasts') and the fact everyone thought the term 'Gigantomastia' was her doctor's idea of a joke. 'Twin agonies'. Get it? Work with me here. Most recently, she played college roommate 'Roxie' opposite Melissa Joan Hart on the syndicated "Sabrina The Teenage Witch". Rumors of a feud between Frye and Hart were "exaggerated" and were actually more of a "Friendly Rivalry" over who was "the object" of more "lonely, middle aged, men's" "Masturbation fantasies"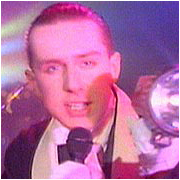 FRANKIE GOES TO HOLLYWOOD
The band that brought you "Relax!" a power anthem celebrating delayed ejaculation, were erased from continuity during DC's "Crisis on Infinite Earths" except for bassist Mark O'Toole who sells T-shirts in bulk. "They're good, eh? Like, for rags or whatnot? I got rid of me bed, I sleep on a huge fucking mountain of 'em. Frankie Say Relax, right? Come on, mate, I'm dead broke, I've got crates of these fucking things, what am I supposed to do, eat 'em?"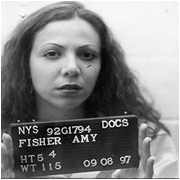 AMY FISHER
The press dubbed her "The Long Island Lolita" when at sixteen she had an affair with mechanic Joey Buttafuco and then shot his wife in the head. She now works for the Long Island press as assistant editor at the shooting-people-in-the-head desk and recently released a self help book "How To Get Past a Ridiculous Joke Last Name When Selecting a Partner for Hairy Backed, Underage, Adulterous Screwing."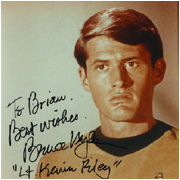 THAT GUY WHO PLAYED LT. RILEY IN CLASSIC TREK
Bruce Hyde played Riley in the critically acclaimed "The Naked Time" during Trek's first season. He went on to reprise the role in "Conscience of a King" and maybe some other episode. He can now be found as a speaker at Trek conventions where savvy fans can find him out back behind a dumpster and get one of his famous "Warp Nine" hand jobs for a bottle of "Old Granddad."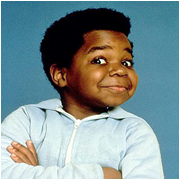 GARY COLEMAN
The diminutive star of "Different Strokes" popularized the hysterical catch phrase "Watchoo talkin' about, Willis?" Coleman has since made a career of humiliating himself. Briefly employed as a mall security guard, he continues to plumb the depths of bottom feeding by playing himself on TV crapfests such as "Son of the Beach", "The Parkers" and "The Hughleys". A few years back he went so far as to run for Governor of California. "I felt called to do it," said Coleman. "I just had this gnawing feeling that somewhere out there, some suck ass, open mike, stand up comic didn't have a joke about me in his five minute set."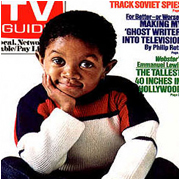 EMMANUEL LEWIS
The diminutive star of "Webster", after a brief fling as human fashion accessory to Michael Jackson, has since gone on to have more dignity than Gary Coleman. "What the fuck?" says Lewis "Guy's got no damn self respect. Don't tell him I said that. I hear he likes guns."
Questions or Comments about this piece?
email Max Burbank