A Visit To YesterCon 2016!
by: -RoG-
After a successful inaugural showing last summer, Yestercon has returned for 2016, and it was absolutely great. If you're unfamiliar with the convention, it feels like the early beginnings of the now gargantuan San Diego Comic-Con - humble, yet wonderful. Nestled inside the Carson, CA Community Center, Yestercon takes attendees back in time, featuring toys, games, and memorabilia from the seventies and eighties up through modern times. It's a welcome reprieve from the chaos that is Comic-Con every summer - no lottery to get a pass, no huge lines, free parking, and a super relaxed vibe.
If you live in Southern California, maybe you went to it, but in case you don't (or you simply didn't know about the event), I've put together a nice lil' pictorial to show you some of the highlights from the event. Enjoy!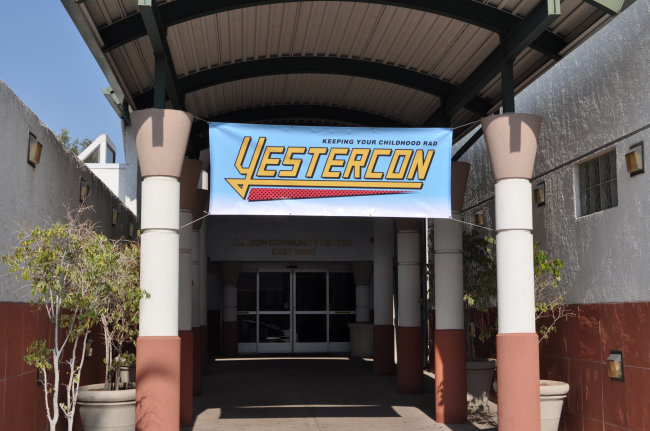 We arrive in Carson, CA for Yestercon 2016.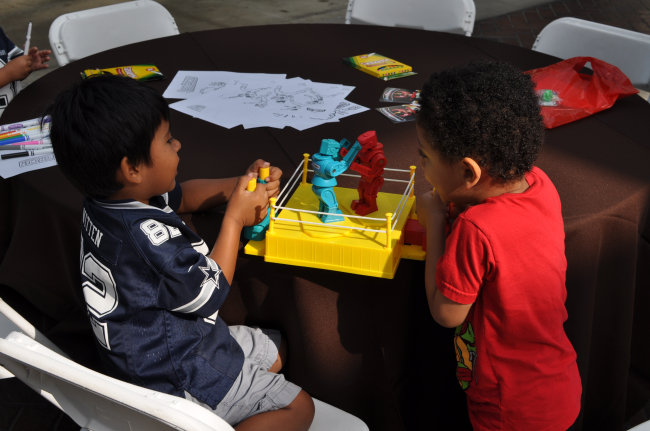 As soon as we walk in, we see two kids playing Rock 'Em Sock 'Em Robots.
Take THAT, Pokémon GO!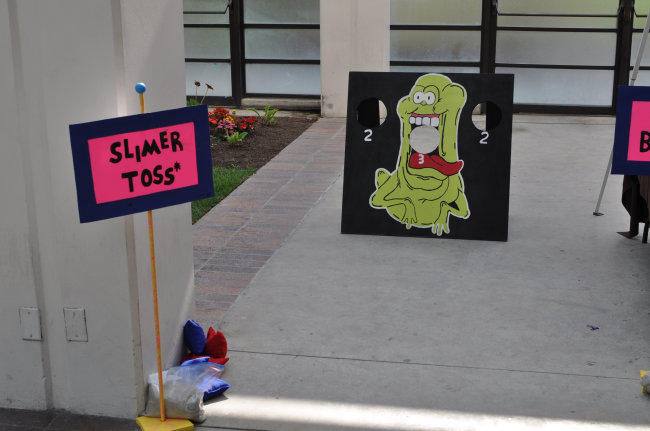 They had some custom Ghostbusters games set up so you could win themed prizes, including genuine Ecto Cooler!
I loved this Slimer Toss game!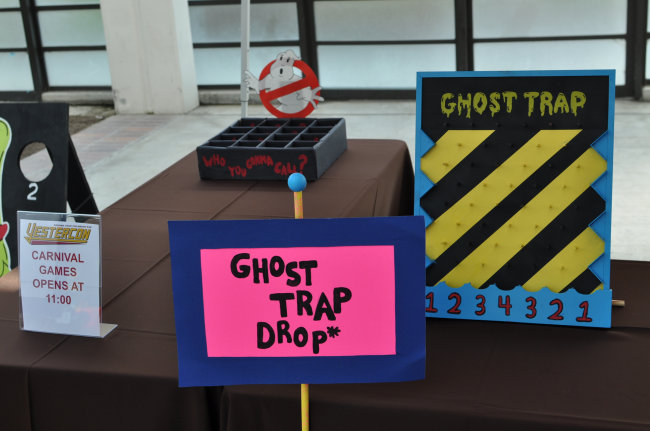 The Ghost Trap and Who You Gonna Call ping pong toss were great Ghostbusters games too.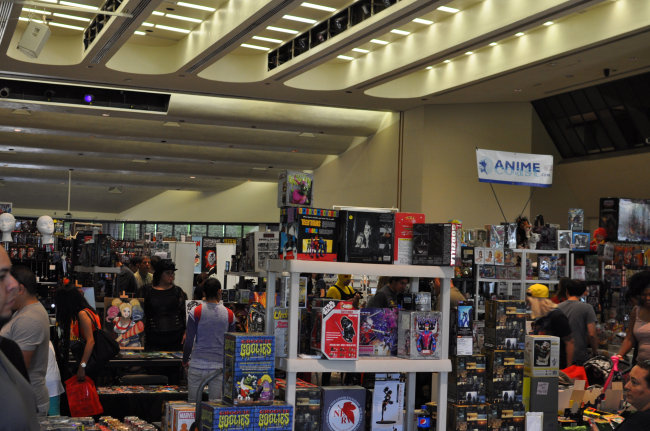 Next, we made our way into the Yestercon exhibit floor.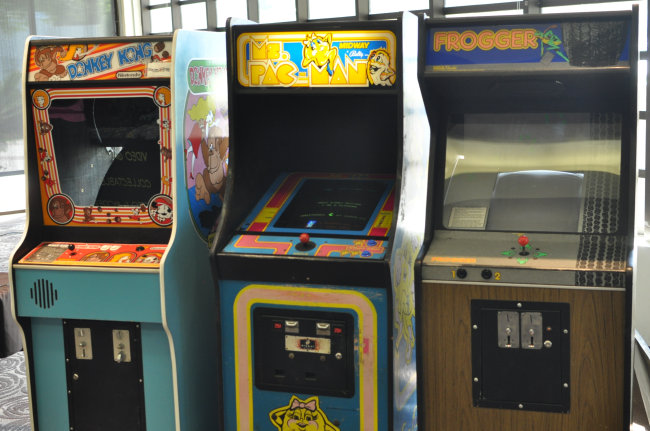 Always nice to see some classic arcade games like Donkey Kong, Ms. Pac-Man, and Frogger.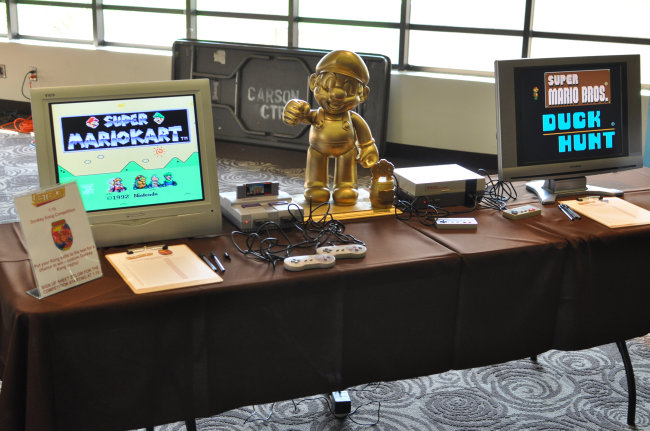 Care to test your Super Mario Kart skills?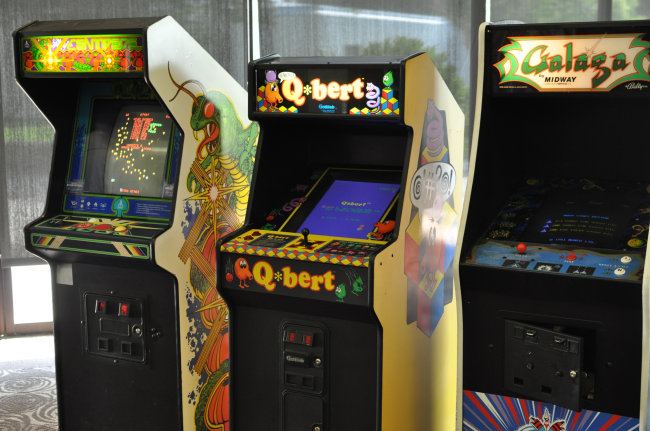 More arcade cabinets set on free play - Centipede, Q*bert, and Galaga!

It sure was nice of Kingpin, Punisher, and Daredevil to stop by, huh?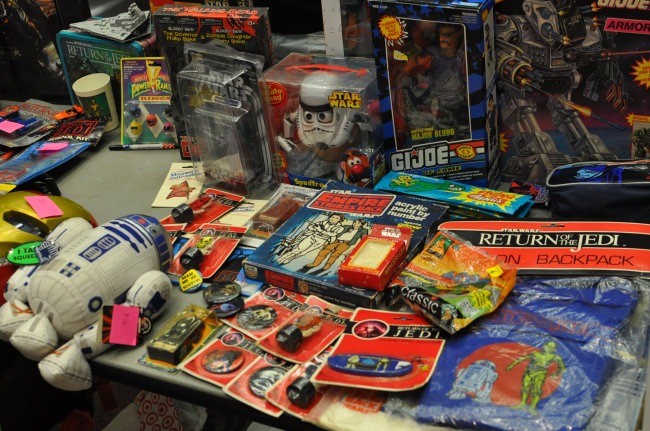 No matter how much random Star Wars merch you think there is these days, there was just as much back in the 70s & 80s.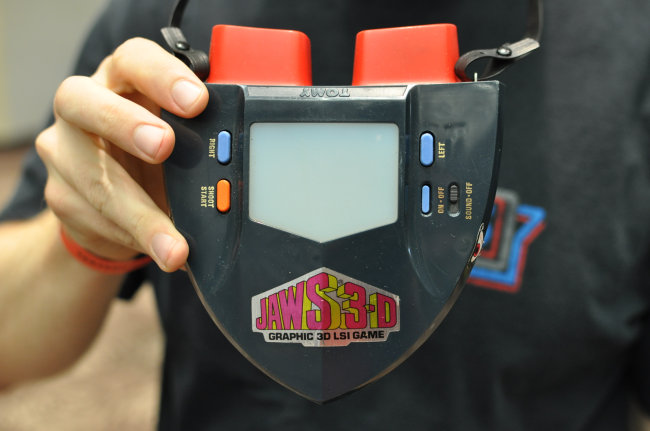 Pretty awesome to see this old Tomytronic Jaws 3-D game!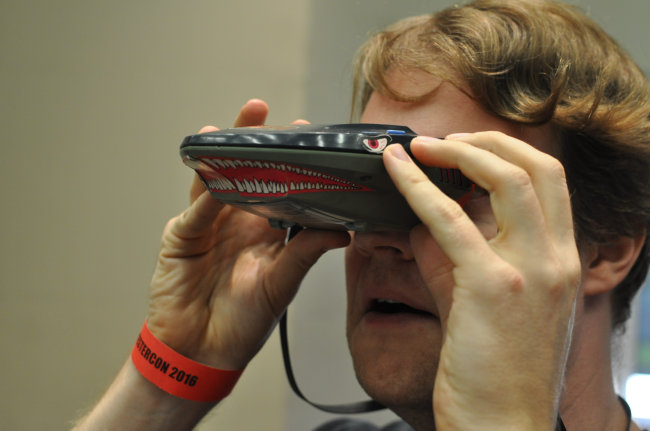 ...and it looks even better when you hold it up to your face.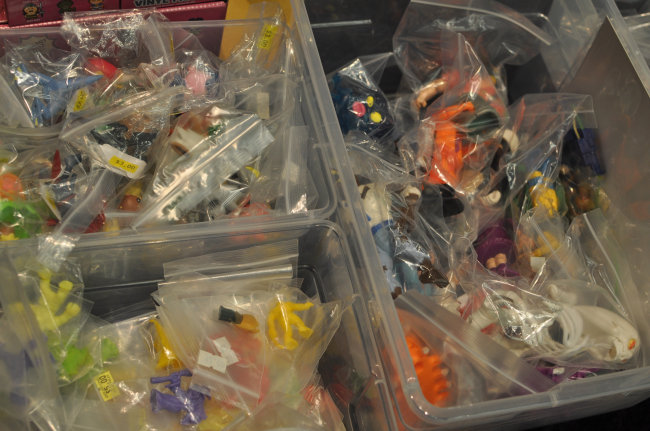 As was the case in 2015, there was no shortage of random bagged figures,
including Real Ghostbusters and Monster in my Pocket.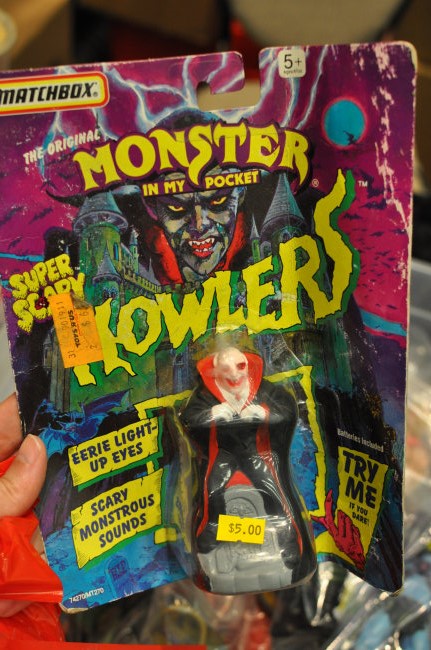 And speaking of Monster in my Pocket, I found this old Super Scary Howlers vampire figure!
It still lights up and makes a super cheesy evil laughing sound!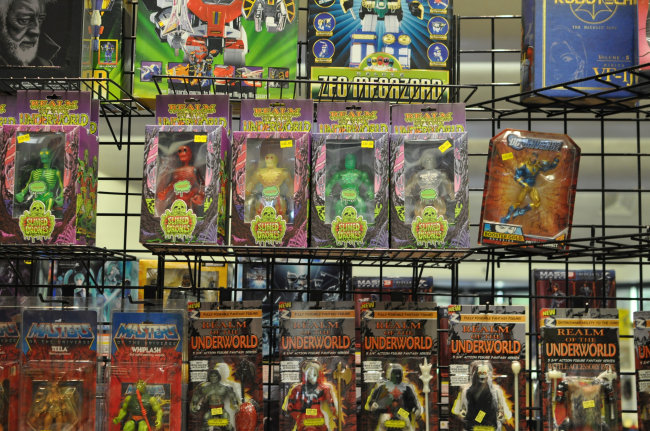 It was nice to see some independent toys like Realm of the Underworld on display.
(We covered them here on I-Mockery some years back and plan to cover their latest ones soon!)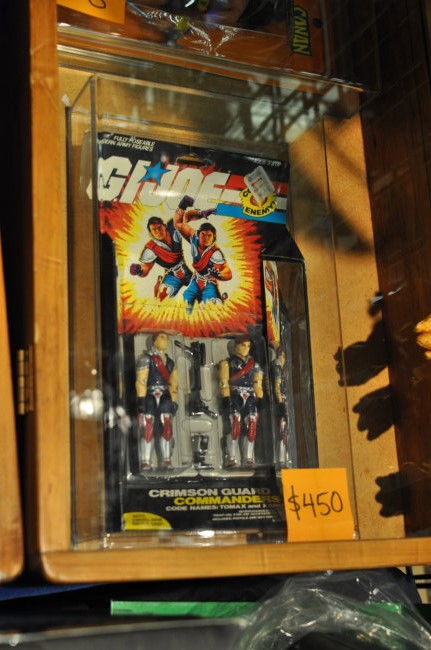 Tomax and Xamot - Cobra's Crimson Guard Commanders!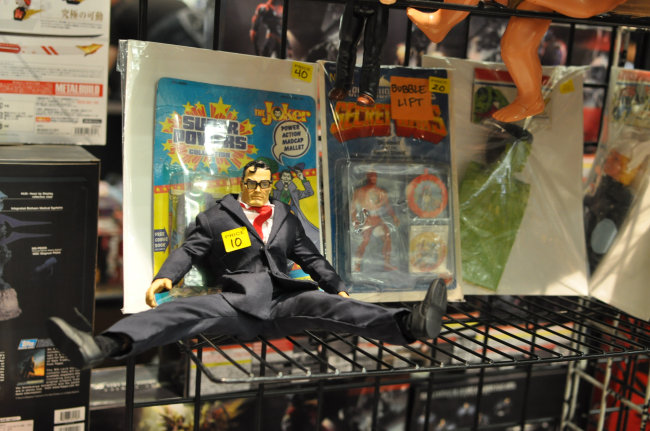 Clark Kent doing his best Jean-Claude Van Damme impersonation.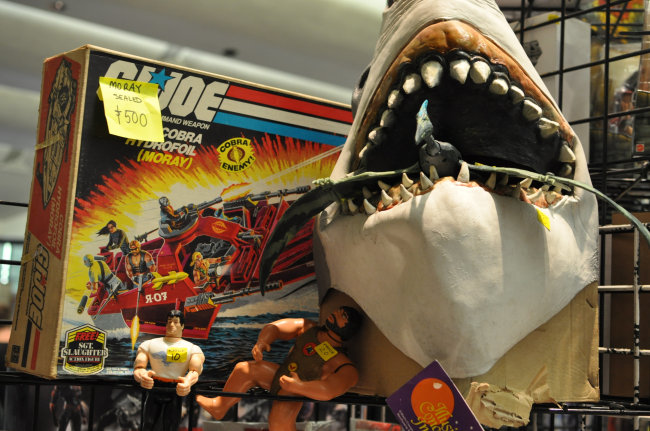 Some more toy shelf randomness including a Lincoln Hawk Over The Top figure, and a shark eating a pterodactyl!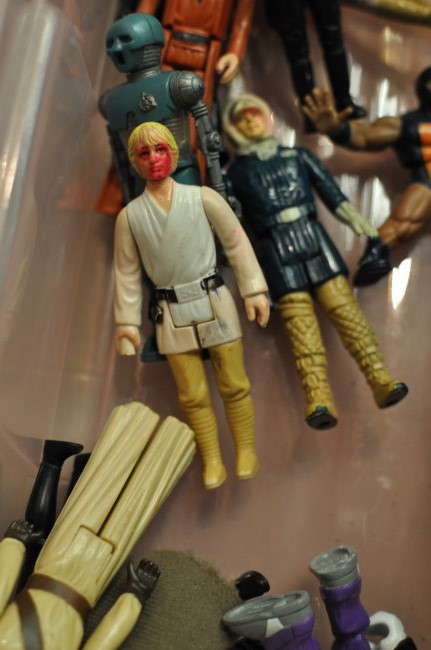 Use the Force, Luke! And for chrissakes, use some sunscreen too!

Some View-Master 3-D reels featuring Batman and The Ren & Stimpy Show.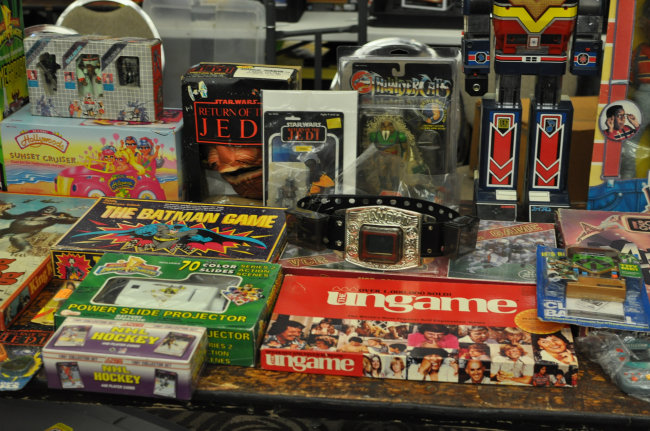 A vintage M.U.S.C.L.E. figures belt, board games, and more.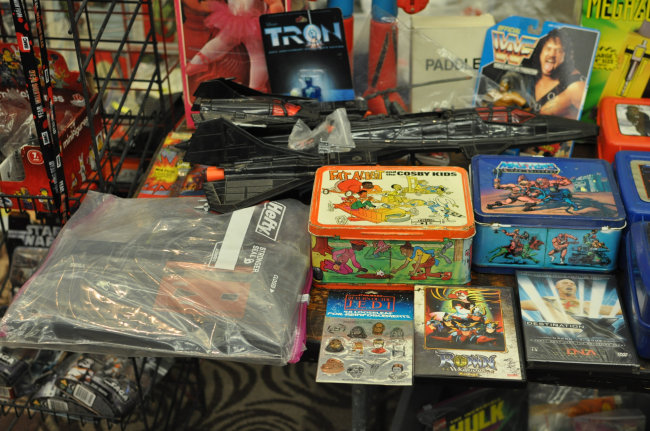 The classic Sega Master System, TRON & WWF toys, and some old metal lunchboxes.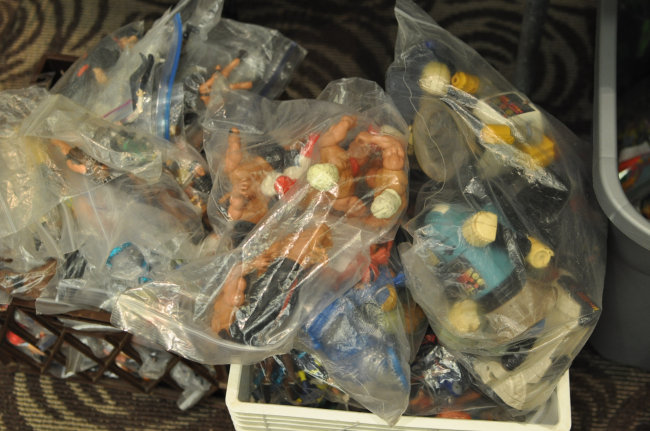 Always nice to see Robo Force pop up here 'n there.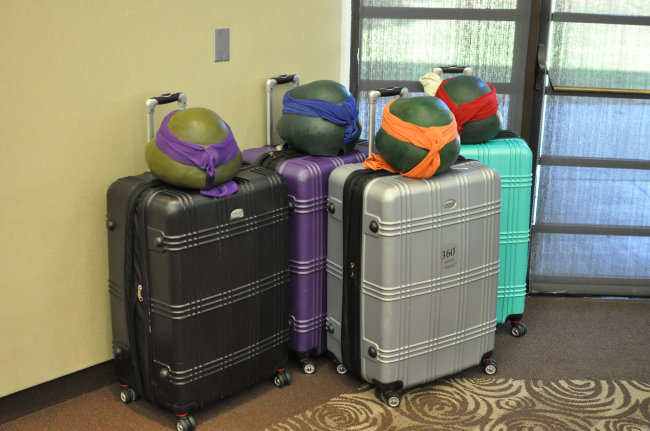 Teenage Mutant Ninja Turtle movie costumes!
I'm guessing these were worn later in the day, but I loved seeing them stacked up against the wall like this.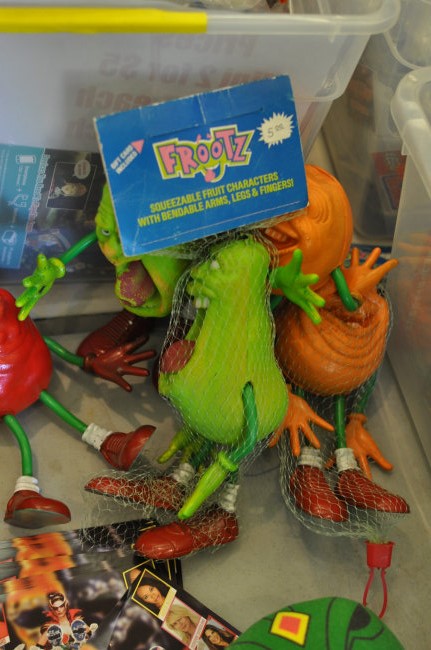 Who else remembers Frootz figures!?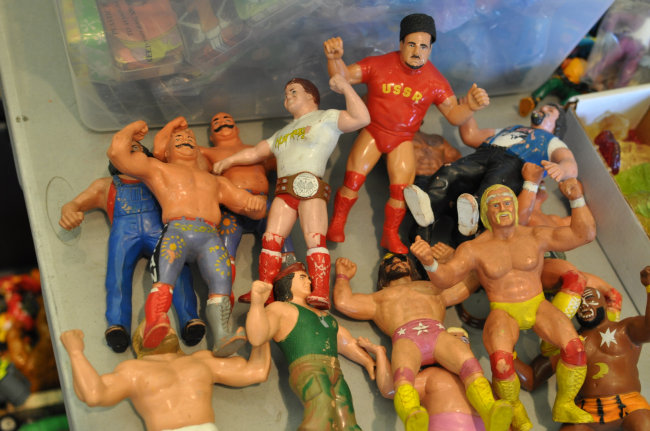 Can't go wrong with the old LJN WWF figures. And yes, Rowdy Roddy Piper deserves that belt.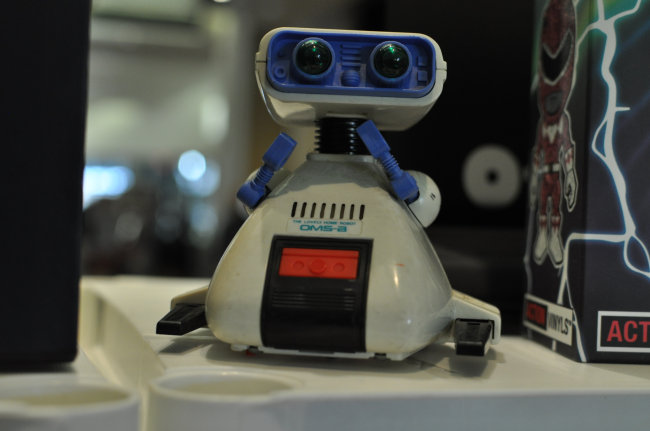 The eternally adorable Tomy OMS-A Dingbot.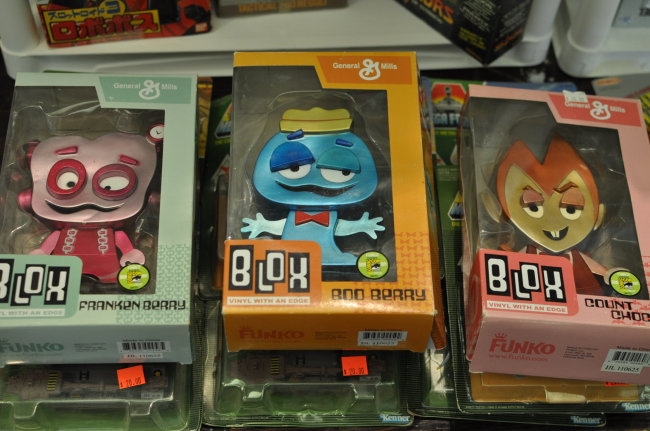 The General Mills Monster Cereal metallic Blox figures from Comic-Con.
Always liked these ones even though they never seemed to catch on with fans.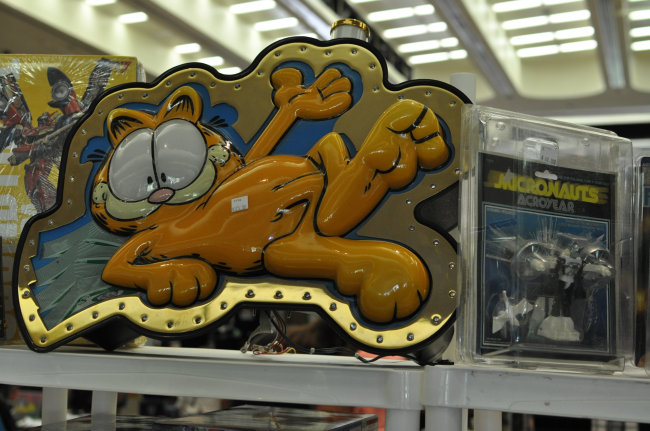 Garfield and Micronauts? Why not.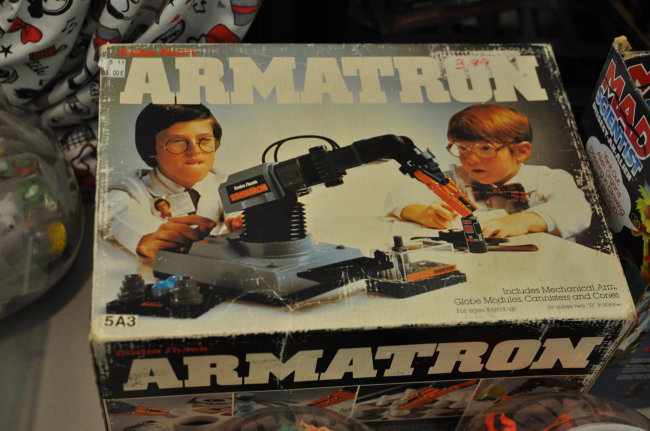 Now here's a time warp straight back to my childhood - the Radio Shack Armatron.
What kid wouldn't want a fully functional robot arm that obeys their commands?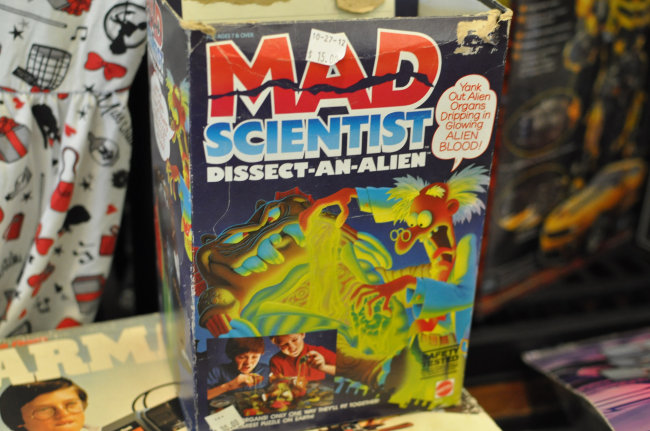 Can't go wrong with the Mattel Mad Scientist Dissect-An-Alien kit. A slimy staple of the eighties!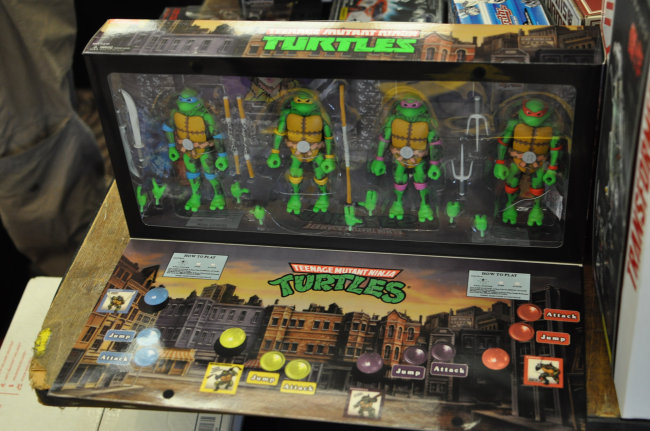 Fresh from SDCC, it's no surprise that some vendors were selling the killer Teenage Mutant Ninja Turtle arcade game figures.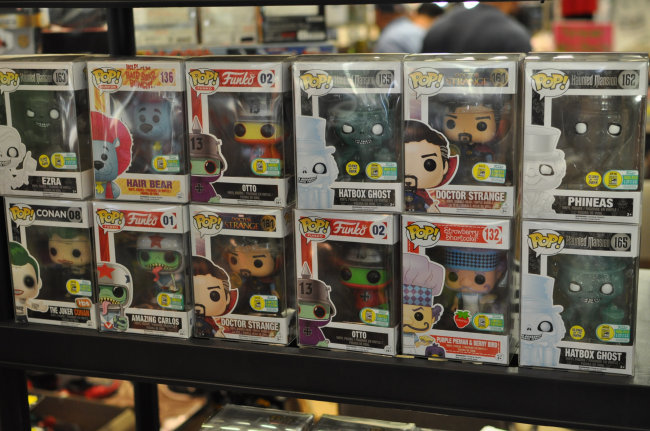 ...and, of course, all of the exclusive SDCC Funko POP figures too.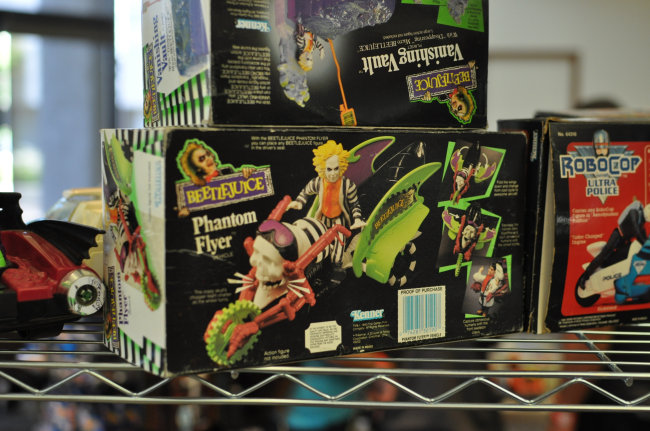 Beetlejuice and his Phantom Flyer.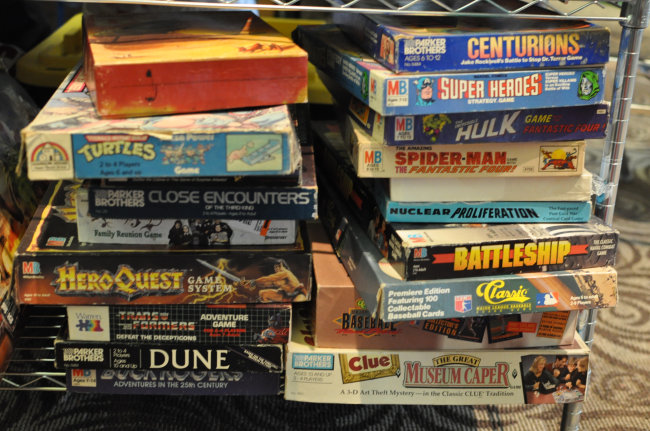 Board games galore!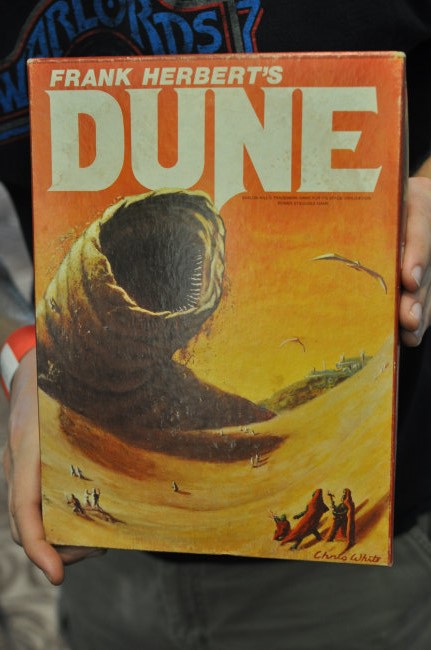 For all you Dune fans, here's a copy of the Avalon Hill board game.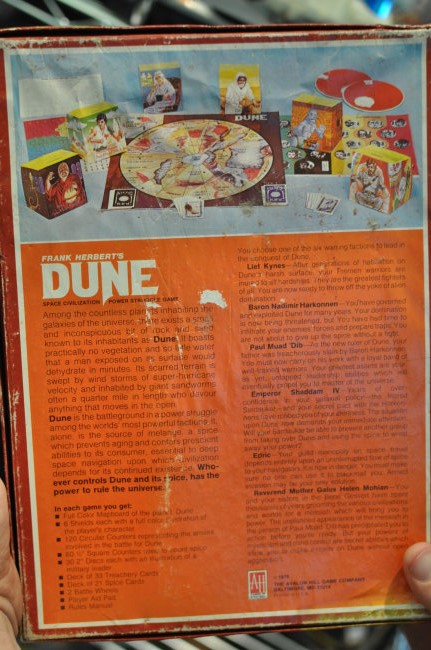 Really nice looking game, but too pricey these days.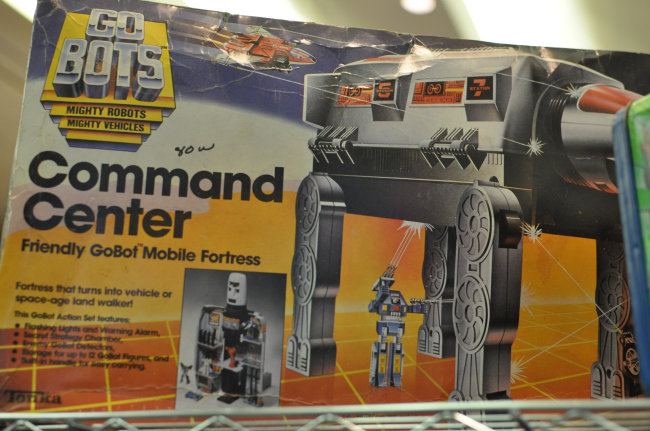 I'll never stop laughing at how badly the Go-Bots Command Center wanted to be a Star Wars AT-AT.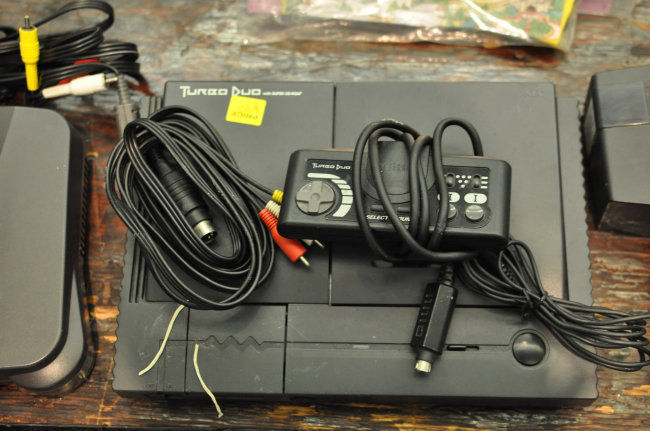 The NEC TurboDuo console.

M.A.S.K. toys... without their masks? You had one job!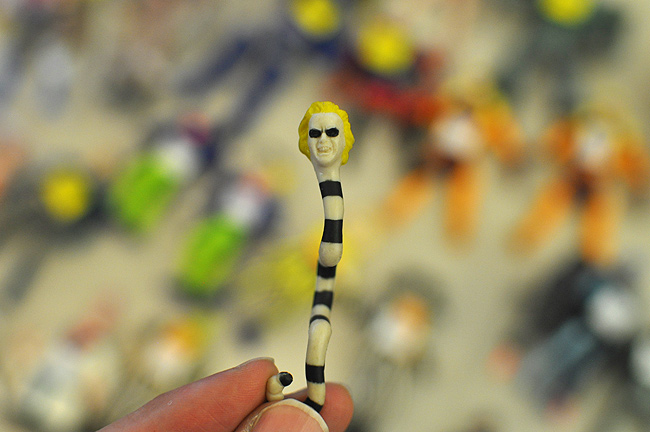 One of my favorite photos I snapped this year was of this tiny Beetlejuice worm.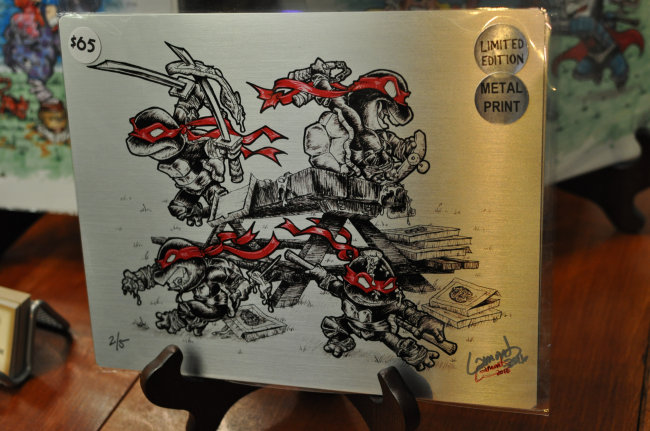 A nice TMNT art print on metal by DakotaKid.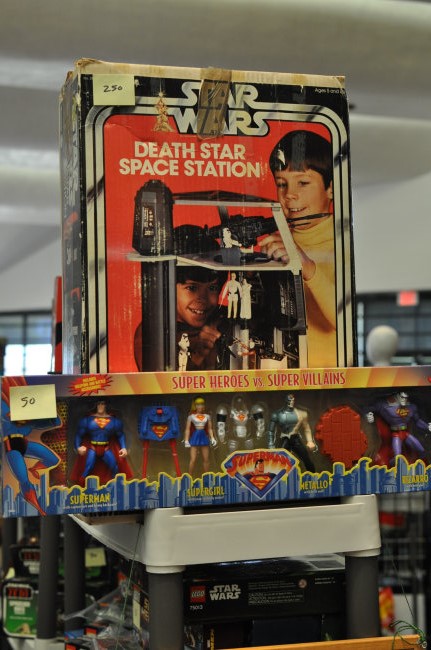 The original Star Wars Death Star Space Station playset by Kenner, complete with a Dianoga trash compactor monster!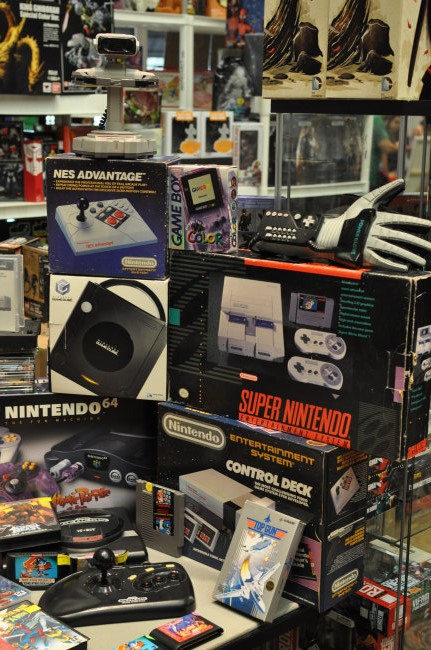 Video game heaven.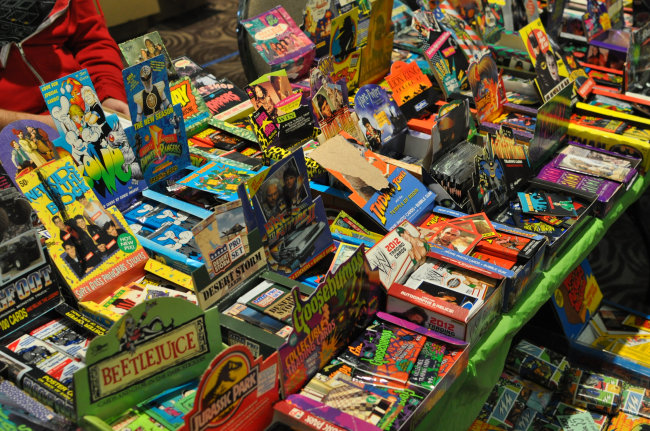 Vintage trading card wax packs!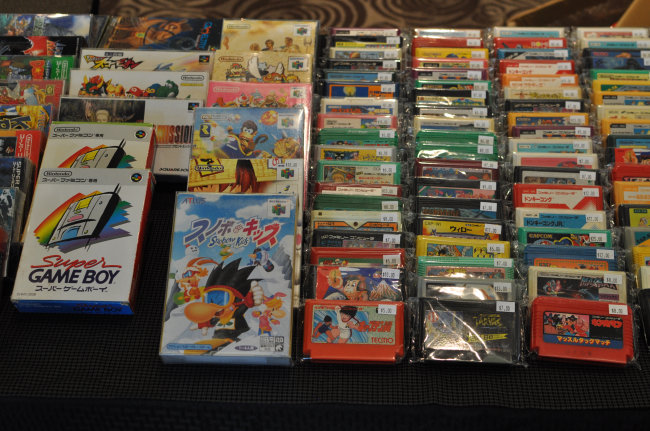 If you're into imported games, Yestercon has you covered for those too.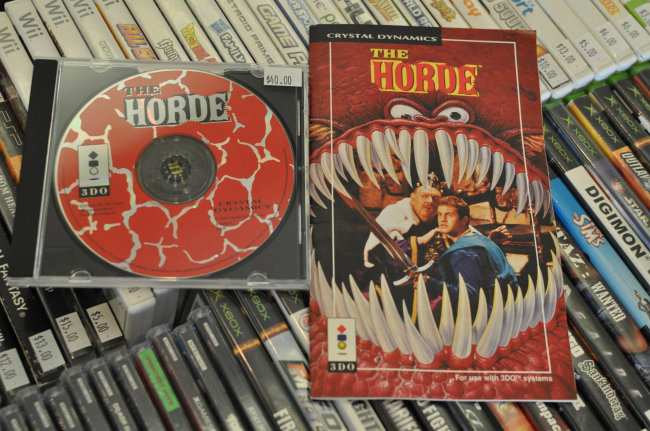 Kirk Cameron was in a game called The Horde. Perhaps that monster on the cover is what devoured his brain.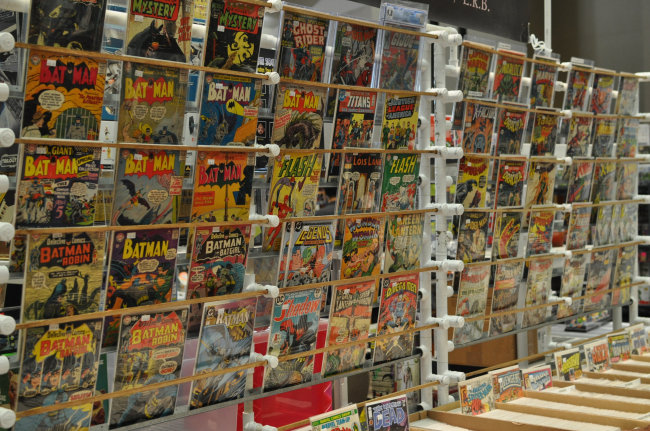 You can't have a pop culture convention without some comic books in longboxes!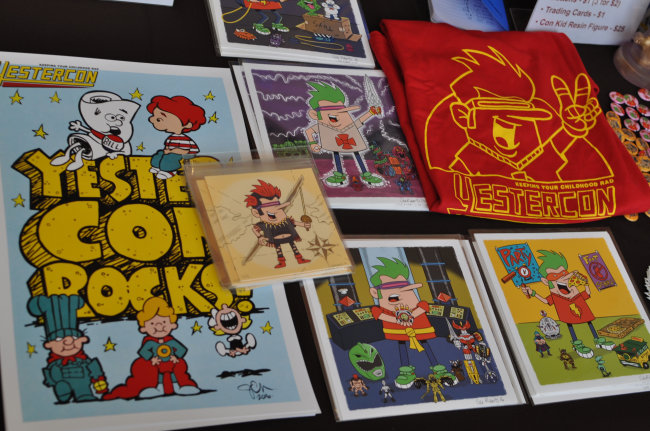 On our way out, we checked out all the Yestercon goodies. I particularly like the Schoolhouse Rock parody print.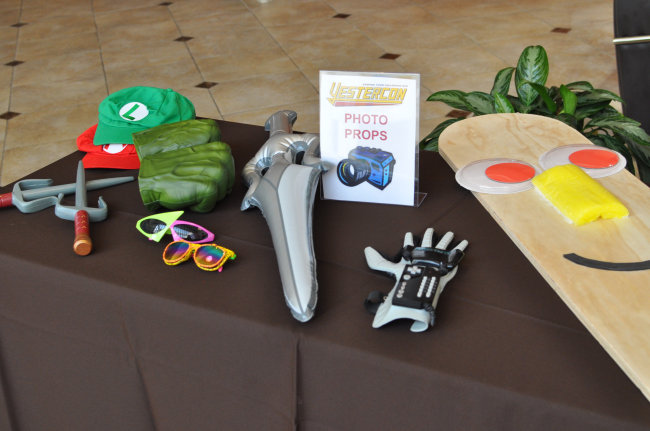 And, once again, they had some fun props and backdrops for photo opportunities. John and I decided to give 'em a try: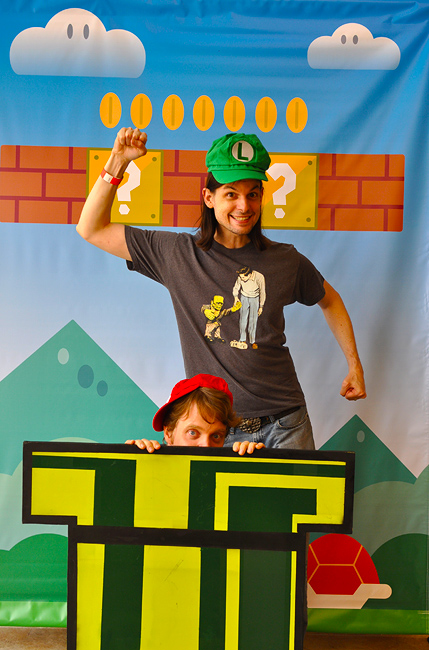 We're perfectly content to live in an 8-bit world.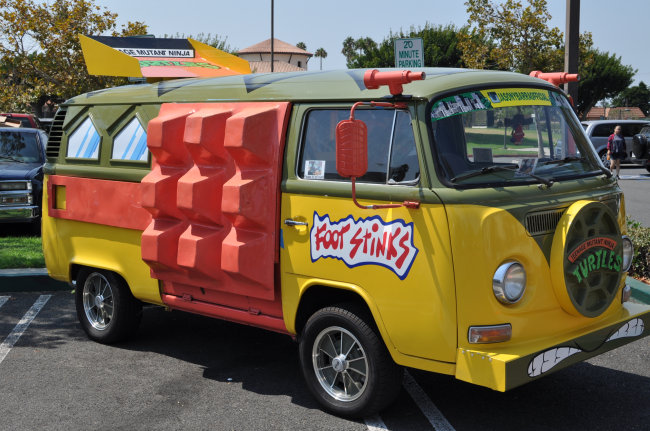 On our way out, we were happy to see an old friend, the TMNT Van!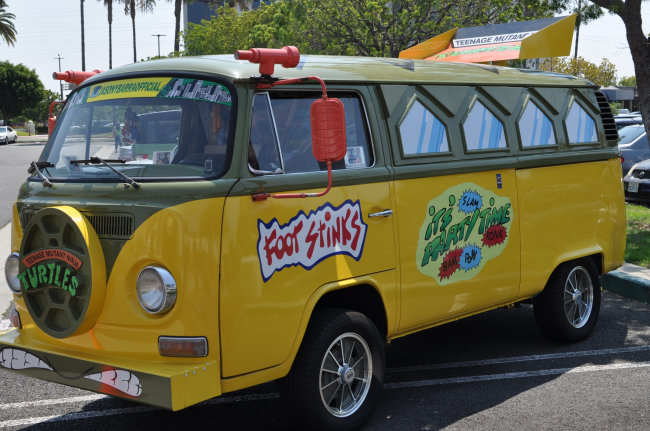 Here's the other side of it. Love those graphics. Foot Stinks!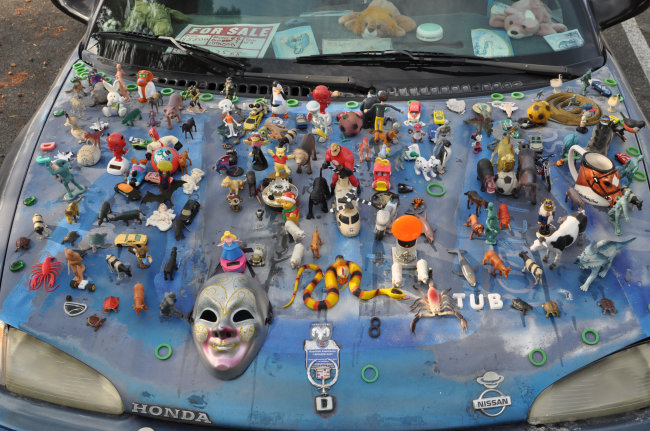 As you can see, it had some competition from another car.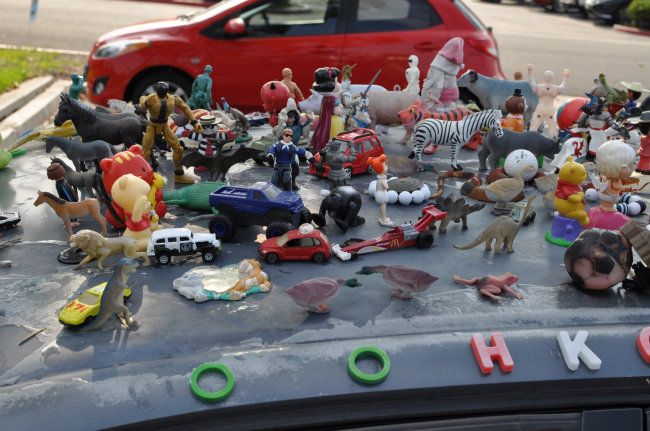 So many toys glued to this thing!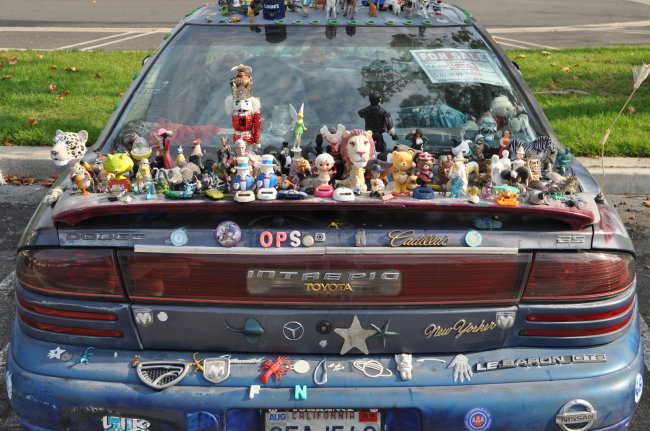 I love how it has practically ever automobile brand logo on it as well.
The TMNT Van and the insane toy car were great, but they were no match for...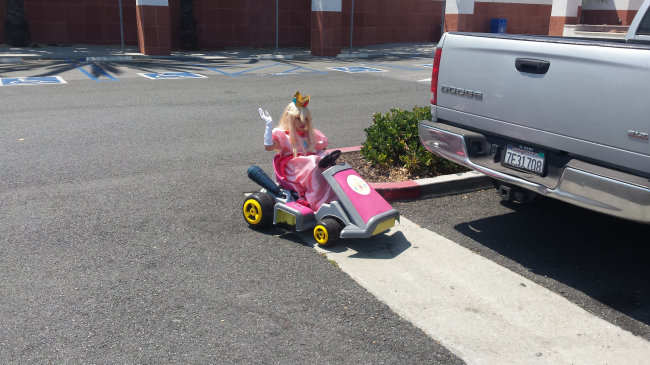 Super Mario Kart Princess Peach! Best ride of the day!
We had an awesome time at Yestercon this year, and if you're anywhere near Southern California, I highly suggest checking it out in 2017 when it returns. Here's hoping it continues to grow... and continues to rock.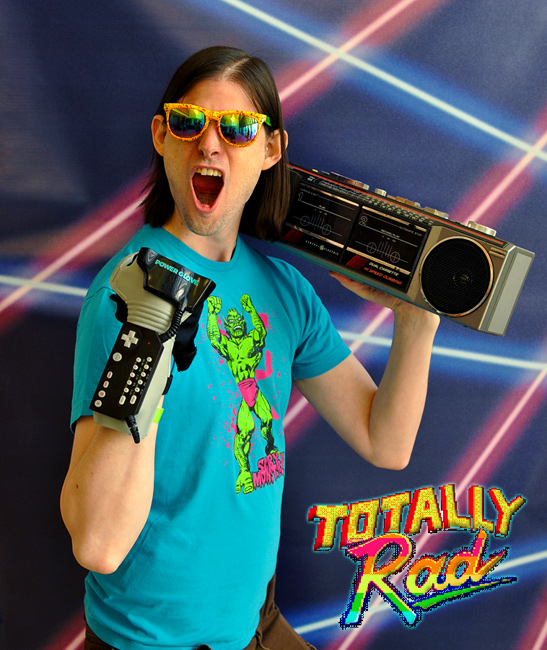 Have any questions or comments about this piece?
SHARE YOUR THOUGHTS IN THE READER COMMENTS SECTION BELOW!