After many, many requests, we've finally made some new official I-Mockery T-Shirts... and this time they GLOW-IN-THE-DARK! Be the envy of everybody when you show off your fresh new I-Mockery shirt! Here's the typical conversation you can expect:
"I've got the latest from Gucci."
"Oh yeah? Well my shirt GLOWS-IN-THE-FRIGGIN-DARK pal!"
"REALLY? OMG! YOU REALLY ARE BETTER THAN ME!"
See? You can't afford to miss out on these shirts. And we've got 'em in all sizes too! Small, Medium, Large, X-Large, 2X-Large, and even Baby-Doll Shirts for the dames. All shirts are black and have the skull on the front with "I-Mockery.com - It's spooky like that" written underneath - and all of it glows! And by the way ladies, the Baby-Doll shirts are the really nice 'n long kind, not the ones that are way too short.
These shirts are only being printed ONCE. In other words, once they sell out, that's it. You won't be able to buy 'em ever again. So if you want a shirt that looks like this: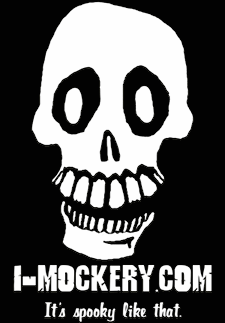 Then order yours today and you'll be the happiest person on earth. Well, maybe not, but at least you'll glow-in-the-dark... which is the next best thing.
ONLINE ORDERING!


Don't have a PayPal account? Sign-Up Here!
ORDERING INFO:
(USA & Canada)
NOTE: WE ARE NOW SOLD OUT OF MEDIUM, LARGE, X-LARGE, AND 2XL
SKULL T-SHIRTS!