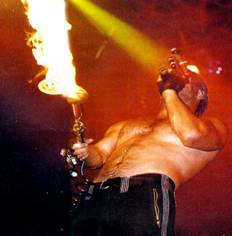 I'm sorry, there are just some guys that I'm not going to make fun of. Not when they could set my arse on fire. Look at this crazy bastard! Rammstein! hahaha.
Don't worry Mr. Crazy German Rammstein Guy, Winky won't make fun of you!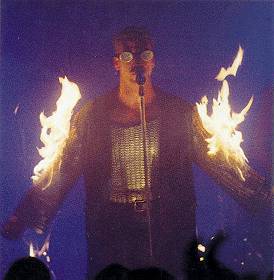 Well, just when the show was getting good, the Rammstein guy caught on fire. That damned Earth Crisis "firestorm" keeps catching people off guard I tell ya. It's a bitch! Oh well, at least now I can make fun of that big scary Rammstein guy. Hahahaha!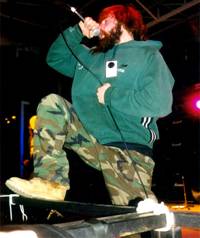 You know, for a band that is called "Skinless" this guy sure has a bunch of "skin" if you ask me. Put the fork down porky. "Where's The Beef?" This guy can answer that timeless question for you I'm pretty damned sure. Skinless? Hah, shyeah...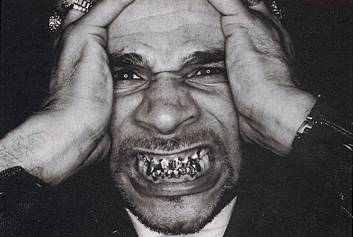 This guy must really like Metal! Not only does he "Feel The Metal" as all the thrashers out there like to say, but this guy friggin "Eats The Metal"!!!!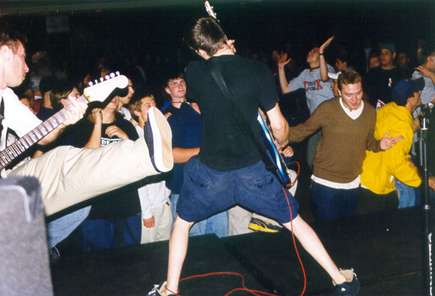 OUCH! Man, what kind of society are we living in where a band member can't walk up to the front of the stage to play a solo without having his crotch grabbed? Look at the guy! He's frozen in shock there! Someone help the poor bastard!
Stop trying to "cop a feel" people. Let the band people play their songs!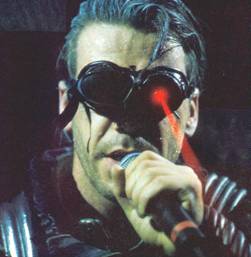 OH SHIT! THAT SCARY RAMMSTEIN BASTARD IS BACK!
OH NO! HE'S NOT EVEN HUMAN! HE'S A FRIGGIN' ROBOT!!!
HE'S THE TERMINATOR! NOT EVEN THE FIRESTORM CAN STOP HIM!
AND NOW HE'S AFTER ME!!! SOMEBODY HELP!!!!!!!!!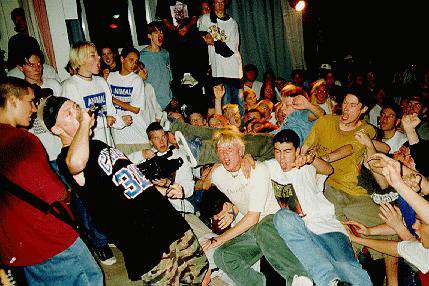 (thanks to Brian Scumbag Fukkhead@anti-social.com for sending me this pic)

Oh this is TOO perfect. You all know how I've always joked around about vegans being to frail right? I've always made jokes saying stuff like, "They're so frail that all it would take is a good gust of wind to knock them on their asses".
Well here you have the proof! Earth Crisis, and hordes of their idiot followers being completely knocked on their asses front a little gust of wind.
I think we should turn all vegans into human kites. What do you people think? Wouldn't it be great to see children running merrily through a field flying
their vegan kite high in the sky? Ah, sounds like a Kodak moment to me!!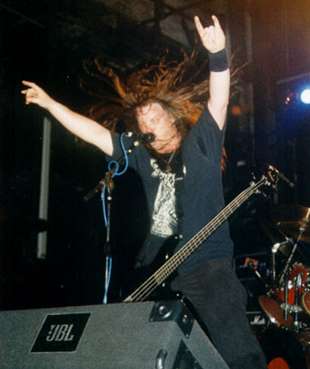 And yes folks, after our guest vocalist here finishes praising the almighty Satan, he will sing a rendition of "Love Me Tender" in the key of B Minor.