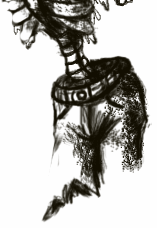 While this little fundraiser was held many years ago (long before the advent of crowdfunding services, unfortunately), I was still able to make use of the small amount we were able to raise. While it wasn't near the goal for a full independent zombie film, it did enable me to purchase all of the props, set designs, and costume elements that would eventually lead to the creation of something near & dear to my heart:
Doc Mock's Movie Mausoleum.
We ran the show for over 30 episodes, and had the streaming studio that we filmed it in not completely changed, I don't doubt that we'd still be shooting it to this day. Still, we had a lot of laughs and great memories to reflect on from all those Doc Mock episodes where we shared all kinds of crazy b-movies with you.
If you were one of the few who donated to the zombie film project back in the day, please know that I'm eternally grateful. Doc Mock's Movie Mausoleum was one of the greatest experiences of my life, and getting to share it with all of you every week made it all the more fun.
Thanks again, and keep watching fun horror flicks!
P.S.: Doc Mock says hi!