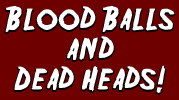 Ah yes, one of the many things I love about Halloween is all the crazy candies that come out. The designs on the package are so much more colorful and evil, it just makes you want to buy the stuff without thinking twice about how cheap they'll be come November. That was certainly the case with the two candies we'll be taking a look at today. First off, we have "Blood Balls".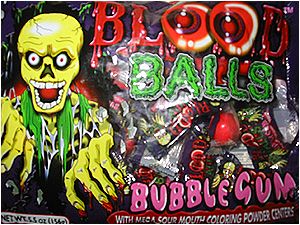 This might be the most insane package design I've seen so far this year. One look into those psychotic eyes and you know that this neon yellow skeleton means business. Hell, after staring into his eyes for a few minutes I was convinced that these weren't bubble gum balls, but mini-spheroids of death containing real human blood. So yeah, it's only natural that I had to buy them.
Each piece of gum comes individually wrapped, and of course mister "I'm a psycho yellow skeleton who will harvest your worthless soul" is on each wrapper. The packaging warned me: "BLOOD BALLS ARE MEGA SOUR GUM BALLS FILLED WITH A SUPER SOUR MOUTH COLORING POWDER THAT WILL MAKE YOUR SKIN CRAWL AND YOUR FRIENDS SCREAM!" I make my friends scream all the time, so that was no big deal, but all the other claims it was making definitely perked my interest.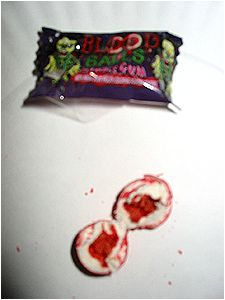 I cut open one of the gumballs to see this alleged "super sour mouth coloring powder" for myself. Perhaps it was because they had been sitting in a warehouse for far too long, but the powder was more like wet sand. Nonetheless, it was bright red wet sand begging to be devoured. Figuring that these things wouldn't be all too sour, I popped one into my mouth all nonchalantly.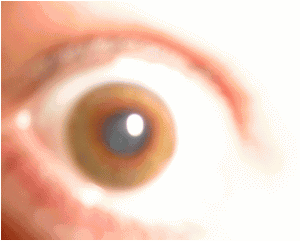 BLOOD BALLS
MEGA SOUR BLAST!
My eyes became completely dilated as the urge to let my saliva gush out of my mouth like a river grew ever stronger. Holy shit were these things sour! Saying they're "MEGA SOUR" doesn't even do them justice. These things become LIQUID DEMON JUICE when you eat 'em. That yellow skeleton on the package? Yeah, that's pretty much how I looked after eating just one.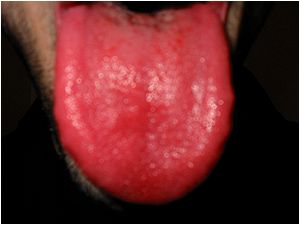 After wiping away the sourblast-induced tears, I went over to the mirror to see if that miniscule gumball from hell had changed the color of my tongue. Indeed it had! My tongue was bright red, which was quite impressive considering it was such a small gumball to begin with. Tongue color changing rating: A+
The next item on my candy list was "Dead Heads" by Charms. Skull shaped lollipops that also claimed to turn your tongue red. Could they compare with the Blood Balls? Let's see...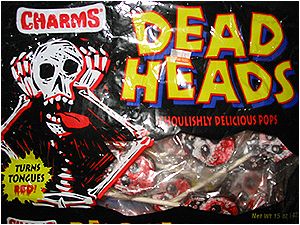 So far so good. The package design is right on the money. When it comes to Halloween candy, you just can't go wrong with skeletons. Actually, for any kind of product, you really can't go wrong with skeletons. Remember all those sites that died when the dot-com bubble burst? I bet you they'd still be here today if they had just plopped a few skeletons onto their pages.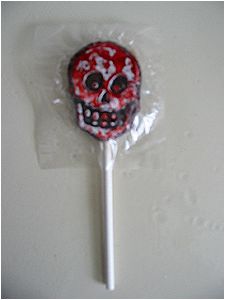 Ah, now that's what I'm talking about! While the Blood Balls might be able to take down a moose with their evil sour blitzes, these Dead Heads lollipops definitely look much cooler. Skulls covered in blood... that you can EAT! My friends, this is what dreams are made of.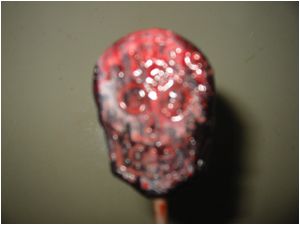 Maybe I still had some sour juices from the Blood Balls on my tongue, but either way, one lick to this lollipop made it look absurdly disgusting. I mean, this thing literally looked like those bad guys from "Indiana Jones and the Raiders of the Lost Ark" when their faces all melted off at the end. Of course, that just made me want to lick it some more.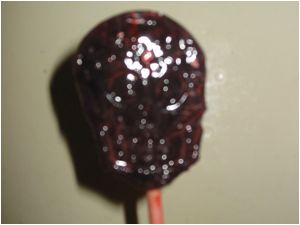 After a few more licks, it resembled some kind of a twisted skeletal mud monster. The flavor wasn't anything special, pretty much the same as your average Charms Blow-Pop. But the looks of these things alone goes a long way. Now for the final test... would it dye my tongue better than the blood balls?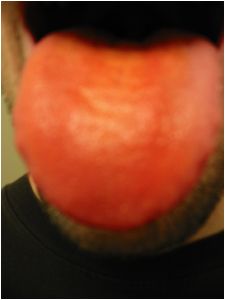 Sadly, the answer is no. For a candy that is twice the size and requires you to lick it for quite some time, this thing just barely changed the color of my tongue. And the color wasnt' even red, it was more of a light orange. Damn, Dead Heads, how could you let me down in the end? Tongue color changing rating: C-
I suppose now would be an appropriate time for us to all start praying for a quick, non-sour death...
---