Another clearance rack find from my local Halloween shop; this Boogie Bobber promised to dance his little heart out anytime I played music if I would just shell out the .50 cents they were selling him for. How could I possibly refuse such a deal?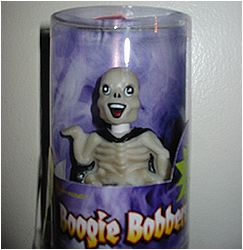 Just look at the little fella. He's a skeleton with a wobbly bobbly head and he's wearing a cape. As if that wasn't cool enough, he's doing the "Walk Like An Egyptian" pose that the Bangles perfected back in the 80's. This thing is going to boogie like no toy has ever boogied before!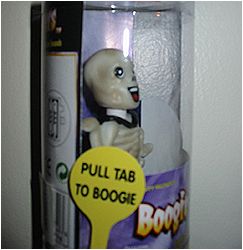 As you can see, there's a "PULL TAB TO BOOGIE" tab sticking out of the display case. Most of the Bobblers in the store already had their tabs ripped out; but not this one! I removed the tab and flipped the switch to the "on" position and... nothing. I tried playing music, making noises, and tapping on it, but he still wouldn't dance. Not a bobble, not a jiggle, not even a shimmy. At this point, I figured somebody must have killed off the two AAA batteries that the Boogie Bobber uses. Luckily, I had two perfectly functional AAA batteries in a nearby calculator. I put them in the Boogie Bobber and... nothing. The damned thing was broken! I even tried yet another set of batteries just to make sure, but the thing was broken (much like our very own resident Dr. Boogie). I guess I shouldn't have been surprised considering it was .50 cents. Still, I demanded satisfaction.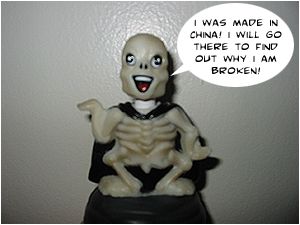 Indeed, he was made in China according to the engraving on his battery cover. My skeletal Boogie Bobbler promised me he would get to the bottom of his non-functionality. And so began his journey back to his motherland... back to China.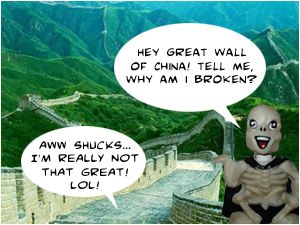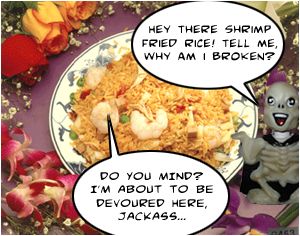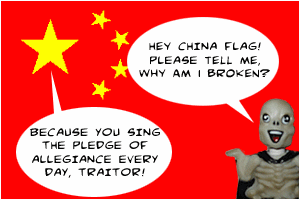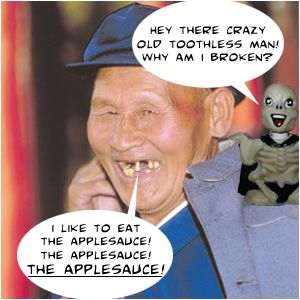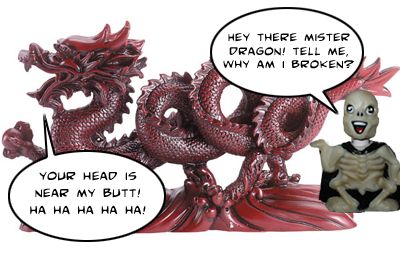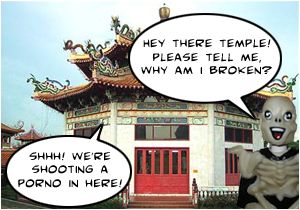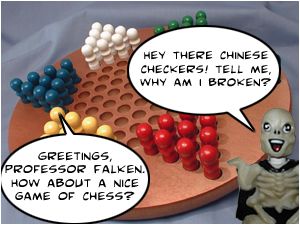 Well, our poor little Boogie Bobber pal here may have not been successful in his search for the answer to why he doesn't work, and I really do feel sorry for him. But, more importantly, I feel sorry for you people because you were probably expecting to see him boogie as soon as the tab was pulled. Well, I have a surprise for you. I wasn't made in China and you can pull my tab to see me boogie instead. Money just can't buy entertainment like that.
---