THIS CONTEST HAS ENDED.
RESULTS NOW POSTED!
Alrighty, the results are in for the design a horrible replacement Freddy Glove contest! I have to say, I'm really amused by the fact that I was able to get so many people to tape household items to their fingers. Someday I'll have to use my powers of persuasion for something more meaningful. In the meantime, we'll keep on doing stupid contests like this. But enough blabbering, Let's get on with showing the lucky winners!
FIRST PLACE:
SEŅOR BOOYAH!
Talk about a slow death, Freddy is apparently trying to kill people with tooth decay now.
SECOND PLACE:
WILLIAM WIREMAN!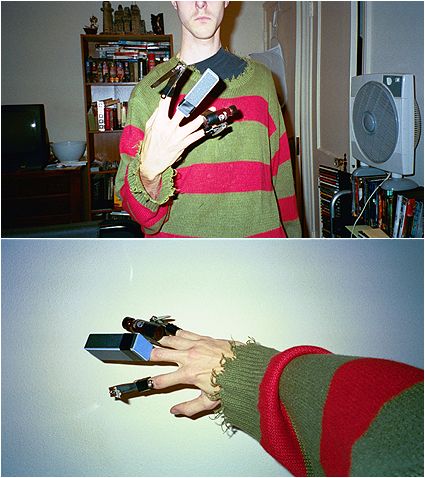 According to William, if Freddy ever decides to give up killing, he could always try for a career in manicures and pedicures.
THIRD PLACE:
MARY GILLESPIE!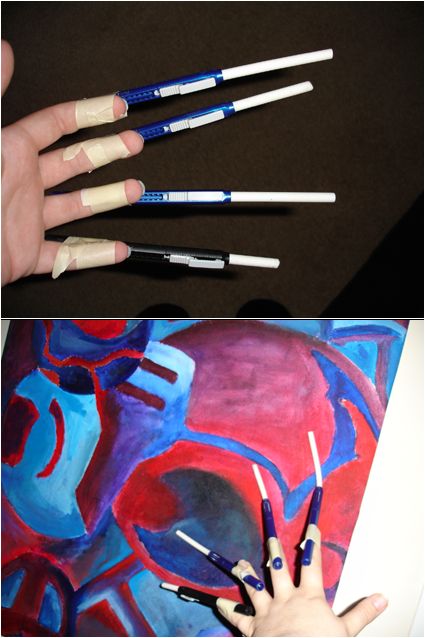 I guess Freddy isn't a patron of the arts, because in addition to rubbing out his enemies, he apparently enjoys going to museums and erasing pieces of abstract art.
Congrats to our top 3 winners! You took maybe five minutes out of your lives to enter this contest and you are now forever immortalized on this web page for having done so. With that in mine, let's look at some of the other entries, which people took even less time out of their lives to come up with!
SOME OTHER ENTRIES: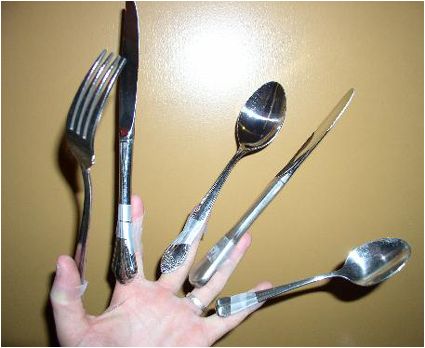 Brent Dickinson's silverware slasher!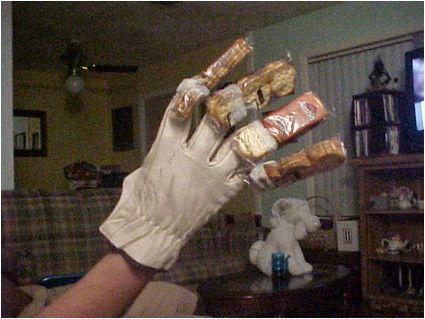 DixieXAngel's cracker fingers of doom!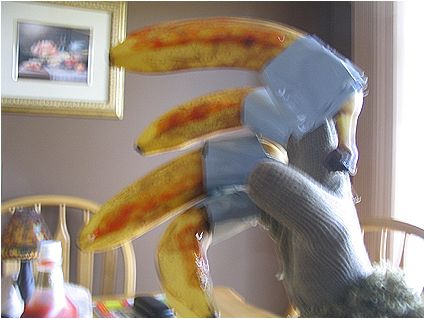 Josh Morey's blurry banana fingers!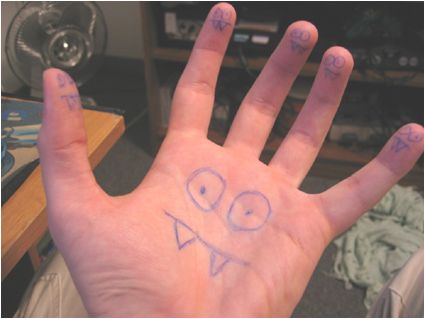 Kaze Arashi's vampire hand?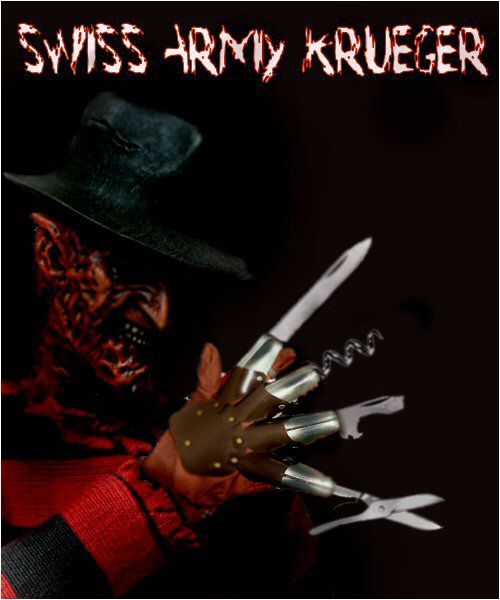 Mad Melvin's self-proclaimed "uncreative swiss-army knife glove!"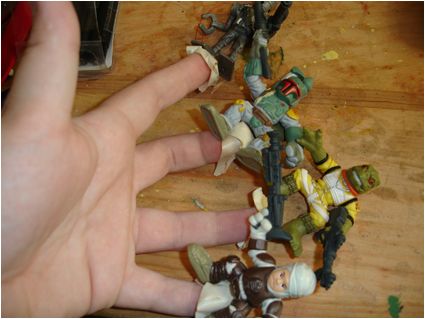 Mary Gillespie's bounty hunter hands!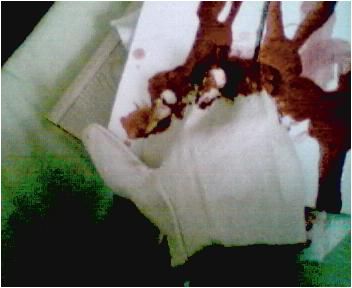 Mr. Rodriguez's "If I can't have razors on it, then I
guess I don't even need my fingers anymore" glove!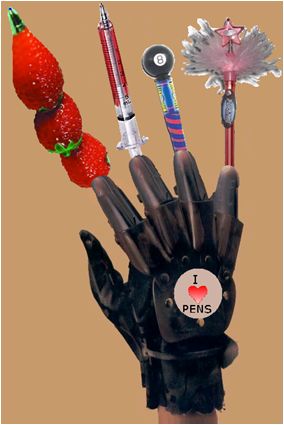 Nicholas Seymour's "I <3 Pens" photoshopped glove!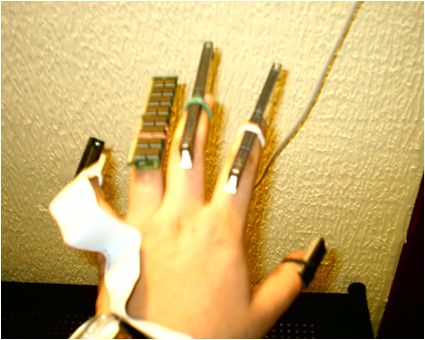 Paul Alexis' wired glove!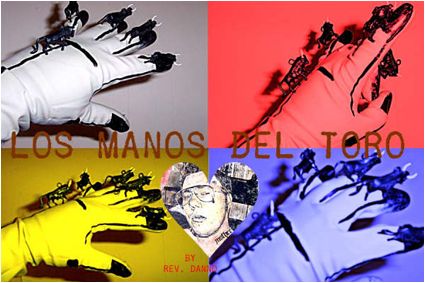 Rev. Danno's "I like seeing my face in every contest I enter" glove!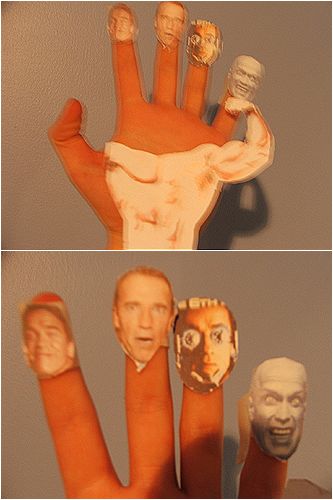 Rothan's "Ahhhhnold glove!"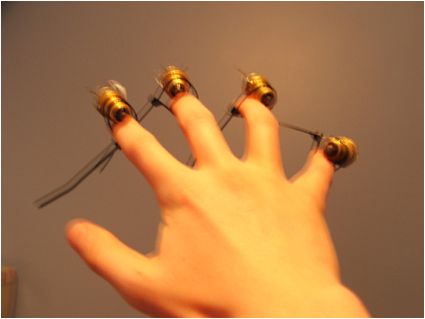 Rothan's "bright idea" glove!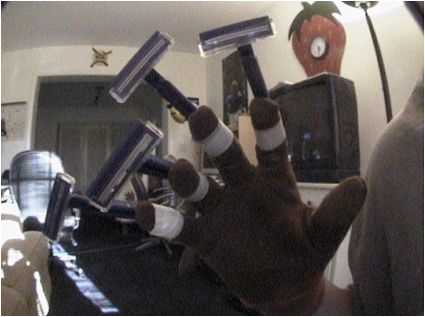 Matt Henry's shaving glove!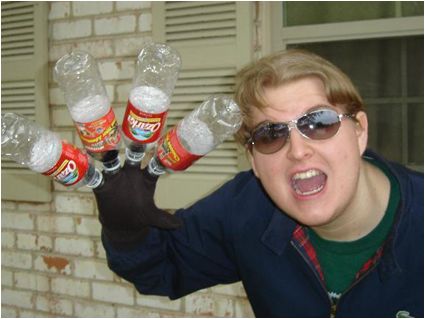 Stephen Pegg's death via spring water bottle glove!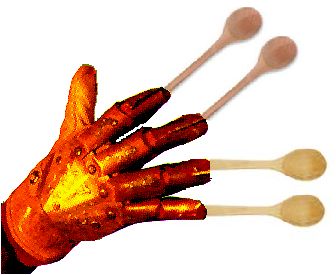 Thielemans Eliot Emery's wooden spoons of pain glove!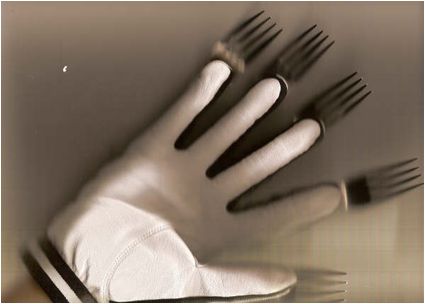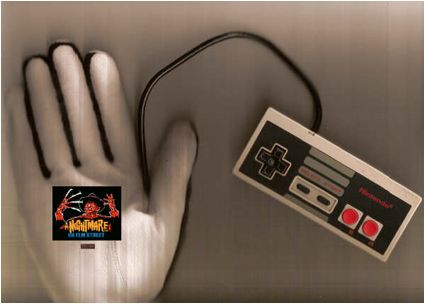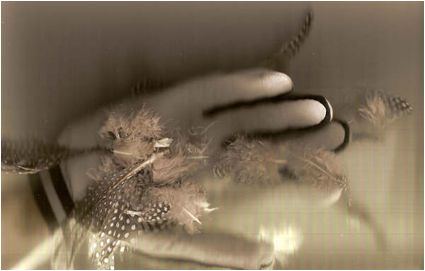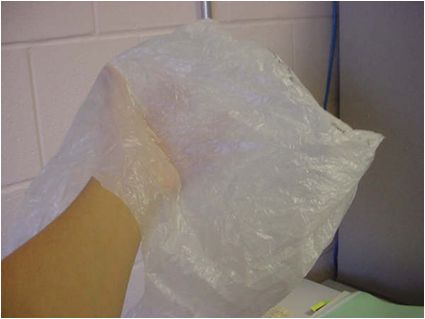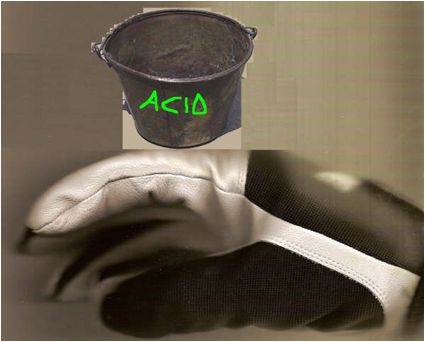 Wer Rew's collection of craptastic gloves!
That's all! Thanks again to all who entered!

---
Jason has a machete, Michael has a kitchen knife, Leatherface has a chainsaw, and Chucky has... well ok... people just laugh at Chucky. Still, out of all the weapons that horror movie icons have used to terrorize their victims, none are more recognizable than the glove of Freddy Krueger.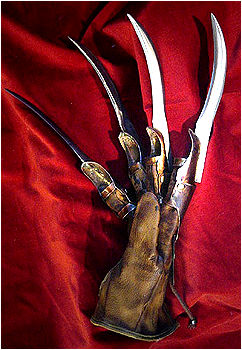 It probably has something to do with the fact that Freddy's glove is not something you could just go buy at Bed Bath & Beyond. Then again, I gotta say, I would like I see Michael Myers shopping at Bed Bath & Beyond for a new kitchen knife. It'd still be scarier than "Halloween: Resurrection" that's for damned sure.
But like I was saying, Freddy's glove is a unique item that he had to make from scratch. He didn't just grab the nearest blade and go, "Eh, I guess this'll do." No, he actually went through the trouble of making a custom instrument of pain that would terrify his victims the moment they laid eyes upon it.
But this got me to thinking... what if Freddy didn't have blades on his fingers? What if he wanted to confuse his victims with a bizarre new glove? Or what if maybe he wanted to play a practical joke on them? Or what if he simply didn't have any blades handy so he had to make due with something else for his glove?
Well my friends, I believe it's time we answer that question ourselves. Our you with me? You better be, goddamnit. What I want you to do is take a photo of your very own custom Freddy glove this month. You can make it from whatever materials you want, just make sure the fingers are something other than his usual razors. We're going for a new Freddy glove after all!
Here, I'll show you an example...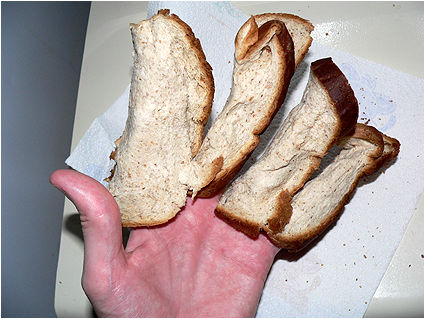 FEAR MY YEASTY FINGERS OF DOOM!
Ok that's a bad example. No, that's a REALLY BAD example. I would hope that you'll put a little more effort into your glove than that. You don't have to be a master craftsman or anything, these gloves are simply going to be judged on creativity and humor. So it really doesn't matter if you're shoving popsicle sticks through an old winter glove or not... just give it a shot and have fun with it!
And your efforts won't go unrewarded either! Not only will I post any photos I receive of your custom gloves on this page, but I'm offering up some slasherific Freddy prizes to the top 3 entries!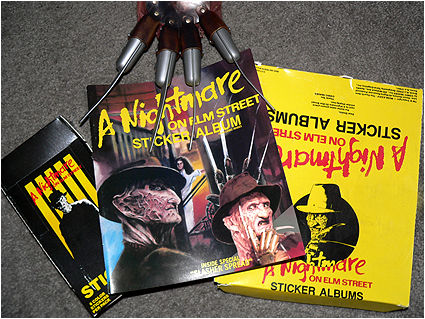 Each of the three winners will receive an new, unused vintage Nightmare On Elm Street Sticker Album PLUS a full box of vintage Nightmare on Elm Street Sticker packs! Each box contains 48 packs and each pack has 6 stickers. No matter how you do the math, that's a lot of Freddy fun!
- PLUS -
The first place winner, you get to pick whatever your favorite elm street movie is and I'll send it to ya! Whether it's any of the original 6 Elm Street films, Wes Craven's New Nightmare, or Freddy vs. Jason... you can pick any one you want!
Please email your entries to freddyglove@i-mockery.com no later than October 28th, 2005! Enter as many times as you like. Just remember, no glove is too bizarre or too crappy, just have fun with it. The kind of fun that Freddy has when he's killing people in those oh-so-creative ways of his! Good luck!
By the way: YES, this contest is open to ALL COUNTRIES, not just the United States.
THIS CONTEST HAS ENDED.
---