Recently a bunch of us went to the Science Museum here in Richmond, VA to check out the all new Grossology exhibit. We took a ton of great photos of the entire place and it was going to be a really cool Halloween minimock. Unfortunately, one of the cards on my camera decided to completely fuck up, and thus we lost almost all of the photos we took. The only good news is that we were able to salvage some of the photos before the card went kaput... so here is a brief tour of the awesomeness that is Grossology.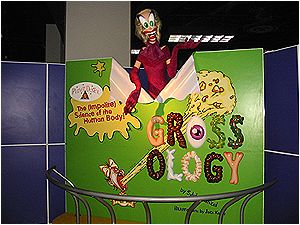 So we walked up to the entrance of the exhibit and were greeted by an animatronic psycho puppet lady who was more than happy to show us the way into Grossology - "the (impolite) science of the human body" as they call it. And for the record, this place had even more animatronics than your average Chucky Cheese establishment. Sadly, there was no pizza... not that you'd want to eat around such nauseating things.
And speaking of eating, we walked directly into a giant nose. We got to look at, touch, and yes even lick every nook and cranny of this giant schnozzola. The veins, the hairs, the mucas... it was all there and it felt like home. Sadly, we had to move on.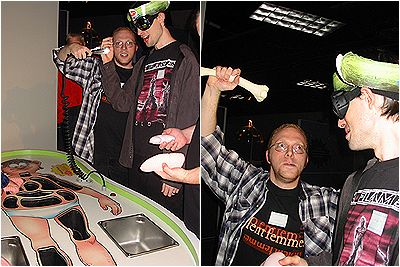 Now here was easily one of the coolest things about Grossology; a life-sized "Operation" game! No longer did we have a tiny set of tweezers to remove miniscule plastic body parts with. Now we had huge salad tongs to remove full-sized bones with! It was damn near impossible to lose in this game, but still a lot of fun.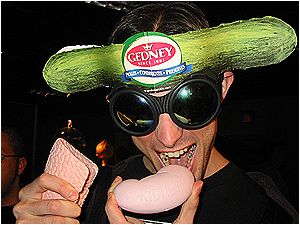 A LOT OF FUN!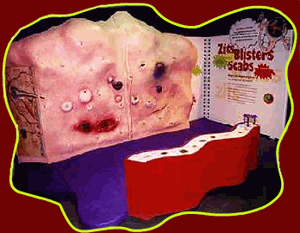 Ok, now this is the Zits, Blisters, and Scabs wall. I'm sure you've all seen the standard rock climbing walls that some sports stores have... but I highly doubt you've ever used a puss-filled zit to hoist yourself up onto a scabby ledge. Good times. I only wish our pictures didn't get corrupted. Oh well, at least you can see what it looks like.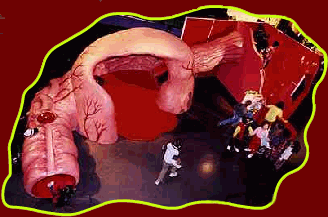 Same goes for this. This is the giant "walk-through the digestive system" display. And let me tell you people... you haven't lived life until you've watched a 10-year old kid exit a giant imitation colon. It just doesn't get much better than that.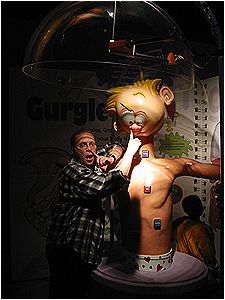 Here was a fun display. You pick a button to push and it would play the sound associated with that area of the body. Farts, gastric juice gurglings... it was all there. For some sick reason, Protoclown still felt the need to see if there was a hidden button up inside the puppet's nose. He kept digging for a solid 20 minutes and never found anything. Better luck next time...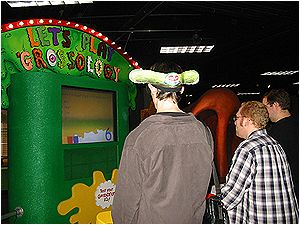 And here was another fun exhibit - "LET'S PLAY GROSSOLOGY!" It was a cool exhibit where three of us could try to answer questions in this gameshow of the grotesque to see who was the master.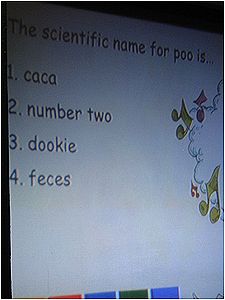 A nice sampling of the kinds of questions we were asked. The scientific name for poo is.... hmm... isn't it SHIT?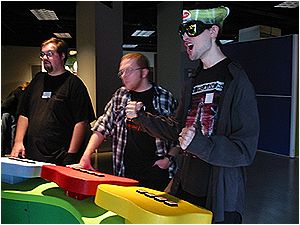 I knew I had this game in the bag, though Protoclown swore he was pushing the correct buttons and they just weren't being responsive. Suuuuuuure they weren't. Well anyway, that wraps up this brief tour of the Grossology exhibit. Grossology is going to be touring around some other places in the country, so be sure to check the official web site and see it when it comes near your town.
---