Considering all of the insane candy developments that we've seen in the past 10 years (such as those lollipops that come with their own twisting mechanism which may or may not be more powerful than a Dremel rotary tool), it takes something special to really catch my eye. Well, today something did catch my eye, and that something was a set of fangs and a big-assed tongue.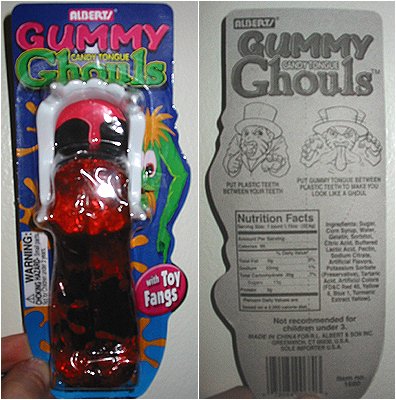 Easily the coolest new Halloween candy I've seen in a while, the "Gummy Ghouls Candy Tongue (with TOY FANGS)" just screamed, "BUY ME ROGER. YOU MUST BUY ME. YOU WANT TO PUT ME IN YOUR MOUTH. YOU WANT TO TASTE MY TONGUEY GOODNESS. YOU WANT TO CHOKE TO DEATH ON ME." That last part almost turned me away, but I just had to see for myself how this thing would look and taste. The instructions on the back were fairly simple:
PUT PLASTIC TEETH BETWEEN YOUR TEETH.

PUT GUMMY TONGUE BETWEEN PLASTIC TEETH TO MAKE YOU LOOK LIKE A GHOUL.
That, my friends, is marketing genius... all at a mere 95 calories for the entire tongue! I'm not sure why the guy was wearing a top hat and had marks on his face like Tony the tiger, but hey, if that's what a ghoul looks like to them, then who am I to judge? After verifying my date of birth, since this lovely product isn't recommended for children under 3, I opened it up.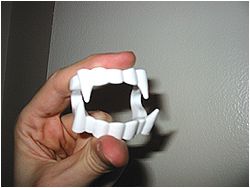 It's your generic set of fangs that you can get for about 5 cents in a store. If you don't want to hunt for them in the stores, chances are you can win a set if you earn 200 tickets after spending ten bucks at the local arcade's skeeball game. A steal!
The package really hit me with a strong berry smell. I swear the thing smelled JUST like Fruit Roll-Ups. No, I'm not talking about the new ones, I'm talking about the original large Fruit Roll-Ups that you could buy individually in the grocery store. My mouth is starting to water just thinking about them. And speaking of mouth watering...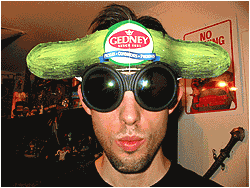 I don't know what it is about these fangs, but they make you salivate a lot. I don't remember that happening when I was a kid. Then again, these things are like three sizes too small for my mouth, so perhaps that has something to do with it. Then things got a little stranger...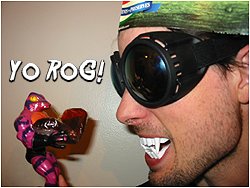 I couldn't believe it when my Tung Lashor He-Man figure came to life and presented me with the Gummy Ghouls Candy Tongue:
RoG: What do you mean you and the boys chipped in? I bought that thing myself!

Tung: Lissssten, we chipped in and got you thissss gift. End of story.

RoG: Whatever. You don't even have any "boys" with you. Where are these "boys" that chipped in, huh?

Tung: I uh... I chipped in and got them an X-Box. They're at our clubhouse playing it as we ssssspeak.

RoG: Suuure they are, Tung.

Tung: I can prove it to you, but firssst you must become one of usssss. Extend your newfound gummy tung and be reborn!

RoG: Why is your name spelled Tung Lashor instead of Tongue Lashor anyway?

Tung: Look, I don't have all day here, so do you want to see the clubhouse or not?

RoG: Fine...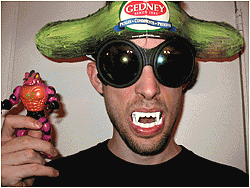 I have to say, becoming one with the "Tung Fold" as he calls it, does have its perks. They do have a nice clubhouse, an X-Box, and all the Gummy Ghouls Candy Tongues you can stomach. I did ask Tung Lashor if I could unveil it to you guys, but he made it sound like they'd tear out my real tongue if I showed you their secret clubhouse. So I guess that means you're shit out of luck, unless of course, you can find your own Gummy Ghouls Tongue.
---