This Halloween, the people behind Marshmallow Peeps have come up with another use for their sugary treats. Let's see... there's people who are dedicated to studying the science behind peeps, there's people who enjoy blowing them up in a microwave, and there's even people who set them up in a complete reenactment of the Lord of the Rings. So what else is there to be done with these things? Ah yes, how could I forget! We need to start decorating them with colored gel!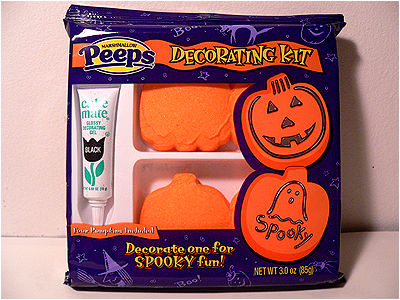 Fortunately, they've released a handy Marshmallow Peeps "Decorating Kit" Halloween package that allows you to do just that. As you can see, it comes with a tube of black Cake Mate decorating gel and 4 oversized Peep pumpkins. And in case you were wondering, you can expect to see more of these kits for other holidays in the future, including Christmas and Easter.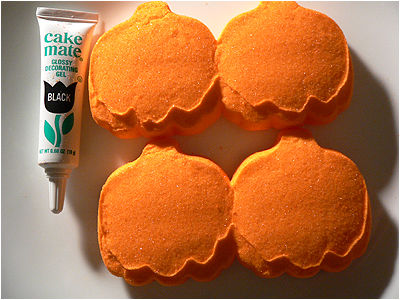 Spoooooooooky eh? Yes, I'm clearly a master of eerie lighting. Anyway, as you can see these pumpkins are much larger than the standard peeps pumpkins that they put out each October. Plus these ones don't have any faces, so you've got a clean slate to work with. Sure, you could just do a jack-o-lantern face on the pumpkin or a spooky ghost, but when you have an opportunity like this to make a custom Peep, shouldn't you do something with a little more pizzazz? Indeed you should!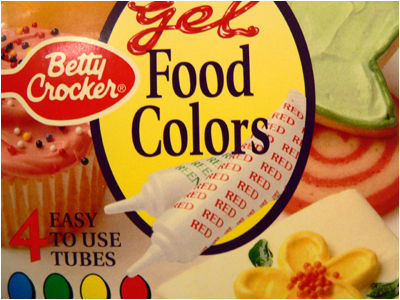 Behold your salvation! Why settle for just the black gel that the decorating kit comes with when you can pick up another pack of gel colors? Now you've almost got enough colors to rival a box of Crayola crayons. Ok, not really, but you've still opened up a door leading to many new decorative possibilities. So, with the help of Re and Jhyle (two ladies with artistic talent, unlike myself) let's get to decorating some Peeps!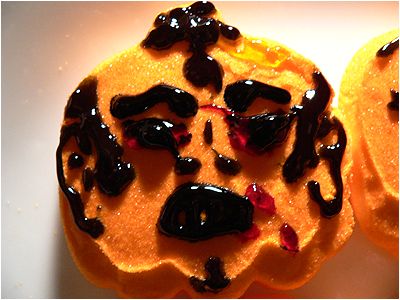 First up we have the Shogun Peep! Sure he doesn't look too scary, but that's because we didn't make one of his latest victim. Where do you think that blood splatter on his face came from? That's right, he sliced apart some dishonorable fool.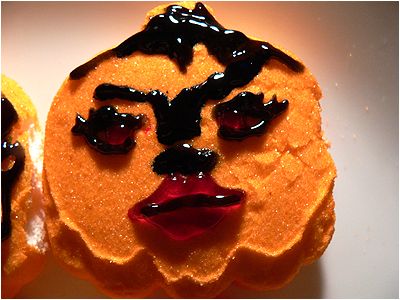 I'm sure you're wondering just what this is supposed to be. See the moustache? See the lipstick? That's right, it's Hitler as a hooker. Let's call him "Hookler".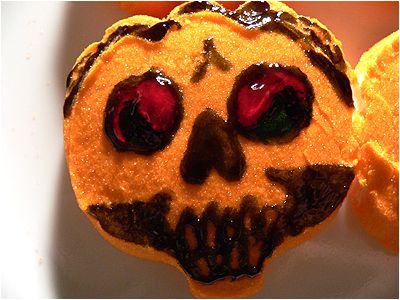 Ok, so this isn't just an ordinary skull. I think she was trying to duplicate an old Queensr˙che poster I have. And frankly, I think that's about as close as one could come to replicating it with gel on a little Marshmallow Peep.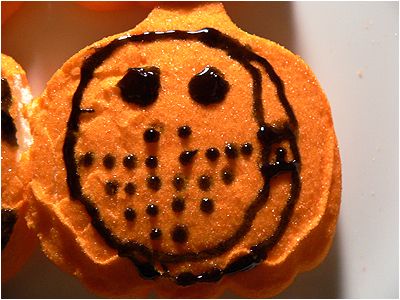 One of the only things I figured out how to draw when I was a kid was a simple version of Jason Voorhees from the Friday the 13th films. So there ya have it, the culmination of of over 20 years of intense artistic practice.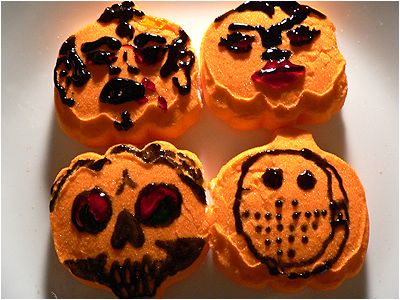 While decorating these four Peeps was fun, we still didn't feel satisfied just yet. For one thing, we weren't able to use all of the gel colors because, the blue and green gels looked black when used on top of the orange pumpkins, and the yellow gel didn't even show up. So it was time to take matters into our own hands once again...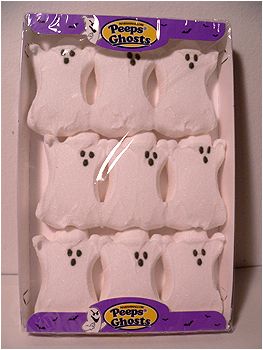 Peeps Ghosts! They're white so all the gel colors will show up easily, and other than the eyes, each one is like a blank canvas just begging for decorations!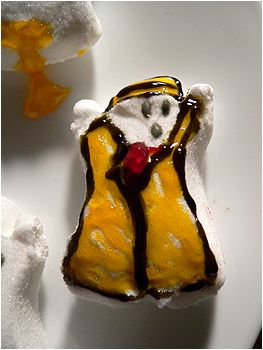 Dick Tracy! You see what I mean? These ghosts are much more suited for multi-colored gel decorations. And if you disagree, well Dick Tracy might just have to come bust you in your chops.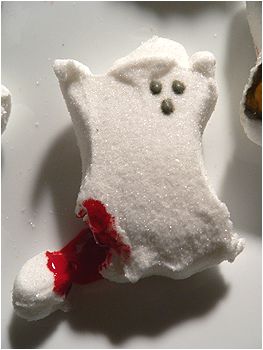 Oh no! Someone chopped off his foot! I told you my artistic skills know no bounds...
Princess Leia in her slave outfit. Settle down boys...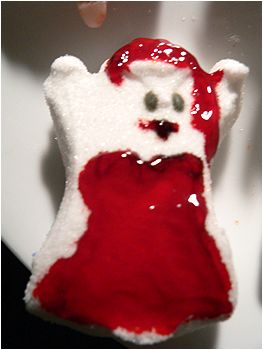 Jessica Rabbit. Damnit, I said settle down!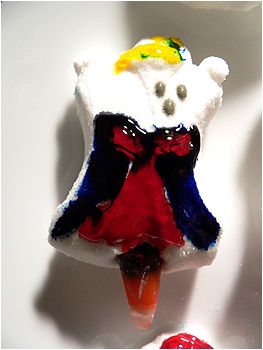 A Transvestite Peep! Hah, that'll calm you boys down. (I think)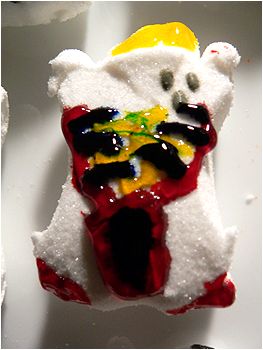 I'm not sure exactly how it happened, but this one's chest appears to have been torn apart. At least, I think that's what's going on here.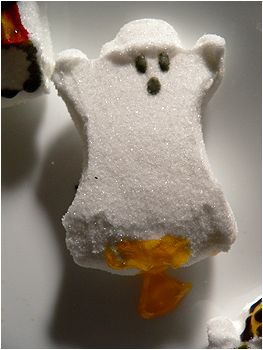 Awww, looks like somebody needs a diaper! Yes, not only does my artistic ability shine during moments like these, but so does my maturity.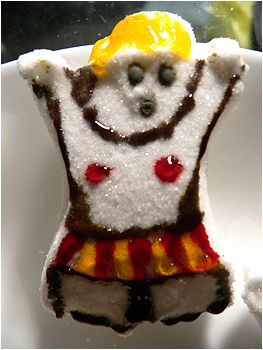 I think this one was supposed to be a cheerleader... complete with bloody nipples.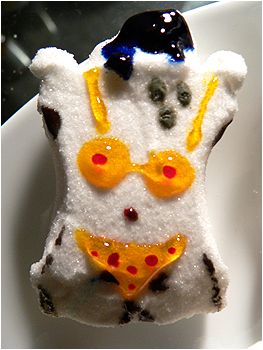 And last but not least, the yellow polka-dot bikini being worn by a French lady who hasn't shaved lately. Ooo la la!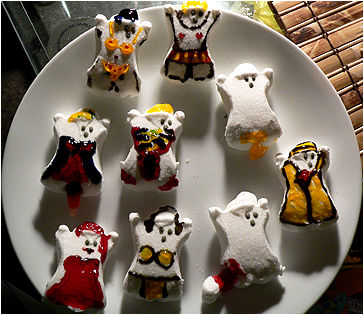 So there you have it, a new collection of peeps that are both artistic and delicious. The Marshmallow Peeps Decorating Kit is a good idea 'n all, but I suggest just buying the ghosts and a multi-pack of gel food colors instead. You'll be able to do a lot more with 'em. And if you do, email me your Peep decoration photos! Now if you don't mind, I have some unfinished business...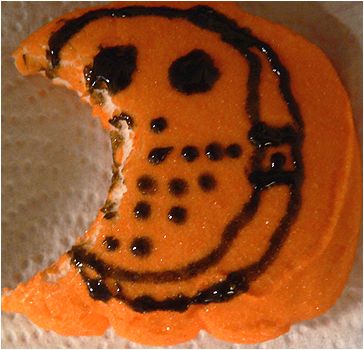 Yeah, you're not so invincible now, are you Voorhees!
---
Want to see more Marshmallow Peeps fun?
Then check these out!
The Marshmallow Peeps Machine!
A Visit to the Peeps Tour Bus!
Marshmallow Peeps in Outer Space

---