Pens. Who needs 'em, right? We men and women of the age of technology need not these tools of the caveman! We are gods in a time of bleeps and bloops and shiny lights as far as the eye can see! We scoff at thy papyrus! We loathe thy ink! Bow down before your mighty digital demigods!
Yeah well... all that hotshot talk melts into a pile of primordial mush the moment we lay our eyes on something as simple as a seasonal novelty pen. And what better time than Halloween to bring out the best in the pen industry? Let's take a look at some of the nifty Halloween pens available this year.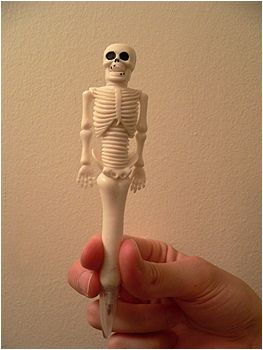 First up, we have the rubber skeleton pen. He's got a fairly normal upper torso, save for the oddly large spinal cord, but what about his lower half? It's just one big bone. Poor guy was born a mutant, so they turned him into a pen. Ah well, at least he looks pretty happy.
See those little black dots on his mouth? I believe they wanted to make it look like he's missing some teeth, but in reality, it looks like he's just got some specs of pepper stuck in between them. Hey, even a skeleton likes a little extra flavor every now 'n then...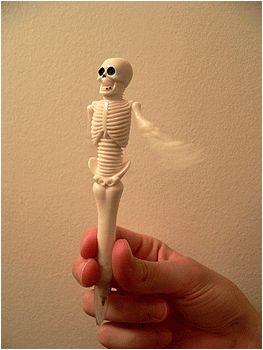 While he may not be able to walk to the nearest supermarket to buy some more pepper, he can definitely shake his arms with the best of him. You can actually twist him back and forth just like those hand-drums in the Karate Kid: Part II where they helped Daniel gather the courage to fight for the honor of his lady. I have now ruined that movie for you, because every time from this day forth that you see it, when you see the villagers holding up those drums you're going to picture them holding up this skeleton pen. And you're going to laugh I say, you're going to laugh oh so hard and nobody else around you will know what the fuck you're laughing about. It's going to be beautiful I tell ya.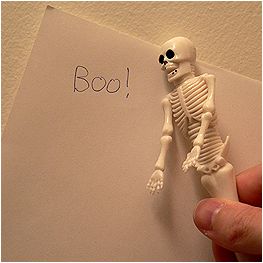 Well the other good news is that the pen writes with ease, I didn't have to scratch it on the paper a few times to get the ink flowing or anything. Would be nice if they did something a little more special with the ink, but skeletons aren't that colorful in general, so I guess the black ink will suffice.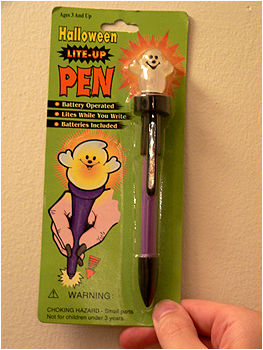 Here we have the infamous "Lite-Up" Halloween pens, which by nature, always confused me. I mean, who the hell writes in the dark? Either way, the novelty is enticing enough to get plenty o' people to shell out a couple bux for one. Batteries are included with the pen, so that's a plus, but does it really light up nicely?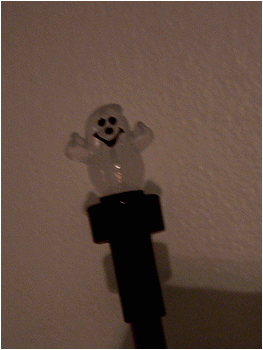 Granted "pink" isn't the spookiest color they could've chosen, but it does light up really well nonetheless. The only problem with this pen is you have to push down extremely hard to get it to light up, and it tends to flicker on and off a lot.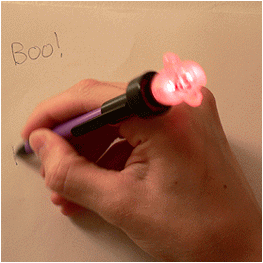 In all honesty, I thought I was damned near snapping the pen in two because I was pressing so hard just to get it to light up. I've definitely used better light pens than this one...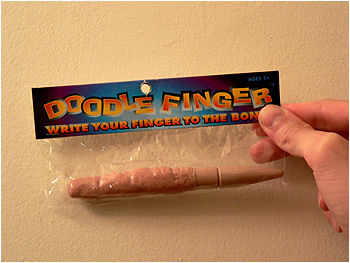 I could make a million sexual jokes about this pen but I'm not gonna do it. Instead, I'll take the high ground and say it simply looks like a nasty, shriveled, wet little wiener. HEY! I'm talking about a hot dog damnit! Get your mind out of the gutter, perv-o!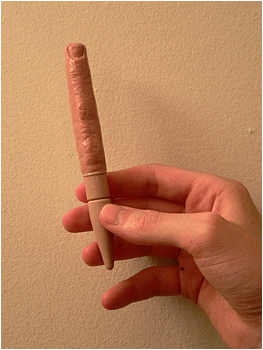 And there you have it, the Doodle Finger pen in all of its twisted glory. It can bend and flop and wobble in any way it pleases. Eugh, just holding this thing makes me feel wrong and dirty. I think I need a bath.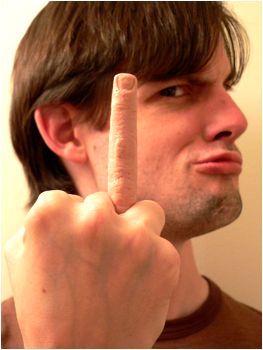 Ha ha! Fooled you! You thought that was my real finger, but it wasn't! It was the pen! Sucker! Ok, so you didn't fall for it at all. So if the pen makes you feel dirty when holding it and can't pass for a real finger... what can it do!?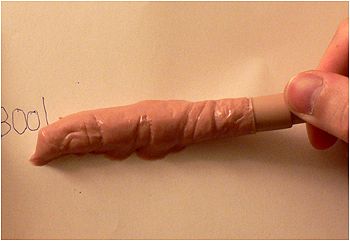 It can stick to just about anything! And here lies the greatest fault of the Doodle Finger pen; you simply can't carry it around. This thing will pick up every dust particle, every hairball, every bit of lint it comes in contact with. They don't provide you with a carrying case for it or anything, so unless you plan on carrying this thing around in a zip-lock bag, it's gonna get ruined awfully fast.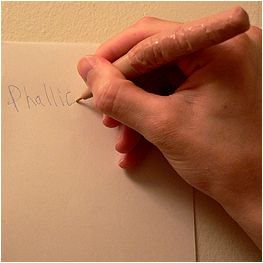 Oh yeah, it also took about 30 seconds before I could even get the damned thing to write, and when it did finally write, the ink was extremely light. Not to mention, it's not very comfortable writing on paper when you have a slimy phallus touching your hand.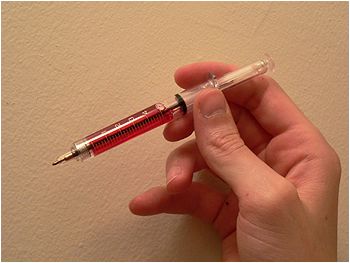 Next up is the ever popular Syringe pen! Generally speaking, you're better off getting the ones that do not come in a package, because those ones tend to have less fake blood in them, or they're so old that the fake blood has simply dried up. Ones like this that come straight off a display rack are filled up with plenty o' blood.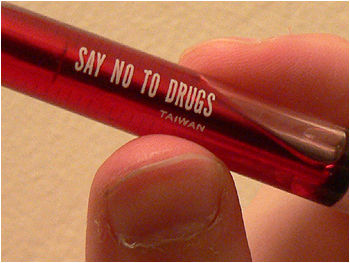 Yes, what better way to promote not using drugs to the kids than by giving them a syringe which they can simulate doing drugs with. Way to go Taiwan!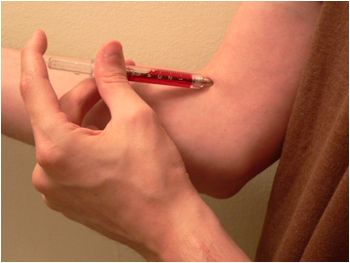 SAY NO TO DRUGS!
The pen not only writes really well, but the ink is appropriately red! Plus the tip is retractable so the ink won't dry up on ya.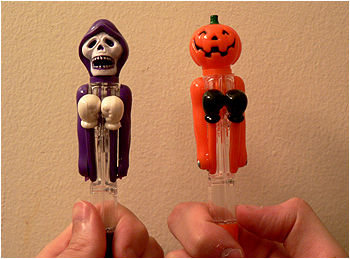 And finally, here we have the cream of the crop... the Halloween boxing pens! Get two of these and you can simulate a round of hardcore fisticuffs, Rock 'em Sock 'em Robots style!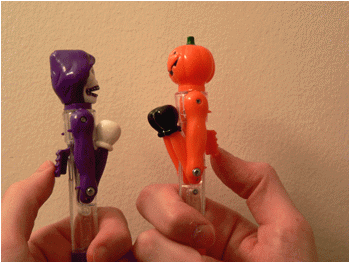 The purple grim reaper and the orange pumpkin are relentless in their boxing fury. Who will win? Who will lose? Regardless of the outcome, you're guaranteed to be the winner with these pens. Oh and you think the boxing is all they can do? Think again: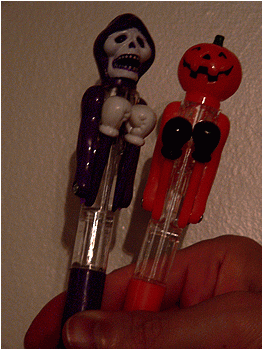 Yep, these bad boys can light up too, and I might add that the light isn't pink either! Boxing, lighting up... is there anything these pens can't do? Ah yes! How do they write?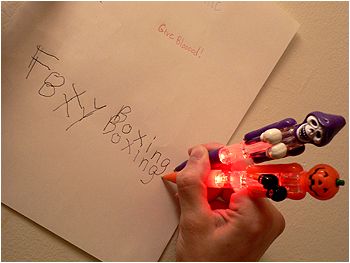 The pens write perfectly, and you don't even have to press down hard while you're writing to get them to light up... unlike some other light pen whose name I won't mention. I swear, the only way these pens could be any better is if they made noise whenever you wrote with them. You know, like Mortimer from Bill Cosby's "Picture Pages". Well, maybe next year, right?
Hey, I can dream...
---