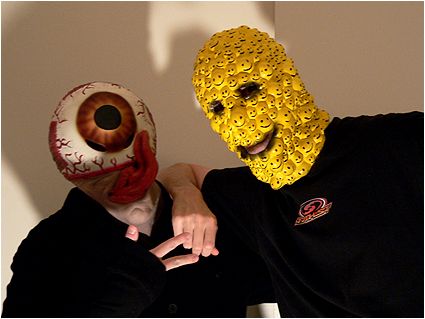 WORD UP BOYS AND GIRLS! MY NAME'S "LAUGH RIOT" AND THIS HERE IS MY PAL "EYEBALL LICKER". IF YOU'RE HAVING TROUBLE TELLING US APART, I'M THE ONE THAT DOESN'T LOOK LIKE A HIDEOUS MUTATION!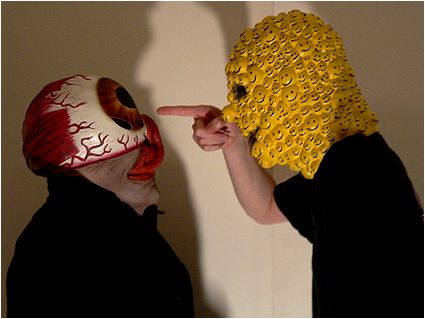 I'M ALSO THE ONE THAT CAN SPEAK BECAUSE, A FEW YEARS AGO, I THOUGHT IT'D BE A REAL "HA HA FUNNYTIME" IF I PUT SUPERGLUE ON EYEBALL LICKER'S EYE WHILE HE WAS SLEEPING ONE NIGHT. THEN WHEN HE WOKE UP THE NEXT MORNING AND STARTED LICKING HIS EYE AS USUAL, HIS TONGUE GOT STUCK THERE FOREVER!
I TELL YA... IT HAPPENED 5 YEARS AGO, BUT EVERY TIME I THINK ABOUT THAT PRANK IT STILL PUTS A SMILE ONE EVERY ONE OF MY 300 SOME-ODD FACES!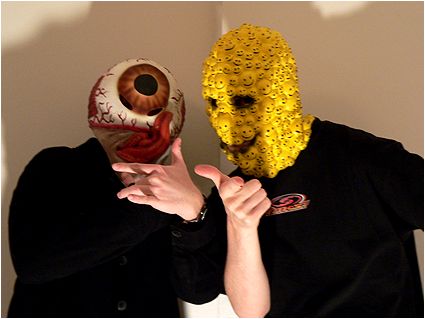 HE KINDA GAVE UP ON SPEAKING, BUT THAT'S OK, I'VE GOT MORE THAN ENOUGH MOUTHS TO DO THE TALKING FOR THE BOTH OF US. ISN'T THAT RIGHT LICKER?
LICKER: GLLLHCKKKSTTHHH!!!
RIGHT ON MAN, RIGHT ON!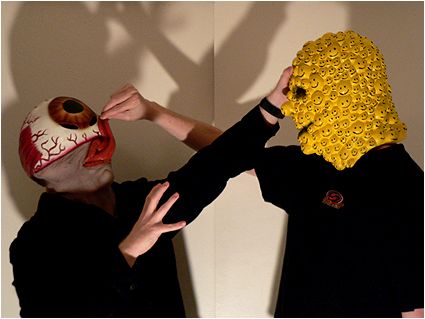 HAHAHA SORRY LICKER BUDDY, I JUST HAD TO SEE HOW WELL IT WAS STUCK ON THERE. IT REALLY IS STUCK ON GOOD. BUT HEY, THAT'S A HELL OF A TONGUE YOU'VE GOT THERE! THE KIND OF TONGUE THAT WOULD SALIVATE OVER A NICE TREAT WOULDN'T YOU SAY? A NICE TREAT SUCH AS...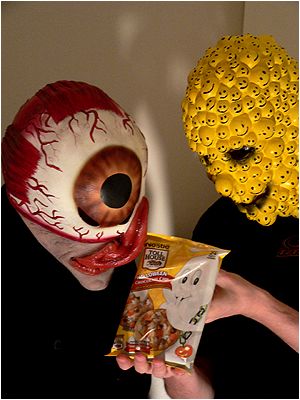 COOOOOOOOOOOOOOOOKIES!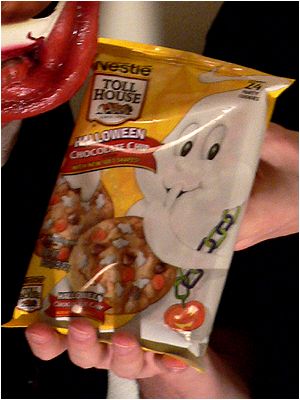 BUT THESE AREN'T JUST ANY COOKIES, THEY'RE SPECIAL NESTLE HALLOWEEN CHOCOLATE CHIP COOKIES! I HOPE THERE'S ENOUGH TO FEED ALL OF MY FACES. OTHERWISE SOME OF THEM MAY NOT HAVE A NICE DAY. GET IT? ALL OF MY FACES LOOK JUST LIKE THAT FAMOUS "HAVE A NICE DAY FACE" SO I MADE THAT JOKE ABOUT IT RIGHT HERE AND NOW! I BET THAT JOKE HELPED MAKE YOU HAVE A NICE DAY TOO, EH LICKER? DON'T WORRY, BE HAPPY!
LICKER: KWAAAAHHLSPHTTTTHHH!!
WHAT'S THAT? OH YOU WANT TO SEE THE COOKIES, NO PROBLEMO!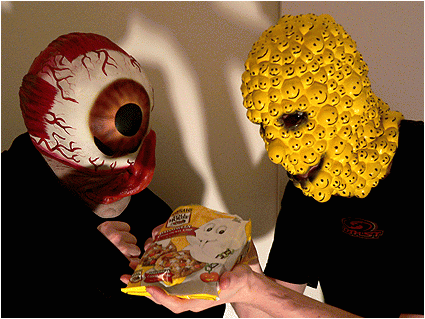 LOOK AT THOSE BEAUTIES! YOU CAN'T TELL ME THEY DON'T HAVE "HAPPY DAYS" WRITTEN ALL OVER THEM! THE ONLY WAY THEY COULD BE BETTER IS IF THEY ACTUALLY PLAYED THE HAPPY DAYS THEME SONG WHEN YOU OPENED THE PACKAGE!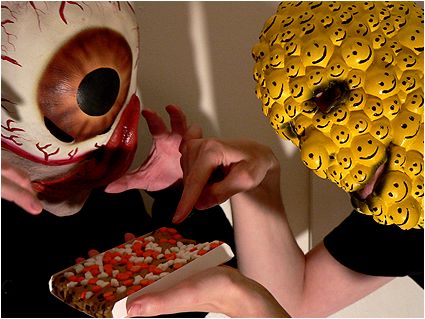 AND LOOK! IT'S NOT JUST CHOCOLATE CHIPS ON THESE COOKIES! THEY'VE GOT LITTLE HALLOWEEN DECORATIONS ON THEM JUST FOR YOU AND ME! I BET THIS IS THE ONLY PACK IN THE WORLD THAT HAS THESE DECORATIONS AND WE JUST HAPPENED TO GET LUCKY BECAUSE WE'RE GOOD GUYS!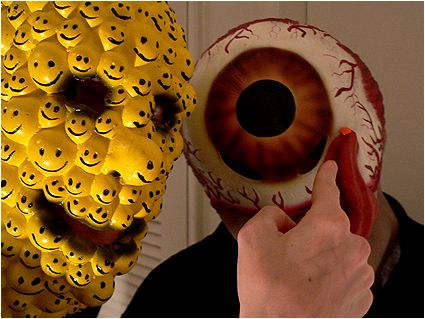 HERE, HAVE A TASTE! A LITTLE PUMPKIN DECORATION FOR YOU! TELL YOU WHAT BUDDY! YOU CAN EAT IT IF YOU JUST LET IT SLIDE DOWN YOUR TONGUE AND INTO YOUR MOUTH WITHOUT IT FALLING TO THE GROUND!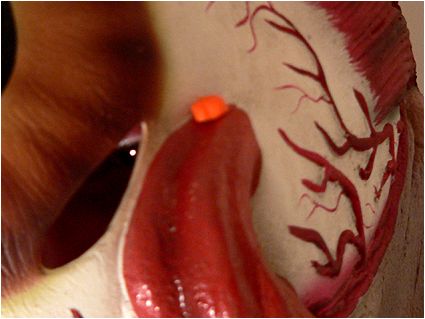 LICKER: GLKTTHCHLWPH!!!!!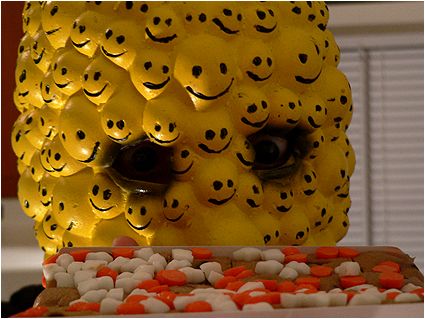 COULDN'T DO IT EH? TOO BAD LICKER OL' CHUM, DON'T SAY I DIDN'T GIVE YOU A CHANCE HAHAHA! BUT WAITA MINUTE! I SPY ANOTHER DECORATION ASIDE FROM THE ORANGE PUMPKINS!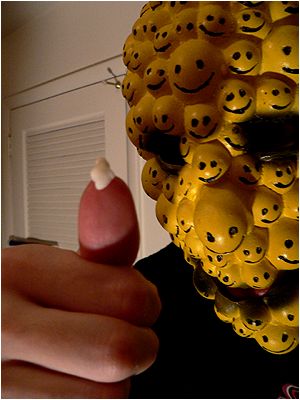 A WHITE GHOST! WHY THIS GHOST IS SO SMALL IT DOESN'T EVEN SCARE ONE OF MY TINY FACES. AND LEMME TELL YA, THEY SCARE PRETTY EASILY! I WAS WATCHING A RE-RUN OF "DHARMA & GREG" ONE NIGHT AND GREG GOT ALL ANGRY BECAUSE DHARMA CRAPPED ON HIS FANCY LAWYER PAPERS IN ONE OF HER BURSTS OF HIPPIE EXPRESSIONISM. AT LEAST I THINK THAT'S WHAT HAPPENED...
ALL I KNOW IS THAT MY FACES GOT SCARED PRETTY BADLY. IN FACT, I JUST KIND OF BLACKED OUT AND WHEN I WOKE UP THE NEXT DAY, ONE OF MY FACES HAD ACTUALLY DIED AND SHRIVELED UP. IT WAS THE ONLY TIME IN MY LIFE THAT ALL OF MY FACES FROWNED IN UNISON. EITHER THAT OR I WAS JUST DOING A HANDSTAND. BUT ENOUGH SAD SCARY STORIES ABOUT ME AND ON WITH SOME BAKING GLEE!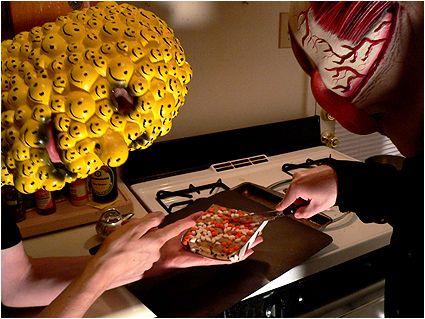 THESE COOKIES COME PRE-CUT, BUT THEY'RE NOT CUT THROUGH COMPLETELY, SO LET'S SLICE 'EM UP NICE 'N GOOD!
WHOAH, WHOAH THERE LICKER! I THINK YOU'RE A BIT TOO EXCITED! LET ME AT LEAST PUT THE COOKIES ON THE PAN BEFORE YOU SLICE 'EM. YOU'RE CUTTING THROUGH MY HAND THERE!
HAHAHA! OH WAIT! I GET IT! YOU'RE TRYING TO PLAY A PRACTICAL JOKE ON ME NOW BECAUSE I GLUED YOUR TONGUE TO YOUR EYE ALL THOSE YEARS AGO, RIGHT? HA HA, GOOD TO SEE YOU HAVEN'T LOST YOUR SENSE OF HUMOR!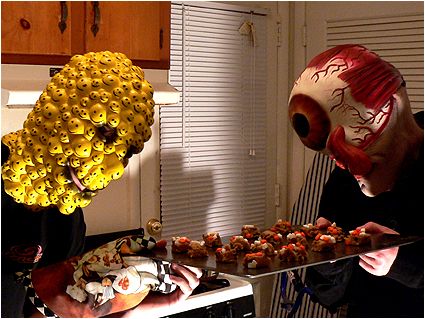 OK NOW THAT I HAVE MY SAFETY OVEN MIT ON AND THE COOKIES ARE CUT, IT'S TIME TO PUT THESE LIL' FELLAS INTO THE OVEN AND LET THEM WORK THEIR HAPPY HALLOWEEN MOJO!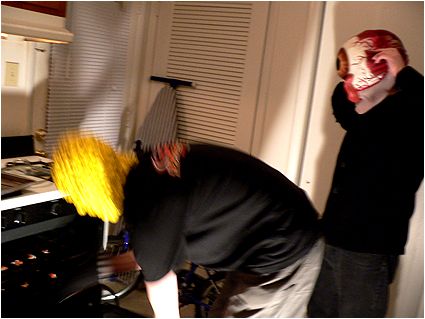 DO YOU SEE THIS, LICKER? ALL THESE COOKIES ARE ACTUALLY FITTING IN HERE! I'M JUST SHOVING THEM IN THERE WITH EASE! HOW ABOUT THAT!
ELEVENTY BILLION HOURS LATER...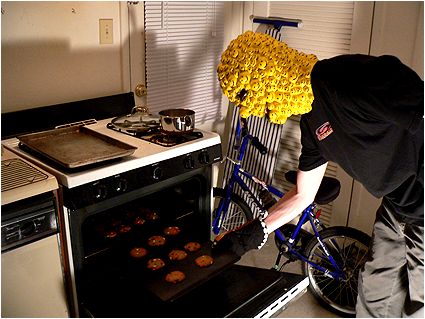 WELL LOOK WHAT WE HAVE HERE! A BUNCH OF HAPPY COOKIES LOOKING TO BE EATEN BY US GOOD GUYS! IT'S A GOOD THING I HAVE MY SAFETY MIT ON OR MY HAND WOULD START COOKING. YOU KNOW, IF MY HAND DID START TO COOK I WONDER IF IT WOULD SMELL AS GOOD AS THESE COOKIES. SOMETHING TO THINK ABOUT, EH? BUT LOOK AT THESE COOKIES!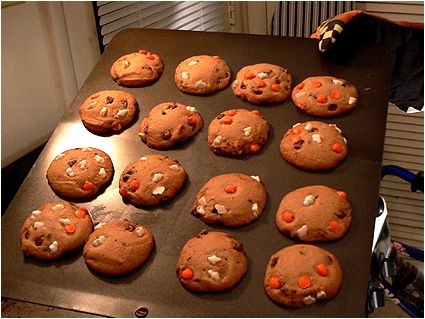 THEY'RE PRETTIER THAN THE MONA LISA!
HERE LICKER! LET'S EAT OUR HAPPY COOKIES AND CELEBRATE HALLOWEEN TOGETHER FOREVER!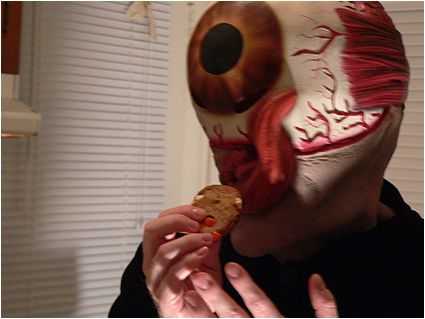 LICKER: OOOTWPPKNKLQUAILGH!
YOU SAID IT LICKER! YOU SAID A MOUTHFUL! A MOUTHFUL OF COOKIES! HAHAHAHA!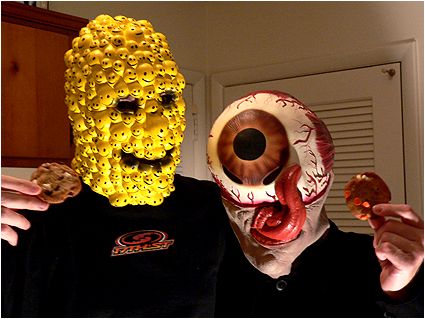 THIS IS THE BEST MEAL EVER! EVEN BETTER THAN THE LAST SUPPER BECAUSE JESUS DIDN'T HAVE ANY HALLOWEEN COOKIES AT IT. I GUESS THAT MAKES US BETTER THAN JESUS! DO YOU THINK THEY'LL MAKE A RELIGION BASED ON OUR COOKIE-MAKING SKILLS, LICKER?
LICKER: ZWOGPHCKTT!
YEAH I THINK SO TOO GOOD BUDDY, I REALLY THINK SO TOO!

---


Big thanks to Fright Catalog for supplying us with
a bunch of great Halloween material to review this year!
We'll be featuring more of their crazy items this season, and they've got an awesome Halloween supplies site, so please check it out and support 'em - FrightCatalog.com!
---
Want to see more monsters having
fun with baking delicious treats?
Then check out
Glom & Probe's Halloween Brownies!

---