Now we all know that there are people out there who just don't give a crap about Halloween. To get them to dress up for the festive occasion is a struggle to say the least, and you can pretty much count on them being cheap-asses about it. But hey, as long as they're dressing up as something (instead of trying to be one of those too cool for Halloween assholes with the t-shirts that read "This is my costume, give me the damned candy") you're making progress. For people like this, you can always count on your local dollar store to have an utterly crappy kit.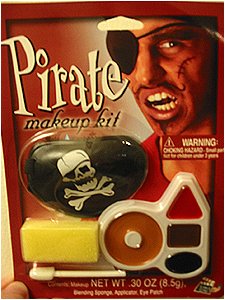 Jackpot. A Pirate makeup kit for a buck. It doesn't get much cheaper than that. It even comes with an eye-patch, which can go for 2-3 bucks in some shops, so we're already doing pretty good here.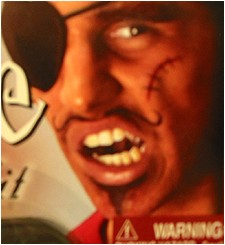 The eye-patch on the pirate guy in the photograph doesn't have a skull on it and it appears to be a nice one made out of fabric. Kinda makes you wonder just how different from the picture the makeup will look when applied. I'm not saying he's an incredible looking pirate by any stretch, but for a buck, he looks... well, ok, he looks pretty terrible.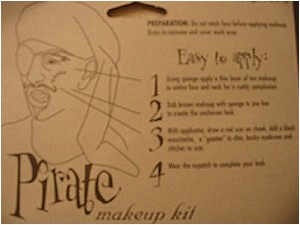 One thing these makeup kits always tell you is that it's "easy to clean off". Any time you see that shit, you can rest-assured that removing the makeup will be about as easy as removing barnacles from the bottom of a ship with your tongue. And by the time you're all done removing the makeup, you'll look like you scrubbed your face with turpentine and a Brillo pad.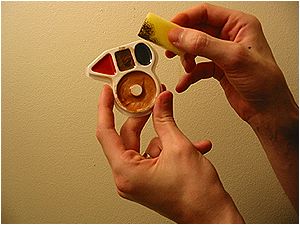 Sounds fun doesn't it? How could I pass up an opportunity like this? It's time to turn myself into a cheap-assed pirate!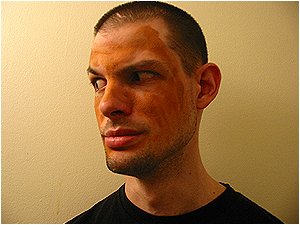 Step 1: "Using sponge, apply a thin layer of tan makeup to entire face for a ruddy complexion."
Ruddy - Having a healthy, reddish color.
Does that look in any way healthy to you? I didn't think so. It's not rosy or strong, it just looks like mud.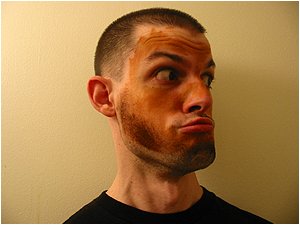 Step 2: "Dab brown makeup with sponge to jaw line to create the unshaven look."
Well shit, I already have the unshaven look, but sure... why not. Oh now I get it, pirates are simply supposed to look as though they've smeared a potpourri of fecal matter all over their faces. Am I looking like a salty seadog yet? Do I smell of the sea? No? Fear not, landlubbers, there's more to be done!
Step 3: "With applicator draw a red scar on cheek with stiches"
They give you an applicator with a tiny brush that just does not pick up any of the makeup no matter how hard you try, so you have to use the other end of it. The result is that your stitches end up looking more like those shitty alien acid victory markings that the Predators put on their faces in "Alien vs. Predator". Oh did I ruin a moment from that movie for you because you hadn't seen it yet? Good. If I can discourage a few people from seeing that movie, then putting on this wretched makeup was worth it.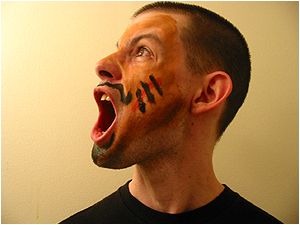 Step 3b: "Add a black moustache and a 'goatee' to chin"
So all of my facial make-up had been completed, but I couldn't help but feel that I wasn't looking like a pirate. After adding the moustache and goatee just like the guy on the cover had, I was noticing that I was looking like something else.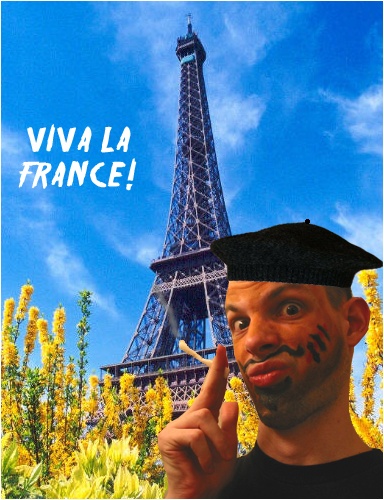 STUPEED PIRAYT PEEGDOGS!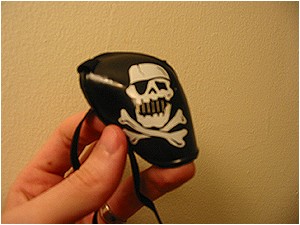 After I returned from France (yes, I traveled all the way over there just to get that one photograph. THAT is how dedicated I am to bringing you people quality entertainment), I decided to finish the damned costume.
Step 4: "Wear the eyepatch to complete your look."
Upon closer inspection of the eye-patch, I realized that there were eyeholes in the mouth of the skull and crossbones design on the eye-patch! What kind of crap is that!? Cheap costume or not, the whole point of an eye-patch is that you're not supposed to see out of it because... you don't have a functional eye in that socket! Back in the day, pirates were fed face-first to the sharks for acts of eye-patch deception. Then they needed a face-patch and that is how wannabe pirates learned their lessons!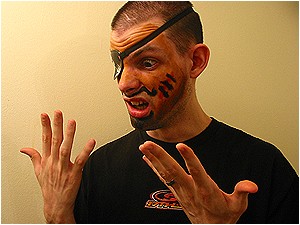 What's worse, is that the eye patch was made of such cheap plastic that it actually CAVED-IN on my eye socket, making it both incredibly stupid looking and impossible to see out of. Amazing. Just amazing. So that's it? That's my crappy pirate costume? A mud-covered, French pirate with a concave eye-patch? Come on, for just a little more we can at least improve this costume a tiny bit. Behold...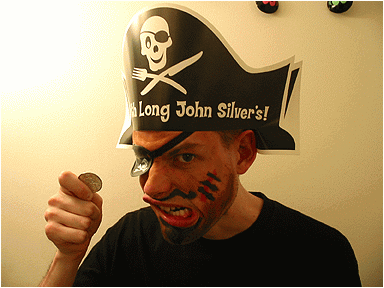 AVAST! NOW I BE THE WORST PIRATE YOU DIRTY LANDLUBBIN' SCABS HAVE EVER SEEN! YAR!!
Yep, I got me a plastic gold doubloon so I now have some official "pirate treasure" to bury. The only real way to complete the outfit was with a captain's hat. So I ventured out to Long John Silver's and got me a skull and cross-utensils captain's hat. Unfortunately, I had to eat Long John Silver's to do so and now I'm feeling seasick.
---