Grow-in-water novelty items... what is it that is so fascinating about a lifeless object that slowly grows in water over the course of a few days? Frankly, I'll be damned if I know, I just like skeletons, so when I saw this item in my local Halloween shop, I had to pick it up and give it a try.
I have to say, compared to the packaging of most water-growing toys, the packaging on this thing is pretty nice. Only problem is, there's a few glaring mistakes. First off, the thing is called "Skeleton Head". A fine name for a toy indeed, but this thing is clearly not just a head, it's a full skeleton. Or maybe that's his name, Mr. Skeleton Head or... Mr. Head? It's possible, but I think it's more likely that they just reused some old packaging from a product that actually was a head and nothing more.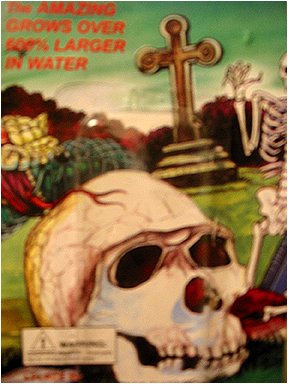 And there's your proof. As soon as you remove the lil' skeleton guy from the package you're treated to a video of a giant skeleton head. Sure there's a skeleton standing next to it, but the focal point is obviously on that giant friggin' head. Even that snake to the left is looking at it as if to say, "That's a giant friggin head!" Thanks for backing me up mr snake.
My favorite part of the packaging has to be the tagline though, it's the kind of stuff you'd find on Engrish...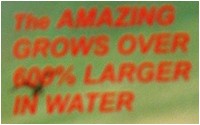 "the AMAZING GROWS OVER 600% LARGER IN WATER" The amazing what!? The amazing skeleton? the amazing head? The amazing cardboard packaging? The amazing bulge in my pants? What in the name of halloween hell is so amazing huh!?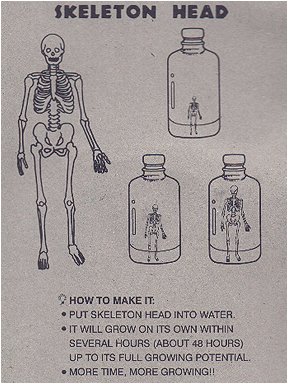 Welp, if you flip the packaging over to the back, it looks as if they're being stubborn and sticking to their guns, still calling him Skeleton Head. As you can see in the illustrations, the entire body, and not just the head grows to a very large size. So where the hell they got that giant head from on the package cover is beyond me.
Ok, now listen... I'm not claiming to be a brilliant mathematician here or anything, but I think I've got a decent grasp of the basics. Please read the following statement:
"IT WILL GROW ON ITS OWN WITHIN SEVERAL HOURS (ABOUT 48 HOURS) UP TO ITS FULL GROWING POTENTIAL."
Ok, since when do several hours = 48 hours? I don't know about you guys, but I never refer to "2 days" as "several hours". I'm sure it's just poor structure on their part and they were trying to say that it takes roughly 48 hours for it to reach full size, but come on... that's just horrible.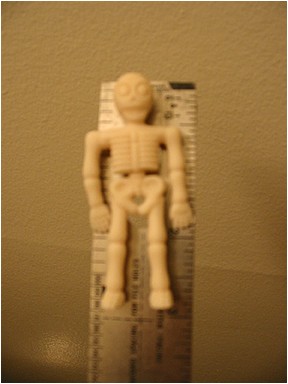 With all of these errors in mind, I wasn't about the believe anything they were saying. So, I decided to measure the skeleton before putting him in water. I want physical proof that it's gonna grow 600% larger after being in water for several hours... er... I mean two days damnit.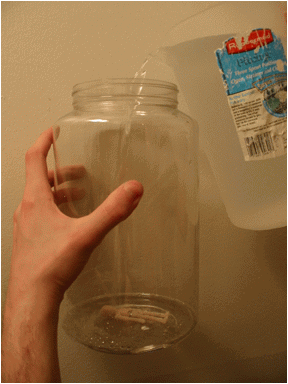 DAY 1
So into the big water jug Skeleton Head went, ready to go through the stages of skeletal puberty. Day 1 was fairly uneventful, though towards the end of the night I did notice he had grown a little bit.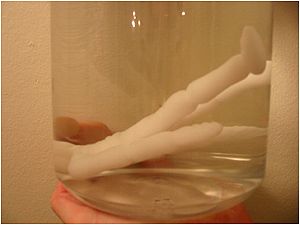 DAY 2
Alright, now we're talkin! Notice that his feet are floating up? Maybe his head is gonna get huge and that's why it's weighted down on the bottom? Well either way, he's definitely grown a significant amount, but he's not at the 600% mark yet. He's still got a ways to go. Come on Skeleton Head! You can doo eeet!!!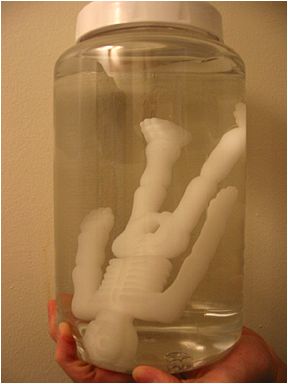 DAY 3
Damn! Somebody was eating his spinach and drinking his milk! You're a big boy now aren't you Skeleton Head! Well, you'd better hope you are, cuz your time's up and it's time to measure you. Don't let me down Skeleton Head, prove to me that the poor kid in Taiwan who made you, while being born into slavery and whipped on a daily basis just so he'll produce more Skeleton Heads, still has quality standards that he wants to live up to.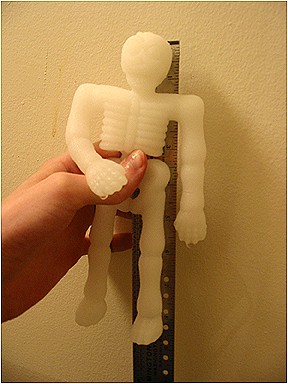 GAH! Not nearly tall enough. He's was just under 3" when he started out, and now he's just over 8". Granted, he weighs a lot more, but 600% more? Nope. He's not even 600% more in overall volume. You let me down Skeleton Head... you let us all down. Now, if you don't mind, get the hell back into that water jug of yours until you're ready to come out at 600%.
For the record, I would like to state that picking Skeleton Head up out of the water jug is what I imagine the feeling of picking up your own crap out of the toilet would feel like. Not a pleasant experience by any stretch of the imagination.
And somewhere... a young boy in Taiwan is laughing his ass off.
---