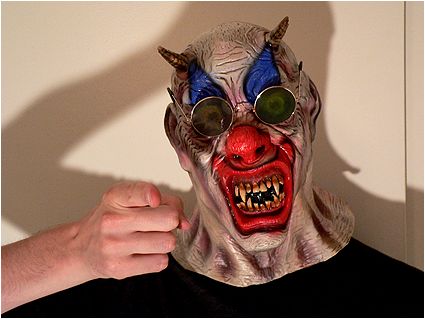 HI HI HI KIDDIES! IT'S YOUR OLD PAL SATANFACE McCLOWNY CLOWN! AND IF YOU DON'T THINK OF ME AS YOUR OLD PAL, THINK OF ME AS YOUR NEW ONE! BECAUSE IF YOU YOU DON'T, I'LL COME TO YOUR HOME AND EAT YOUR FACE FOR BRUNCH! THAT'S RIGHT, I DON'T EVEN THINK OF YOU AS ONE OF THE 3 MAIN MEALS OF THE DAY! YOUR FACE ONLY QUALIFIES FOR BRUNCH! CHEW ON THAT!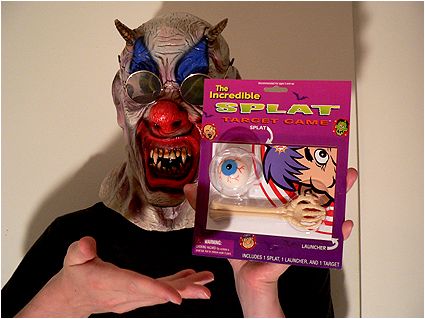 SO I AM HERE TO TEST OUT THIS HALLOWEEN GAME I BUYED AT THE PARTY STORE. IT IS CALLED THE INCREDIBLE SPLAT TARGET GAME! I THINK IT WILL BE PRETTY INCREDIBLE DON'T YOU? YES YOU DO! IT IS INCREDIBLE THAT THEY SELL IT TO ME FOR A FEW DOLLARS. A GAME LIKE THIS SHOULD COST MORE THAN XBOXES!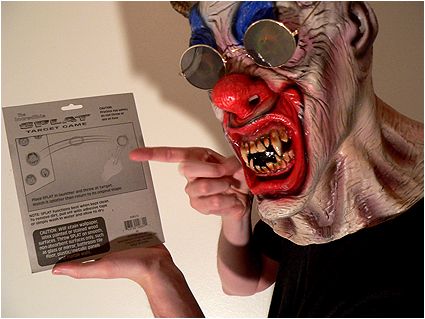 WHEN YOU PLAY GAMES LIKE THIS IT IS IMPORTANT TO BE A PROFESSIONAL. IF YOU ARE NOT A PROFESSIONAL GAME TESTER, READ THE INSTRUCTIONS BECAUSE THEY CONTAIN VITAL INFORMATION SUCH AS HOW MUCH STARCH TO USE WHEN WASHING THEM. AT LEAST, THAT IS WHAT THE INSTRUCTIONS WOULD CONTAIN IF THIS GAME WAS CALLED "LET'S WASH A PILE OF LAUNDRY ON THIS FUN DAY!"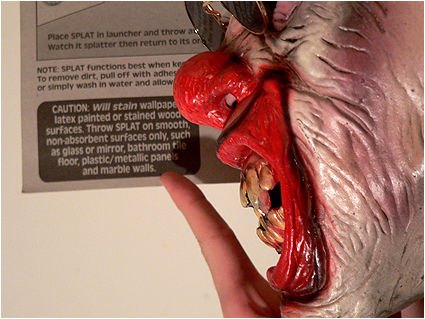 YOU CAN NOT USE THIS GAME IN THE DIRT!???!? I AM STARTING TO THINK I HAVE BEEN RIPPED OFF! DIRT IS FUN FOR GAMES AND FOR BURYING BODIES!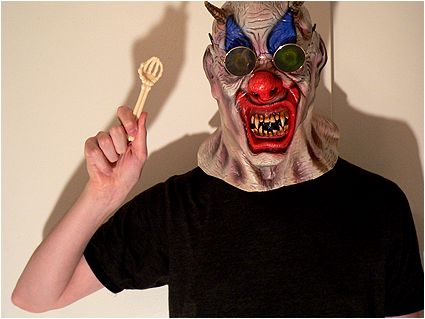 THE GAME COMES WITH A BABY SKELETON HAND FOR USE WHEN THROWING THE SPLAT BALL AT THE TARGET. I DO NOT KNOW WHERE THEY FIND THE BABIES TO GET THESE HANDS FROM, BUT IF THEY EVER RUN OUT, I HAVE PLENTY STORED AWAY IN MY BASEMENT FOR LATE NIGHT SNACKS IF THEY NEED SOME!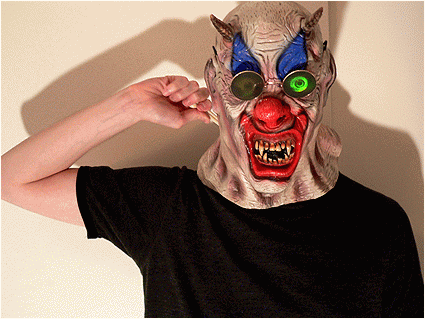 BABY SKELETON HANDS ALSO MAKE FOR THE GREATEST BACK-SCRATCHERS EVER!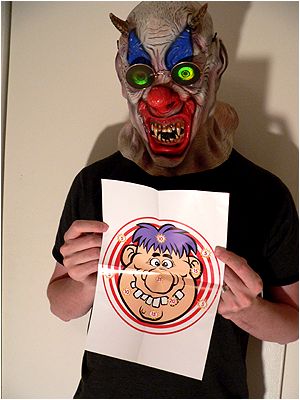 HEY! WHERE DID THEY GET A PHOTO OF MY COUSIN HARVEY FROM? I BET HE SELL THE RIGHTS TO THEM FOR WAY CHEAPER THAN HE SHOULD HAVE. LAST WEEK HE TRADED A GUY ONE OF HIS TEETH FOR A SODA. AND IT WASN'T EVEN A COKE, IT WAS A SHASTA...
A SHASTA! >:(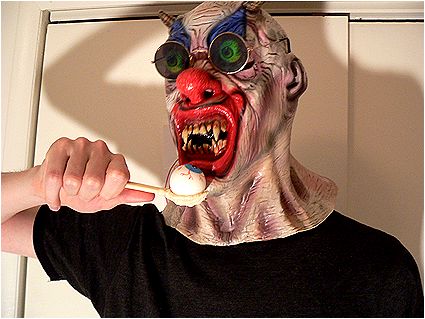 AH EYEBALLS! JUST LIKE MOM USED TO MAKE! IT WAS A REAL STRUGGLE NOT EATING IT BECAUSE I HAVE TO REMEMBER THAT I COULD NOT PLAY THE GAME IF I DID THAT! SO IT MUST BE TIME TO PLAY!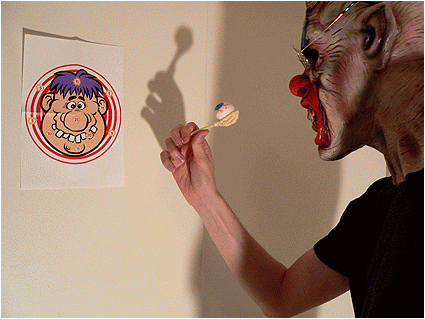 HA HA! I PLAY VERY GOOD! I SCORED 20 POINTS! THAT MEANS I AM BETTER AT THE GAME THAN YOU! HA HA! HOW MANY POINTS HAVE YOU SCORED? NONE! YOU DON'T EVEN HAVE THE GAME, SO I AM GETTING A BIG HEAD START! YOU LOSE!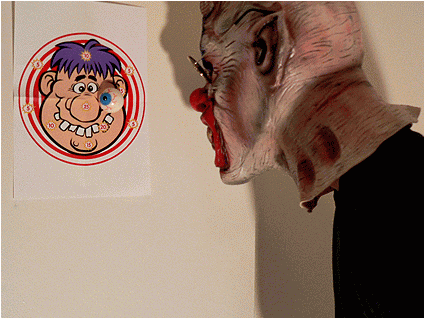 WHAAAAAAAAT?!?!?!
HOW CAN I SCORE THAT!? IT NOT STICK! NOW I HAVE NO POINTS! THIS GAME IS STUPID! DO NOT BUY THE SPLAT GAME! IT TRICKS YOU INTO THINKING YOU'RE A WINNER WHEN IT REALLY MAKES YOU A LOSER EVERY TIME!
HOLD ON! I'M NOT A LOSER! I JUST MEAN IT MAKES YOU LOSE AT THE GAME!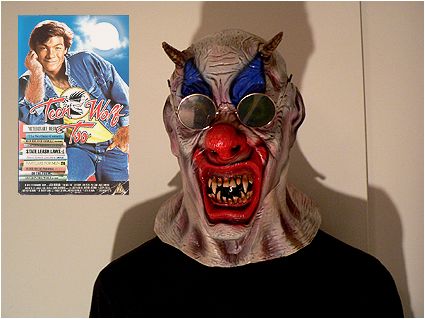 BEING THE WINNER I AM, I WILL NOW GO DO THE THINGS THAT WINNERS IN LIFE TEND TO DO! I AM GOING TO GO WATCH MY COPY OF "TEEN WOLF TOO". MICHAEL J. FOX HAS NOTHING ON JASON BATEMAN!
-SATANFACE McCLOWNY CLOWN

---