Here's a different Halloween treat for ya while I put the finishing touches on two of I-Mockery's biggest projects of the season! Not too long ago, I was asked by Mike (Kryten Syxx) over at DreadCentral to record a Splattrax with him. At first, I thought this sounded like some kind of audition for an amateur porno, but it turns out all he wanted me to do was record some commentary for a horror movie of my choice with him. Yeah, I know, a porno probably would've paid better.
Well anyway, I jumped at the chance to do some commentary on the 1988 remake of "The Blob". It's one of my favorite cheesy horror flicks from yesteryear and it even features Shawnee Smith (from the Saw films), Kevin Dillon and more. So I spent a good 90 minutes recording commentary so now you can sit down and watch the movie with me! It's like having me right there in your living room! Creepy, huh?
So here's the deal. You need to get yourself a copy of "The Blob" on DVD. It's currently a measly 6 dollars on Amazon.com, so you have nothing to lose here... well... except the 6 dollars. It's also available for sale in most stores like Best Buy/Circuit City and you can probably find it for rent in the horror section of just about any ol' video rental store or online service. It's not that hard to find, trust me.
Once you have the DVD in your hands, it's simple as popping it into your player, turning down the volume on your TV a bit and then loading up the audio file of my commentary on your computer! From there, just kick back in your favorite chair and listen to the soothing sounds of my voice as I guide you through all of the blobby goodness of The Blob!
Download the appropriate sound files below!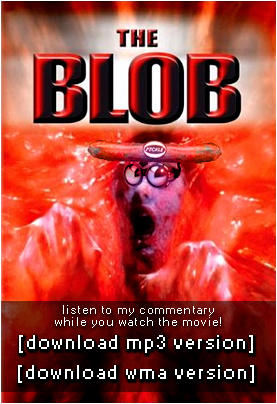 note: these are large sound files (mp3 is 90 megs, wma is 68 megs)
so you can expect the download to take a little while unless
you happen to be on a nice speedy connection.
Hope you enjoy the commentary, it was a lot of fun to do! Big thanks again to Mike over at DreadCentral for inviting me to do record a Splattrax with him! Now get to watchin' The Blob and drop me an email sometime to let me know what you thought of our commentary!
---
EEEEEEEEEEEEEEEEEEEK! YOU FOUND
SCARY-ASS TRADING CARD #19!
COLLECT ALL 19 SERIES II CARDS
FOR A SPECIAL 20TH CARD!


i-mockery.com/halloween/cards07/devil-card19.jpg
*copy this URL down, you'll need it once you've found all 19 cards!*
"Reaper" hasn't even been on the air for a full month, but already the phenomenal Ray Wise is my hands down favorite Satan. Smooth, debonair, hilarious and chilling, when an irate driver yells "Go to hell!" at him, he jauntily shouts back "I'll meet you there... Bruce!"
Find all 19 Series II "Scary-Ass Trading Cards" this September and October (2007) and you'll not only get a special secret final 20th card emailed to you, but you'll automatically be entered to win a Halloween prize pack from I-Mockery! Cards will be placed in random new I-Mockery articles during the months of September and October. Simply copy the URLs of each card down into a text file whenever you find them.

Once you have collected the URLs of all the cards, simply email them to webmaster@i-mockery.com with the subject line "I-Mockery's Scary-Ass Trading Cards!" and you will have the special 20th card emailed to you and you'll be entered to win a Halloween prize pack which may include masks, DVDs and more! Remember, the cards MUST say "Series II" on them or they will not be counted.

Do NOT email the actual card graphics to us. We only want you to email us the URLs of all the cards which you can find directly underneath them.
---
If you enjoyed this piece, be sure to check out:




Death's Head Terror!
AND


The Monster Initial Stickers Name Generator! "Monsterize" Your Name!
---
---