There are things on this earth that man was not meant to see. Things that man wouldn't want to see. Things that man shouldn't want to see. Yet somehow, these things are brought out from the deepest, darkest twisted dungeons where they were hidden away from society and soon become part of urban lore. Then some company will hear rumors about these disturbed things and decide that the public not only needs to see them, but will want to purchase them!
Well my friends, when I was in my local Party City looking through their Halloween goodies I stumbled upon one of those horrible things that never should have seen the light of day. Naturally, with my concerns for public safety, I purchased this item so nobody else would be traumatized for the rest of their lives. I present you with an item so bizarre that the only appropriate name for it is... "THE WTF BALL!"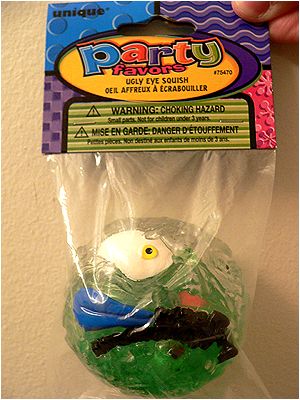 I imagine right about now you're thinking something along the lines of, "WTF!?" Don't worry, you're not alone. Even the girl at the register asked me, "Uh, what is this?" I simply shrugged my head and replied, "I... don't... know." While I didn't know what it was yet, I was determined to get to the bottom of the mystery behind this bizarre Halloween item if it killed me.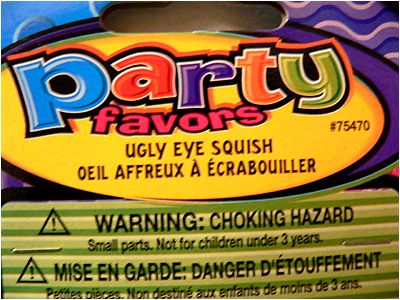 Ugly Eye Squish. Ok, so is that supposed to be the name of this thing? Shouldn't it at least be called "Ugly Eye Squishy Toy" or "Ugly Eye Squisher" or "Squishy Putrid Testicle of Satan" ? Perhaps we'll learn more about this thing from the back side of the card...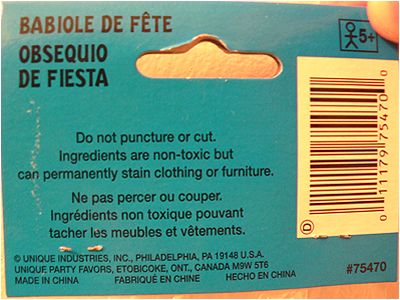 Perhaps not. We're not supposed to puncture or cut it because the thing stains? How about they be honest and say that puncturing or cutting this item would be like unleashing the antichrist upon this world. Notice the name of the company that created this item? "Unique Industries, Inc." You know, I think this company just might be living up to it's name, cuz I'll be damned if I've ever seen anything like this before.
Ok, it's time to take this... this thing out of the package and investigate further.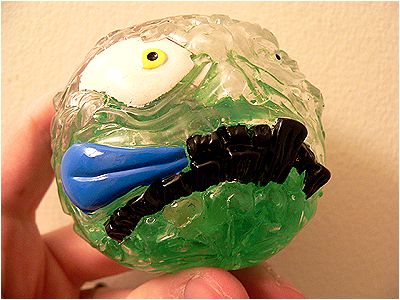 Ok I'm now holding "The WTF Ball" in my hands and I still stand by the title I gave it. I have no fucking clue what this thing is supposed to be. If two Madballs decided to have sex in a vat of toxic waste, I imagine this might be what their offspring would look like... had it been aborted.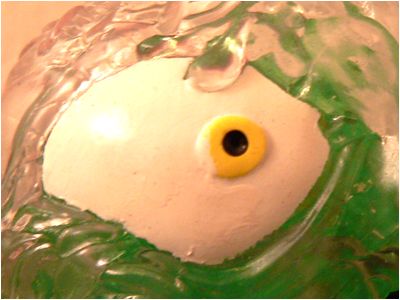 Ok, I'm gonna guess this is the "eye" part of this little disaster. It's either that, or the contents of an egg. Sure, it has a black dot in the center of the yolk... but there's really no rhyme or reason when it comes to a product like this.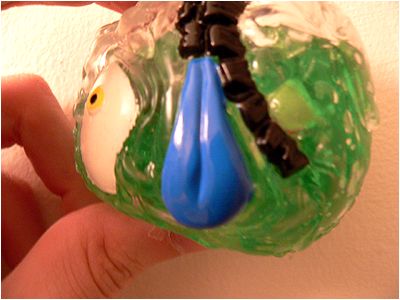 Dear god, please don't tell me that's what I think it is. There's nothing else is could be! Egads it is! It's a BIG BLUE VAGINA! Holy shit! They put a BIG BLUE VAGINA on the WTF Ball! Oh god, the glue just came loose from it when I squeezed the ball!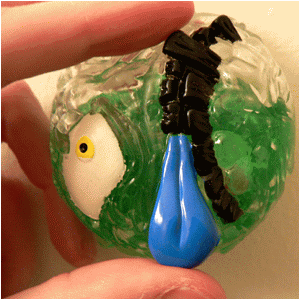 Eugh, nice craftsmanship. But wait a second, if this thing has a vagina does that mean this thing can give birth to more bastardations of mother nature!? Sure it's a twisted ball filled with chunky green ooze, but it has a vagina. A goddamned blue vagina! The thing must be able to reproduce.
WAIT! LOOK INSIDE THE OOZE! THERE'S SOMETHING IN IT!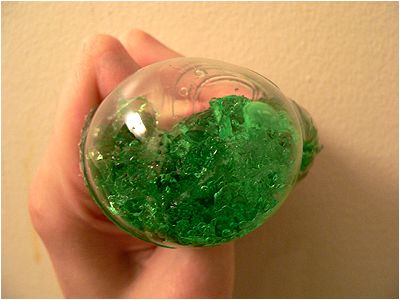 Come on RoG! You can do it! Squeeze with all your might! Bring whatever that is buried deep within the green ooze to the foreground so we can all see what the hell it is!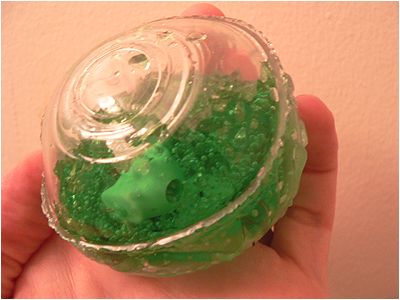 YOU'VE ALMOST GOT IT! KEEP SQUEEZING! SQUEEEEEZE!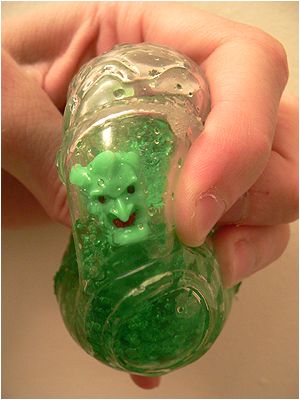 GRANDMA??? NOOOOOOOOOOOOOO!
Actually it's not my grandma, but it's somebody's grandma... or something resembling a grandma. So let me get this straight, this thing gives birth to ELDERLY HEADS. Yeah, now you're starting to see why I named this damned thing "The WTF Ball" aren't you!
BUT WAIT! THERE'S STILL MORE IN THAT GREEN MESS!
A white pumpkin. A white pumpkin with a FACE. Could this thing possibly get any more bizarre? I mean really, could it? Yes...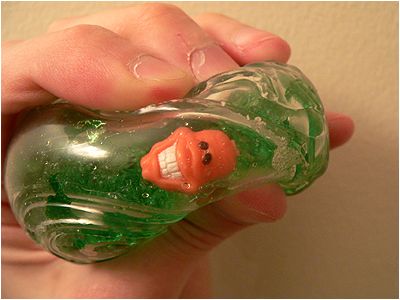 An extremely happy orange face!? How could there be an extremely happy ANYTHING living inside this green hellball!? Well, this thing obviously had sex with something... but what!? What creature would be sick enough to have sex with this thing. Furthermore, what creature's seed would create elderly people, white pumpkins, and happy orange faces? Maybe another WTF ball had sex with it? Let's hope not.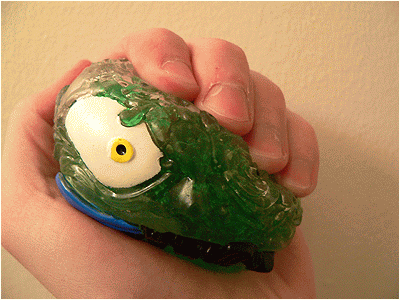 After an in-depth exploration of this item, I can only conclude with this: I have no clue what it is. I would set it on fire in an attempt to remove it from the earth forever, but it's too risky. For all I know, giving this thing fire is like feeding a Mogwai fried chicken after midnight. I'll just lock it in a lead box and bury it somewhere out in the middle of nowhere, where nobody will ever find it.
I hope.
---